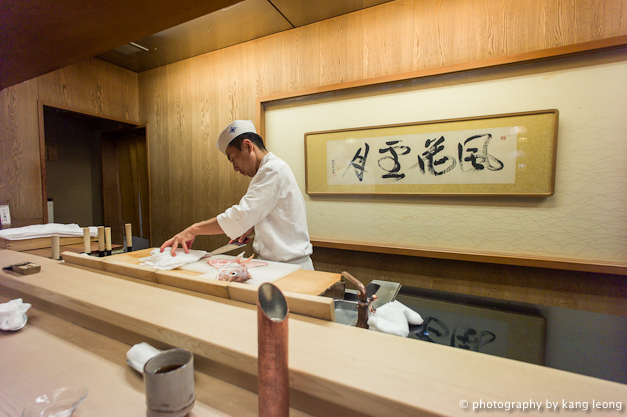 You might have heard the name Yoshihiro Murata lately as he and Alan Yau have just opened Chrysan in London, to largely mixed reviews. Murata owns 3 restaurants in Japan, all of which specialise in Kyoto style Kaiseiki. Two are located in Kyoto and the third in Tokyo, holding a total of 7 michelin stars between them. Chef Murata is something of a living legend (so the internet believes), he is Japan's starriest chef and is the 3rd generation to inherit the family business which began in 1912. Kikunoi means 'Chrysanthemum well' , and on his website, there is a nice exposition on how this name came about.
If Tokyo is urban and frenetic, then Kyoto is exactly the opposite: idyllic and civilised. The former are the originators of modern day fresh fish for sushi toppings, while Kyoto is known for its old fashion pickled sushi, such as the sabazushi ever present throughout these parts. The old capital shows its heritage and I could swear that this apparent idyll includes strategically positioned speakers embedded in sheltered walk ways along the high street, and especially inside Nishiki food market, that play out peacefully hipnotic muzak style tunes. It's boiling hot in the summer, probably because of its valley location. It is also a beautiful city.
We didn't plan for a kaiseiki in Kyoto as we had two Ryokans stays in Hakone lined up, but when we got there, we felt we couldn't go to Kyoto and not experience its classic, structured way of multi-course dining. Through this trip in Kyoto, I had one of my favourite Japanese restaurants in London – Sushi of Shiori (moving to Bayswater in Late Nov 2012) – in mind the whole time, as Takagi-san's cooking is based around Kyo-Kaiseiki. I avoided the original 3 starred flagship Kikunoi Honten in the Gion-Maruyama district because I feared my pockets wouldn't have gone deep enough. This 2 starred one in Kiyamachi is less ceremonious than Honten, caters to a 'younger' crowd and Murata is said to enjoy cooking at Roan more than he does at the original. During our service, one of the chefs did bare a passing resemblance to Murata… but not enough to be certain that is was him. And it's cheaper too.
Part of the Kaiseiki experience is being able to observe the chefs work across the open kitchen/prep bar, an intimacy not unlike Takagi's Shiori. We were served by Chef Hiroki Maruyama, who spoke good English and made effort to diffuse any initial awkwardness.
The menu.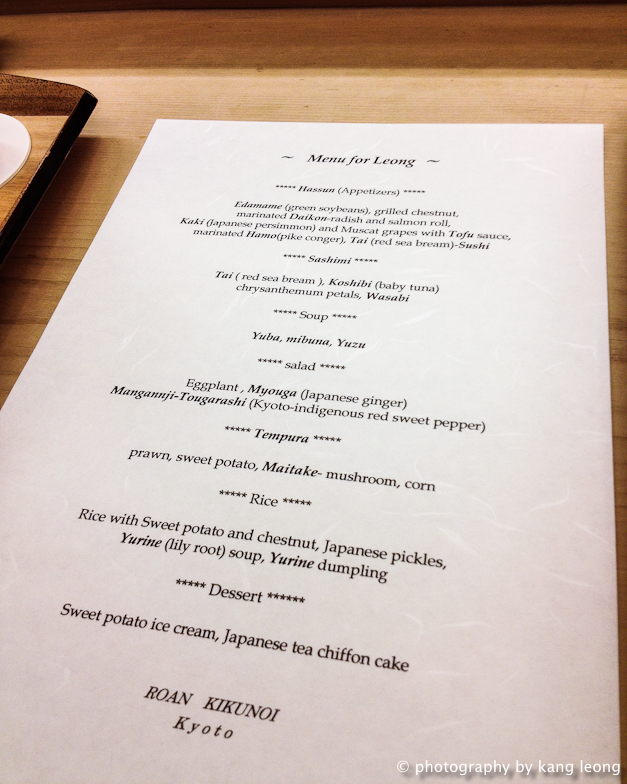 We went for the cheapest option, Y4200 (£35) per person. The other two lunch options were priced at Y7350 (£60) and Y10500 (£85). This is certainly truncated and pared down when compared to the kaiseiki meals we had at the ryokans, the number of main courses (distinguished by cooking process ie: grilling, steaming) were noticeably missing. Written in English, so its tourist friendly and personalised with my name on it, nice touch. As tradition would have it, this menu is meant to reflect seasonality and highlight Kyoto's wonderful produce.
Hassun / Appetisers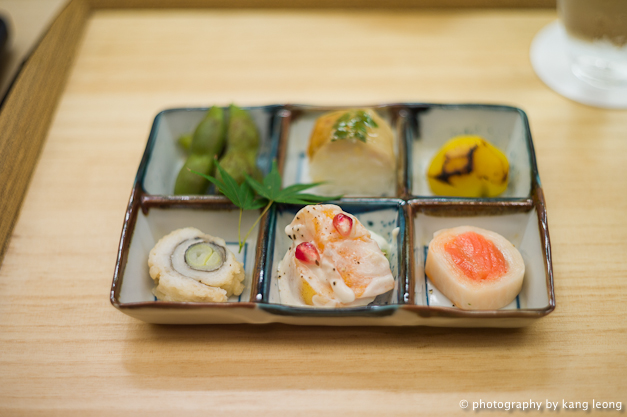 We started with an intriguing selection of bite-sized appetizers, almost too beautiful to eat.
Otsukiri / Sashimi
Such clean flavour, such smooth, unbroken texture, great fish. Although, this is probably my first time of knowingly eating Koshibi (Meji Maguro) or baby tuna. Sushi/Sashimi in Japan is simply at a different level to anywhere else on the planet. Every meal – from the high end Sushi Saito in Tokyo to tourist trap sushi-ya in Osaka – where raw fish made an appearance, I had observed how the fish always managed to smell so fragrant and taste so plump and pure. There's no bitterness, fishiness, ammonia release and no obvious sign of decomposition. Through conversations with chefs, including Hiroki-san, I've come to understand that restaurants utilise a variety of ageing techniques to augment the flavour/texture of the fish to get it up to a 'serviceable' grade. While cooking doesn't necessarily take place, there is definitely more to preparing good sushi/sashimi than shrewd negotiation at a fish market.
Futamono / Soup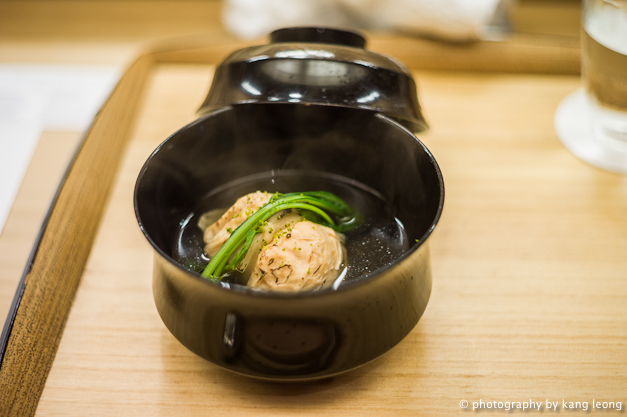 I don't like dried tofu skin (Yuba), but this was just bloody fantastic. The soup had this wonderful depth of flavour not unlike that of a consommé. It felt like a great deal of raw material had been reduced into the stock to make this soup. Invigorating.
Hiyashi-bachi / Summer Salad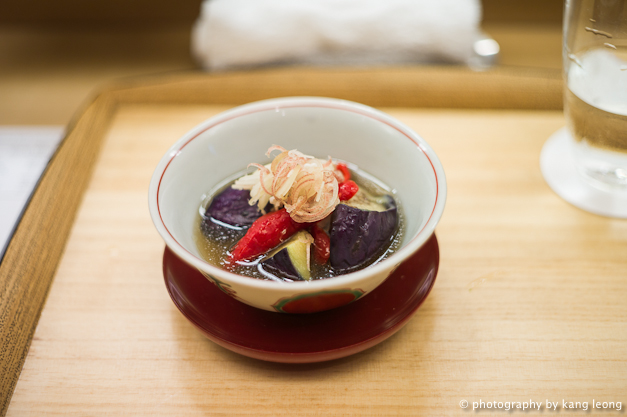 This was served cold…. and just wow. Maybe it's that they have great ingredients to work with, but that eggplant, what an amazing depth of flavour. The concentration of root vegetable flavour, with a plump and juicy texture preserved. If I remember correctly there was a smokiness to it as well. The sheer balance of sweet & savoury was stunning. I'm convinced this was the best vegetarian dish I'd ever had.
Tempura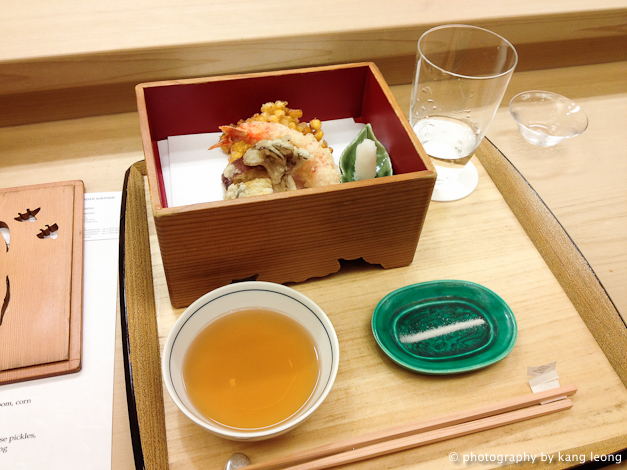 There's lightness, crispness to the batter. Very clean, very fluffy. And I think with this dish, it also illustrated the quality of Japanese vegetables, in that you know what fried sweetcorn and fried sweet potato are meant to taste like, but this was just fuller, more complete, just better.
Gohan / Rice with Tome-wan / vegetable soup and Kō no mono / pickled vegetables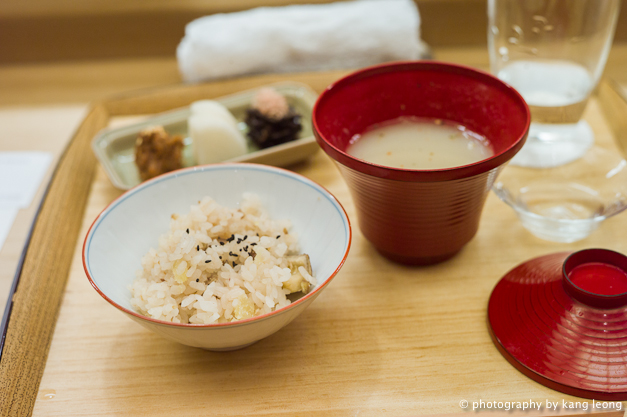 I really enjoyed the lily root soup. Creamy textured, not unlike a potato veloute but obviously with a different flavour to it. Rice in Japan, well what can I say. Even as someone who prides himself in being able to discern fluffy rice from the fluff, having grown up on Jasmine, I still think rice in Japan is next level stuff. Even the 'high-street' standard of charsiu rice at say an Ippudo is unbelievably good.
Mizumono / Dessert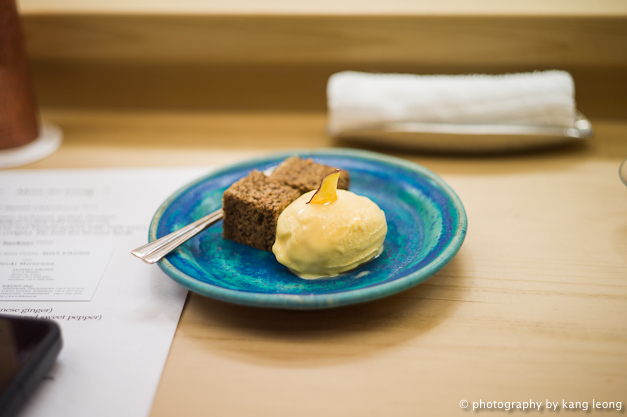 The ice cream seemed resistant to melting, so paired with the airy chiffon, it was like spreading cold clotted cream on the sponge cake. It's that depth of sweet potato flavour working to make this a satisfying finish.
We paid Y9450 (£77) for two plus a small carafe of sake.
Presentation in Japanese cooking with its obsessive attention to detail is unrivaled the world over, in my opinion. There isn't a cuisine that is more beautiful to look at than the Kaiseiki. One that is designed to engage and to draw silent gasps. While it does seem like most michelin taster menus in the Western world are converging on this philosophy, I think the Kaiseiki distinguishes itself for being 'refined' in a practical manner. And like all good designs, it just happens to look nice too.
I think this practical refinement is inherit in Japanese culture. This strive for simplification, for specialisation and this need to be perfect at a craft, a skill, a discipline. Needless to say, this feeling of perfection extends to the cooking or rather the care in handling ingredients, chefs being in total control of their limits. The food just seemed so nuanced and showed so much subtlety, I hardly realised most of the meal was vegetarian. Above all, I think the quality of produce was amazing. But that's more of a general observation. It makes me wonder about the other kaiseiki specialists, and the standard at which they compete at. Not to diminish London's status as a culinary capital of course, but I suppose over there, its a completely different ball game.
On reflection, I regret not attempting the longer menus. To make direct comparisons, I do think Sushi of Shiori holds its own against this Kyoto heavyweight and I think Takagi-san is simply limited by the ingredients he has to work with, some of which are only found in Kyoto.
I also had two subsequent and very elaborate kaiseiki meals at the ryokans, Yama no Chaya & Musashino which were nothing short of breathtaking. If you like looking at pictures of dainty Japanese meals, take a look at my flickr set of both meals here.
Definitely worth visiting Japan just to experience its traditional cuisine, whether it is a leading specialist kaiseiki restaurant or at a leading Ryokan, there is nothing quite like it.
(Still can't get over how 'big' the breakfast was.)
Details
Roan Kikunoi
Kyo Kaiseiki, £40 upwards
118 Saito-cho, Shijo-sagaru, Kiyamachi-dori, Shimogyo-ku, Kyoto-shi, Kyoto
600-8012
Tel: +81-75-361-5580
Reservations : is usually essential, and I made mine through the concierge.
Did you enjoy reading this? You can subscribe to the Newsletter. Alternatively, you can subscribe to the RSS feed.