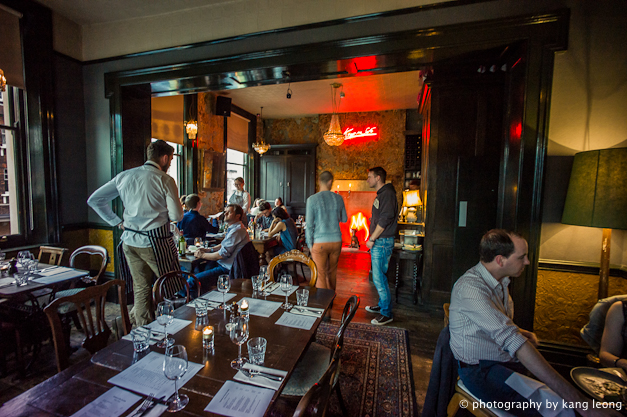 Today I will recount the Legend of Young Turks & The Clove Club. The story of how a group of gifted palate thrillers had joined forces in their relative youth to dazzle the masses.
There is already so much written about their food, their previous experiences and on-going adventures that admittedly I was expecting an over-hyped meal contrary to the chorus of praise. No restaurant can ever match feverish expectation anyway, right…? Well as it turns out, I couldn't be more wrong.
As you already know, this project was originally conceived as a long running pop-up at the upstairs of the Ten Bells pub, infamous for its connection to Jack the Ripper. It ended in April when James Lowe went off to other things (Thanks Michael, corrected now) but as it became too successful to pass into the history books, Isaac and co decided to reboot the restaurant with a long(er) term view.
The current line-up consists of Daniel Willis and Johnny Smith (both of the Clove Club) running the floor, Giorgio Ravelli pulling the strings behind the stove, and Mchale masterminding a new ALC, forgoing the £39 set.
I thought the restaurant may come with all the amateurish trappings of pop-ups but again I couldn't have been more wrong. I was pleasantly surprised by how swish this operation really is. In my opinion, the decor rivals the most atmospheric pub dining rooms I've been in. It reminds me of the cosy Bull & Last and the stark grandeur of The Dogs albeit with stuffed animals and dog portraits replaced by Mediterranean rugs, Tracy Emin neon 'art' and a portrait of a couple of topless nipple pinchers (like that by the School of Fontainebleau). You eat with proper cutlery and on sturdy wooden tables ala St John. This is no pop-up, this is a proper restaurant!
(Keep scrolling..)
I have to give props to the wine list, some very good, lesser known, non-traditionalist bottles. Two producers which I recognised were Mas Coutelou and Mark Haisma. Originally 'discovered' by Robersons last year, Mas make natural wines and are from the South of France. Their wines gained a real following for offering bang for the buck – especially the Ouest 2001 – when they were bigged up by Jancis Robinson. Robersons quickly sold out but have recently stocked up with loads of cases from across their entire range. The Ouest 2001 was a tenner last year, but now is back up to rrp of £15. It is sold at Upstairs for £28 – Just under 2x mark-up, which is pretty competitive.
Haisma is also another Jancis Robinson favourite (I like Thibault Liger-Belair and Bernstein wines too, so that makes me a diehard purple pager..) , an Australian winemaker who started out as lieutenant to Dr Carrodus of Yarra Yering. Now he makes wine in Burgundy (2007 was his first vintage, as a non-Burgundian, much respect!) using grapes bought from local growers. I've been searching for a merchant who stock his wines for some time now and I was ready to drop the £47 for the 2009 Gevrey-Chambertin, if I weren't dining solo. 2009 being a super vintage (read: hyped and overpriced) for Burgundy, though it is said that wines were 'un-terroir' like for being overly concentrated. Burgundy drinking windows are always tricky – either drink them very young (fresh and lively) or really old (compost… earth!!), but not in between. I think 3 years is still young enough before this closes up, so that's what you'll read about on my next visit here…
I started slow, with a glass of young Beaujolais, Recolte 2011 by Ch Cambon (£4.50). I assumed this was made from gamay as it was easy drinking, uncomplicated and overshadowed by the first 'snack' to come.
Buttermilk Chicken & Pine Salt, £5.20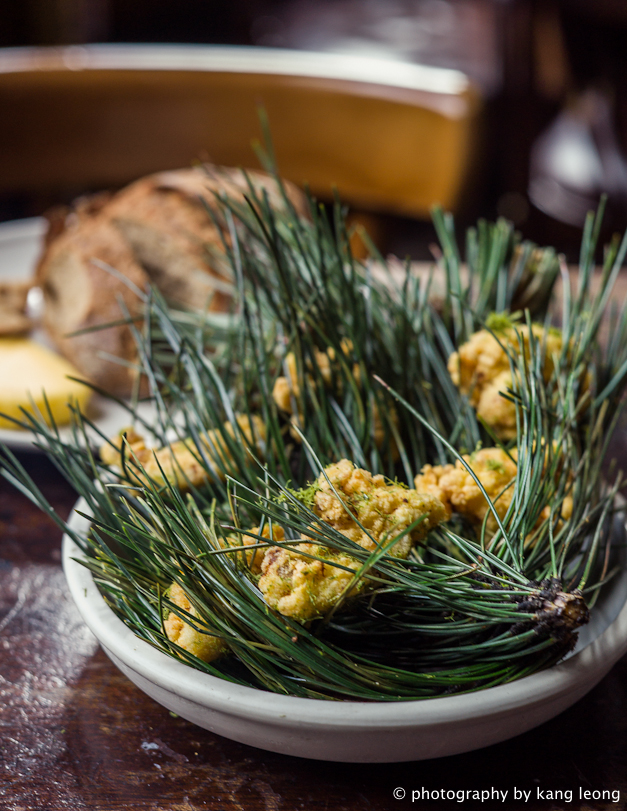 There are so many pictures of this dish on the internet, it is unanimously praised but deservedly so.
The smell of pine …wah… this reminded me of the sensory stuff they do at the Fat Duck, except it's far subtler compared to the way Heston forces it upon you. Like a patch of forest scooped up and landed on the table, I couldn't help but position my nostrils over it as I picked up each piece of fried chicken. Juicy thigh meat cased in piping hot, powdery, crispy batter. Premium pop-corn chicken in 3D. I would gladly have a whole thigh as mains …a spin-off for a chicken & chip shop perhaps?? So good, too good…
Courgette Soup, Razor Clams & Indian Spice, £5.90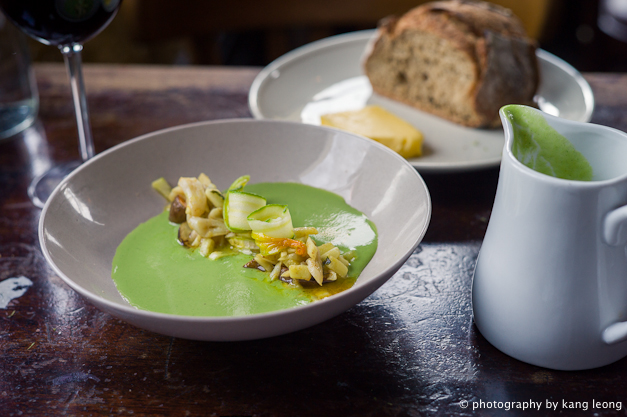 Sliced razor clams, courgettes and spiced potatoes stacked on top on one another, like an edible dam splitting the plate in half. The cold soup was carefully poured on either side of it as they served this dish. For a touch of theatricality I suppose. The fluidised vegetable went on a taste-bud spree. I think I tasted garlic as well but my attention was firmly on the Indian spiced potatoes. It was like paprika and lavender. Actually it wasn't and Jared did explain it to me, but I was too engrossed in slurping the soup to take notes.
Roast Lamb Saddle, Anchovy & Potato, £16.60
with Salice Salentino, Torre Nova 2010. Natalino del Prete, Puglia, £4.20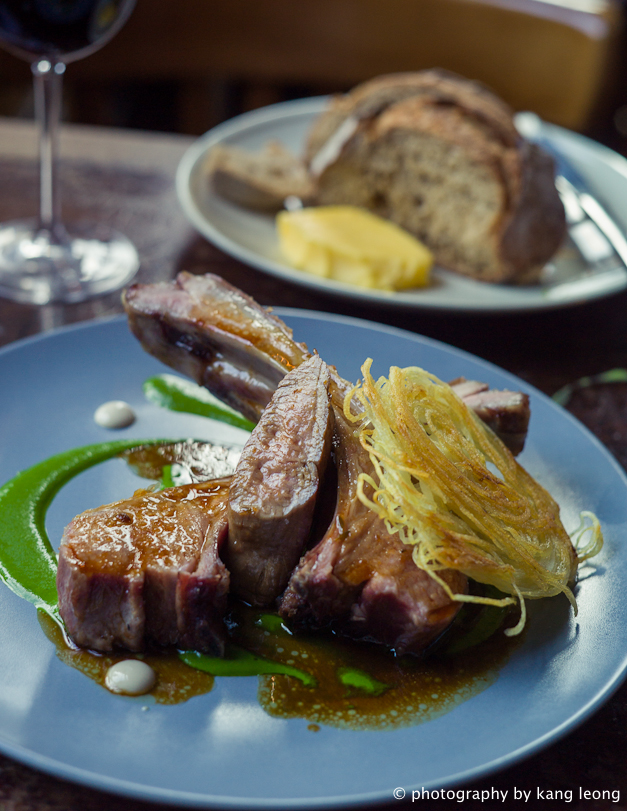 Daniel served the wines, he raved about his Italian red and poured me a small sample to try with the lamb. Oh my my… nose on fire! Wild, powerful savoury, meat and maybe even turpentine. On palate more meat, grippy tannins, fiery spice and a lingering finish. So good …I asked him to fill my glass! £22 for a bottle, and per-ml prices (by the 125ml measure) are nearly equivalent. Can't find a retail price, but can't imagine this being more than £10. Cracking value nonetheless.
The lamb had such intense aromas, it was like being on a farm in Rotorua. The meat was unbelievably tender, collapsing as the knife went in. Crackling skin, its flavour like just-cut grass or perhaps even sugarcane. Inside there was no sign of pinkness, it didn't taste like it was boiled in a bag, so I wondered how they manage the tenderness. How were the flavours so rich and consistent ..as if a glove of gravy had formed around it? Pure magic, proper roast lamb, triumphant cooking.
Blueberry Mousse, Milk Crisps & Tarragon, £6.20
This was pudding without the stodge, like blueberry coolwhip with the sponge cake and crisps flavours reversed. It's modern like the New Nordic stuff and could probably pass as being Le Fooding.
There were so many things to like, so many things to admire. Food was utterly delicious, wines were dangerously drinkable. Service was relaxed, impassioned and professional. I must have had an incredible and memorable meal.
If all they have set out to do is make people happy by feeding them delicious food, then I think these folk have achieved that goal in spectacular fashion. I felt there was clarity and respect for crafting a fine experience, but surely a perfect example of total hospitality done right. I think restaurateurs generally seek flair while customers look for balance. When they align, that's when the act of nourishment yields strong emotional responses. Or in my case, when I make the effort to dream up even more cringe-worthy ways to describe how I fucking loved this meal.
Attention to detail extends to the coffee, brewed with cafetiere but using bottled water rather than tap, as it is less tainted and presumably will interfere less with intended flavours. ( Don't roll your eyes, see twitter conversation that ensued ). As for the amateur in me, I couldn't tell if there would be a perceptible difference, but the brew was indeed smooth, fruity and a fitting conclusion to a fabulous meal.
I paid £45.35 for this dinner for one, and put £5 for service. Given that it's four courses with 2 glasses of wine and coffee – or as some of you put it to me for 'ordering the most expensive things on the menu' – truly fantastic value for money.
I think the immediate challenge now – like any restaurant – is in maintaining this consistency. If they can do that, stay permanent and then step up a gear or two as the kitchen matures, Upstairs will easily become a stalwart. I was lucky enough to have been to Dabbous twice when it just opened and I thought then that I had already eaten my best meal this year. But this tops it. I want more of this, I want to take the missus, my family and all my friends to this restaurant. This is what it's all about. This is my favourite meal of 2012.
Details
Upstairs at Ten Bells
£40pp British
84 Commercial Street E1 6LY
Tel: +44 7530 492986
Tube: Liverpool Street
Other views: Skinnybib , Rocket & Squash , Cool on Demand , Dinnerathon , London Food Freak , Hollow Legs , Hungry in London , New York Times
Did you enjoy reading this? You can subscribe to the Newsletter. Alternatively, you can subscribe to the RSS feed.