3rd May 2016 UPDATE: Revisited in 2016 for the Extended Taster Menu. Worth a read. Review here.
OK I'm back. Kind of. Service is resumed so to speak. You've been keeping well I hope. It's been a while I know, I'm still eating out but have defaulted to more crude means of updating my online presence (Instagram). There's a sizeable backlog which I'm sure I won't go through all of it; But I will upload the more memorable ones.
This meal goes all the way back to April when there was risk of snow and before Murray won Wimbledon, when there was no danger of the sweltering heat to come. You know how much I love Upstairs – which has now become a permanent fixture – at Ten Bells, the kitchen is well looked after by the Swiss-Italian maestro of the pan, Giorgio Ravelli. The Clove Club is the next big step by the crew who came together for Upstairs (and a bunch of one-offs that preceded it), namely Isaac McHale, Johnny Smith & Danny Willis. They were part of the Young Turks & Clove Club but now I think this particular line-up now call themselves St Vibes.
The restaurant is based in what was Shoreditch Townhall. Not sure how much of the original fixtures are retained, but in its resurrected form, the Clove Club spreads itself out into two fairly expansive rooms – a bar area and a mess hall-like dining room, with an open kitchen overlooking the clientele. It reminds me of the Viajante setup at Bethnal Green Townhall, but with starker furnishings, like a modernised St John.
Unlike its peers, Clove Club is financed partly by crowd-sourced funding (see original pitch here), and judging by how things are going, it is fair to say that the investment will be sound.
Much of Isaac's awesome previous work has found its way onto the Clove Club menu, so it's evolution, or rather a refinement of his style, rather than a radical makeover. The experience takes the form of a 'choiceless' small bites plus 5 courses menu for £47.i It feels more epic than ever before, but classics like the unrivaled buttermilk fried chicken make an appearance.
Small bites: Radishes, Sesame & Gochuchang; Buttermilk Chicken & Pine Salt ; Smoked Duck Ham ; Wood Pigeon Sausages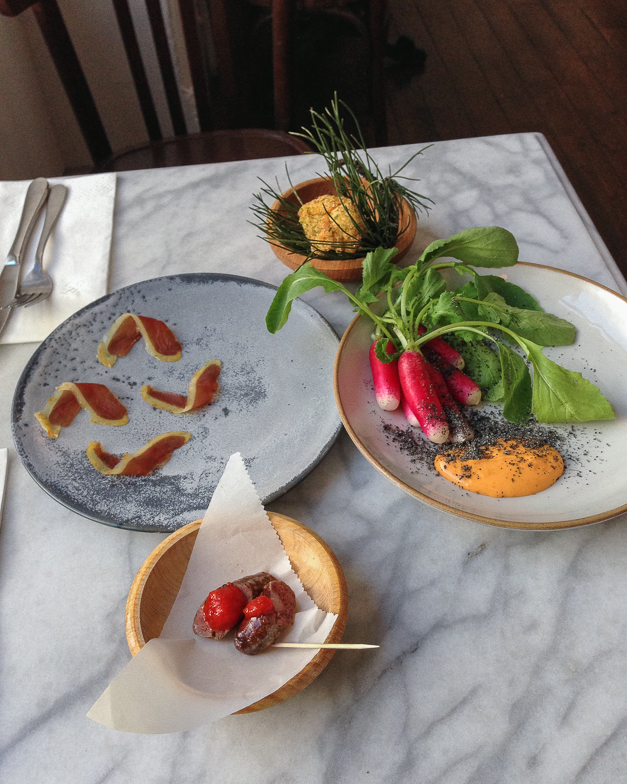 Yeah all good here. The small bites are like those at Upstairs (the radishes like Trinity's which is served with a cod roe dip) and are nice little surprises to whet the appetite especially if it is your first time for a McHale meal. Though saying that, I was really impressed by a new small dish they brought out at Upstairs – Razor clams with grapefruit sauce ; It may or may not find its way onto the Clove Club menu.
Course 1: Raw Beef, Mustard Jelly & Cow's Curd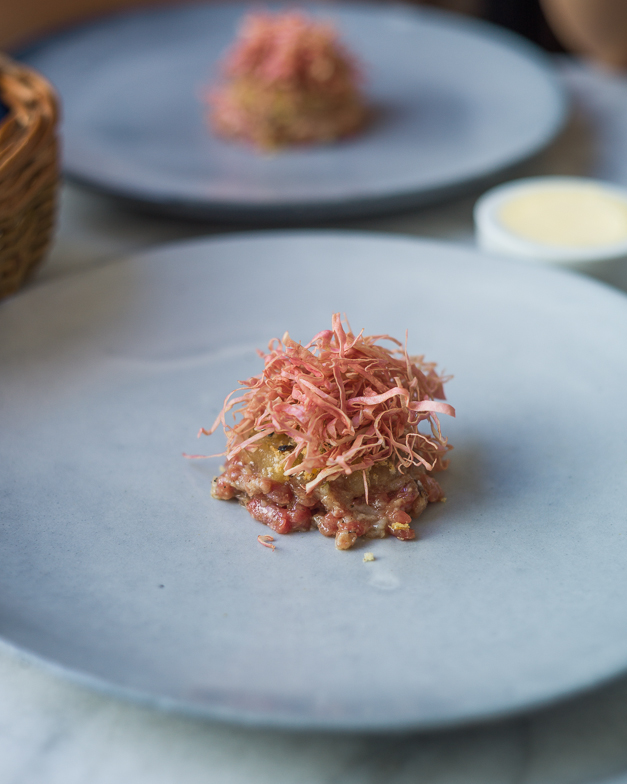 Just a beauty. Months later, I can still recollect the regal dry-aged flavor which the beef exuded, chopped to a fluid tender mince and laced with a sweetish sting. The sheer depth of flavor, some might say too 'beefy', but for me it was like caramel laced cigar in meat form. Better than Dabbous' vision of steak tartare.
Course 2: Grilled Squid, Tarragon & Green Radishes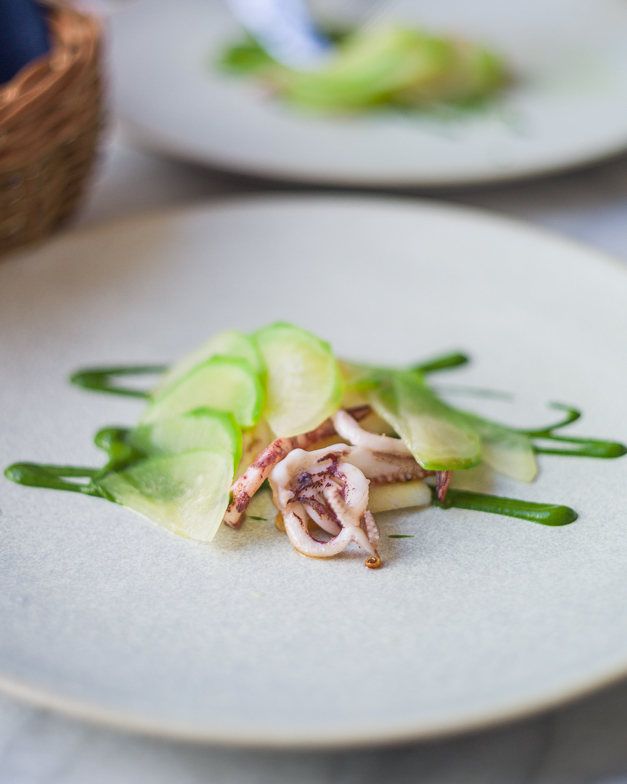 I guess this dish epitomizes what is so loved about Isaac's cooking, there's clarity abound but the flavor pairings seem innovative (at least to me) and it just works brilliantly together.
Extra Course: Duck Egg, morels £13.00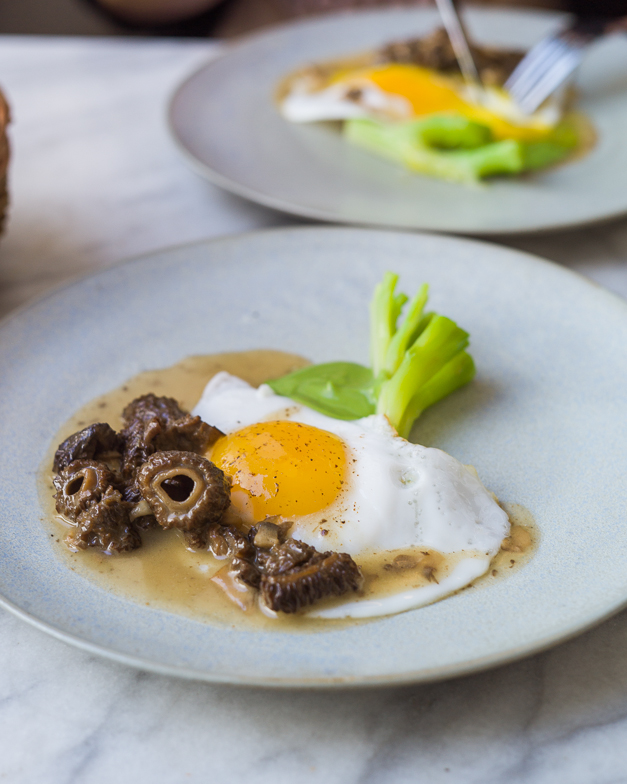 Couldn't pass up on the description of this dish and ordered it as an interloper for our taster menu. Egg and mushrooms gets the job done, but think it's a little overpriced.
Course 3: Slow cooked Loin of Lamb, Spinach & Anchovy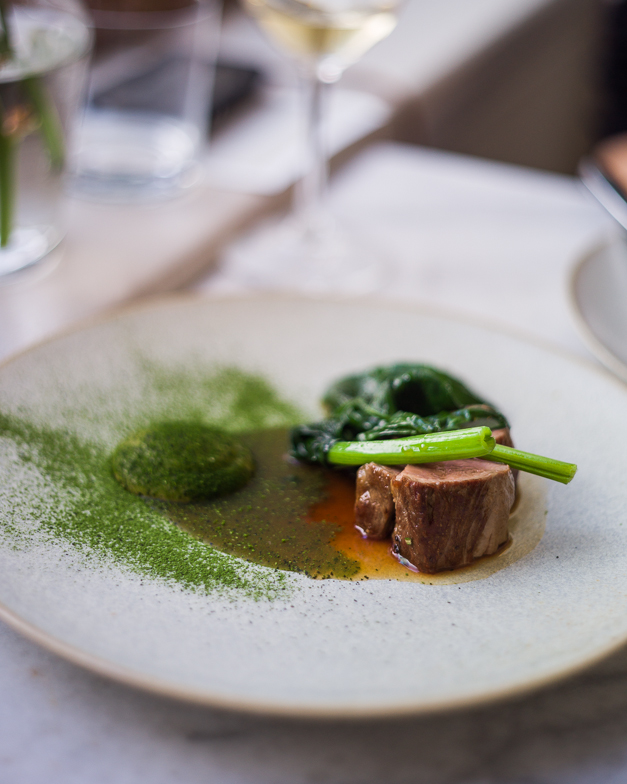 And so, to the main event. Yeah there's an innocence about this recipe, some might say a little unceremonious but I liked that it's not overworked. Like Upstairs, the meat dishes are all carefully cooked to retain its plump tender texture. I like the anchovy as seasoning and thought it worked well with the lamb.
Course 4: Blood Orange, Sheep's Milk Mousse & Wild Fennel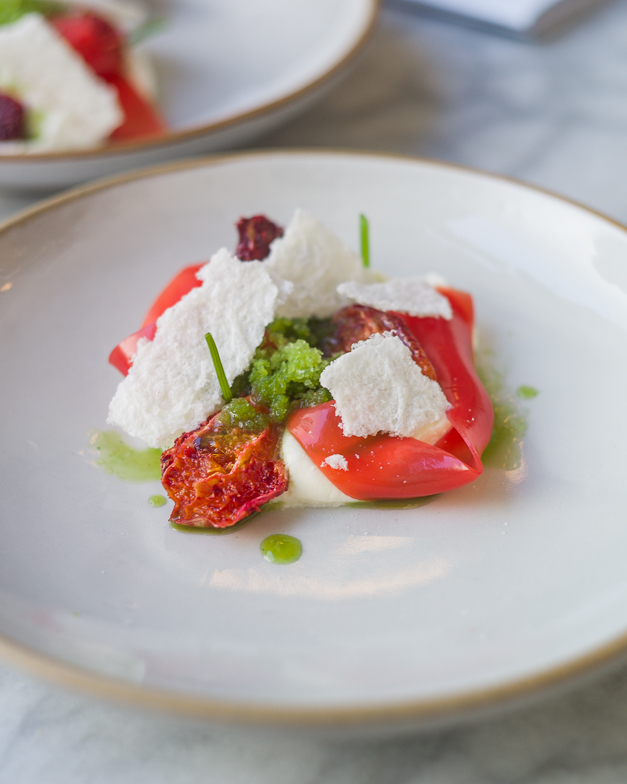 Colours! The acidity were as vibrant as the orange peel, nice palate cleanser, loved it.
Course 5: Caramel Ice Cream, Barley & Oats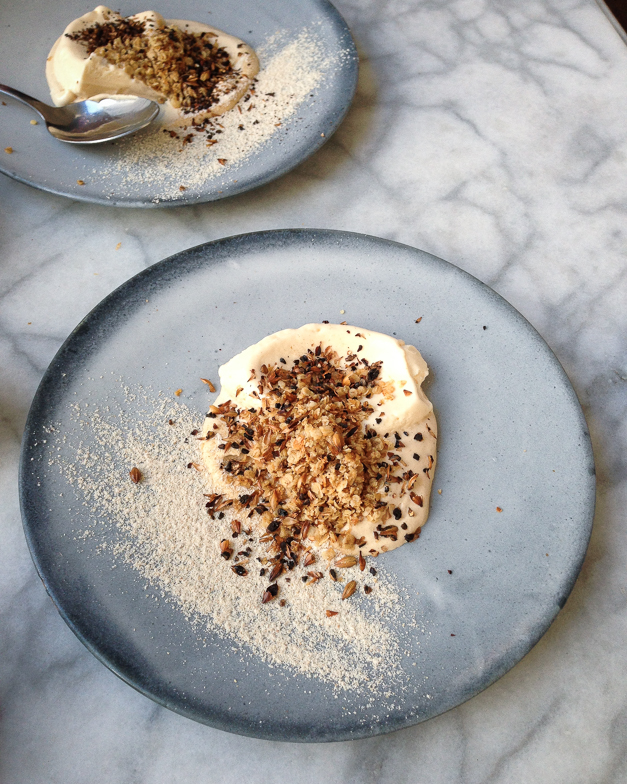 My favourite dish on the meal, what a finish. It was oaty, powdered, malty, creamy, mousse-like, it was like breakfast re-aligned as pudding. I would gladly eat this everyday. Like Isaac's future classic buttermilk chicken, this is probably going to be another future signature classic of his.
The bill came to £139.20 for two including coffee and 2 glasses of wine. Service is at diner discretion, and overall I think you get your money's worth. I still prefer the more intimate space at Upstairs, but I enjoyed Clove Club just as much. This restaurant feels a little more mature, the standard of cooking, like Upstairs is very high. McHale's cooking tends toward calmness and purity, it makes me feel comforted and I think that's why his formula is so well liked.
Clove Club is the grander big brother of the St Vibes restaurants and carries more of a wow factor than his previous stuff, though I think you'll find it's not quite as loud as competition. The surprise menu rotates regularly so I'm sure by the time you visit, most will have changed, though they also do an ALC for lunch (served in the bar area). Either way, you can't go wrong. Definitely worth adding to your list.
Details
The Clove Club
Modern
Taster Menu £47
Shoreditch Town Hall
380 Old Street EC1V 9LT
Tel: +44 (0) 20 7729 6496
Tube: Old Street