I am indebted to Josh Katz for sending me to this (relatively) new Middle Eastern diner opened by ex-Ottolenghi/Nopi chefs. Josh is now officially the former head chef at the excellent Made in Camden. While I'm a little saddened that I can no longer eat his banana breads for brunch, I am eagerlloa waiting the arrival of his next project.
The owners are husband and wife, Itamar Srulovich and Sarit Packer and if you google them, you'll find dozens of Ottolenghi links, so Ottolenghi fans should probably rejoice.
The cafe is shoe-box sized, open from 7.30am to 7pm (for the time being) with dinners (currently) offered as special one-offs. Decor is basic, the appearance of an honest, family run cafe. Itamar even appears to prepare food just behind the counter. Cakes are pushed up against the front window on display, just like Ottolenghi.
Despite flying completely under the radar (no website but Itamar is active on Twitter as @honeyanco) , it already seems to have a strong following. It was very busy for Friday lunch, tables turned briskly with a steady stream of customers to fill newly vacated ones.
The menu appears seasonal and well-priced. On my visit, starters include fresh peaches, goats cheese, salted almonds, regent's park honey (£6) ; Ras al hanut beef cigar, yogurt & tomato sauce (£4). Mains were Chicken & Mint dumplings in yoghurt sauce, peas & basmati rice (£8.5) ; Beef Kebab, roasted apricot, pistachio & rocket (£8.5). Everything sounds exotic and exuberant.
I drank a glass of house red for £3, I didn't take down the description, but it was definitely gluggable fermented grape juice.
5 seasonal mezze, olives and bread £6.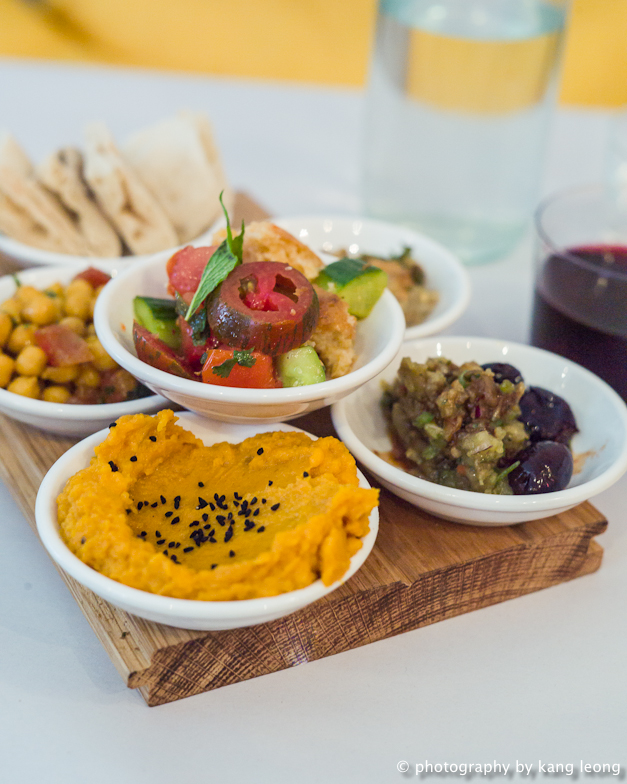 Fattoush (bread and tomato salad) , butternut squash tahini, (mashed?) aubergines with olives, rice and herb fritter, (spiced?) chick peas and sliced pita bread made in house.
I gobbled up each mezze very quickly but did manage to note down a few words to describe it – juicy, fresh, healthy, yummy, great pita. It felt like each ingredient was lovingly massaged into the final product. As cliched as it sounds, this was the sort of personal cooking one would imagine chefs whipping up for loved ones in their own time. I only realised after the fact that this was completely vegetarian.
Seared lamb, saffron potatoes, artichokes, oregano, £8.50.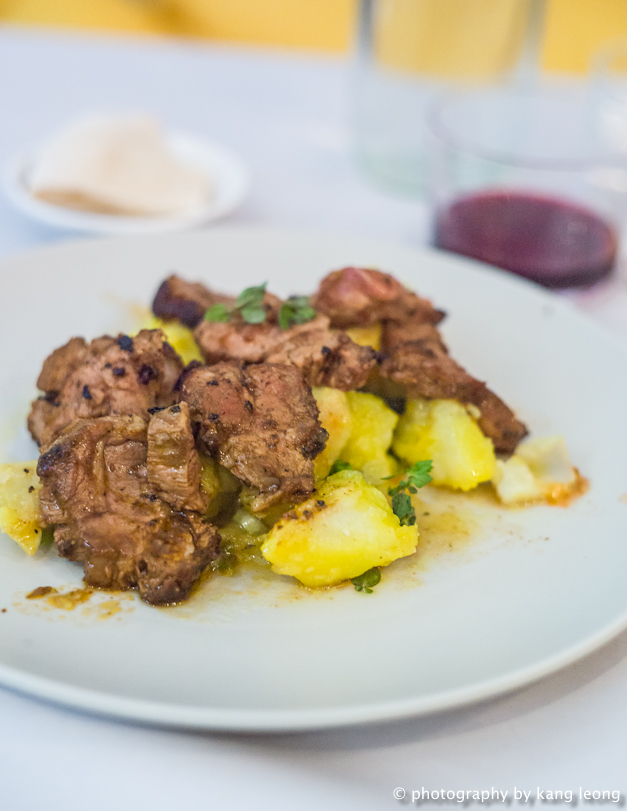 I definitely tasted the oregano punch, kapow. Great charcoal smoky lamb, pink in center, juicy, fleshy, delish. The potatoes were fragrant but also citrusy! The acidity cut a contrast to the lamb, also, it was served cold against the hot meat. This reminded me of the Eyre Bros/Pizarro recipe of pink iberico loin with potatoes. Nothing fancy, just great meat & potatoes, at a reasonable price.
I finished with a gorgeous flat white (£2.20) that was dense and toasty and took home a slice of cake (£3). Everything came to £22.70 and I put down £5 for the very personable service which was a little overwhelmed by the popularity at times throughout lunch hour. The next morning, I savoured the cherry, almond and pistachio cake and thought how it easily challenges the signature cakes (like the flourless chocolate for example) from heavyweights like Gails and Ottolenghi.
Honey & Co is a certainly a gem. If you work in the vicinity, it is worth giving Honey & Co a go. That is if your colleagues haven't already alerted you to it. My meal was merely a glimpse, so do have a look at other blog posts from around the interwebs for a rounded view. There are multiple accounts of the sheer edibility of Itamar's falafel. Mmmm, now to attempt a seat at Itamar's off business hours, long table dinners…
Details
Honey & Co
£20pp Middle East
25 Warren Street
W1T 5LZ
Tel: 0207 388 6175
Tube: Warren Street
Other views: Good for Lunch ; A Mouthful of Kim ; Hummus Boy ; Beauty and the Dirt
Did you enjoy reading this? You can subscribe to the Newsletter. Alternatively, you can subscribe to the RSS feed.