My food writing invariably boils down to a caricature of self-indulgent cliched hyperbole or superflous self-doubting and pointless debate of what food should taste like.
Given the circumstances, I sincerely believe this is the best thing between buns I'd yet come across.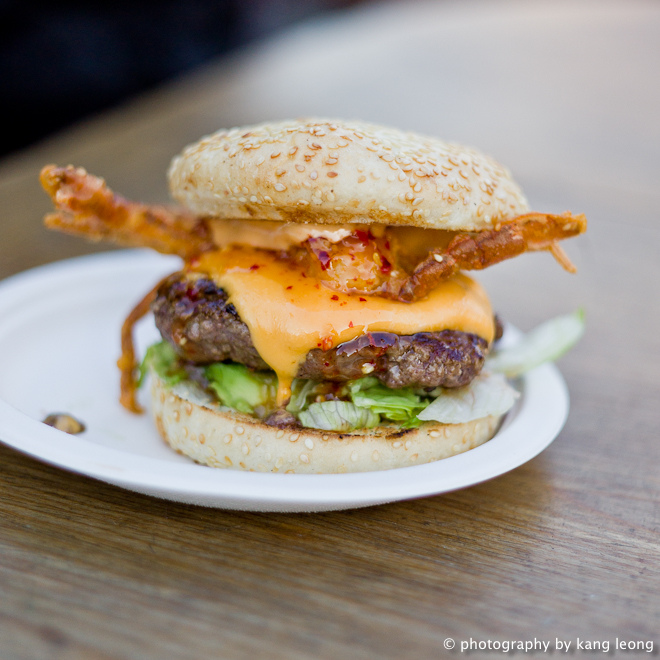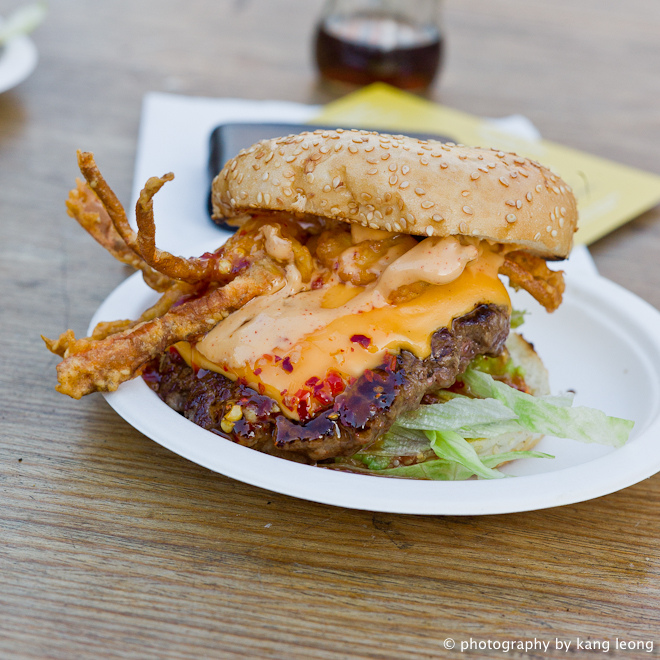 But first let us be properly acquainted. Reader meet Lucky Chip's weekly burger special "The Bill Murray Life Aquatic Surf and Turf". She is an aged beef patty with a (new) sesame bun, partnered with a fried soft-shell crab, guac, spring onion, spicy mayo, sweet chilli ginger sauce and processed cheese. She's worth £9.
Yes, I thought so too, how could purists ever love such a criminally tainted patty which has laid with a creature from the deep blue sea? After one bite, any lingering doubt was erased. I was completely convince: this wasn't just a great burger, this was a sexual experience.
As you know, Lucky Chip, like Meatwagon, utilise the steam-the-patty-and-fixing under a metal cloche technique, which allows all the flavour-concentrated steam to re-condense within the patty, leading to the satisfying and sloppy mouthful. However, I was most impressed with how the guac, the syrupy sweet chilli drizzle and soft shell crab complimented the already potent beefiness of the patty. The burger had this great textural quality that held together real well, a little like the way it feels when you sink your fingers into kneading bread dough. An incredible experience with much razzle and pop – proof that sometimes more really is merrier.
We also ordered their chips with cheese, and it was exactly as we remembered them – some of the best chips in London, if not the planet. Let's go with the planet. Shame they ran out of truffle oil however, they offer it as a free of charge option.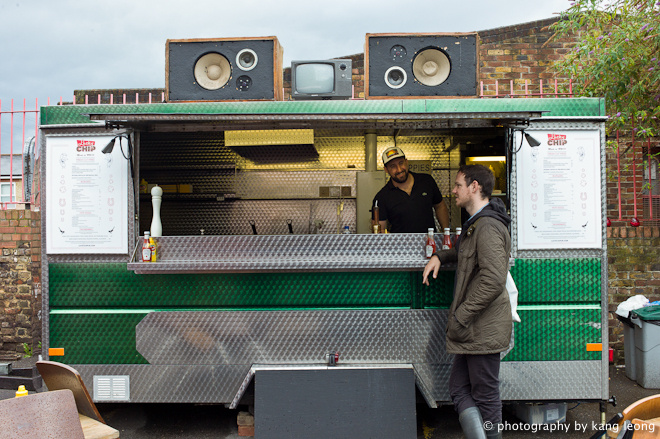 Well, its been almost six months since I was last here, I thought they were already great then, but they are on fire now. Whatever it is they've done to tinker with their patty and cooking methods, they've done it. They've reached that rarified airspace reserved for high flying captains of their respective industries. Dare I say, they've surpassed the trail blazer whose shadow has loomed over them ever since they opened shop in Kensal Rise earlier this year.
I really wish they'd come back to KR, it's only ten minutes on the bus for me, but there's probably no chance now that they're more or less permanently hooked into the grid at Netil Market. Making the way there is still a hellish experience. The last time, we huddled under a plastic tent as the crazy summer rain poured down. This time, the perils of al fresco dining in winter came in the form of blast-chiller winds on a deceptively sunny Sunday afternoon. Killer winds. Besides, London Fields is not exactly the easiest place to get to.
Was it worth it? Oh yes, it's worth freezing your nuts and nipples for, because once you take the first bite out of that gorgeous patty, whatever nagging life issues you are trying to push to the back of your brain will fall away. Time will slow down, butterflies will flutter from your arse, a rainbow will crack in the sky, the perfect sakuras will spring from the earth, wind chimes will play in the background.
There is social proof that Lucky Chip are on the way to stardom, like Burgerac's five star review for example. It also reveals that the improvements to the patty and buns are real, as they've opted to switch their supplies from Ginger Pig to Walter Rose. The improved flavours probably due to longer hung beef, cut from cattle with inherently better genes, ie from GP's longhorns to WR's half-angus breed. Or maybe the mince-to-fat ratio has been tweaked, choice (or mixture) of cuts altered, seasoning, ratio of bread crumbs, etc. But lets not speculate and just be in awe of the superiority of the product. Whatever tweaks Lucky Chip have made under the hood, is yielded fine results.
I'm told this Bill Murray burger is one of their ten weekly specials, and so the next time this comes around will be either the week starting on the 9th or 16th of Jan 2012. Mark your calendar (better yet call them to double check), because you really don't want to miss this.
At the time of writing, this week they are doing the DARYL HANNAH FILLET-O-FISH. Take a look, it's a monster.
I think it's time we dethrone Meatwagon. Don't get me wrong, I thought Meateasy was the best pop-up in 2011, and I think they've done a good enough job in trying to recapture the essence of it with Meatliquor (it is too dark and too loud in there, however), but I firmly believe that their burgers are now second to Lucky Chip's.
So I hope Ben and Comar go on to achieve great things in 2012, I hear he's trying to solve the hellish al fresco experience with some sheltered space near by.
The Deets
Lucky Chip
£6 a burger
Netil Market,
Westgate Street
London Fields,
E8 3RL
Ben – 07795816355
Did you enjoy reading this? You can subscribe to the Newsletter. Alternatively, you cansubscribe to the RSS feed.