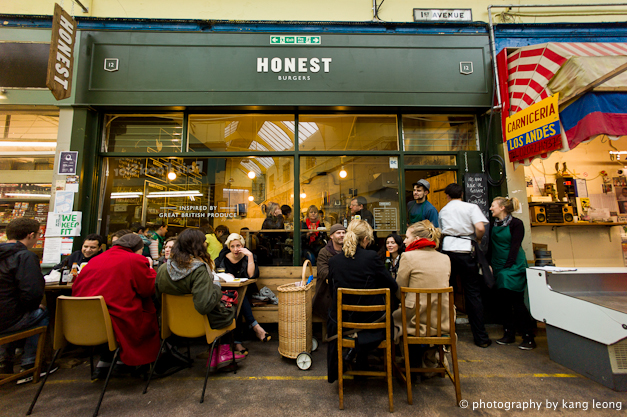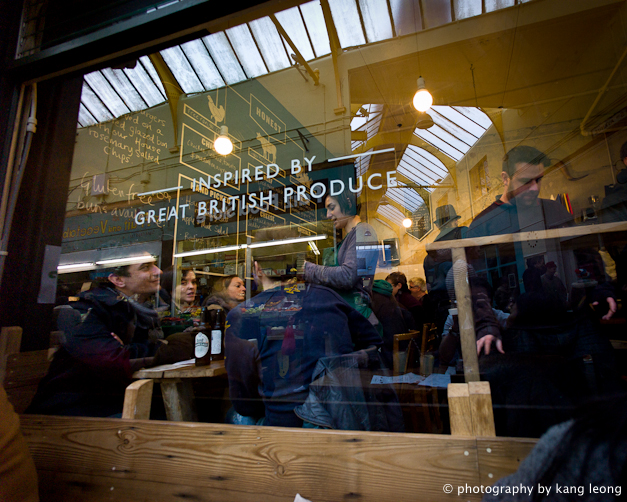 Well, I finally made it to this Honest Burgers. There was a bit of a wait to get our table – 45 minutes – for a late lunch at 3pm on a Saturday. We were a table of five, we didn't have to queue physically, as they took down my mobile and called up to let us know it was our table was ready.
As you have probably read elsewhere, they've received much publicity last year, and is generally held in high regard by the burger lovers. As high regard as the Meatwagon & Lucky Chip burgers. On the same token, there are those who have written about an inconsistent experience.
The Cheese, with house chips with rosemary salt, £7.50.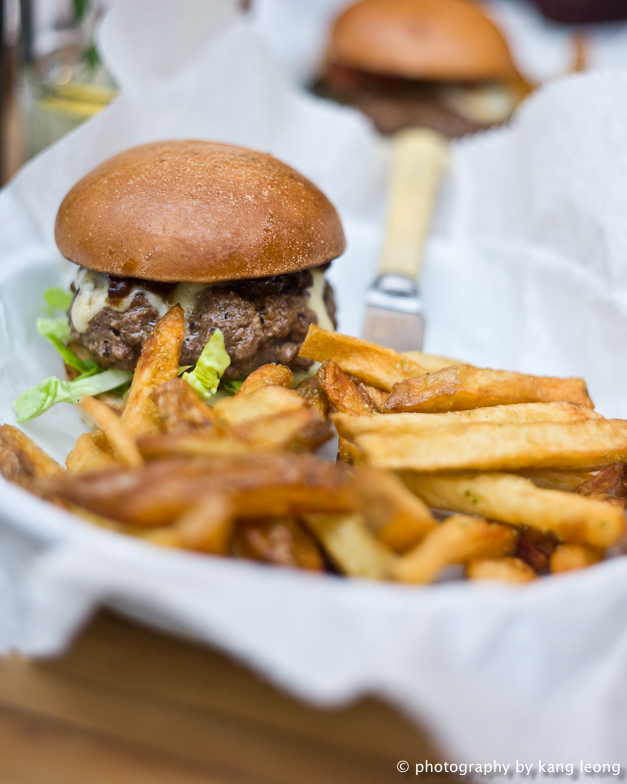 That's a neat brioche. The patty looked wet & juicy, the cheddar only just melted over it. The red onion relish is the unique condiment which sets the honest burger apart from its competition. The smell of rosemary filled our table, so much so, I could hardly detect grilled beef – a change in the usual burger outing.
Like most democratic burger restaurants these days, food is served in wartime enamel crockery. I did some digging around, and found Falcon enamelware which has been trading since the 20s.
Our immediate reaction were that these burgers looked a little small. More like oversized sliders. In fact, they looked about the same size as the supersized slider at Mishkin's.
I asked for mine to be medium rare.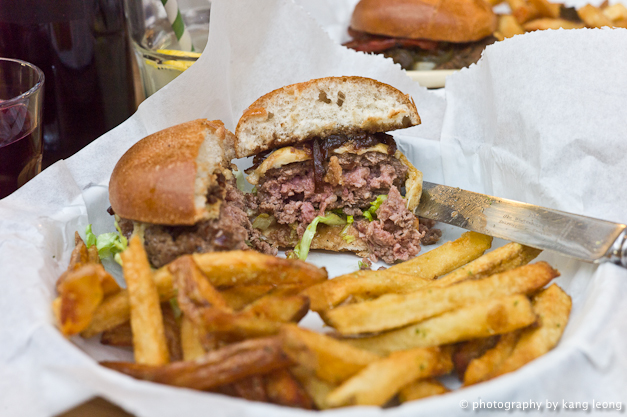 Served with only a knife, which I suppose is their way of suggesting to the diner to slice it down the middle to check for doneness.
Would you say it's more medium than medium rare?
There are various reports that the grilled patty is finished in a similar way to Meatwagon/Lucky Chip, by allowing its own vapourised juices to re-condense under a metal cloche. I think most burger places tend to do this now, so it's no longer as novel as it used to be.
I liked the patty (even if it came a little overcooked) , it was juicy, and the aged Ginger Pig mince certainly exhibited sharp and strong beefy flavour. So concentrated in fact, that I felt it was verging on blue cheese. I don't know if it were a combination of the sweet bun, the cheddar and onion, but this big-bang flavour was certainly pleasing. The patty did remind me of the equally big flavoured Hawksmoor burger, which is also minced from Ginger Pig Longhorns, with a few dollops of marrow for extra oomph.
I thought the onion relish was a nice touch, giving the patty a sweet contrast, but personally, I could have done without it. The airy brioche was adequate, but perhaps just a little on the dry side. It's strange really, most people have written about wanting doughier buns, but it seems restaurants are still adamantly sticking by variations of – in my opinion – rather ordinary buns. I think the Meatwagon (steamed) buns are probably the best available in town. However, I did try some experimental St John sourdough (with an O'sheas patty) at a BurgerMonday event, which I thought was fabulously the right doughy consistency. But that was about a year ago, and I haven't actually seen it come on to the market. Logistics and perhaps high costs probably prevent better buns from coming into the burger equation. The bun can either complete the burger or be its weakest link.
As for the rosemary scented chips – yeah they were pretty nice. Very crispy and it reminded me of Kettle chips…. but I thought they were horribly over salted.
Everybody else on my table went for the special (£10) of the day which was Beef, manchego, chimichurri, brindisa chorizo and braised chillies. It sounds over the top on paper, and indeed it was horrendously salty in practice. I split my burger with the missus, and really regretted parting with my much mellower cheese burger. My friends couldn't stop reaching for wine to wash away all the heaviness.
Overall, everybody thought it was a pretty good burger, but we also thought they should reassess their salting philosophy. More flavour is nice, but with such a strong flavoured patty, I think it is more than capable of pulling off a solo act. I don't have a preference for processed cheese, but yes, it would be nice to see it as an option on the menu, if they were interested in offering it up. Afterall, a classic cheeseburger can be an elegant creature.
We paid about £74. That includes a couple of homemade fizzy lemonades and a bottle of red. I can't remember what it was, but it was cheap, £14.50. It would appear they have gained a license since opening.
With burgers being the ultimate universal meal, it is only natural to expect the best ones to draw crowds and attract opinion. I think everybody has their own expectations as to what a perfect burger should taste like, even if its just nostlasgia.
For a few years, I ate the McD's 69p cheeseburger every thursday as a reward to munch on some junk food after basketball practice. I still do it occasionally. I'm not suggesting that McDonalds are the default champions of the humble hamburger, but it certainly is interesting to note how this fast food has slowed down while gaining a fervent following. I still haven't tried Shake Shack or In and Out or a Pat LeFrieda patty. I'm curious how any of London's burger developments compare with the ones which really started it all.
The biggest challenges (in my humble opinion) of dedicated burger restaurants are in maintaining consistency and managing wait times. Ironically however, these speciality burgers take time to cook to a certain level of perfection, and it isn't strange to wait a couple of hours for a burger to arrive. I suppose good burgers do take time (and care) to cook.
Meat Liquor continues to entertain long queues, and I think they've largely cut down cooking times with their burgers (The last time I went was Nov 2011, I think). I never made it to the Lucky Chip residence at Sebright Arms, and I think their term has only just come to a close, so it's back to the truck at Netil Market.
I don't know about you, I like burgers but I really don't see the point of long waits by a food truck or being crammed inside an overcrowded pub.
I suppose the advantage of Honest Burgers is that they are neither. It is a smallish restaurant inside the brilliantly vibrant Brixton Village. They manage table turning well enough, and they maintain reasonable cooking times. I think we only waited about 20 minutes for our burgers, all of which turned out with good consistency. For what it's worth, I enjoyed the Honest Burger experience, but my favourite (recent) burger memory is still the Lucky Chip's Bill Murray Life Aquatic Surf and Turf.
The Gist
Honest Burgers
Burgers, £10pp
12, Brixton Village
Tel : +44 (0)20 7733 7963
Underground : Brixton
Did you enjoy reading this? You can subscribe to the RSS feed.