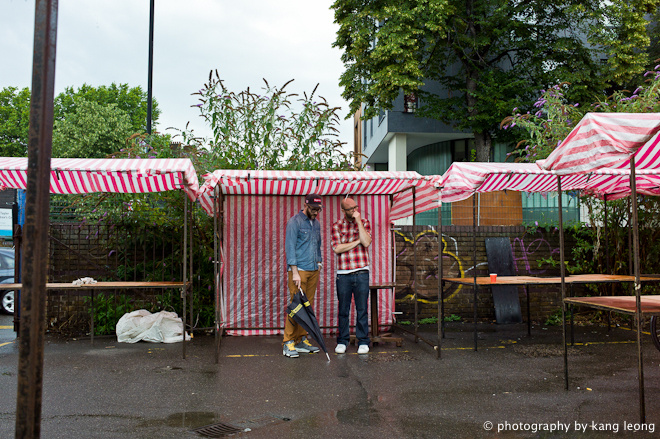 The things people do to track down a good meal, this one in particular involves my first encounter with the Lucky Chip burger. As you know, summers are pretty up and down every year, we remember the odd day when the thermometer crosses the psychological 100F mark, but we tend to forget that mostly, it's just very wet. So there we were, Mark with his gentlemenly brolly, and me with my … FT Weekend Magazine… (ironically, this weekend's was the Food issue including a feature on the slow death of the Bib, and a short Heston interview) and soaked Marni blazer (sniffers) , we were traipsing up and down London fields to find this rather elusive, and well hidden Netil Market, and mindful that the mild drizzle – like a balloon slowly filling with water – was about to burst into a proper rainstorm.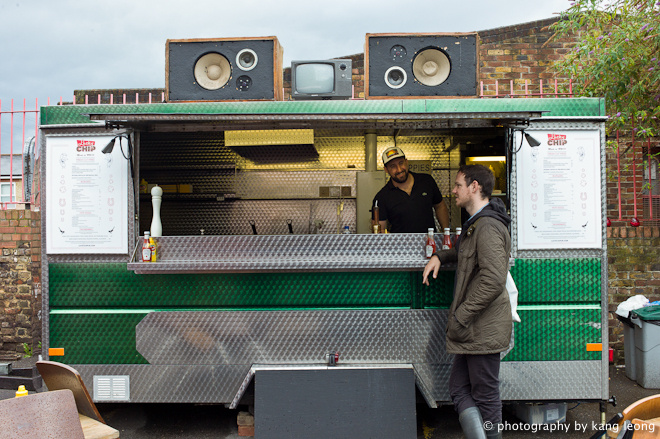 After a little tinkering with google maps, we circled onto Westgate Street as the entry point to Netil Market. So we found it eventually, quite modest, in a rather small car park, but as it had been raining all afternoon, it wasn't a surprise to find the vendors packing up their stock to shield from it. The sight of the Lucky Chip van was modestly uneventful, and given the street food craze, it's quite a change coming across an empty food truck with good internet gossip. Manned by one, there were a couple of tables around it, one table in particular was shifted under a market stall tent, which we both thought was a good idea to duck into. So we ordered, and sat down, before long our worst fears were realised, the metaphorical water balloon had burst and it was as if wet bombs broke upon impact on the tent. What a day for al fresco dining, but no amount of rain dampened our appetites, when this landed on our table:
Single with Cheese, £6.00.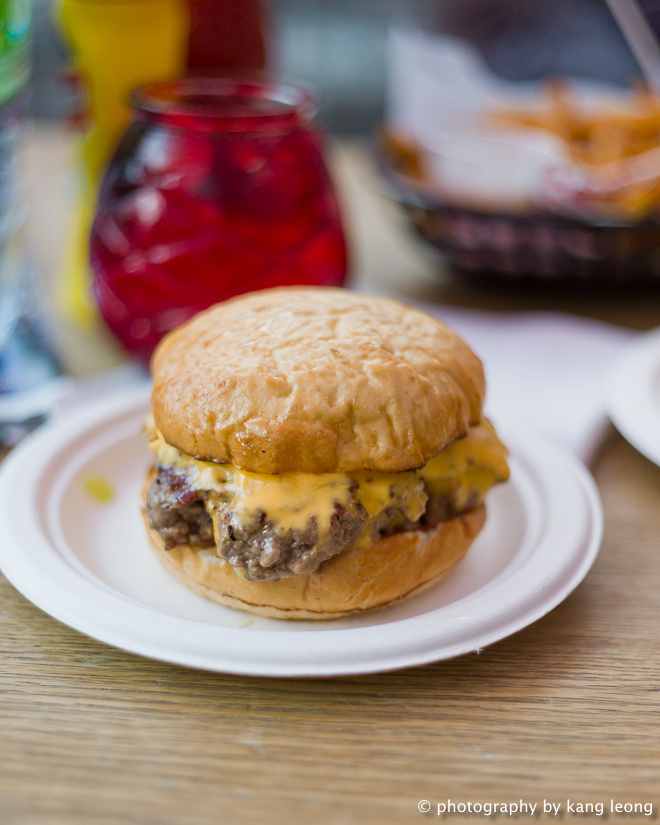 Looks familiar doesn't it? Yeah it does bear a semblance to the now mythical Meat Wagon/Easy effort, what with the melted cheese oozing around the seemingly hand formed patty enclosed within a steamed bun.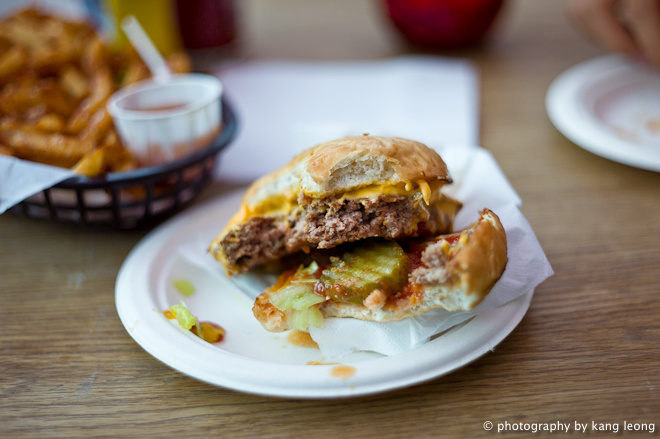 The patty was juicy and well seasoned, not too beefy but not too bland either. All the pre-requisite fixings were all present. The burger was a tad too leaky but I think it's probably down to a merely adequate bun, which could be a little better at soaking up the juices, but all in all, we found our burgers to be quite good. In fact, we thought they were really good.
I'm not going to get more technical than the above, because I'm not a bloody burger expert (then again, is anyone really?) , but I think you'll find there is substance to the Lucky Chip burger, which for me resembled a Meat Wagon experience, ie, if I hadn't already just completed a marathon 10 courses at Roganic, I would have easily gone for a couple more.
The good thing about Lucky Chip is that it is still relatively free from hype right this moment, so you won't have to queue for hours just for a burger.
Wasabi Mayo and Ginger Sweet Chilli Fries, £3.5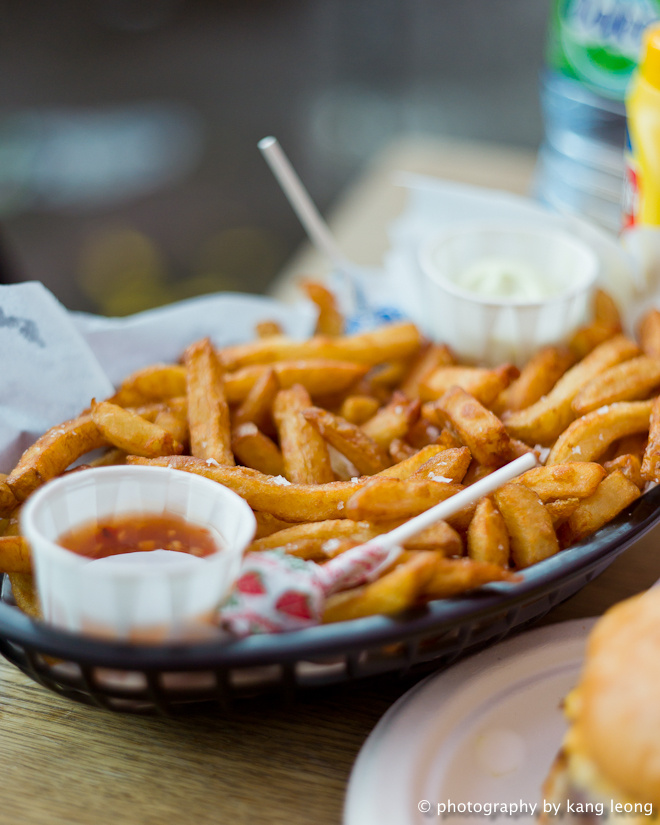 What we did think was a cut above the competition were these hand cut fries. Bursting with mashy, rich potato flavours, so much so that we didn't actually think it required all the salt it came with. In fact, when you do eventually make it to Lucky Chip, be sure to get the chips unsalted. The asian influenced condiments – wasabi and sweet chilli – were an effective touch.
Lucky Chip has only been around for about 3 months, they were 'born' in Kensal Rise (so to speak) trading a couple of days of the week from Kensal Rise church, but circumstances are such that it has forced them to found their now permanent spot in Netil Market. From our brief chat with the bearded Lucky Chip owner (one of two I think) , he told us they are in the middle of renegotiating their bread suppliers to somebody more local than their current guy out west in Park Royal.
We paid £15.50 for two burgers and the fries.
If you are searching for the contender which can go toe to toe with the Meat Wagon burger, I think this is it. Lucky Chip has got a great product on their hands, the patty in particular is great, and once it secures the perfect East London baked brioche or sourdough bun, I think it will have all the ammunition to fill the interwebs with pictures of its juicy burger. They are at Netil Market most days (except Mondays I think) from lunch hour through to 10pm, and I urge you to brave the rain and hit the food truck.
PS: Daniel – Perhaps a tie-up with BurgerMondays?
The Deets
Lucky Chip
£6 a burger
Netil Market,
Westgate Street
London Fields,
E8 3RL
Ben – 07795816355
Did you enjoy reading this? You can subscribe to the Newsletter. Alternatively, you cansubscribe to the RSS feed.