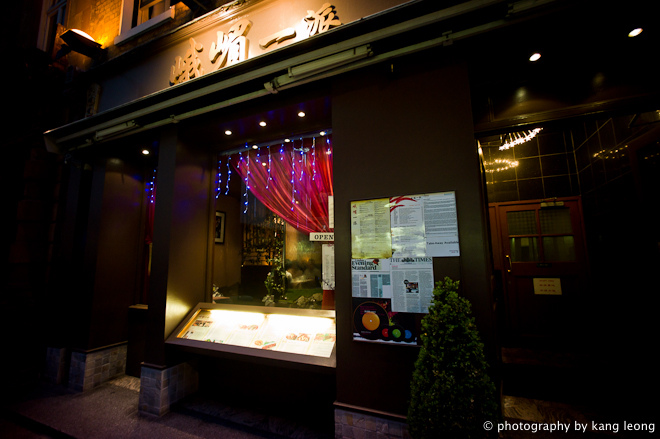 Ah, Chinatown. One can only love it and loathe it, at the very same time. I despise Chinatown like the way I despise the way Justin Bieber's bobcut falls over his forehead. I may well be the last person in London who will write nice things about the state of Chinese food in London but at the same time, I love it for the very same reasons. Firstly, for the rude service, what was once a spectacle at Wong Kei, has now become a culture spreading rapidly across restaurants in Soho, perhaps even an act worthy of its own Westend matinee; Secondly and more pressingly for the transient standard of cooking – It could be great on Monday nights, but total piss by Friday noon.
On the otherhand, whenever I exit Leicester Square station, the smell of roast duck, bbq pork (and piss) takes away any and all anxieties, hope is immediately restored in this culinary wasteland.
The Sichuan fad was something I never fully understood, and am still scratching my head over. To me, it's oil, sichuan pepper, luncheon meat, more oil, more bud numbing pepper and yet more oil. But you lot love this stuff, no doubt with a helping article or two from the revered queen of Sichuanese writing – Fuchsia Dunlop. Which leads me to the Empress of Lisle Street, the Queen of Sichuan food in London, as far as the blogs will have you believe. I don't think I've seen so many positive reviews about a Chinese restaurant before. Opened last year, the kitchen is helmed by Kang Dong, his track record includes stints at a presumably upmarket Hotel in the Sichuan Province in China. His profile graces the opening page of the menu describing how his style had conquered many palates in the Far East before he was whisked away to London.
Curiosity had the better of me, and for the smell of siu lap, as well as the positive scribblings of Mr Coren and Ms Maschler plastered outside, it was inevitable that I give this crowd favourite a sample.
Marinated Chicken in Spicy Sauce, £7.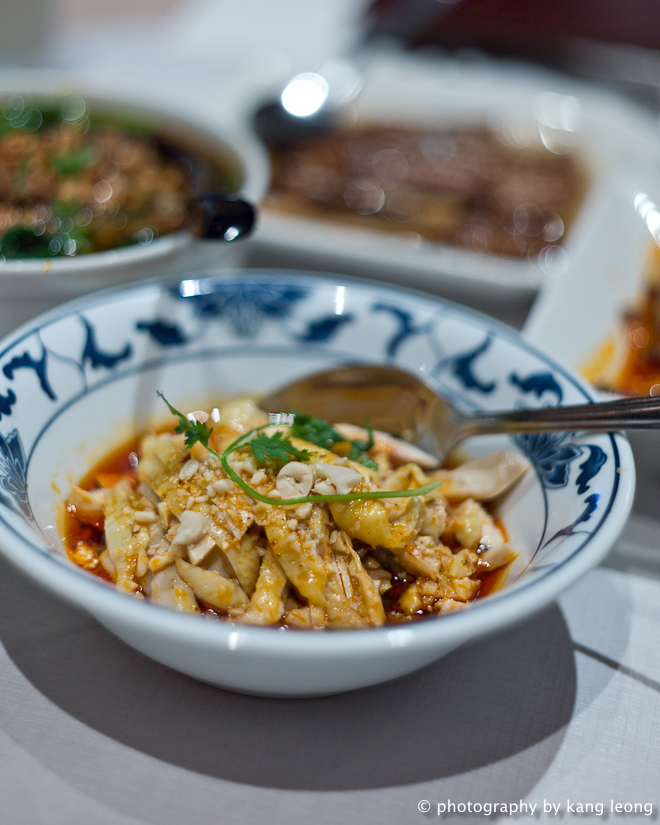 Or Saliva Chicken as it is, in Mandarin.
I took Mark, Carin and the better half, who is much better versed in Chinese cooking than I am. The chicken was cold, wet, oily and spicy – as saliva chicken should be. A regular feature of Sichuan restaurants.
Hot and sour Rice Noodle, £6.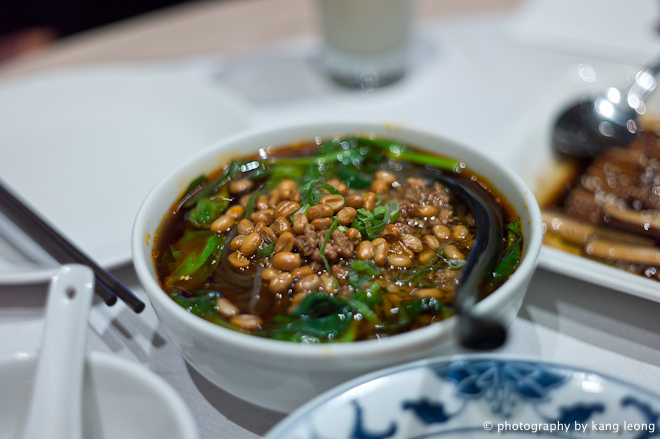 The glass noodles, made from potato starch, were bouncy and chewy and generally tasty. The hot and sour soup was merely adequate. I'm not quite the fan of this contrast, but it is adored by the Taiwanese. The perfect balance of being on the verge of just spicy enough and tethering on the edge of being just sour enough is a highly sought after equilibrium. It is, I am told by the fiercest lovers of this soup, a condition that is hardly satisfied. This version was much too toned down.
Hot and Fiery beef slices and tripe , £7.50.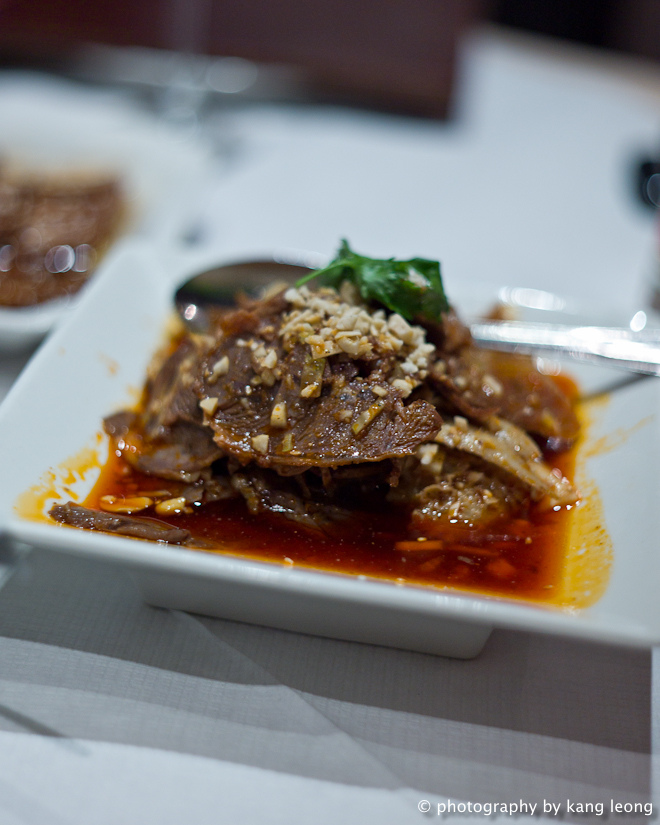 Ah but it is so much more exciting in Mandarin, called 'Husband and Wife Lung Slices'. The name is either meant to symbolise a kind of duality, in this case the combination of tripe and beef, or it's suppose to indicate the mythology behind the genesis of this dish – that it was first served by husband & wife who operated a food cart in Chengdu in the 1930s, or point to the traditional myth that the recipe could use either lung, heart or tripe to accompany the beef slices. It was pretty salty.
Five spice dry beancurd, £5.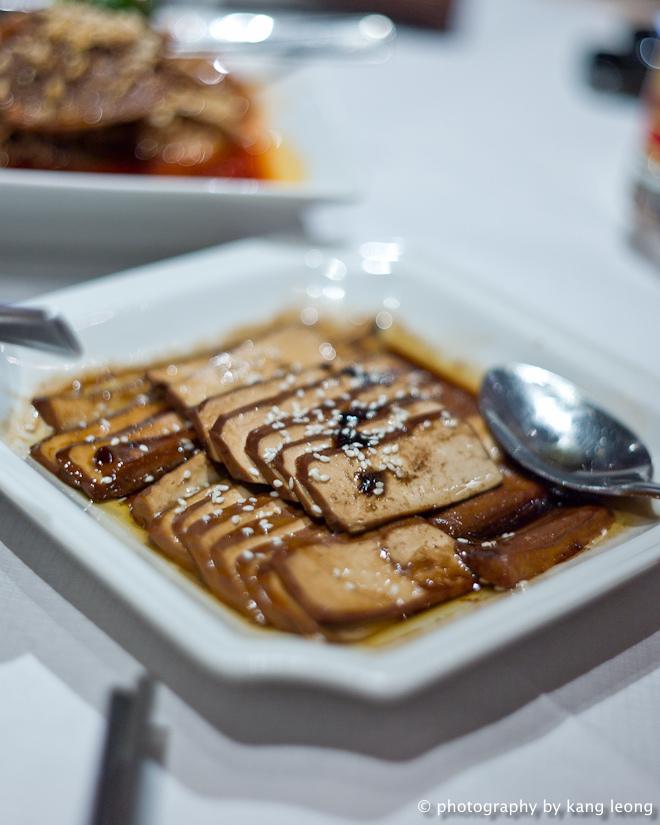 Seasoned with Five spice powder or 'Wu Xiang Fen'. It comes as a premix which you can get in a jar at your local Sainsbury.
Steamed 'Dong Po' Pig's joint, £13.80.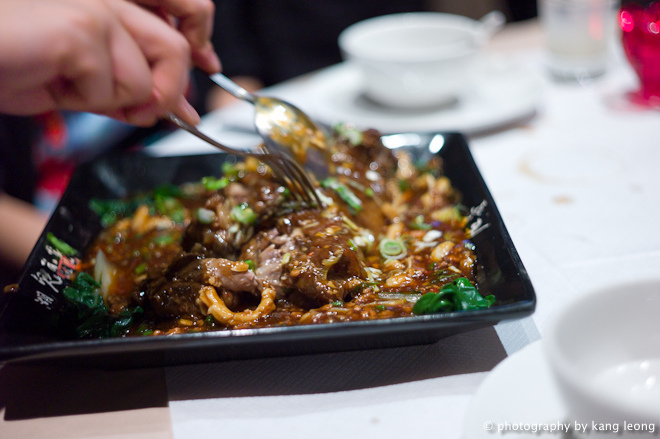 Su Dongpo was a famous 11th century Chinese poet, he wrote stuff like this:
Morning came, rain past.
What trace is left?
A pond full of broken duckweed.
Deep no?
Aside from playing his part in shaping Chinese literature, Mr Su is also credited for accidentally a pork dish, which by our best guesstimation, is what this dish is named after. As it is claimed (on Wiki) :
It is said that once during his free time, Su Dongpo decided to make stewed pork out of boredom. Then an old friend visited him in the middle of the cooking and challenged him to a game of Chinese chess. Su had totally forgotten of the stew during the game until a very fragrant smell came out from his kitchen and he was reminded of it. Thus Dongpo's Pork (東坡肉), a famous dish in Chinese cuisine, was created by accident.
So goes the story.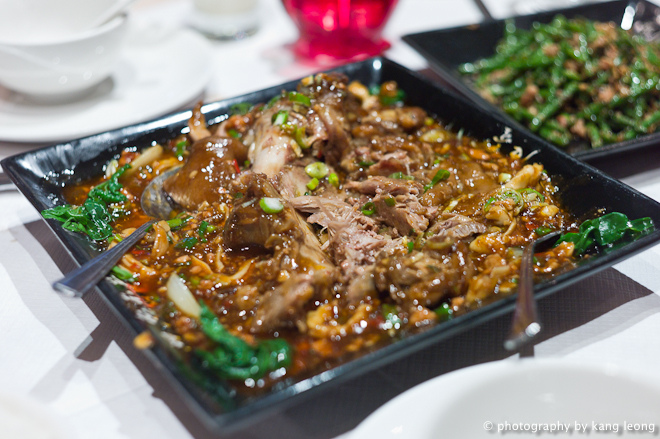 I've never had steamed trotters before, or at least not trotters in a sort of braised stew fashion. I thought this was a great trotters recipe. The meat was so tender, it fell off the bone easily, very juicy and full of flavour. I enjoyed it immensely. Most of all, the sauce was very good. Rich, salty and also a little sweet. I liked it because it carried no hint of numbness, no spiciness, no pepper, who knew if it was or was not Sichuan, all we knew was that we loved it. Oh weeping duckweeds.
Zhong's (secret) dumplings, £4.40.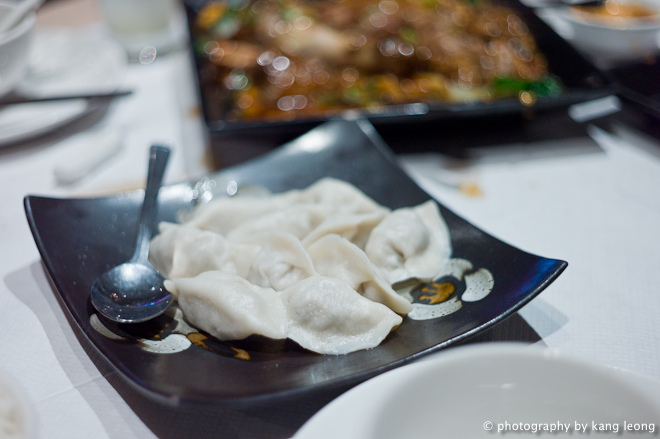 We overheard on twitter about these secret house dumplings. They were ok. Homely, nothing special to shout about.
Crab with salted egg yolk, £17.50.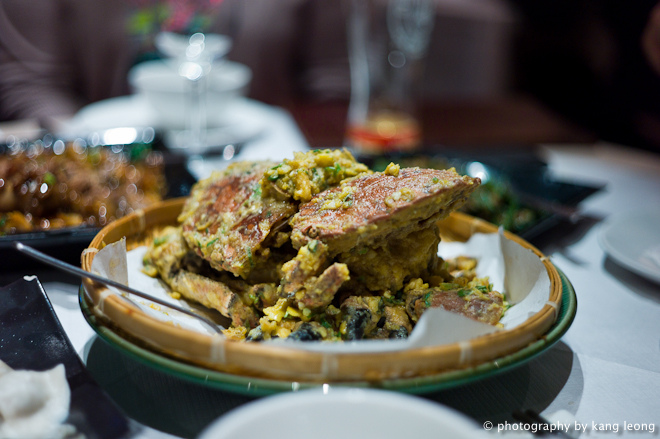 Salted duck eggs to be exact. Salted egg yolk sauce is Cantonese, as far as I know, but if you get a chance, either here or Pearl Liang, you must order something with salted egg yolks.
Anything with salted egg yolk is a winner. Deep fried prawns with salted egg yolk is win, fish fillet with salted egg yolk is a win and so is an entire fried crab crusted in a salted egg yolk armour.
I thought this was sensational, mostly because they used alot of egg yolk in this recipe. The more the merrier really. The eggs are cured either in brine or salted charcoal. The yolk usually comes out florescent orange. My mum used to make congee with salted eggs and dried scallops for Sunday breakfast, but personally I used to love mixing boiled salted eggs with steam rice, or even with fried rice. I could eat this stuff everyday.
Anyway I do digress, so the only problem with the chunky crab was that it became a little messy to take the monster apart. Otherwise, what an awesome dish.
We drank alot of Sunlik beer, and we paid £103.50 in total for four.
This was a reasonably good meal. I can understand the fanfare and I feel that it is largely justified. Good Chinese restaurants are getting harder to come by, so considering the slim pickings, Empress scores well above the average, in my opinion. In any case, a meal out at any Chinese restaurant won't break the bank, so even if it didn't live up to the hype, you won't have to deal with any alarming financial ramifications.
So let's see, that's Pearl Liang, Wing Yip Cricklewood and Empress for the slightly posher (very slight) but still good valued Chinese dinner.
The Gist of It
Empress of Sichuan
Chinese, £35pp
6 Lisle Street WC2H 7BG
Tel : 0207 734 8128
Tube : Leicester Square
In other news… Giles Coren ; Guy Dimond ; London Chow ; Asian Food Adventures ; Catty ; ILTEAETL ; Pig Pig's Corner ; Mr Noodles ; Chopstix to Steaknives
Did you enjoy reading this? You can subscribe to the Newsletter. Alternatively, you cansubscribe to the RSS feed.