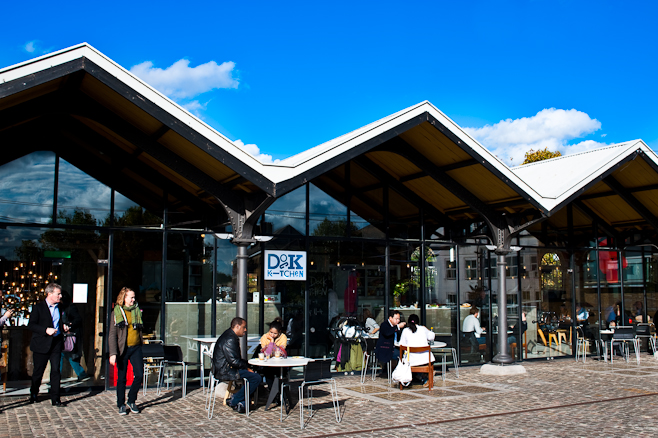 Fridays are always exciting for me, partly because the sun usually decides to come out to play, and also partly because I can put my work hat away come midday. We had planned to see the superspy movie of the decade based on dolphins, but hadn't thought of lunch yet. That was until the enigmatic supercharz came to our rescue with Fay Maschler's brilliant piece regarding the latest secret gastro project to hit the smoke.
Here's what I know so far : Dock Kitchen was started up by Stevie Parle and Joseph Trivelli, the former, a River Cafe alumnus and the main man in the kitchen; the latter still currently at River Cafe. Not the average trendy living room restaurateur I suppose what with the pedigree. Dock Kitchen is a part of their moveable restaurant project which made its debut at The Dock exhibition for the London Design Festival. It has since evolved to become more of a permanent fixture at the Portebello dock, serving lunch on most days and special suppers on selected nights.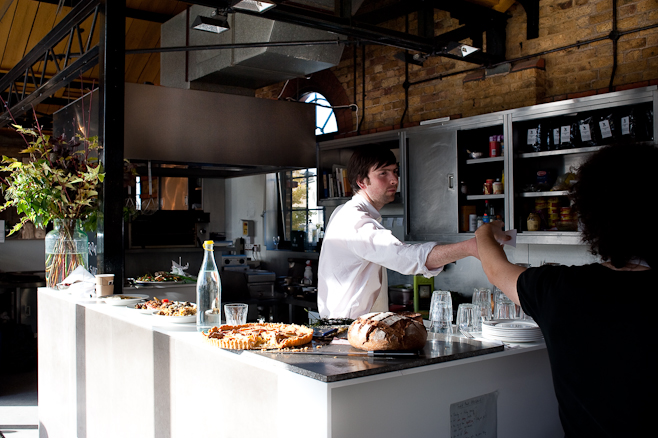 We had to buzz to get through to the gated property – a double storey glass encased building of slick lines and bold typography. All very uber artful to my non-designer trained eye. At the entrance, we were greeted by the open kitchen-cum-reception-cum-cake-table-top. The rest of the venue looks abit like a stripped down exhibition space with elemental aspects of bricks, metal and glass working oversized pumpkins as table decoration. It doesn't really feel like a pop-up to be honest, but more like a stripped down cafe, very relaxing.
The menus are A4 inkjet prints – all very low key – finished with inventive copywriting skills. I was fooled into thinking the choice of 'Aranciata', fizzy orange was some sort of special mocktail, but no, its just a fizzy canned drink. Hmm, I'm oh so gullible. The food menu is short, sweet and to the point. Six dishes for the starters/main and five choices for puds. Between the three of us, we chose most of what's available, except for the wild seabass over roast potatoes and white wine (for 2 at £30).
First dish: Dhal with tomatoes and curry leaves, mustard leaves and chappati bread (£6.5)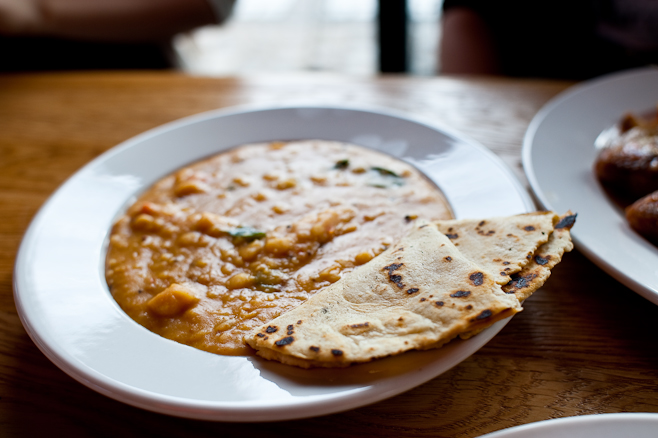 Ah, I probably should mention that the menu reads like the chef's greatest hits from around the world – kind of refreshing. So we poked the dhal paste but the feedback was cold and blobby like mud. We had to send it back to warm and melt, but what came back wasn't really much better. The mushy paste was missing flavour in spite of it carrying abit of a spiciness. The fine grain texture while good was uninteresting. The chappati bread tasted like undercooked flour, just forgettable and the entire dish felt lethargic to me. C'mon, we're a nation which knows our dhal well and it's not suppose to taste like this. Next.
Next: Dorset Crab on Buttery Toast £10, we ordered two… how can you not order two crabs on toast.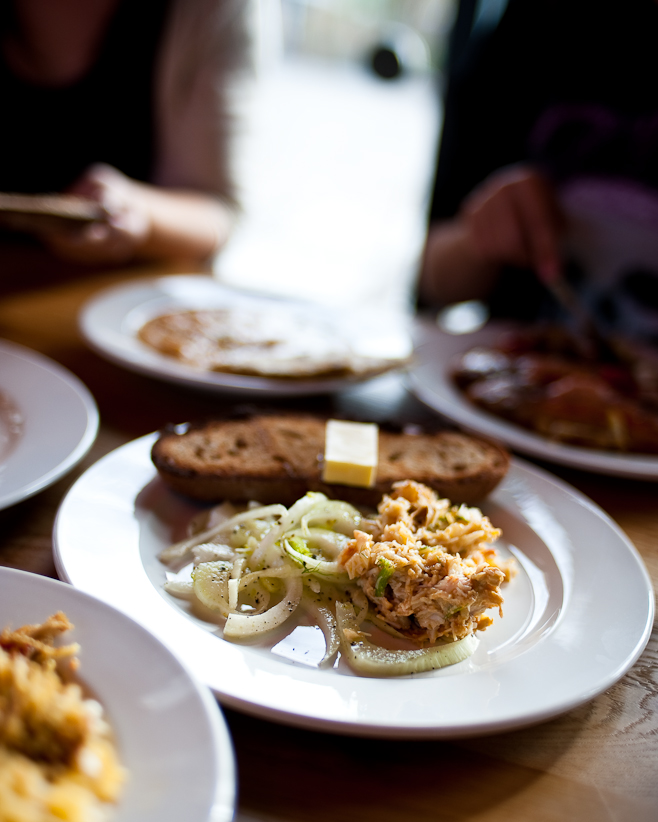 Now we're talking. The crabs were fresh, flossy, juicy and tasted of the sea. I was pulling bits of shell out from the crab – like the chef's way of saying fresh produce, hand made, yeah. Layered on top of tenderly moisten fennels and a fat slice of bread with a chunk of butter on top, I could eat three of these. I gobbled one, and watched the girls finish the rest, with envy.
Mains: Rabbit biryani – Farmed French rabbit slow cooked with tomato and ginger with cardamom Himalayan basmati rice £15.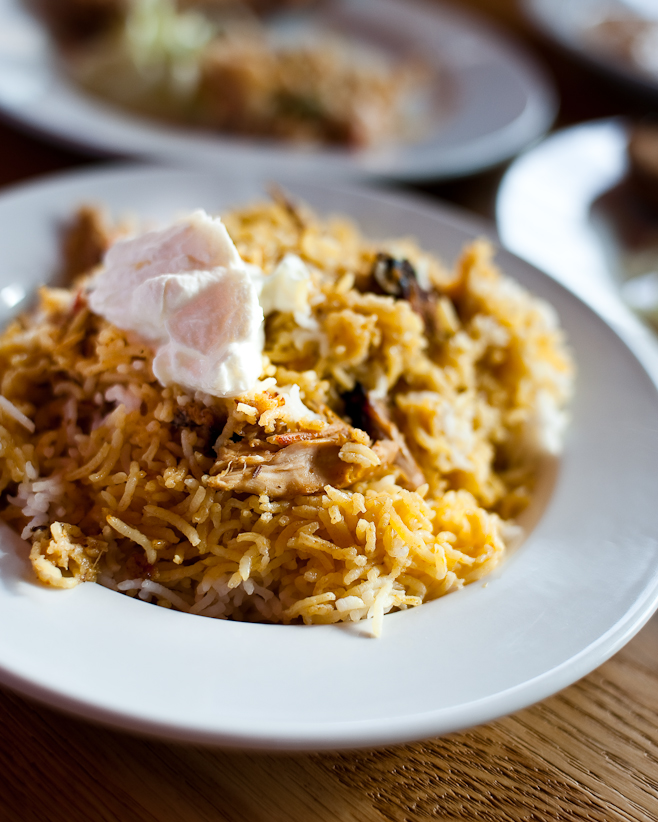 Oh yes. This was another winner. The dish was very fragrant, a mellow spiciness – like the gastronomical equivalent of fresh laundry. The rice was amazingly fluffy, cotton-like, and just the slightest touch of spice hitting the back of my throat. The dollop of crème fraiche created an appetizing citrusy contrast to the dish, this was another which I could eat again and again. The rabbit tasted like chicken to me, although some bits were liver-like, mildly seasoned, simple comfort food beautifully cooked.
Finally: Two small red mullet roasted with tomatoes and wild fennel leaves with Florence fennel slowly cooked with olive oil and garlic (£16).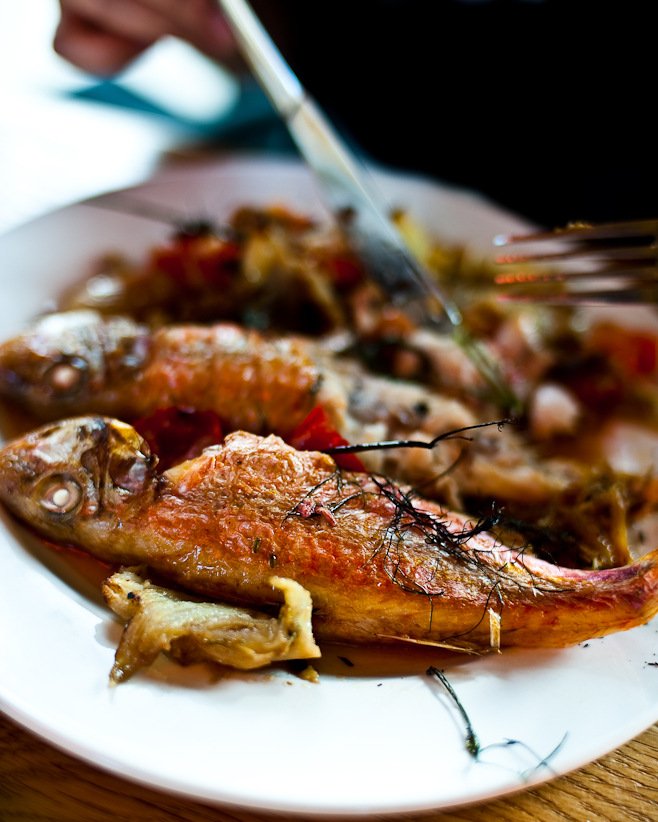 And the umami monster strikes again. The fish are beautifully presented, very smart in the way they kind of sit up on the plate hugging a cluster of roast vegetables. Fresh & flaky, the fishiness was expertly masked with the juices from the roasts. This rustic combo was very comforting and it was like being invited to try out new recipes at the home of a successful chef who cooks for the pure unadulterated love of food.
I know a lot of chefs who would relish the chance to work on these sorts of personal projects. Not have to worry about the bottom line but to simply cook to their heart's content. A very positive experience. Not the cheapest lunch but not entirely expensive either. Not the largest of servings, but not paltry. Most of all, food was delish and the stripped down nature was a welcomed change to unnecessary grandeur. Dock kitchen gracefully carried out their minimalist approach. It is a wonderful venue and I think London needs more of these type of cafés/brasseries/insert your own moniker/chilled out eateries which just wants to fill yer tummies without the ceremony.
I really heart out loud, and it is always a pleasure eating with Charz, I owe you a burger (or two) for this one. Go visit already.
The Gist of It
Dock Kitchen Offical site
£20-£40 pp
Portobello Dock
342 Ladbroke Grove
W10 5AH
Tel: 02089621610
Nearest Tube: Ladbroke Grove
More photographs of Dock Kitchen here.
Did you enjoy reading this post? Why not subscribe to my feed updates for free. Alternatively, You can subscribe via email.