Eight (baat) is phonetically similar to fortune (faat) or "about to hit the motherload" more like and is significant if you're Chinese[1. The significance of 8 in Chinese Culture]. Chinese being a culture which has an insurmountable archive of superstitions and a belief system that links fortune to being fortunate. Lady luck is not a bad thing to have on your side, Rob Green could do with some. People will go to great lengths to associate themselves with the number 8. Like bidding for a mobile phone number, car license plate detail, the house number, the more 8's and multiple 8's – my brother's mobile number ends with triple 8s – in one's life, the more prosperous one's life might turn out to be. So it is believed.
Imagine my delight when I saw the number 88 stamped across one of the giant red pillars outside My Old Place. It's like winning the lottery, yes… just a number indeed, but if superstition was anything to go by, it would appear to be working. The modest restaurant has garnered gleeful reviews[2. Matt Norman reviews My Old Place] online, the Guardian critics especially love it, but more than that, the layman raves about this place too. The word amongst the various social circles (Facebook mostly) is that My Old Place is one of London's finest Szechuan restaurants, Taiwanese people in London especially love this place. Situated in the shadow of Liverpool Street station, it is the sister restaurant of Gourmet San[3. Jay Rayner reviews Gourmet San] and together are two of the foremost Szechuan restaurants in town seen as the substance to the stylised shell of more centrally located and faddish joints Bar Shu and Ba Shan to name a few.
As one would expect service is not dismissive, but neither is it warm, it is as it is, a contrast to the flamboyant decorations. Red fans, red lanterns, red posters with greetings of longevity, happiness, it's like they didn't bother taking down the ornaments from CNY celebrations. We were a table of four who had decided to pop-in for a pre-theatre numbing session before falling asleep at a Wigmore Hall recital…. they landed a Chinese menu, so I had to concede the ordering to the better half…
Clear noodles with sesame paste.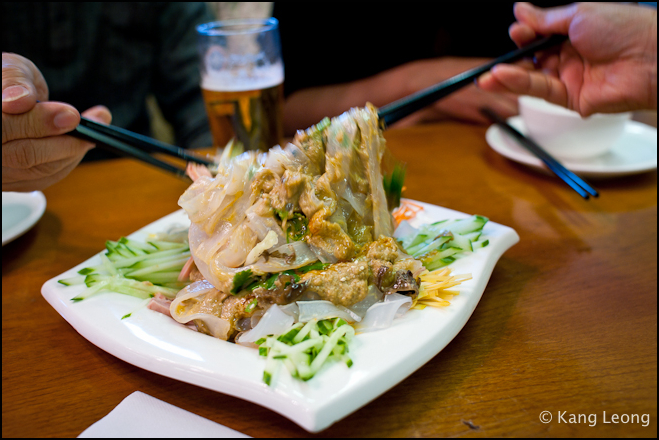 The creamy paste had flavours of peanut, sesame oil not dissimilar to a 'satay'[3. Satay Sauce on "Love through the Stomach…"] sauce, the mung-bean based clear noodles spongy and expectedly starchy while garlic and salt overloaded my tastebuds. Cucumber and spam (or luncheon meat…I think) also accompanied the mash-it-up, I actually quite liked the creamy, nutty paste with the noodles, but man was it salty.
Trotters….peppers….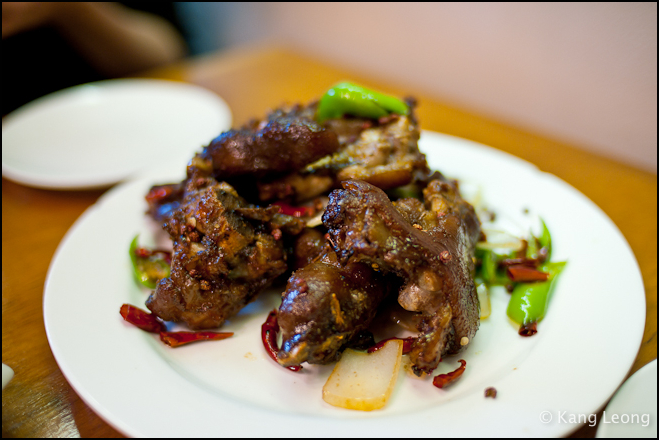 Trotters were coated with copious amounts of tiny red pods[4. Szechuan Peppercorn Pods] that vaguely resemble mini rambutans. Initially, there was a tingling sensation on my palate, causing my buds to vibrate. The tingling then grew to a sting before a numbness finally settled, like micro tranquillising darts immobilising the tongue.
Before I lost my buds to the effects of hydroxy-alpha sanshool (only 3% in every pepper-pod…on average) though, I quite enjoyed the full-bodied flavours of the braised trotters, oily, fatty and deliciously savoury. My advice when you order this… scrape away the devilish mini-bombs before you start eating.
Tripe.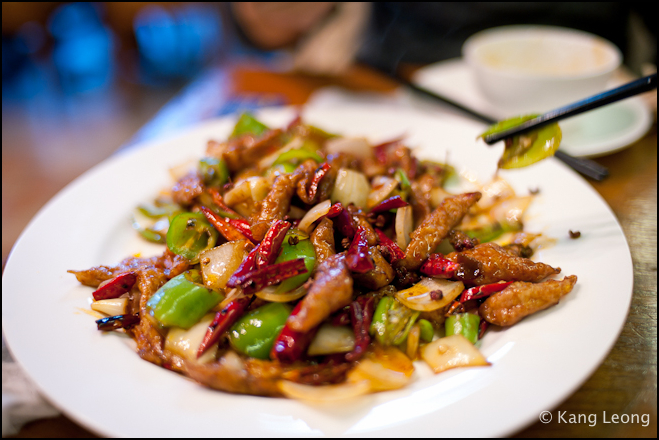 Oily, pungent, salty, gamey and with yet more Szechuan pepper pods. Probably the best dish of the meal. I have to say, I can take my fair share of spicy food, but this had me defeated. We opted for Cobras instead of Tigers, but downing cans of lager was barely enough to cut through the numbness.
Skewered beef tendon or Impaled offal-on-a-stick.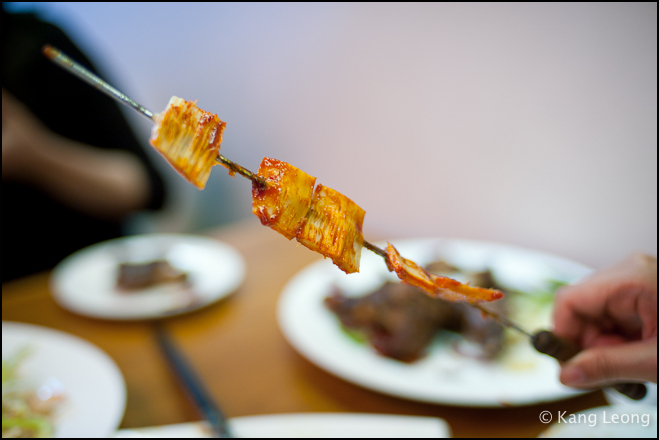 If memory serves, these were a pound each. We had ordered the popular lamb skewers too, but in light of all the food which had already landed, we decided to cancel the order. So offal lovers should enjoy this gruffness. It doesn't get gamier than this, it literally tasted of rubbery fat and chilli…
Yellow chives with prawn and squid and dried beadcurd.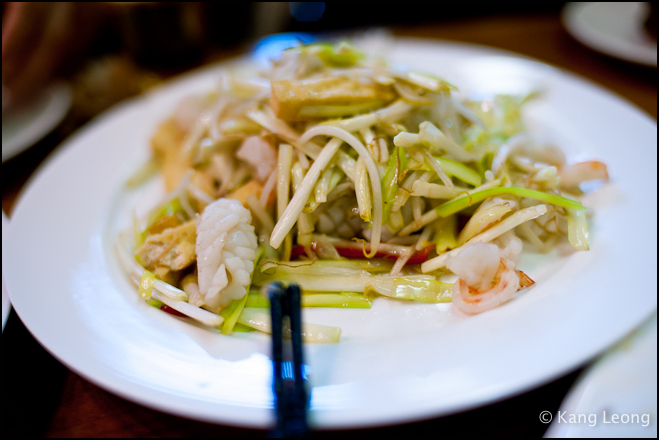 Not every dish was a rollercoaster ride however, this was where we got off for a breather. But it was entirely pedestrian, my notes say nothing about it, though I just wonder if it were because my tastebuds were still under the numbing effects of the pepper, seemingly the major theme of this meal.
Cumin beef.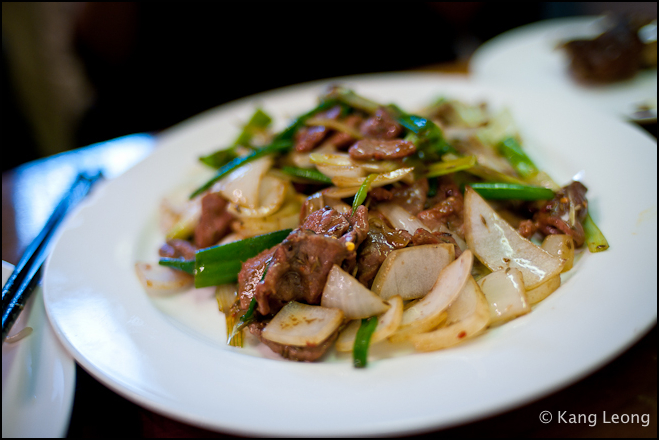 The cumin certainly gave the beef an interesting aroma, akin to the fragrance of curry, but alas the quality of the beef itself was horrendous, that it was unchewable was an understatement. The sloppy stir-fry with what seemed like recycled lard was distasteful and utterly unappealing. The meal hit a low at this point.
Finally, Sour vegetables with fish fillet.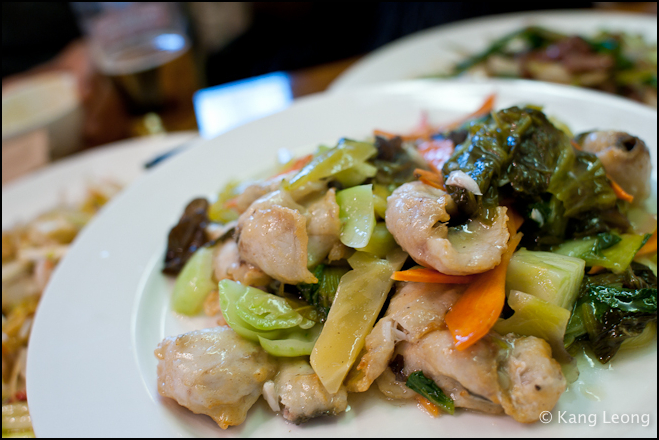 The sour vegetables [4. Soured and pickled Chinese Vegetables] did little to mask the absolute dire pungency of the fish, it stank and that's not a good sign.
We were amazed with the gargantuan portions, each dish averaged £7, but it was easily much more than we could manage. We didn't finish any single dish and elected to take home all the leftovers, which we had to scoop into plastic containers ourselves. The leftovers lasted two days by the way. The final bill was £59 for four, £15 per person, though I thought we were ordered at least two dishes too many.
As we left the restaurant just before 7pm to make way to Wigmore Hall, we noticed how the restaurant was completely full up, mostly Chinese, and I couldn't shake the sense that perhaps people come here more for quantity and passable quality, than for absolute finesse. Personally, I won't be returning, too salty, way too much pepper, and questionable ingredients. I felt bloaty after the meal, having much difficulty sitting through the piano recital after, and a stirring guilt as if I had just stepped out from a greasy spoon. It leaves me to ponder about the oil they had used in their stir-fry. Nevertheless, My Old Place is cheap, abundant and abominably entertaining, if you're looking to load up before a night-out, this might be the alternative to Tayyabs, but personally, I'm sticking with No.10[5. My write-up on No.10 in Earls Court]. It might not be a fancy number, but it is definitely easier on the tastebuds.
The Gist of It
My Old Place
£15pp Szechuan, Cash Only.
88 Middlesex Street E1 7EZ
Tel: 020 7247 2200
Tube: Aldgate East or Liverpool Street
News of the World: Clandestine Critic ; Trusted Places ; London Chow ; An American in London ; Mawi ; Matt Norman
Did you enjoy reading this? You can subscribe to the Newsletter. Alternatively, you can subscribe to the RSS feed.