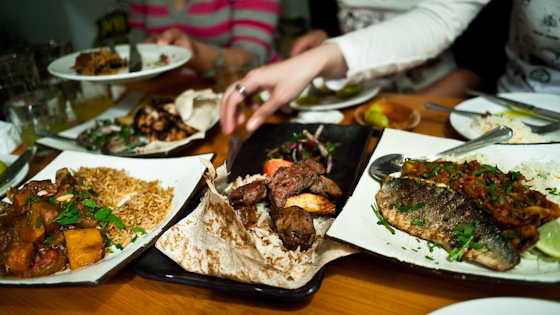 Trend is a funny thing. It is exhilarating riding the hype waves and it had driven me to try Yalla Yalla, especially after reading about it on World Foodie Guide and on Metro. It was a toss up between Tayyabs and this, for a five person feasting on a Saturday night and I chose to go with the new kid on the block.
Right now, I'm going through growing pains with my blabbering, I'm taking cues from a new book – Dianne Jacob's Will Write for Food – and this wonderful resource is changing the way I articulate myself. The old benchmark was Lindsay Camp's Can I Change Your Mind – which is a smashing book – but man do I need some inspiration for new ways of expression. This is review #111, its no wonder I no longer fit into my jeans I bought last year. Urgh…. must…not…touch…krispy..kreme…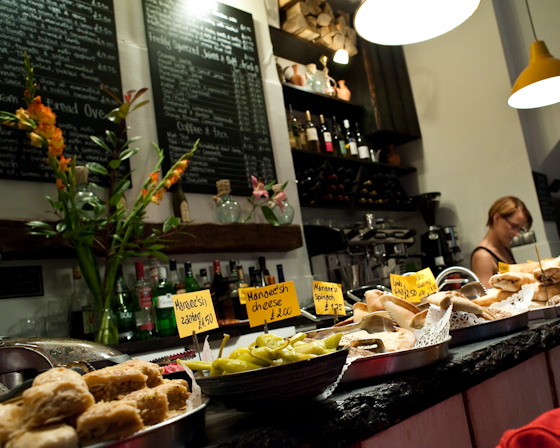 Meanwhile….
….so there we were on a windy September evening – Saturday – and the shadows of Soho have released themselves from the darkness which they dwell, a sign that the sinful jive of the weekend rhythm has begun moving. Yalla Yalla is smack in the middle of the colourful red light district. Residing in a seedy looking side street, you only need to look next door – an open one – with a hallway lit by red lights, and a sign that reads 'models upstairs' to confirm this. Ah yes, the human condition, but of course, I was more tempted by the equally sinful pleasures that Yalla Yalla offers. The restaurant was surprisingly small; It fit no more than five or six tables, and this seemed more like a takeaway caffe than a fully fledged restaurant. We crammed into a corner table – cosy – and naturally, I sat closest to the food counter. I saw pizza-like sfinas, shwarmas and in my direct line of sight…. a platter of baklava. An invisible veil of willpower shielded me from diving headfirst into the table top filled with food. This was my one chance to enact the recurring dream of me swimming in food, ala Mena Suvari, American Beauty… but in hindsight, it was probably best that it remained a dream.
We arrived quarter to seven to an empty restaurant that quickly filled up. Two waitresses tended to customers, and it was immediately obvious that food was a little slow to arrive.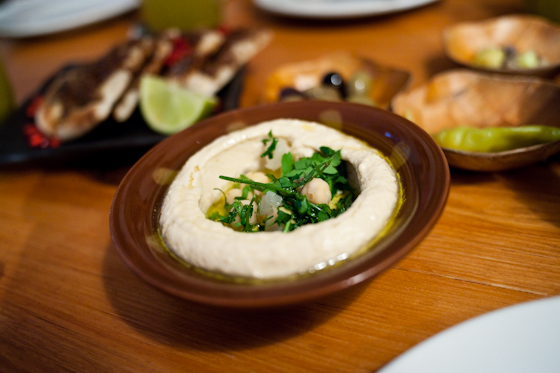 The first starters to arrive, hummus, lamb sfina, some olives and pickled peppers. The hummus was grainy yet smooth, inoffensive but heavily seasoned, while I quite enjoyed the spicy minced meat sfina that was doused with a citrusy pomegranate sauce, like fire and acid.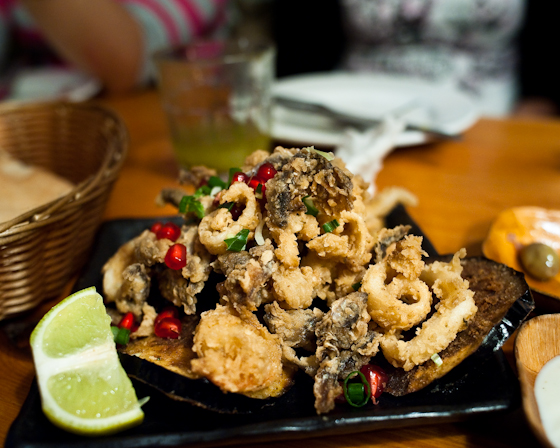 Next to land on the table was the makalé samak: a medley of powdery and crispily fried seafood. At £5.50, this was a steal. Prawns, squid, white bait (very nice) and all of it resting on a bed of crispy aubergine. A relatively large dish, it was however a little on the salty side, so much so that I was reaching for water as my mouth dried out. And then, I tried some of the pomegranate seeds with the seafood, and discovered how the sweetness of the juice evened out that dehydrating saltiness. I would have appreciated more of the sweet juices, perhaps they could consider making a pomegranate puree of some sort?
Then again, I'm no chef, so I'll keep my opinions to just the tastings, this one received rave reviews from around the table: Batata harra £3.50, like a Lebanese version of the classic Spanish Tapas Patatas Bravas.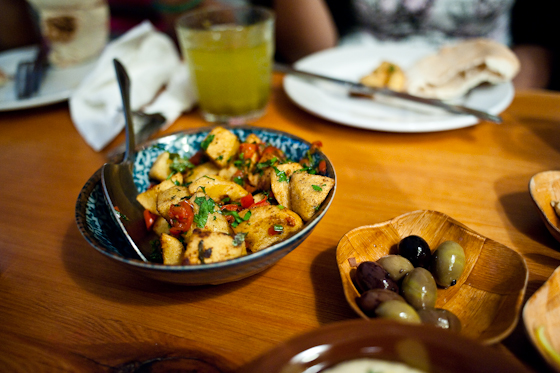 With crackling chilli spiciness, the potatoes gave me a kick on the tongue, yummy.
The last of the starters to arrive: kibbé nayyé, or lamb tartare £4.00. This will be a first, I love steak tartare and have tried a variety of seafood ones, but never one that was made with lamb, we had to order it, being exotic to us.
As it was raw, some were apprehensive, but we slowly succumbed to trying it out. It was heavily seasoned, full of flavour and was much like the meat version of hummus. Seasoned and spiced, the mince was an excellent pitta spread, served with chopped radishes, spring onions and I even tasted mint, I could eat this all day long. This was my personal favourite from the meal.
And so, that were the starters, we were told that the table was to be returned at 8 o'clock, we only had one and a half hours with it, the time was then already approaching 7:45. Our conversation led us to chippys in London, Mickeys in Paddington to be exact, they are supposedly endorsed by Blummental. And then, a flood of dishes landed on the table, colourful, aromatic, the true feast was about to begin! I had to work quickly with the photographs – a little overwhelming – as I did not want to keep the table waiting.
The first dish is Lahem Casserole, which is slow cooked lamb shoulder with carrots, red pepper, swede, bay leaves & tomato, served with seven spiced rice. (£8)
The meat was tremendously tender, heart warming, the spicy tomato based sauce it was served with was delightfully comforting and the mix of ingredients complimented the natural flavour of the lamb well. I noted that there weren't any beef dishes on the menu.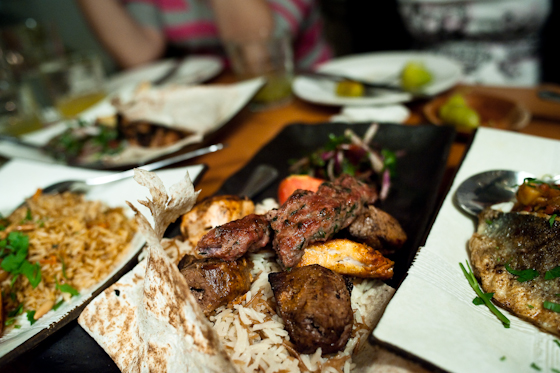 The next order was the mandatory mixed grill (£9.50). Portions were a little small, just a few pieces of meat, while well-grilled and delicious it wasn't anything particularly special. On the otherhand, I really enjoyed the heavily seasoned rice, with vermicelli bits.
Dish number three was their special on the day: Grilled Baby Chicken (£10.95)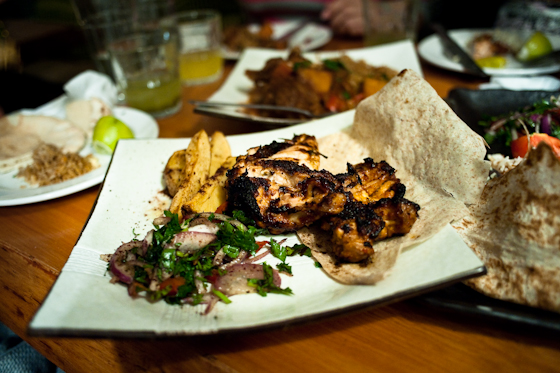 Portions were again rather measly. Grilled with the taste of burnt chocolate, it was oily and juicy on the outside but a tad dry on the inside. I'm not entire sure what the difference between a normal chicken and a baby one (apart from the obvious) is suppose to be, but for me, this was just premium Nandos.
Half the table were full by the time I came to try the Lokoz meshoué: charcoal grilled sea bass fillet with citrus scented rice and spicy tomato & corriander sauce (£9.75).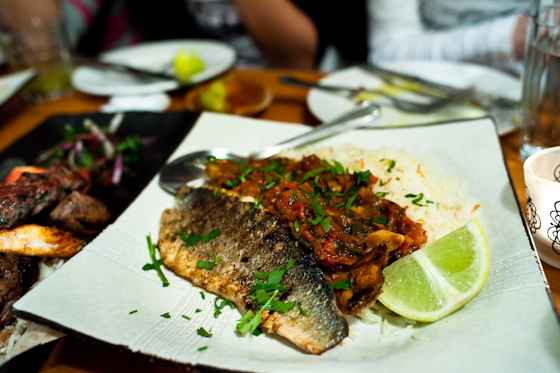 The seabass was nicely grilled, very smoky and all, and the tomato based sauce was similar to the one served with the lamb shoulder. Yeah, it's quite a simple dish really, delicious and free from frills.
Toward the end of the meal, salt bombs were going off on my tongue, the heavy seasoning was only too apparent. Downing glasses of water seemed to help. Aside from the intensity, the meal was decidedly a feast and the food plus five fruit juices came to just under £70, or £15 each. I wasn't entirely blown away by this venue for dinner, I think Yalla Yalla is much more suited for lunch, or when one feels like a variation on the one plate meal. The starters were enormous for their price, yet the mains were minuscule in comparison. For the most part, it was satisfactory. Now if only I worked closer to the reaches of Soho, as opposed to slave trading for Jabba the Hut in the Outer Rims of Aldershot, I would lunch at Yalla Yalla everyday.
The Gist of It
Yalla Yalla, £15pp Official Site
1 Green Court Soho W1F 0HA
Tel: 0207 287 7663
Nearest Tube Station: Picadilly Circus
Like this blog? Why not subscribe to the email newsletter ; alternatively you can subcribe to the RSS feed.