I was very recently part of a foodblogger daytrip to Lille, fully sponsored and put together by Eurostar's PR bods to help promote their current 'little break, big difference campaign'….. yup, it was fun, lots of pictures inside.
Here's what came into my inbox a few weeks ago:
"We would like to invite you to for a little break in Lille on the 22nd August 2009 to experience the culinary delights of Lille for a day"
… for those of you wondering, yes PR companies do use the word 'invite'. Loads of foodbloggers came along for this free trip as well, and I'll highlight my interaction with them later in this post.
The day began dim and early at 6 am at Kings Cross, I was really groggy. Somehow I managed to haul my pot belly onto the train, and the next time I opened my eyes, a Frenchman was serving me breakfast.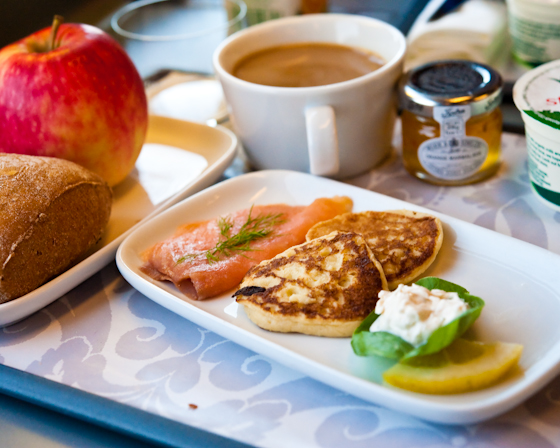 I woke up to this. We sat in the Leisure select coach (I think) and I actually found the salmon and bellinis to be quite edible. The portions were ridiculously tiny though (check out the relative size of the plate to the apple). Dinner on the way back was laughable, it was dry tortellinis with bone dry chopped olives, and it was so shocking that it wasn't worth blogging about. So um, yeah, looks like train food suffers the same problem as plane food.
I sense another virgin letter coming …
Right then, more exposition as we ride the train into Gallic lands. I was told that this is the third group of bloggers Eurostar has sponsored, fashion bloggers went to Paris and I believe arts and design peeps went to Brussels. Its kinda ironic, because I was actually on vacation in Paris and Brussels for long weekends last month, couldn have bumped into them.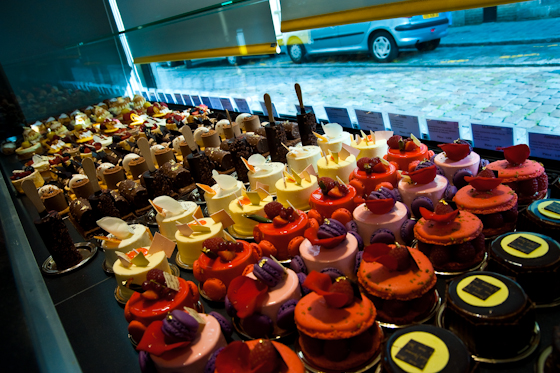 It didn't take long to arrive in Lille. It was a sunny day, but the next time I really woke up again, we were in a shop full of sweets. Oh how appropriate. We stopped at Patrick Hermand for their macarons and the rather eye catching mini cakes. The cakes were pretty good, I bought five, and each were selling for a reasonable 1.5 euros. But their macarons… nothing compared to Pierre Herme, which to me, is still the gold standard. The Hermand macarons were not bad but tasted quite typical, you know crunchy and sweet.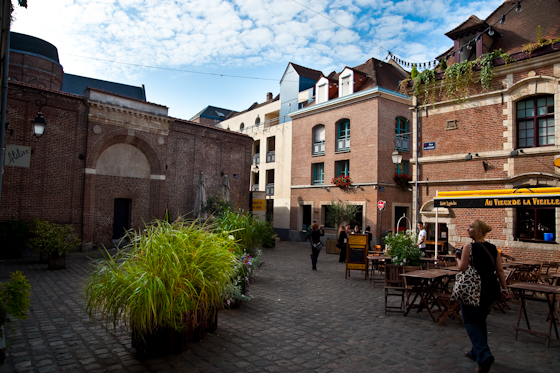 Lille is a beautiful place, we passed through lots of side streets, and the whole town is still very much rubble and bricks. Some buildings even had cannon balls still lodged in them from the wars – very picturesque and auld europe. Oh, they filmed a video short of this trip (you can just about see the camera in the distance) , and I'm in it for a couple of seconds, you can watch it here.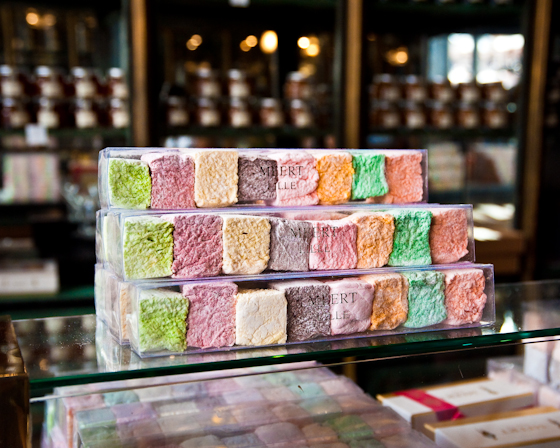 It is now about 11am, and we've been on foot around Lille for about an hour and abit, and I'm still waiting for a big brunch after the canape sized breakfast on the train. We passed by alot of classical looking bistros and brasseries which me and Helen really wanted to check out. Some really looked atmospheric, and being restaurant goers, it naturally caught our eyes. Thankfully, Sarah told us that we were stopping in a traditional teahouse called Meert which served amazing waffles. Honestly though, I was hoping for something savoury.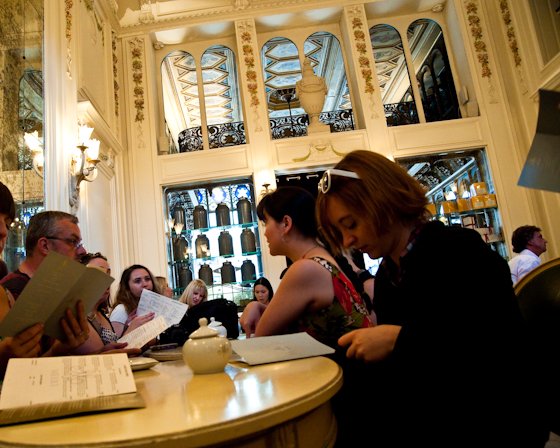 So that's what the tea room looks like inside. Yeah, very grand and all, food please, I'm hungry.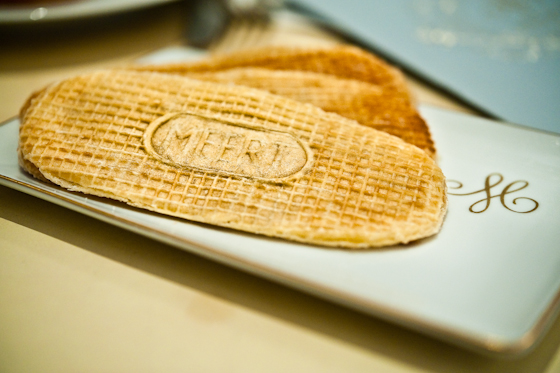 The waffles have landed. I was expecting something alot bigger, these were really tiny, and it was one slice for each of the three of us on my table!!! And it costs about 3 euros each. At this point, I was beginning think that canape sized food was a theme in Lille. I also ordered a lait russe and it came with a straw in it…. I found it a little amusing sucking hot coffee from a straw. Oh right, yeah so the Meert waffles were… nice, but I was more taken with the expensive looking wall sized stained mirror than eating this hobbit sized waffle. I've been awake for more than 6 hours now, and I still hadn't had a big meal yet – that is a first.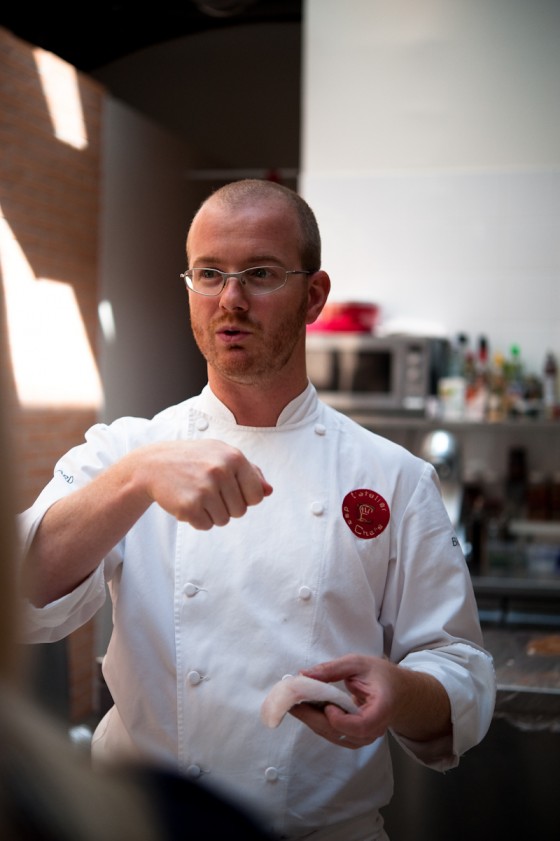 A large chunk of our afternoon was spent in a cooking school, namely L'Atelier des Chef. I found it a little odd that we were cramped into a swish kitchen… and had to cook our own lunch, proof there really is no such thing as a free ride. Our chef looked like a younger and slicker version of Heston Blumenthal, and he was French.
I actually really enjoyed the cooking, it was really alot of fun and I might even spend more time in the kitchen after this. Personally though, I still wouldnt go on holiday to learn how to cook (L'Atelier is also in London..), but as an experience it was worthwhile.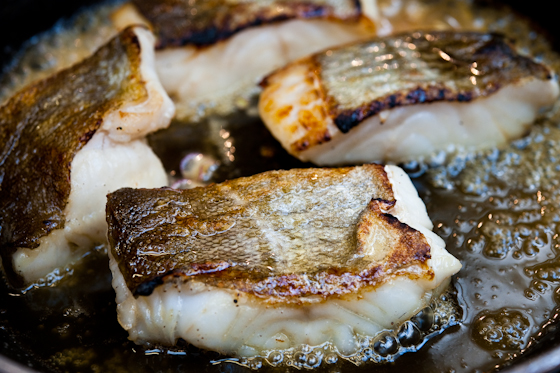 So, we were sizzling cod …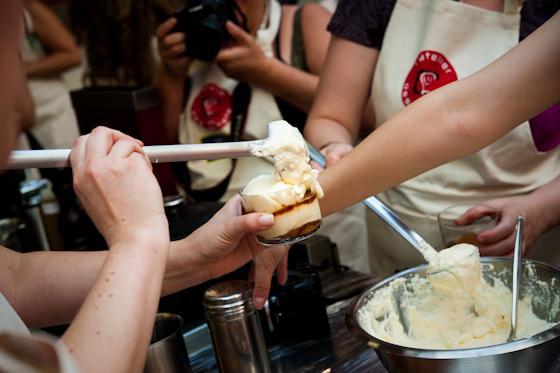 ….. and making our own french tiramisus.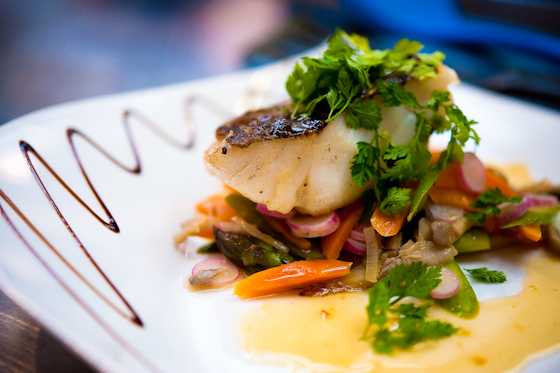 And here's the finished product… I cooked (parts of) this!! The full description: A piece of cod lacqued with honey and flower beer sauce and a quick sauté of finely cut seasonal vegetables from the North. The fish was beautifully fresh and bouncy, but the chef was underhanded with the seasoning as I found myself vigorously salting the fish. He needs to go back to cooking school 101, in my opinion. Fail. Oh wait, but I cooked it. Dammit, I hate these food bloggers slaging us chefs off, have they no conscience, can they not taste the care and attention which went into this loving creation?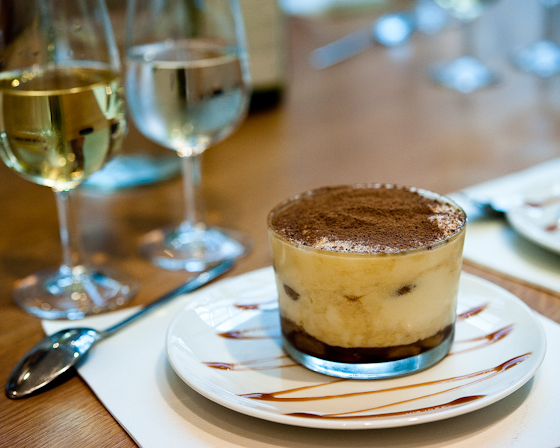 Pudding was Ch'tiramisu, which is the same as tiramisu, except it is made with Spéculoos biscuits instead of sponge fingers. It was startling how easy this was to make, especially when you have French Heston watching over you. Seriously, that guy should consider applying to the Fat Duck, he can act as Heston's body double, and wow the guests every now and again by simply stepping into the dining room. Nobody will be able to tell the difference, people will just think that Heston has started going to the gym.
(Not that he doesn't already, nor am I suggesting that he doesnt look athletic, ok stop typing.)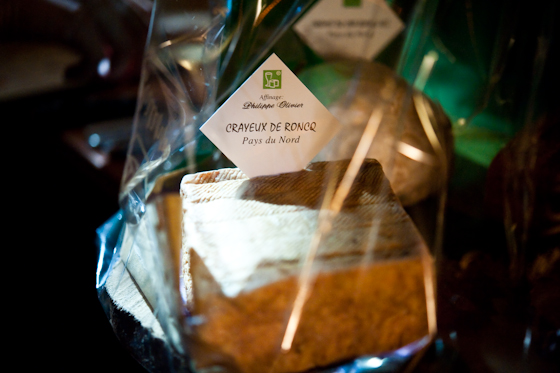 A bit more walking later, we found ourselves in the basement of a pub , for a beer & cheese tasting session. The cheese was supplied by Philippe Olivier and all four of them were fantastic. I think the crowd favourite was the Maroilles, which was a beautiful soft cheese presumably washed in French beer. Other bloggers can confirm this, I was too drunk on dairy to notice.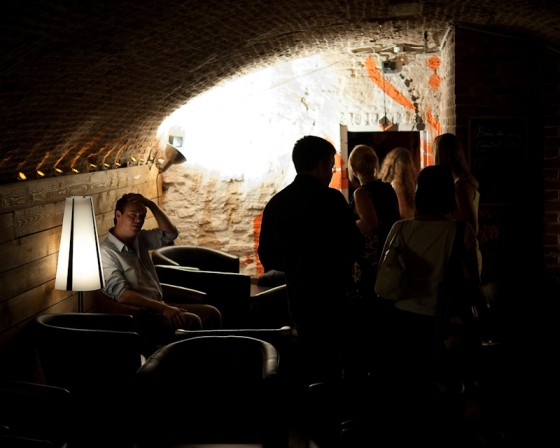 All in all, it was a fantastic trip, Lille is a charming little getaway and I would go back again to try some of the bistros I came across. I leave you with this picture of us, after a tiring day, settling to cool beer and some luscious cheese. Ah, before I forget, it really was lovely meeting fellow foodbloggers, we know each other's words, so it was nice to finally put a face to those words. It took me almost a year to meet Niamh and Chris. Of course, it is always a pleasure hanging out with Helen and Helen; Margot and Michelle had very swish camera gear with them, and I was excited that Krista got a new camera! I didn't spend enough time talking to Liz and I was admiring Ms Marmite's fluency with the French Language. Stephen and Kerri are lovely, lovely peeps and most of all, it was a blast getting fake-lost in the side streets with Andy of Spittoon.
Hope you liked this little photo essay folks, You can find the full set of pictures on my flickr account, separated by categories: People, Food and sights , and if anybody wants me to take down any pictures, please be sure to let me know.
Have a beautiful bank holiday weekend folks and see you back here on tuesday!
Like this blog? Why not subscribe to the email newsletter ; alternatively you can subcribe to the RSSfeed.