Bocca di Lupo official site Meal £30 One dish lunch £10
12 Archer Street W1D 7BB 020 7734 2223 Piccadilly Circus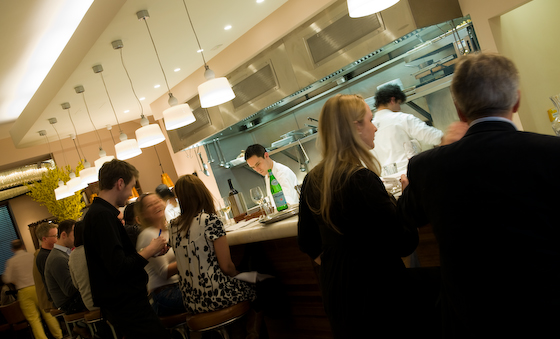 'The wolf's mouth awaits you, in the heart of Soho' said the wolf, from his mouth. Bocca di Lupo is Italian, and the latest breakout sensation to join the London eating ranks. I'm extremely late to the partay (dude, it's booked out all the time) while critics and foodies alike have formed what appears to be a united front to sing songs of praise to glorify the food here. Even Giles 'the Coren' might have (accidentally) given it a 9.67, which could (allegedly) be the highest score he's given, ever.
Either the wolf has tricked us all or the food seriously is that good. I was there last weekend and these are my pennies.
The bricks.
I arrived forty five minutes past midday on a blissfully sunny Saturday in March to a full view of a marble table top behind which the kitchen and the huge hotplates and hardworking chefs stood behind, grooving to jazzy tunes in the background.
"The scallops are as fresh as lilies" says front of house whom is business casual colourful – Paul smith style – as he shows us to our seats on the chefs counter. I'm one for theatrics and completely fascinated when I get to watch my food prepared in front of me. Which is why I love sushi bars (it's the clapping) and is why I love Barrafina (like 5 minutes down the road from here) and also why I love the chef's counter at Bocca. I could be wrong, but with dangling blonde lamps and high leather stools, this is almost a carbon copy of Barrafina, except there are conservative restaurant style tables toward the back of the room.
On my right, is a dude with Hugh Grant style I just woke up ruffled hair, a copy of the Times and a plate of linguine. Oh yeah, chilled out lunch, sunshine and good food.
The dishes on the ala carte are divided into cooking styles: raw & cured, fried, pastas, roasts, grilled etc but more importantly each dish is available in two sizes: small or large. In each category, the dishes are also denoted by the region of Italy it comes from – I'm no expert on Italian authenticity but it certainly does lend the impression that Chef Kenedy is totally passionate about his craft… or rather someone who pays attention to the finer details.
Back to menu speak and small portions, I know you're thinking tapas but I really do think more restaurants should make this option available because I'm a big fan of eating variety. On this occasion, all my dishes were small. 
Dolphin friendly only, please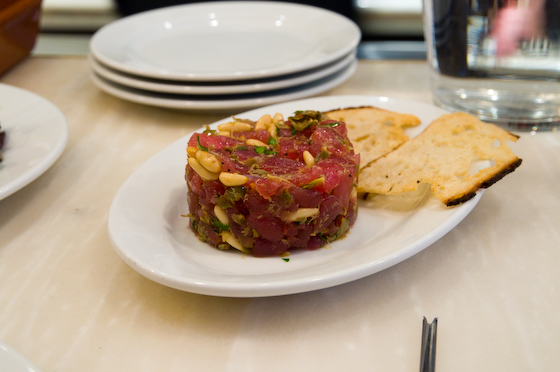 Well, the proof is in the raw fish as my starter of Sicilian tuna tartare painted a palette perfect portrait of the ocean in which my mouth was coated with silky olive oil and my taste buds awoke to crunchy pine nuts and uniquely chocolatey capers. I was suitably appetised, prepped for the meal and noted the Sicilian connection in the hints of orange juice squeezed into the tartare.
Lazilogian Artichokes
I'm not the biggest fan of veal because I think veal is just too mushy. I appreciate tender meats, but there's a line between soft and delicate and just downright yucky and mush; veal –for me at least- falls into the latter category. So I believed the critics and really wondered if they could get veal right… if they do, then well, tip of the hat to you, sir.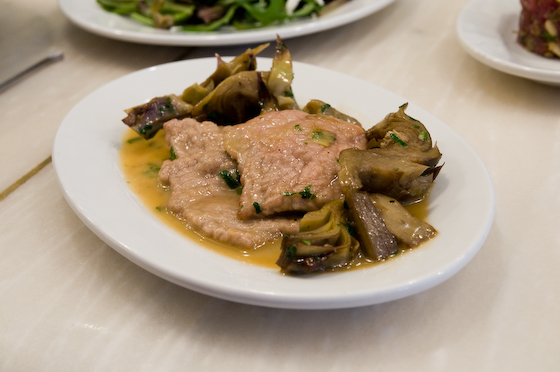 So I ordered the veal scallopine with lemon and artichokes, and like the tartare – the citrus manisfested itself as a kind of x-factor that just made the dish taste as if it was bubbling my tastebuds. You know what I mean, just that subtle sizzling sensation that one detects at the edge of ones tongue (close your eyes) and it somehow makes one mouth reverberate (with joy).
And this tasted really good. Lots of comfort and heartiness coming from the moist and thick broth(gravy? sauce?) which was like a cream without the cream. The sauce was made with lots of love and seeped into the veal giving it a chewiness (which spewed juices as you chewed) and it sort of masked the mushiness of the flesh. I really enjoyed this and I think it's down to the sauce. My mouth was still gyrating as I swept up the last pieces of Lazio inspired artichokes.
Fencing with the a simple swordfish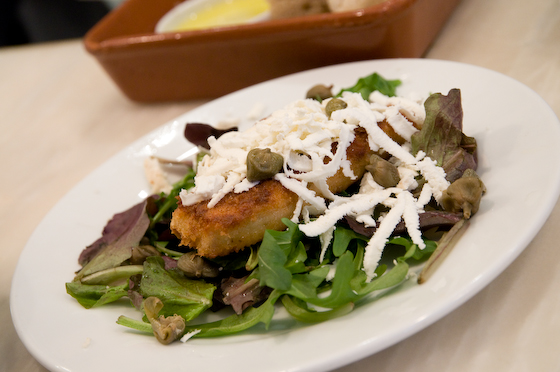 Next up was the simply breaded swordfish with ricotta and capers, another one from Sicily and another one that featured those uniquely chocolatey capers. Fresh, fresh, fresh. The swordfish flesh was bouncy, lively, chunky and sweet. The recipe is a simple one and it tastes exactly as it should: like a well cooked simple breaded swordfish.
Baptism of Pasta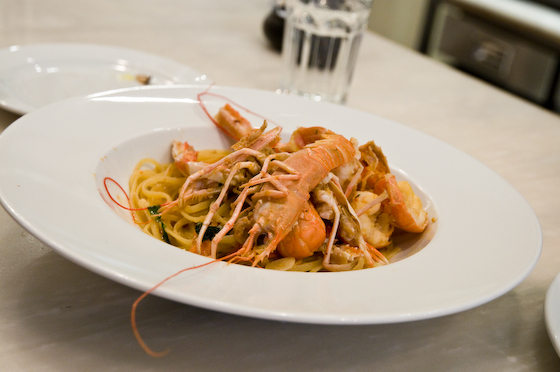 Right, here we go. Pasta. This is linguine with langoustines and drumroll please……. YES. Pasta is spot on, just ever so slightly undercooked for that bounciness and drenched in olive oil to give it a muscular shine. They might have to work on presentation a little bit as the downright dead looking langoustines look tortured but tasted completely fresh and lively and oh so very sweet as well. The stinging chilli infused dish was hearty and it seems like the honest combination of fresh ingredients and heartiness is just growing on me with each mouthful of food. This is the last of the savouries and I am completely hooked.
Believe the critics, but first pudding.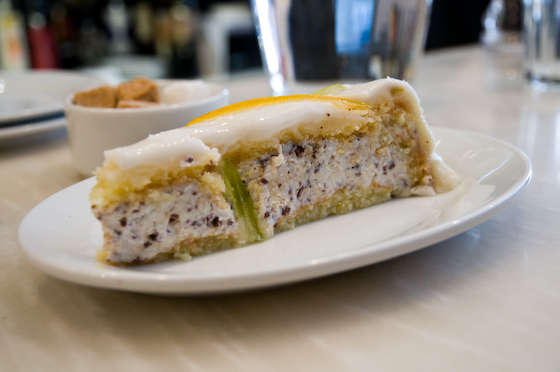 Before I bestow my mandatory blessings on Bocca, there is the small matter of pudding to get through and yet again, my order is Sicilian in the form of Cassata Siciliana. Made from ricotta, orange wedges & chocolate, plus sponge cake layers and marzipan, the pudding has awesome icing (like the best northern cakes) and the middle chunky bits could have easily been mistaken for a damn good yam and sweet potato mash. It's a chunky way to end a meal, which is why I also opted for a frozen blood orange granita from yup, you guessed it, Sicily. A tangy sorbet with garlic and chilli mixed into it for abit of fun was a great ending to a colourful meal.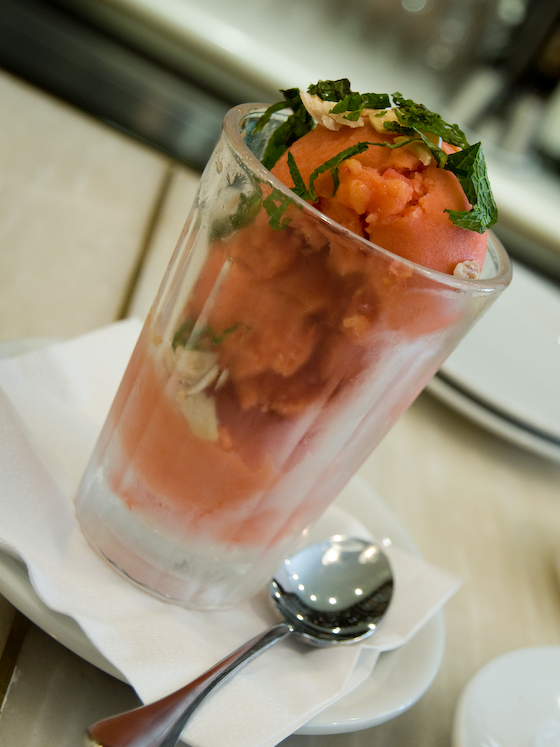 All in all, my experience at Bocca was great. I love the 'taste regional' concept, even though I was more like tasting Sicily plus Lazio, but the food really does taste fantastic. It relies on fresh ingredients and classic recipes and the simple, straightforward style is refreshing and easy to enjoy. I also like to add that the food is hearty, hearty enough to leave you smiling as you leave the restaurant. Small portions hover the £5-7 mark, though be forewarned as the small portions are really abit tiny. This meal came to about £45, enough for two peeps and a mid-sized lunch. I would sit at the chef's counter, wear a shirt roll up the sleeves, leave the jacket on the rack beneath the table (yes beneath) and just have a relaxing lunch. Barolo for red and Pinot Grigio for white, go here already.
The Gist of It.
Bocca di Lupo official site Meal £30 One dish lunch £10
12 Archer Street W1D 7BB 020 7734 2223 Piccadilly Circus
Verdict: Phenomenal Italian which features classic heartwarming recipes, the restaurant is a breath of fresh air and the potential to taste regions of Italy (in London) is tantalising.  

Did you enjoy reading this post? Why not subscribe to my feed updates for free. Alternatively, You can subscribe via email.