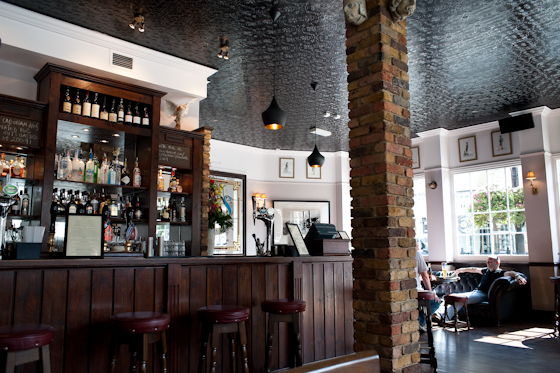 I can only ever focus on one thing at any given chunk of time, everything else seems to just be neglected in the process. Take photography for instance. At the moment, my leisure time consists mainly of stealth street corner hugging, punctuated by fleeting moments of inspiration. I'm so totally engrossed in 'deciding the moment' that I don't even care if passerbys give me stern looks anymore…call me Kang Winogrand. And that's why the bank holiday is a real godsend – that's twenty four extra hours of Me time to go through my safari bookmarks, like this London steak club for example.
My better half so happened to be entertaining her faraway pal, so that meant the whole Saturday afternoon to myself. I was contemplating (and still am) watching Eric Bana pull off a convincing Henry in Time Traveller's wife, but I was intrigued by Guy Dimond's five star review of the Cadogan arms. It seemed the perfect place to hit many birds with the same stone; I could clear my then (and still) massive inbox, perhaps work on the much delayed (and still is) issue of my newsletter, while indulging in critically acclaimed grub. Plus its also the perfect opportunity to test out my latest lens acquisition: A used nikkor 28mm f2.8 AIS manual lens (that's right, I shot this review completely manual) that focuses down to a mere 7 inches. Yowza.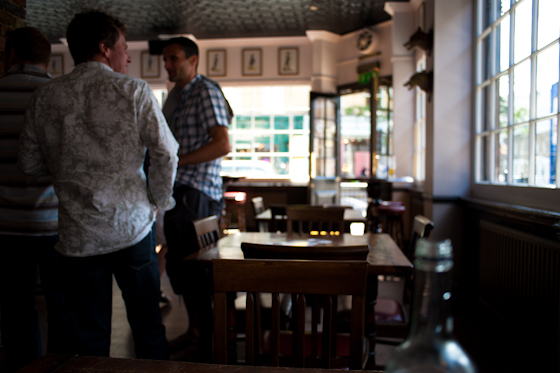 Yes the Arms is very cosy, a nice looking wooden bar and pillars made of bricks. I called to make a reservation (I thought about Peter Griffin but used my own name instead), and they sat me down in the middle of the isolated dining area, which was empty at high noon. I switched to the livelier bar area instead. Perhaps its still new (I'm not exactly sure when this place opened) but the ambiance feels artificial, the smell of alcohol yet to seep into the floorboards, on the other hand, that could well be a good thing. I asked for tap water, but that made for frowning eyebrows, and the waitress quite adamantly insisted that I order not one, but two big bottles of sparkling water, citing that I would need it in case the sunshine would dry me out. I succumbed to one bottle, naturally I was annoyed being ordered to order something I didn't want, and the idea of wolfing down 1.5 litres of sparkling was not my idea of an easy lunch. Minus one Cadogan Arms, minus one.
Water issues aside, I was expecting proper pub grub from the no-nonsense menu. Starters included several attention-grabbing items such as dorset crab bisque – sounds very nice. A pint of prawns and mayonnaise – Oof! Dexter beef carpaccio, horseradish dressing, rocket, shaved parmesan – yummy. Maybe it was the heat from outside, I was feeling fishy, and choose Atlantic cod fishcakes, minted pea purée, aioli, chervil (£6.50).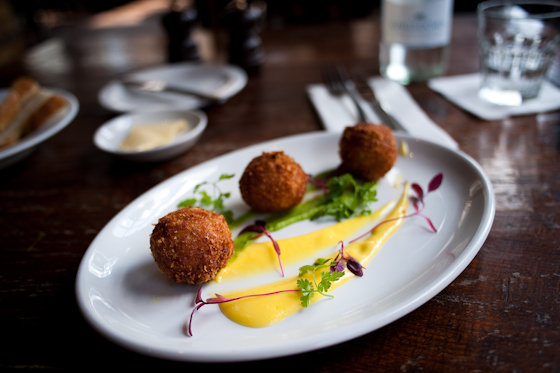 Warm. Mushy. Flaky. Fishy. Crumbly. So far, so good. I was expecting two large – and flat – cakes, instead of three balls of breadcrumbs. The pea puree brought about textured umami graininess, and aioli carried hints of zestiness which contrasted well with the pastey texture of the fishcakes. My issue with this was size. Perhaps a quadruplet, instead of a trio, and really, more of that brilliant pea puree please.
The mains were much more of a boring read. Pan fried salmon, angus burger, angus steak, lamb rack, ceasar salad, bit stiff there lads, come on, don't be afraid to let loose yer imaginative loose a little, its a pub afterall. I hadn't tried a proper chippy in a while and this description looked to tried the hardest: Adnam's Broadside ale battered haddock, hand cut chips, mushy peas, tartare sauce (£13.50)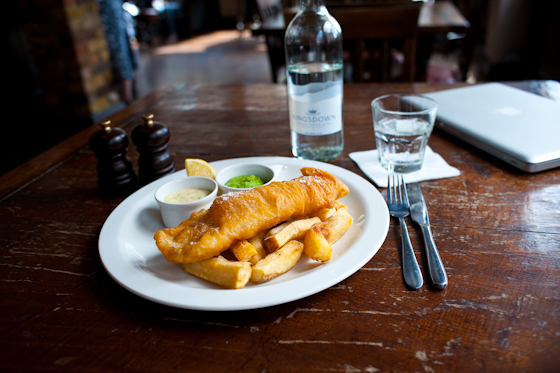 Doesn't it look charming? If a dish ever fit in with the surrounding area, this was it: it screamed Fish n' Chips, Chelsea Style. Two pots of sauce were served on the side and the waiter also provided me another with ketchup. The tartare was mild and didn't sting; the mushy peas were sugary, as smooth as warm butter and it was more of a puree than a mushy mash. I had wondered if this was the same puree as was served with the fishcakes, although, this one was noticeably sweet, distractingly so. The chips were a little hit and miss, some were crispy and golden while most were just soggy.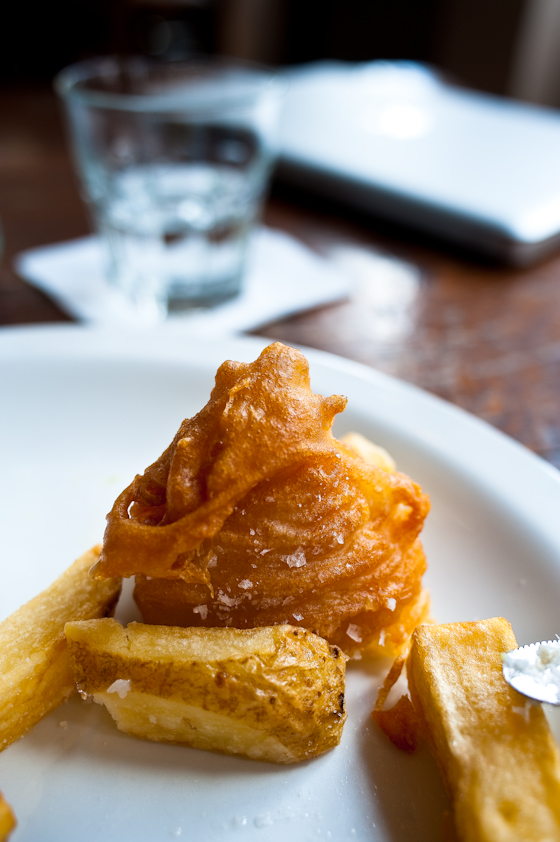 Ah but the fish was astoundingly good, the batter in particular, was brilliant. It was so light, the crunch fluttered and fizzed, carrying with it hints of fruity fragrance, most probably due to the ale. The fish was only slightly undercooked, still juicy and ever so silky. The sweetness in the mushy peas made for a surprisingly good compliment to the fish. I'm no traditionalist, and have not sampled enough chippies around the nation, but this was one of the most pleasant iterations I had had. Much better than Geales, better than my local taproom, The Prince Regent, and it would have made for an able ambassador for what was the trendy fast food remixed for deep pockets of 2008. Better late than never.
The final bill, plus a large bottle of sparkles came to £20. Wi-fi wasn't blazingly fast, but it was quick enough to load youtube videos, and the space inside – especially the huge leather couches – was adequate for those of you (like me) who enjoy reading/web-surfing during the day. As for food, well it was pretty good, no-nonsense and clinical in execution. I am holding back from giving the Arms a gold star after I re-visit to try the lamb rack and the 35 day aged steak. But that will have to wait for another sunday afternoon when the Prince Regent is shut and when I feel the whiff for the golden stuff.
The Gist of It
The Cadogan Arms Official Site
298 King's Road SW3 5UG
Tel: 020 7352 6500
Tube: South Kensington or Sloane Square
Like this blog? Why not subscribe to the email newsletter ; alternatively you can subcribe to the RSS feed.