Cha Cha Moon Official Site
151 Queensway W2 4YN 020 7792 0088
Noodles £6 Mini eats £4 Thrist quenchers £3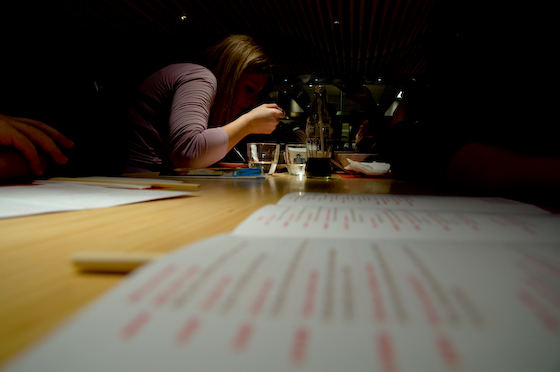 One, two. Cha cha cha. Three, four. ha ha ha. And again, One, two. he ho ho. Everytime I hear the chachacha, it's bellbottoms, big bangs and 'Do the hussle!, du-du-du..'. So far so 1979. In the nineties Al Pacino made tango cool again and in the nougties, everybody is doing salsa and you're wondering what this has to do with noodles at Alan Yau's Cha Cha moon. Nothing actually, but that's kinda the whole point.
Still with me?
Noodle boy.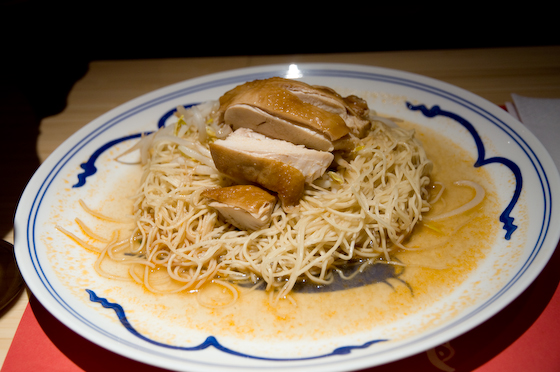 I ate a lot of noodles growing up. In fact, a lot is an understatement. Let me just put it out there: I don't like Chinese food in London. Yucky. No, I'm not universally slating the whole industry; I'm just regretful (spiteful?) that food quality has dwindled so much in the past decade or so.
I blame Beijing 08.
I can remember the days when a £5 plate of hainanese chicken rice at 1997 special zone was almost a good imitation of the real deal, but today it just caters to the mildly amusing late night pearl milk tea drinking crowd. Yawn.
Hakkasan got sold and is now just an expensive Wong Kei and no I've not been to the Peninsula or Pearl Liang yet but Chinese food really needs to up it's game. You'll notice my lack of Chinese restaurant reviews because there just isn't much to write about.
Unfortunately, I went back to Alan Yau's latest venture into anglicising oriental food, in which this time is a 'Mien Tong' (Noodle shop).
Opening day, circa2008.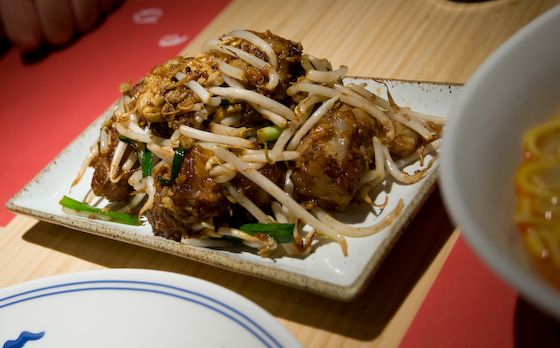 I can remember when he opened the first branch at carnaby street to a lot of fanfare and critics were all praising the £3.50 flat price on the menu. I actually kind of enjoyed my meal at that time.
Nine months and fifteen zillion less banks later, I paid a return visit to the new Cha Cha Moon at Whiteleys in Bayswater. As with all of Mr Yau's culinary establishments, cha cha moon looks every bit the part, with slick transparent glass walls and the insides covered with shimmering bamboo sticks. The kitchen is exposed so you can watch the chefs boil your noodles and the long table and benches are suppose to emulate the real thing in far away places closer to where my folks live.
Unfortunately, Alan did not keep the £3.50 as a permanent feature in his noodle shop – it certainly would have kept to the 'spirit' of a Mien Tong. Slurpy.
The theory of fusion
I like wagamama. The ramen tastes instant, the food is obviously ersatz, it's a franchise but I still enjoy the chicken katsu curry. Even though, you can emulate this recipe very easily with a cube of curry; boiling your own sushi rice (all from Japan centre) and oven baking pre-cooked M&S breadcrumbed chicken (if you're lazy like me). I still prefer to spend my ten quid at wagamama eating it. I think it's got something to do with marketing. You know, wagamama is just slick. Let's face it, we are all affected by advertising one way or the other and even though food packaging is killing trees around the world, it's just more convenient to pop into Sainsbury's rather wait for the Sunday farmer's market.
Except when it comes to noodles, then I throw the rulebook out the window. The best noodles I've ever had were at street vendors. One man, a wok and truly fresh handmade noodles. Any red blooded Chinese man person will tell you that the secret to great noodles, is great noodles. Yeah I know, as silly as it sounds, it's very true. This is my order of braised ribeye with la mien.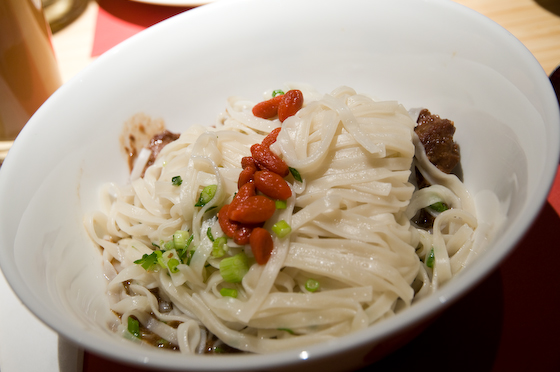 Let's get the good bits out of the way first. The black bean braised rib eye was good, rich in soya sauce and black bean flavours, fully savoury and completely tender as well. But the la men (hand pulled noodles) are the soggiest pile of boiled flour I've even had the displeasure of eating. It tasted dead. No bounce, no eggyness, just lifeless. Where's that airy bounciness and that comfort factor (think Kwan: Jerry Maguire)?
Alan – with respect, those are bad noodles. Italian loving London eaters; how'd you feel if your plate of spaghetti is a soggy pile of boiled flour?
Bringing the heat
When Alan ran Hakkasan like his favourite restaurant in London, they made the best claypot scallops this side of Europe. Full of wok-hei, or in my vernacular, smokey, stir-fried sizzling sensations. Sizzle. And he also pulled off a pretty impressive jasmine smoke tea chicken with mild tea flavours balanced against a soya sauce base. I was a little glad he brought that recipe to the cha cha moon franchise to turn it into a noodle topping.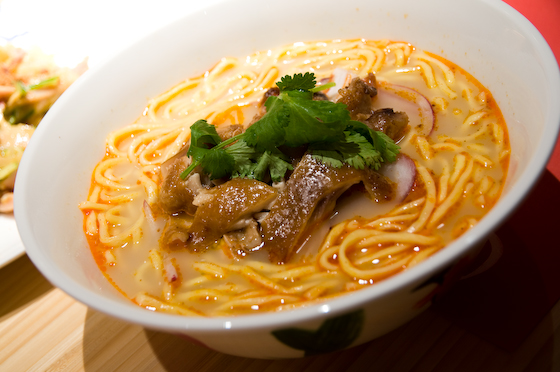 In this Szechuan inspired recipe of red onions and coriander, the soup base was rather like a curry noodle soup – though I was most disappointed that the jasmine tea chicken was not the same one as Hakkasan. The meat was brash, tough and bland. There were no mild hints of tea and nothing sizzled. There was just far too much onion in there and the overload did not do my tummy any good deeds after the meal. I can overlook a thoroughly bad soup – but bad soup, over onionised, yet tasteless chicken coupled with the soggiest noodles known to mankind is just a massive disrespect to the food gods.
Calling an end to this.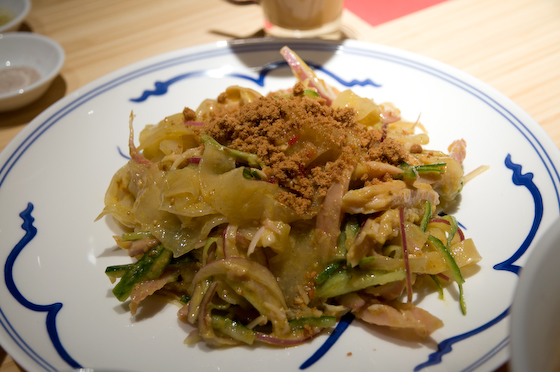 Salted soya milk is meant to be seasoned with a touch of soya sauce, rice vinegar and pickled reddish, garnished with dried anchovy and spring onion, finished with a few drops of chilli oil. – not just 'with salt' as our waitress described to us, which just sounded entirely wrong.
I could keep going on but I don't want to. In spite of obvious spite, I think cha cha moon is a great concept. Bringing the noodle hawker philosophy to the London high street is a great idea and many of you would probably disagree with my assessment, what with it being the latest and hippest place to grab a power lunch, but seriously. Seriously. And very seriously. The noodles are a complete disservice to six trillion years of Chinese food heritage.
Sake no hana. Pretty, like a sakura. Princi awesome. Busaba Thai, hmmm. Wagamama, yeah ok I remember my student days 2 for 1 deals. But I will not tolerate cha cha moon. Handslap.
The Gist of It.
Cha Cha Moon Official Site
151 Queensway W2 4YN 020 7792 0088
Noodles £6 Mini eats £4 Thrist quenchers £3
Verdict: Alan, I know you're a foodie rockstar but you're just milking your success now. I implore you: improve the noodles.

Did you enjoy reading this post? Why not subscribe to my feed updates for free. Alternatively, You can subscribe via email.