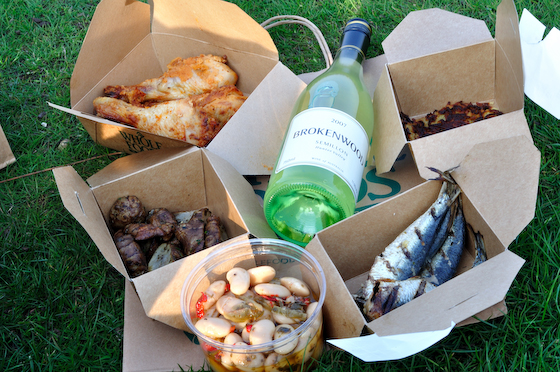 So it's six seven am on Monday. I've just opened my favourite excel spreadsheet and sipping down on the hard filter brew Vanessa makes for the bunch of us every morning. No it's not. It's Saturday afternoon as I write this. Well, it sort of came early a couple of weekends ago, the sun I mean, and I took every opportunity to exploit it before it gave way to the rain clouds again. It was still abit breezy, but was a nice little preview of picnic in the park. So it was me, grass, my 50mm and a little bit of wholefoods and now, you too.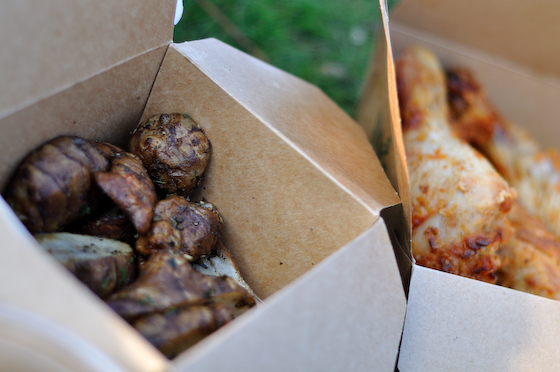 I think the serpentine/kensington palace is my favourite bit of Hyde Park. Girls sunbathing with their girly mates, and the boys occasional letting their balls (totally intended) accidentally roll toward the unsuspecting beauties. Yes. Spring is back. I picked all the nibbly ones from the rich wholefoods selection in High Street Ken. Cold by the time I broke out all the boxes, including the crunchy jerusalem artichokes.
Depth of food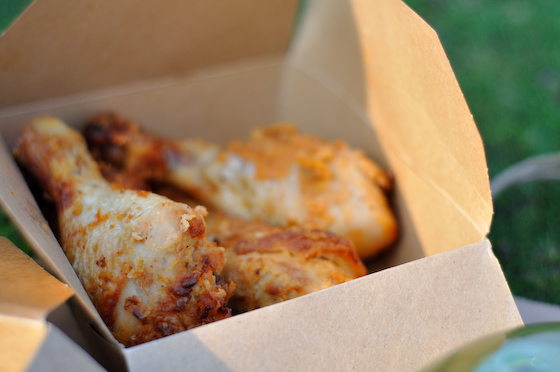 Shutterbugs love (the lack of) depth of field. It's the easiest way to give your photos an 'artistic look' without much effort. Take these yummy buttermilk fried chicken drumsticks for example. Notice how there's only one drumstick in total focus in the picture and the other sticks are thrown out of focus. Yeah, you can do this too by keeping your camera aperture at it's widest. Try it, different model, different capabilities of course, if it permits, set your camera to 'Aperture Mode', and set the 'f/' number to it's lowest possible number and then go as close as you can, and focus on what you want to keep in focus, and then let the camera do the rest.
It'll create some lovingly tasty shots. The fried chicken carried a faint creamy edge to it, oh yummy stuff. Could do with abit more temperature, but I ain't complaining.
Time for wine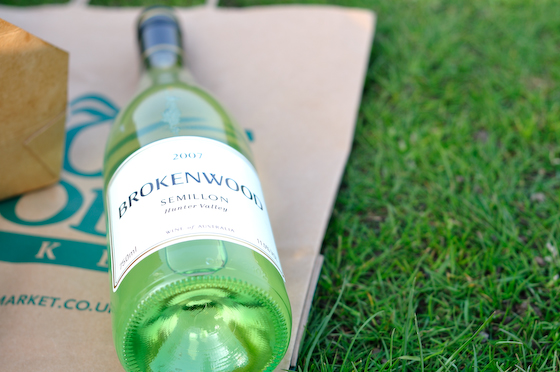 One of the coolest things happened to my inbox last night. Gary Vay.Ner.Chuck. sent me an email. I flipped out. Come on winos, you know him, the Thunder show? It's only the internetz most watched wine review show, ever. I've been a vayniac for almost two years now, I subscribe to his video podcast and he is absolutely the most awesome wine critic around. One day Vaynerchuck will displace Bob Parker as the voice of wine, and I said it first.
So who knew that Wholefoods had impressive wines on their racks. An Australian Hunter valley semillon which showed the trademark clean, lively and crisp characteristics the hunter whites are famous for. Eight quid, not bad at all. Man I miss Sydney. Hunter valley is about a 3 hour drive from Sydney. My mate drove. We hit the information centre to get a map of the entire valley first and then we marked out the vineyards we wanted to visit.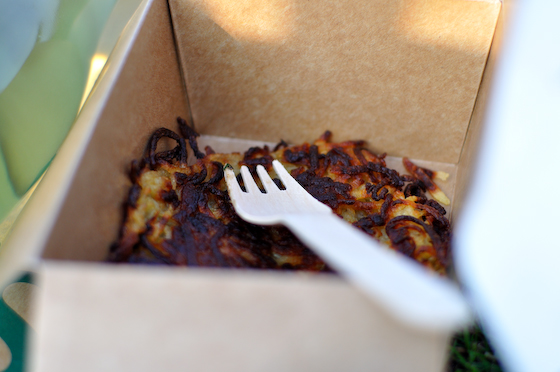 We started at midday and since he was driving, he was only suppose to have about five glasses every three hours. As we got to each vineyards, we were greeted by the winemakers and these guys were the most passionate people I've ever met, best of all – they let us sample everything they made, including their premium stuff. We hit four vineyards before three pm, and then stopped at one of the many restaurants dotted around the valley. Food was amazing, needless to say, but the best memory from drinking on location was how every single sip was so alive. Everything tasted like freshly pressed grape juice and I had never quite had wine like that before.
It is true wine doesnt travel well, but great wine doesn't come to you, you go to great wine. I'm still planning my trip to burgundy – it's £899 for like five days staying with a winemaker I think. If anybody is up for it, email me.
So this is kind of what it feels like to picnic with me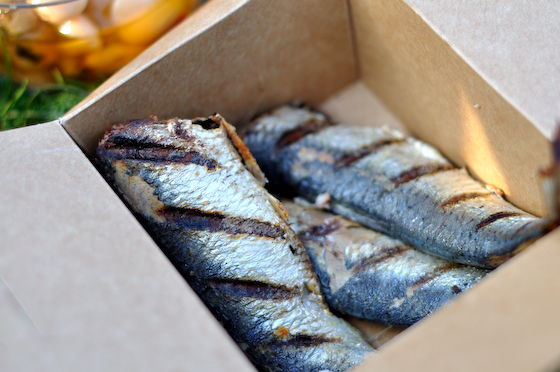 The potato cake was pretty solid by the way, but I was ready to dig into the grilled sardines, they really look appetising. It's a little under seasoned, needs just a dash of sea salt, but I don't want to complain, the whole occasion and the rays of light are just so relaxing, I wish the afternoon sun would never leave. I was looking into my lightroom library the other day and it showed that I had taken something like 4,000 food photographs in the past six months. That's a mad stat just thinking about it. Yes, I have more digital food pics than I do mp3s.
It gave me a little brainbolt about contracting myself as a food photographer for magazines, restaurants, pr companies… or just anybody who likes looking at pictures of food. That would be a nice little freelance job to have on the side, I mean, what are they going to do with the food after the fact right?
I mean, I'd eat it 😀 . Commitment to the job. 100% committed, passionate and environmentally friendly too. I can't think of a better reason to do food photography other than that I want to eat what I shoot. Hey, that's a great blog motto: 'Eating everything I shoot' , might use that for twitter or something.
Eating antipasti, last.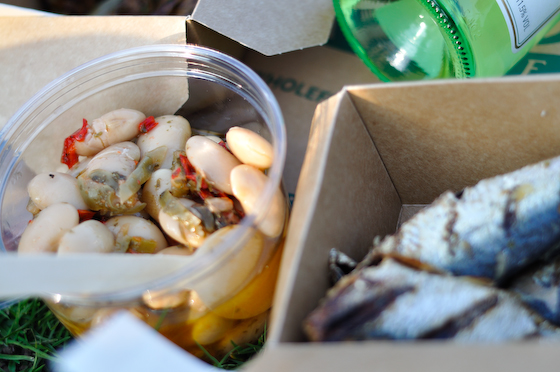 Im unconventional. I'm one of these problogger readers who swear by Darren's secrets to success and am a student of copywritingblogging. But almost all of my pillar posts cross the four digit mark. Oh well, guess you need to break the rules to make new ones.
Join me for a real picnic, when the real Spring really arrives.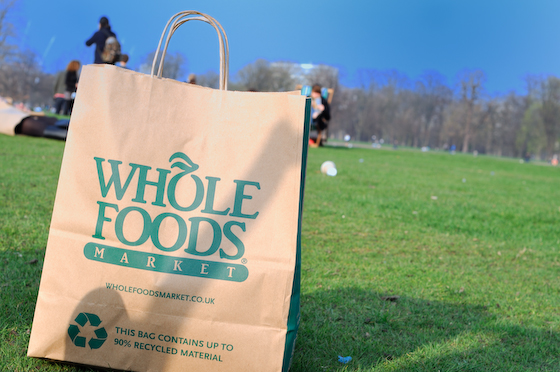 For now, the weather is still a little breezy, my hayfever hasn't started yet, so spring is not really here yet. When it does roll around, I'm sure I'll be back for a full on picnic.
Did you enjoy reading this post? Why not subscribe to my feed updates for free. Alternatively, You can subscribe via email.