Incanto, Official Site
41 High Street Harrow HA1 3HT 0208 426 6767
Set Lunch £20 , Ala carte £40
Everytime I go past Harrow school, I will think of Harry Potter. The apparently (sorry Harrovians) world leading public school has produced such luminaries as Sir Winston Churchill, Julian Metcalfe … and James Blunt. Harrow is a really posh ( if small ) bit of West London – you'll see a lot of nice houses with Aston Martins parked in the front, you will also feel like you've left the London smog and have entered the Berkshire county. Though its nothing as expansive or relaxing as Windsor, the charming little high street on the hill has a couple of nice looking places to eat.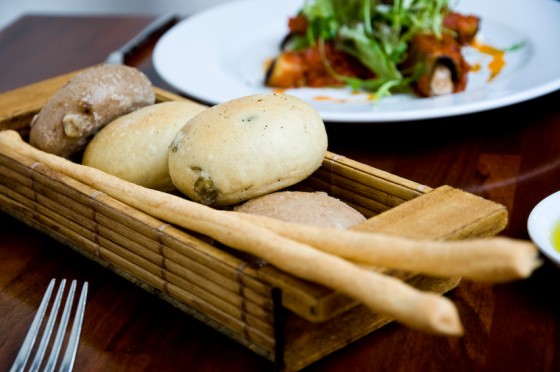 One of them is faux Italian restaurant Incanto. I don't usually venture this far to find a dish, but my mate celebrated his 7th anniversary with the missus here and told me I could do no wrong at Incanto. It was that good, and so I jumped at the chance to go when I saw the restaurant in the FT lunch offer list. I don't usually have bad meals, I keep my radar high enough to avoid them but this trip proves there is no such thing as a discount lunch.

The English Job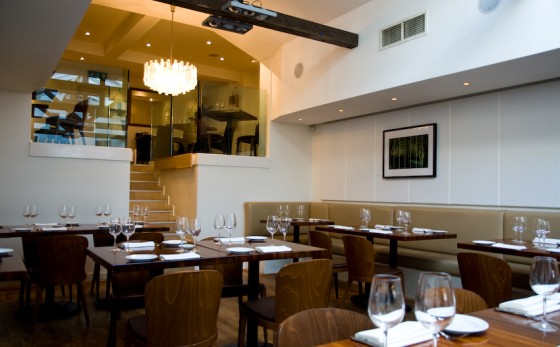 We start again with an entrance to a surprisingly empty restaurant. We weren't late, 1pm lunch – they did have a front café area which had about 5 tables occupied. Being literally in the shadow of the school, it was no surprise to see families having a quiet bite, and the odd teacher-student 'You eat while I lecture you on the meaning of life' pair dining as well. The innocently decorated dining room had one of those skylight roof openings. I sat underneath it to get much needed natural light for the pictures.
What can I say? The room is so neutral it's failed to offend any part of me, I feel strangely sleepy.
Lunch with your buddy for 50% off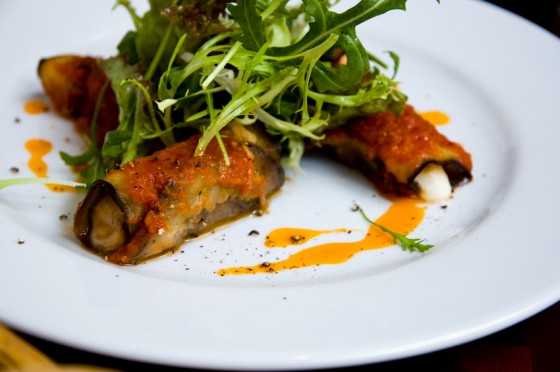 Technically, it's 50% off the set lunch only, your buddy still has to fork out an extra £5 and the service charge is for the full undiscounted bill… so it's more like 30% off rather than 50%. But I'm not complaining, 30% is better than nothing at all.
Here's where it goes badly wrong.
We were hungry by the time we sat down… and for an empty restaurant, service was surprisingly slow. The waitress was oblivious to my flailing arms. The lead picture of the bread basket (£3 supplement) says that it's freshly oven baked (the waitress confirmed it when it took about 15 minutes for them to produce anything edible) but it tasted more like microwaved bread.
Funny story – I microwave my bread at work sometimes. If you've ever done the same, the crust becomes dry like plastic and the inside feels almost rubbery – like its had it's moisture sucked out. I don't usually complain about bread because its usually free and taste ok , but this one was as wrong as Brad Pitt's biceps in Troy ( I wanna see the Curious Case of Benjamin Button) . For £3 + 12.5% service – That's a Madoff.
Off the blocks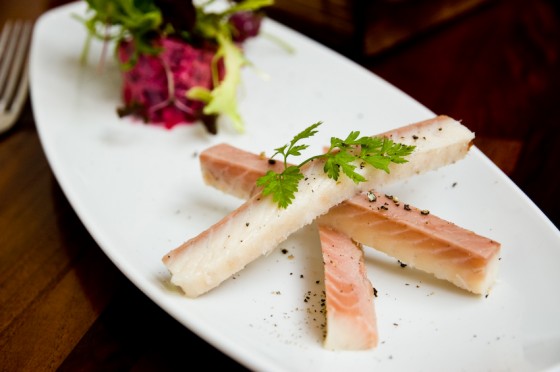 Between me and my guest of honour, little Miss One Line Pow ( more on this later ) , we ate from the set lunch menu.
My entrée were smoked eel strips with a pickled beetroot salad and lots of mayo. Abit of cracked black pepper produced a mild –if plasticky- flavoured eel. Nothing fantastic, nothing wrong and as neutral as the white walls.
Our lady of honour's mozzarella wrapped in aubergine slices were much more palatable, but was a tad on the cold side, being just luke warm. The tomato sauce on it was appetising and the mozzarella was just soft enough for it to be almost good.
At one point it looked like it might raise one of my eyebrows… but it didn't.
Main Land Italy.. or was that Hamburg?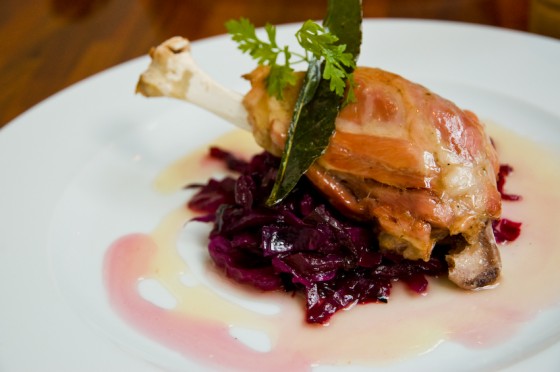 Little miss pow wow starts recounting the story of when she paid a visit to an out of way Italian restaurant in Harrow –empty on a Friday lunch – but a front of house so stiff in his perfectly pressed suit, shaking her hands and hand on hips, smiling through his teeth "Your first time at Incanto?" that she was struggling to hold back her temptation to tell the maitre de to lighten up.
Oh wait, that's this visit – sorry, white walls and all.
And so I am briefed by the proud Maitre de that my slow cooked leg of pork is their star of the show. I must say it looks delish and smells really great. This looked like it was really going to erase the horrible memory of microwaved bread.
Or maybe not. The honey sauce was a tinge on the sour side, yet I could still taste the intense sweetness making for something abit too rich on either end of the s and s spectrum. The cabbage was so-so, nothing really spectacular but the pork was very well cooked and expertly seasoned. It fell apart gently and was superiorly soft. The waiter's pride is not completely unfounded.
Honestly though, this dish is more Anglo-German than Faux-Italian. In terms of taste, it's like the chef has a skewed sense of it and the perverse sauce really killed the excellent pork. All this dish really needed was a light jus and it would be perfect but the viscous sour agodolce (Italian sweet and sour) honey is a big no-no.
When pasts goes on a rampage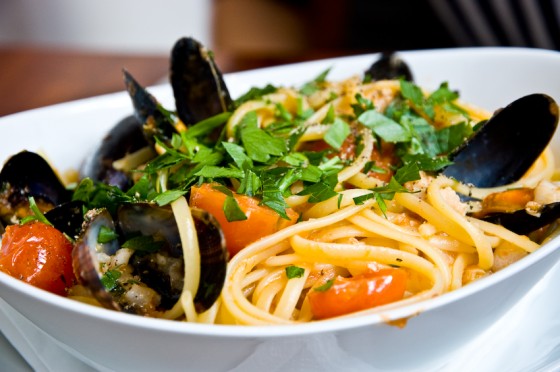 The Linguine di Mare sounded ace on the menu, it even looked awesome when it arrived on the lady's side of the table – but I've got to be direct: this dish was horrible. The pasta itself was fine, the mussels were alright but it's that fish belly they used. It was oily, fatty and the smell was so fishy it tasted almost raw and felt rather like this dish was prepared at a fishmongers… and being eaten in front of the fresh fish. Seriously, what was the chef thinking pairing a mild tomato base with a strong fish belly ?
It was so bad it prompted Pow to recount the time she had bland risotto at Zizzi's to which she said to the waitress that it was so bland she had to speak up. This was so disgusting she felt the urge to speak up. We didn't do it at the end in fear of breaking Mr Pride's heart.
End the misery please.
Seriously, I didn't know what I was thinking ordering the cheese (£2.50 on top) , after such a bad mains (pork was ok actually). I was ballsy enough to expect a great cheese selection … and pay them more money for it.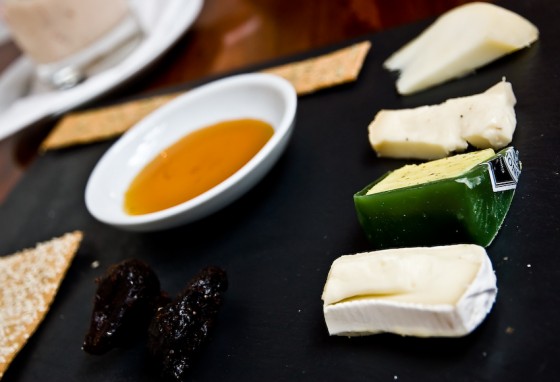 Thankfully the risk paid off – the cheese board was actually pretty good, two soft cheeses ( nicely matured) , a semi hard one ( fruity) and the green one is an organic hard Welsh garlic & herb. It was served with some preserved prunes ( or was it fig? ) and a pretty intriguing carrot honey. Bit herby, but very nice.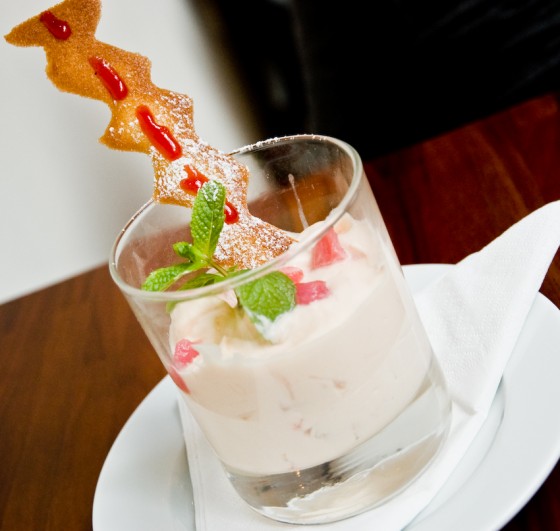 The drama continued on the other side of the table as she widen her eyes as if she was about put a beating frog's heart into her mouth when she took the first spoonful of her pudding. I inquired about her cautiousness toward her food , like a woman in shock she gasped "Linguine…linguine.." before pushing the pudding my way and said:
"Fooled by the Rhubarb fool."
So goes the legend of the woman with the one line pow.
The Gist of It
Incanto, Official Site
41 High Street Harrow HA1 3HT 0208 426 6767
Set Lunch £20 , Ala carte £40
Verdetto: Sorry Matt, I tried to love Incanto but I think the kitchen needs to take some lessons in pairing flavours which work. I though the pork was very nicely cooked but it's not very Italian at all; Joel Rubuchon's set is only £19 and Wild Honey/Arbutus are £16.95. Unless you are trying to punish your son for failing maths, avoid Incanto.
Did you enjoy reading this post? Why not subscribe to my feed updates for free. Alternatively,  You can subscribe via email.