Eat&Read is a weekly round-up of yummi-news from around london and the blogosphere, every Sunday.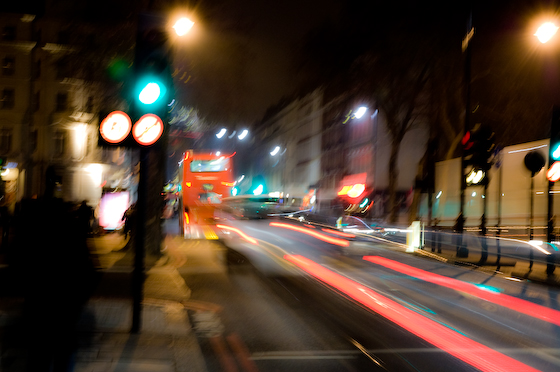 Gloucester Road, London

It was an all too wet affair last night in London as I was entirely soaked by the time I exited Baracca, the most authentic Brazillian cafe in Londres, complete with a one man bossa nova jukebox. Oh it was that good. I don't usually talk about my pictures, but I'd like to spend some time on this one. It was taken outside Gloucester Road tube station a couple of weeks ago. It is a one second exposure time and hand held for extra blurriness. You can see bus route no 74 in the centre left of frame. I quite like this shot, London's a pretty blurry place with all the hustle & bustle, and it is partly this reason which gives the city it's romantic qualities. They don't call it The Big Smoke for nuthin'.
Eating. happenings here on london eater
I wrote six posts this week (more like five) and ate at five different places ( two posts only ) . First up was a visit to re-discover the romance of train stations at St Pancras Grand. Steak tartare was alright but the kedgeree was a turn-off. Next up, I finally completed a why subscribe? page to help new readers find their way around the blog and the key message is that I am commited to finding new ways to write great posts about food and also find even more yummy things to eat in my beloved city. If you keep coming back folks, I will keep writing. Read the 10 reasons to subscribe to LE here (its all free, and absolutely no strings attached, would you like to subscribe too?).
The midweeks on London Eater are dedicated to quirkers, which are short musings/debates about food. This week, I put my first polls up and asked you what your favourite cuisine was. Thanks to everyone who has voted – so far Japanese is leading the way with 19% of the votes! Im keep this poll open indefinitely and you can find on the side bar on your right (scroll down please). The next quirker is about a question Im sure every foodie has come across so far: Still or Sparkling? Have your say here. Finally, I wrote a short post about three sweet things you can eat in South Kensington, frozen yogurt, cookies & really tasty cupcakes – enjoy it all here.
I'm extra cuffed today because I managed to pick up a new Paul Smith suit for just £171 ! It was marked down from about £540 – not too shabby savings 😀 I didn't get it at a high street shop, I got it at the sale shop hidden away in oxford circus, and that's all Im saying…..
London. happenings around the Smoke
If you have not taken advantage of the half-price lunch with FT offers yet, you should do it now. They publish one token per weekday and two on weekends, all you need is three tokens for two people and you will get your food part of the bill cut in half with the second person paying only £5. I'm going to Le Cafe Anglais next weekend and am also thinking about Quo Vadis – half price rib of beef, rrp £48 – after discount only £24, sounds a great deal to me 🙂
Over at the city-eating blog, they've highlighted some notable openings in the city this year. I am eagerly anticipating Bjorn van der Horst's new brasserie which is meant to be serving classic Gallic dishes like steak tartare and french onion soup. Hmm… classic is always good. There is no better time than now to visit Londres – with the pound still depressed ( not for long chaps, its undervalued and I think it'll bounce back in a couple of months, come on Gordy wield your economic wand ) . I found this website, discount-london.com which have some brill deals on it. I am still all for last minute.com, even though some of the deals are rip-off disasters waiting to happen. You got to try your luck with it, proceed with caution, read the fine print and all should be dandy.
Reading. some stuff worth a look or two
Shark steak au poivre Now this is an ingredient which rarely gets written about: Shark. It is currently making it's run over at 5 star foodie, I've never ever had shark before, the closest is probably swordfish, but I don't know how close they taste. Anyway, she's put up a picture of the shark steak topped with beautiful peppercorns – it looks so delish – you need to have a look, my friend.
Midtown Lunch Can't remember when I first started reading this blog, I suspect close to a year ago. It's premise is very simple, the author works somewhere in midtown NY and he writes about the stuff he eats for lunch, hence midtown lunch. I'm not sure if there's an equivalent 'square mile lunch' blog in London, but I reckon there should be one. Ok there you go budding wannabe bloggers, that's a blog idea worth a few squiddies. Anybody interested in writing a square mile lunch blog ( or know if one exists ) , let me know, I'm willing to chip in with design work / setting up the site and provide blog posts to get started.
FT Weekend Life & Arts yesterday ran a great cover article titled "Man of his words" . You can find the same article online with a different title "Obama's Oratory". First of all, I have to praise the writer, Mr Sam Leigh – what a great analysis and case study of not just the Man -Obama- but more so the carefully balanced dissection of the essence of Obama's rhetoric and why it is so powerful. I particular enjoyed the little history lesson of how rhetoric has been applied and reapplied throughout the American Presidency. This also includes how Obama's distinguished public linguistics would have pleased even the likes of Aristotle himself.
"Ethos" was the name Aristotle gave to that part of rhetoric that establishes the speaker's bona fides. "Logos" – or the actual argument – was only one among three of the persuasive appeals; "pathos" – manipulating the audience's emotions – was just as important. Think of it this way. Ethos: "Buy my old car because I'm Jeremy Clarkson." Logos: "Buy my old car because yours is broken and mine is the only one on sale." Pathos: "Buy my old car or I'll twist the head off this kitten."
I also thoroughly enjoyed his deconstruction of Obama's love for the tricolon (thump, thump, thump) and his frequent use of repeating the same phrase succesively to hammer home the point.
Repetition, particularly in the form of anaphora – where a phrase is repeated at the beginning of successive lines – is another of the prime tools of political oratory and one that Obama revels in. His speech at the Iowa caucus on January 3 2008 opened: "You know, they said this time would never come. They said our sights were set too high. They said this country was too divided, too disillusioned to ever come together around a common purpose."
Really well written article which had me spreading my FT onto my neightbour's face on the tube because I was glued to every word. Of course, his source material was a great attraction in itself, Mr Obama, the prez-elect is like a magnet, every word he uses is purposeful, hair raising and just so convincing that one cannot help but be mesmerised by his speeches.
Perhaps, he can really save the world after all, but we'll just have to wait and see if his rhetoric can indeed move mountains after Tuesday. For everyone else, read the article here. It's the best thing I've read all week.
And we thrust into the new week…
Thank you to Kian, Athena and Natasha for your submissions this weekend for my 'Write for me and win £50' competition, it is much appreciated and as I said I will do my utmost to ensure your article gets formatted to the highest quality! Ok peeps, I'm still looking for submissions, 250 word minimum, you can write about anything anywhere as long as you ate something and took a picture. Best one by vote gets £50, deadline is Valentine's day. Release your inner restaurant critic now.
On Tuesday, I'll release my post on a visit to Marcus Wareing's – I tried THAT egg custard (ooh…so good) and on friday, I chill out at Baracca, brasilian in kilburn and grooved to the music of a one man bossa nova jukebox. Till then folks, have a great end to the week and see you back here in seven.
Did you enjoy reading this post? Why not subscribe to my feed updates for free. Alternatively,  You can subscribe via email.