Weekly round-up of yummi-news from around london and the blogosphere. Now released every Sunday and brought to you by a London eater 

A  look back at the past week of Jamie's ministry of food, the return of the British autumn (winter ?), what's cooking and who's eating.



eating happenings here on London Eater
Summer has finally left us ladies and gentlemen. All the beautiful colours, the short sleeves and the mini skirts. There was one last hurrah last weekend when the sun came out but today, the rain has pulled me right back in to reality: enter the infamous British weather. Oh yes, it really is horrible. Its also strange how the seasons here seem to change very sharply, and always on a Monday. Oh well, time to get my woolly clothes out and look like a Michelin man. Puff!
On the otherhand, I continue to churn out new content, and I think I've kind of achieved some sort of consistency with one post per day. Though, I must say, I still have yet to deliver my first wine review as yet. I guess you'll just have to keep coming back for it. On London Eater this week: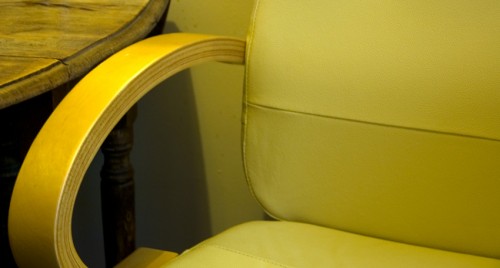 I bought a new 'blogging' chair from Argos. Got it for 50 quid. Its pretty comfy and the cream colour fits the colour of the walls. I'm already a button-masher at work, now I'm a button-masher 24/7. Damn. 
london happenings around the Smoke
Ministry of Food est 2008, Rotherham
Last week, I was talking about Jamie Oliver's new show ministry of food on tv, well I managed to catch the show, and it was pretty cool. He basically went to Rotherham, assumed everyone in the town ate kebabs for breakkie/lunch/dinner and proceeded to open a shop in the middle of town to campaign for healthy food and teach people how to cook healthy. Its not difficult to see how this act can divide opinion, but in my view, it's a good thing you know. Unless you're a keen foodie (like we are), you're really not that bothered about what you eat. But if you have a media circus like Jamie Oliver rolling into your town and telling you about it, its like a jolt to the system. Now Jamie, when are you going to show up in Gloucester road and cook for me?

The credit crunch has hit the average joe. It's pretty scary, I mean 700 billion bucks, thats 2 grand per american, staggering. If Gordie Brown took 1000 quid from my bank account I'd be like damn, Gordon you twat! Its nice to hear of chefs like Gary Rhodes adjusting to changing wallet sizes. In addition to fleeting footwork like a feisty spatchcock on strictly come dancing, he also gave an interview on the sunday times and he talked about introducing set menus which are more 'competitive' in price at his Michelin starred restaurants. That's pretty cool, maybe its time I pay a visit to a Rhodes' run restaurant. For those of you oblivious to his talents, Rhodes is a superb chef. Methodical and emphasis on cooking to perfection. I'm a fan. He also mentioned that he only rakes in six figures per year. Wow. I was expecting him to earn millions every year, what with his street cred, his books, tv work… times are indeed very hard.
The changing times on the Tube
How many of you have seen the Times new adverts on the underground? It features a blown up picture of Obama's head, sandwiched between the words 'the times' and, wait for this, No.10 (Downing Street) behind him. Its such a cool advert.
Ok, I'm fascinated with advertisements. Sometimes, it's just plain cool and very sticky, other times its just so bad and so cheesy (complete with cheesy music) that its so memorable. So bad that its good. I still think the cadbury gorilla beating the drums to Phil Collins is like the coolest advert, ever. If you've never seen it, see it below:
Anyway, the Barack Obama head on the times is a really slick advert. I follow the latest politics around the world, but this one made me go 'hmm, what the hell is that about?'. It certainly provoked all kinds of opinions like Rick lamb here. Its done its job to hook attention, whether positive or negative, its got people talking about it. Brilliant copy. He's already got my vote. Oh hang on, he's running for the democrats and not new labour…. right? 

reading happenings around the community
Bentos are Japanese lunch boxes. I used to have one… then I lost it. I also used to have an ex who made these stunning gourmet sandwiches, with sausages, brie, spinach, sun dried tomatoes and then toasted. Yum, yum yum. I lost her too.
If you guys have never visited Bentoism, go check it out, this post is about a recipe on Gyudon Beef Rice Burger. Easily one of my favourite blogs.
My good friends from down under wrote a great review about eating at selah… oh super drool that lamb and polenta looks to die for. Last time i was there, I really enjoyed it, the fish in particular, is so fresh and you can have Aussie wagyu for pretty reasonable prices. Food heaven as far as im concerned.
I'm still such an amateur when it comes to my camera. Though I'm still learning, like everyday. The best book ever for dSLR beginners is the digital photography book by Scott Kelby. The best blogs for beginners is Digital photography school, as well the superbly excellent digital slr guide. Though this week I started shooting in RAW mode, because, well, its just difficult to deal with white balance issues while I'm shooting in poorly lit restaurants. So I came across this post here about the basics of cleaning up RAW photos. What would I do without helpful blogs I wonder.
Traditional Japanese flavours
I discovered this blog last week. It's maintained by Carol Yamaguchi who is a food and travel writer. It's good, all about japanese food. Super yums.
Berry Bros & Rudd – the BLOG
They are the coolest wine shop in London, except for maybe the Sampler. But next to the Sampler, this is by far my favourite wine shop. It's like shopping for wine in a museum. I'm in the midst of finishing up the write-up for it, so expect it sometime next week. They maintain a very informative blog. In this post here, they deliver the latest news from the burgundian front. Ok, I'm a huge burgundy fan (as you know). And 2005 was a great year, one of the best, if not the best year! Great news. I need to get myself some excellent examples to put away soon.  
KFC noodles at tamarind trees
Maintained by Tom Aarons who lived in Cambodia for a good few years, he writes about his culinary experiments infused with Cambodian inspirations. This post really caught my eye, He cooked up a bowl of noodles, and topped it with KFC chicken. Ohh… noodles.  
Timeless Gourmet….. and the New England Lobster roll
This is why I love foodblogs so much. Timeless gourmet featuring a full post, complete with lots of pictures of the creation process of the Lobster roll. drool.. drool.. drool..  
Grumpy 's toasted meatball sub
Ok here is another post about another great toasted roll. This one is the meatball sub. Drool..drool..drool…
Coming next week..
Turn up the heating and have more hearty dishes. As usual, there's lots more interesting stuff coming next week, apologies about my wine review delays as well as my review on L'autre Pied, I'm working on it and promise it's coming soon. Come back on tuesday for Part 2 on my quickie wine guide, I have some surprises about dining in complete darkness, I also paid a visit to Borough market and Barrafina. Look for the reviews here, soon.
That's it for this edition of eating&reading, hope you enjoyed it, have a great end to the week and see you back here again in seven!