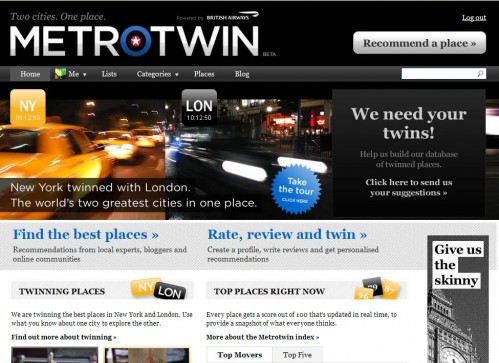 Gather round guys because I want to tell you about the next best thing that's just been unleashed on the internet.



Metro what.com you say?
It's a twinning website with the aim to become the latest and greatest online hub that will link arguably the two greatest cities in the world : NY and LON. 
The concept is rather interesting, follow me on this one. On the surface it looks like a travel website with recommendations for places of interests, hotels, restaurants, generally anything that's cool and fun to do in either cities. It's crowning feature are its 'lists' which feature a list of places which adhere to a certain theme.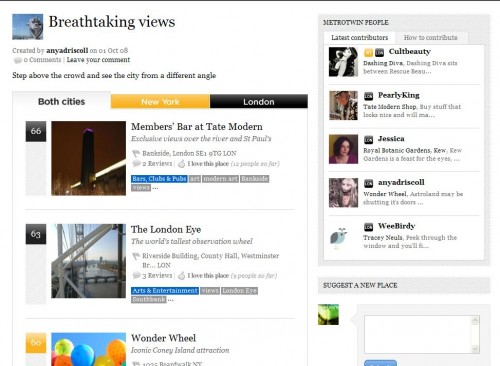 For example, 'Breathtaking views' gives you a list of recommended places in NY and LON to take in a breather. Ahh..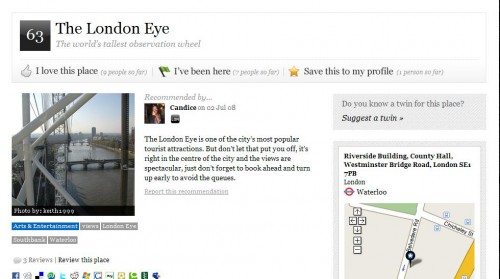 Clicking on each place bring us a short 500 character (with spaces) review of the place and why its good. You also get a google map which shows you where it is. You will also see a 'metrotwin index' next to the name. Think of it as a popularity ranking system that's based on a magical computer code in the background which calculates this based on a number of metrics. At the moment the number one place to visit in both NY/LON is the Wolseley.. in London.  
The idea is that this website is designed for people on the move, being that they live in either fast moving city, or are actually moving between them. (hundreds of thousands do this via BA every year)
What does British Airways have to do with this?
Ah-ha. The plot thickens.
Here's what it actually is: Metrotwin is British Airways' first foray into the world of social networking. On metrotwin, you are invited to participate because you can create a profile and rate & comment on the recommendations, suggest 'twins' (like I don't know, Bloomingdales NY and Selfridges LON ( is that twinned yet Candice?) (wow bracket in brackets) ) and even make your own maps and lists.
Think of it as your personal online travel guide that is constantly evolving.
How is that any different from any other travel website with reviews?
Ah-ha-ha. The plot thickens further.
Metrotwin recommendations are uploaded by local bloggers who live in the city and are up-to-date with the latest popping and shaking. And to my pleasant surprise, Metrotwin approached me to contribute content to the website too!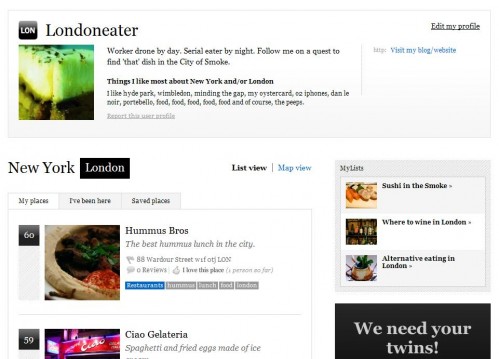 Here's what I've got on there so far: 
Click on them and go have a look. You can 'fave' the place, you can also 'been to the place' or leave a review of your own. It's fun try it!
The new online cool?
The best part about Metrotwin is that it is organic. It's content is created by bloggers and those recommendations take on a life of its own when you (yes, you the audience) participate and add to the existing recommendations.
What's even better is that there are lots of really cool bloggers who are partnered with Metrotwin already and they've been busy churning out really interesting stuff like this one by beermenus and this one by mizchief.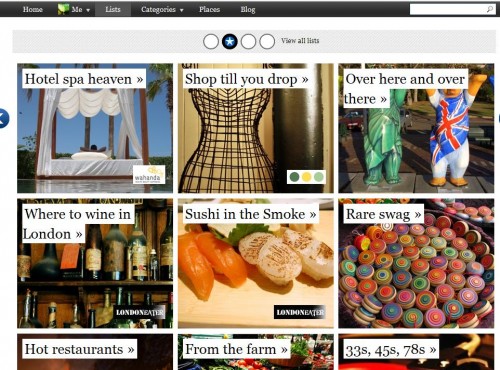 I really like the little square icons on the list page that rolls from page to page like a carousel. The website design is really sumptious and clean and it actually feels really relaxing browsing around.
As it's just launched a few weeks ago, there's still a few bumps, but overall its great as it is. We all know that there's alot of really exciting things to do in London and NY, now there's a place where people can gather and talk about it. If you want to read about cool things to do in New York and London then give Metrotwin a go now.
PS: The metrotwin guys keep a blog as well, worth checking out their constant updates too. In Candice's latest entry, she's shamelessly promoting the fact that metrotwin was on the metro this morning.
I would too.