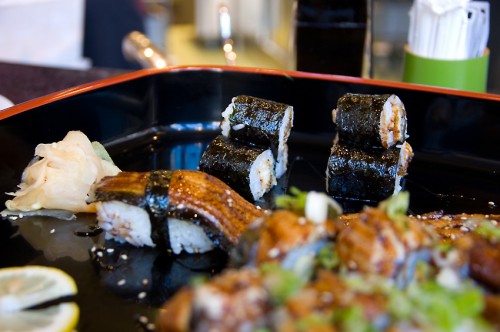 The last time I did a photo essay was my welsh monkfish tales post. Shot in the Old Kings arms hotel restaurant, I am still yet to post about my 2 1/2 month trip to southern Wales. I'll do so soon, lots of pretty food pictures, and lots of great food. 
I'm sure you all know by now that I love sushi. I usually wake up pretty late on sundays and look for a relaxing place to eat around lunchtime. I tend to settle down at my local Pret-a-manger and have my ritualistic ham and cheese croissant with a cup of cappuccino. Last sunday, I thought I'd break from tradition and venture out to high street kensington as the sun was begging me to get out. I ended up the top floor foodhall at Wholefoods.
Lets start with tea
I ordered the jasmine flower tea which, upon settling (in hot water) is suppose to unravel itself and bloom into this beautiful flower in the tea.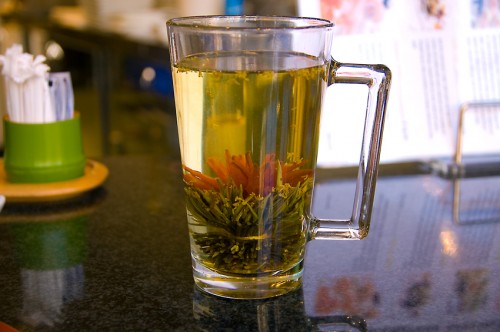 In the picture, it's only just starting to bloom. It's a little gimmicky, but a nice gimmick to distract me long enough until my salad arrives.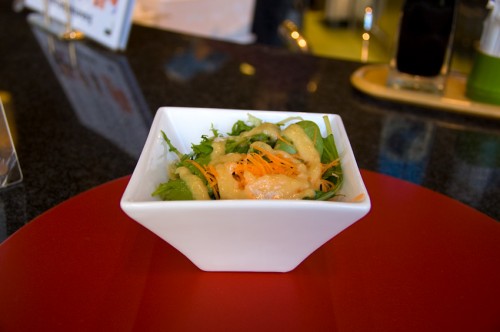 It's pretty standard stuff, very simple green & carrots, although the star is the lemony and tangy dressing. Very refreshing. This came with the meal I ordered: the unagi market combo.
Here we go…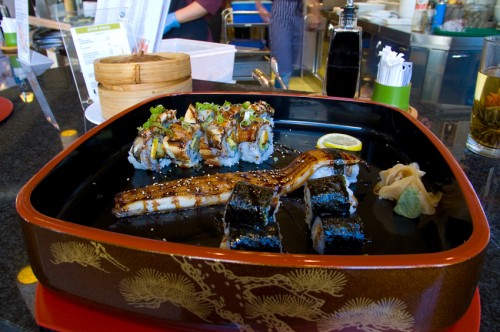 Unagi heaven. The three elements: The dragon roll. The full length unagi nigiri. The unagi roll.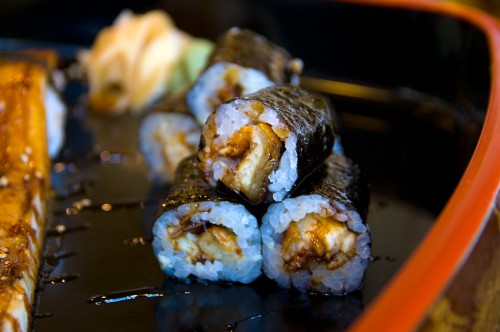 Six pieces of sumptious unagi, cushioned in between rich sushi rice and wrapped around with seaweed.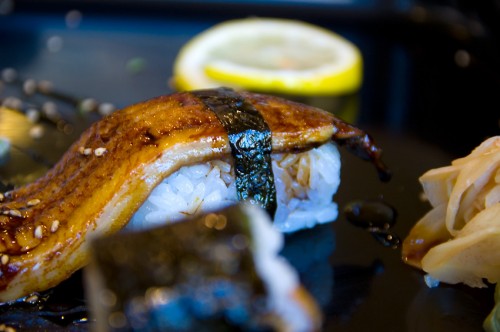 It took a while for them to prepare this work of art. Fifteen minutes to be exact. And it's the first time I've ever had a full length unagi on a piece of dainty sushi rice.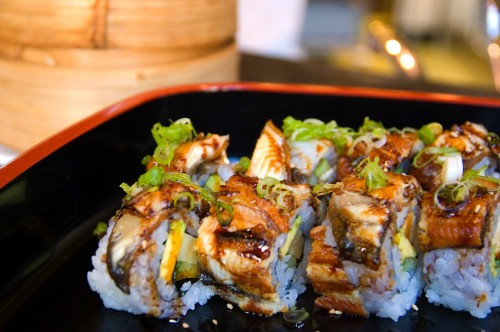 The dragon roll is inside-out, stuffed with cucumber and avocado and topped with yet more unagi and garnished with spring onion giving it life and colour.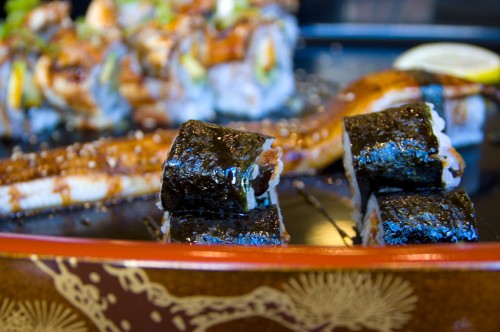 The teriyaki sauce is sweeter than I'm used to, but the unagi is expertly grilled and tastes as advertised: market fresh. Something that looks this good can only taste that good.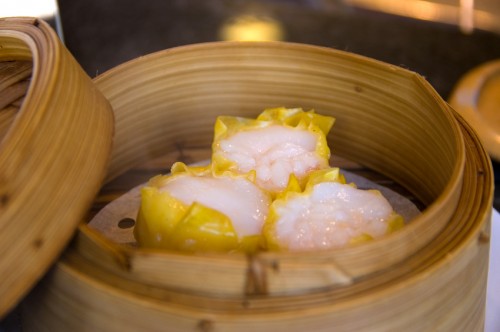 The Genji Express also has quite a good dim sum menu, here I wash down my unagi heaven with delicate steamed scallop shumais.
If sushi is not your fancy, there is a italian/spanish tapas/pasta corner, mediterranean corner, make-your-own-burritos, a full scale wood fire oven for sarnies (meatballs, roast beef & cheese, oohhh..) and excellent pizzas (they even have a 'breakfast' pizza).
Let's not forget the crepes, the smoothie bar, the gelato bar and more scones, cakes and custards than you can shake a stick at.
Must be eaten. Wholefoods is on High Street Kensington, London.
*updated*
Forgot to add the important bits..
A tad pricy: The whole unagi combo set is £23.00 , shumai £3 and tea is £3.