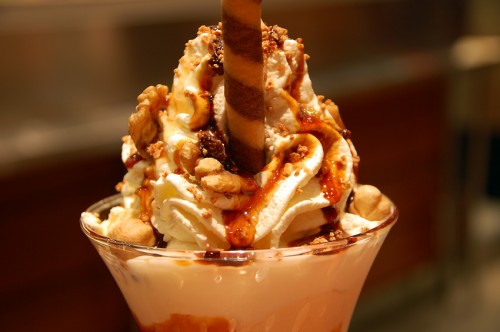 Following my scoop! post a few weeks ago, I went on abit of an ice cream rush before summer ended. Ciao is smack in the centre of Leicester square..ok that's an exaggeration, its more like behind Leicester square and yes that headline is not a joke, they really do spaghetti ice cream here. Got your attention yet? Cool, keep reading…



As promised: spaghetti ice cream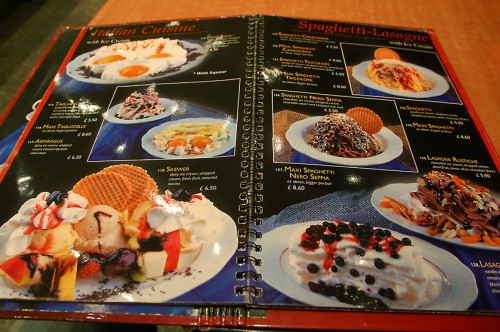 There are actually two menus here.  A 'standard' café menu that feature sarnies, pastas, you know, the basic stuff. But I mean, you'd come to cafe ciao not for the savoury food,but for the ice cream. This place is abit of an ice cream heaven. The colourful menu is a photographic odyssey of sweet creations including tiramisu with mascarpone and dairy ice cream. Archie comics style banana splits, complete with hot fudge sauce. And of course, spaghetti made completely of chocolate ice cream strands.
I ate fried eggs ice cream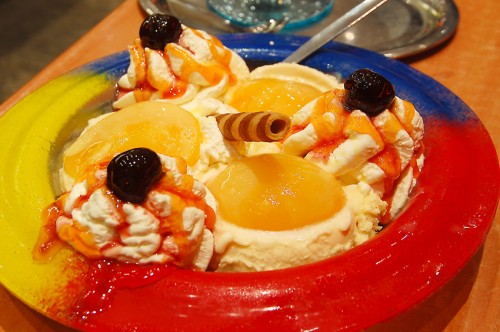 I ordered the fried eggs. Its made of two half peaches (for the yolk) and vanilla ice cream (as the egg white), with a chocolate wafer stick in the middle… topped with some very juicy glazed cherries. Yeah it was good.
Yogurt Ice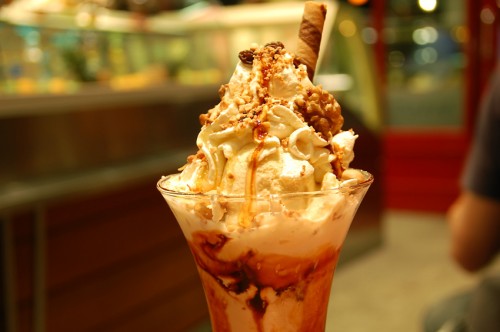 Jennie wanted to be healthy so she ordered the yogurt ice cream, with lots of whipped cream on top and walnuts and fudge sauce…. its debatable whether this is actually more healthy. If you've never had yogurt ice cream before, it tastes abit like sour vanilla ice cream.
Melted chocolate drink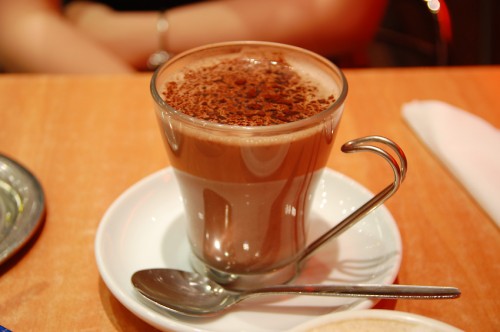 No this is not the melted hot chocolate, which they do here. Instead this is the 'normal' hot chocolate. To be honest, its nothing really special, but you know, a good hot chocolate is a good hot chocolate.
Thoughts and more thoughts and extra thoughts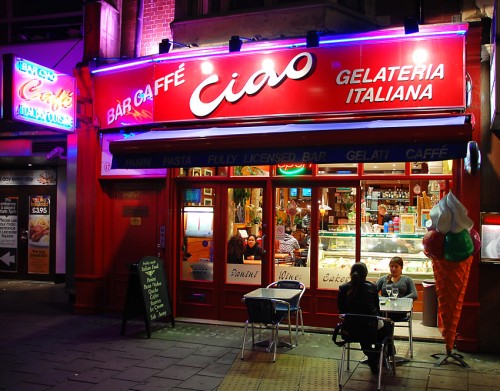 As of writing (4th October 2008), the temperature has come right down. I think it's about 10C outside, brrr… I'm not cold-resistent at all. In fact, I shiver when Im in the cold, even though I don't feel it. Maybe I need to grow more bodily hair. Well, not much I can say about desserts, anything with lots of sugars generally taste good (if you like sweet things), they put an interesting twist on things here, so it's a nice place to settle down. Prices are reasonable and portions are huge. The woman who runs the place is very warm, like a loving italian mummy making sure all her kids are well fed. So what are you waiting for? Get the melted hot chocolate and some fried eggs…made of cream. 
Basics

Bar Ciao
17 Charing X Road 
WC2H 0EP
 | +44 20 79309222 How much: Reasonable, £6 – £7 per dessert