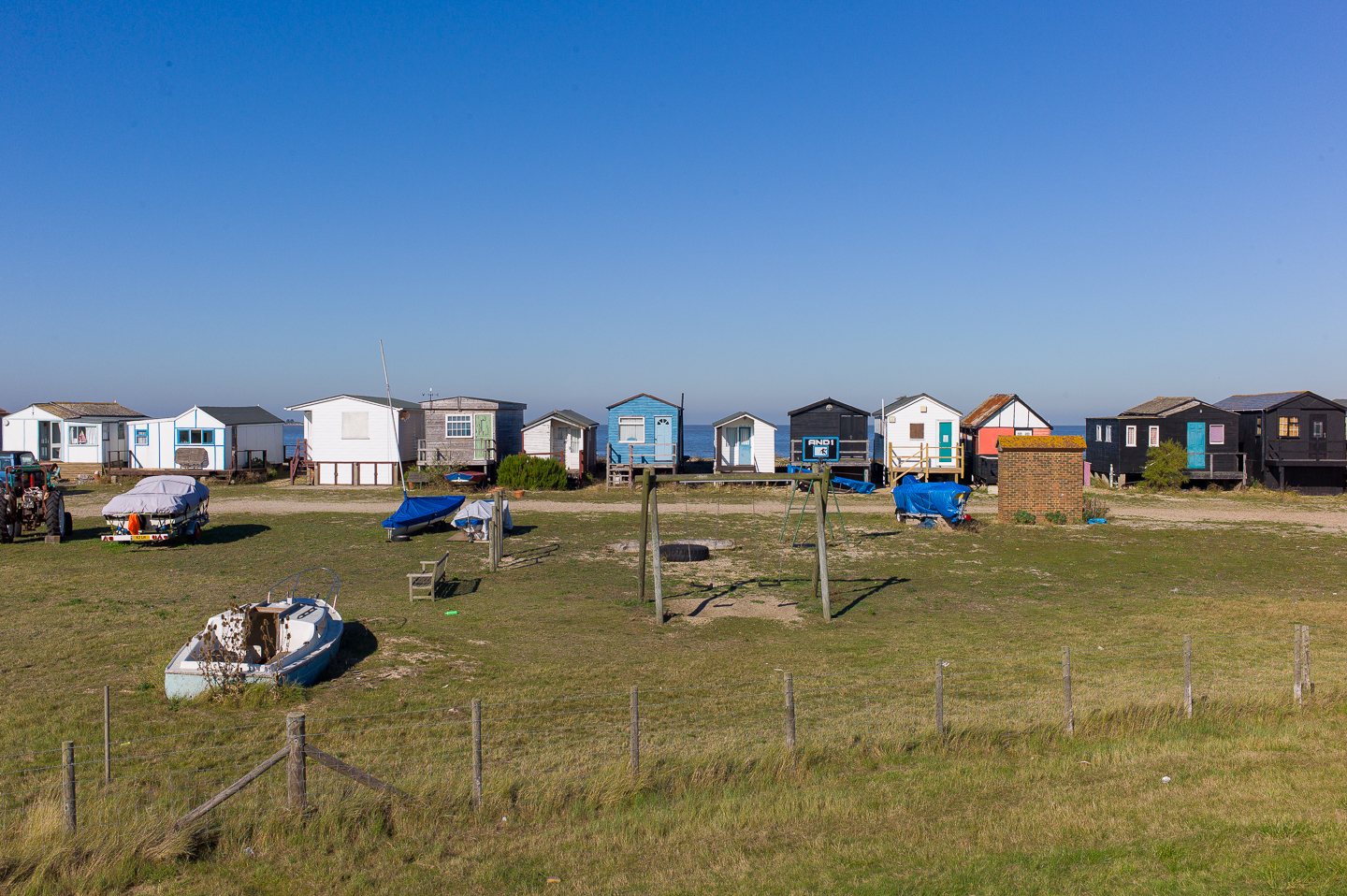 It's been well over 4 years since I was last here, and I can never get over just how serenely perfect the location is. I wonder if these huts behind the Sportsman can be rented. It would be nice to take forty winks in one of them after a long lunch.
Today the self-proclaimed 'grotty rundown pub by the sea' looks a little like that, as we arrived to a partial construction site. On-going cosmetic work mostly to the exteriors, the previously existing conservatory knocked down and rebuilt. I suspect it will be ready just in time for when you visit in the Summer this year.
It took us long enough (a couple of months for a weekday lunch) to secure a table at arguably Britain's most famous gastropub that -amazingly- still records bookings the old fashioned way, in a chunky ledger.
The next weekend tables are in September 2017, in case you wanted to know.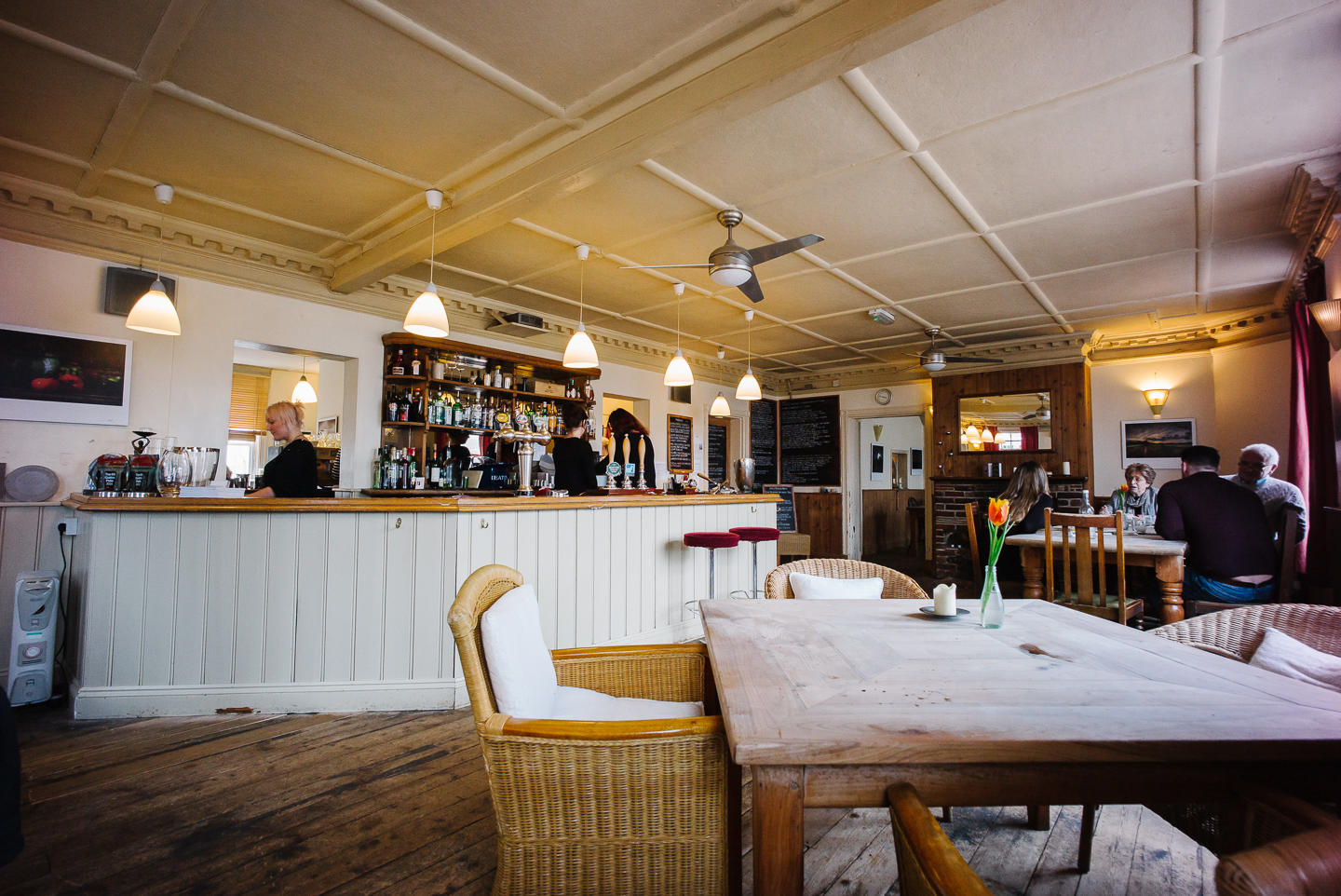 Inside, much is the same, a pub that's been lovingly tended to (and far from grotty), it is slow and peaceful here, this feeling of escapism even more precious in the current times.
As you know, Stephen Harris has kept his star since 2008, and hasn't stopped picking up awards and fans, most recently scooping NRAROTY2016 . I'd also noticed a brace of plaques at the bar, of which a swift google yielded the Top 50 Gastropubs awards. They are 2nd in the latest list to The Star at Harome.
It is very likely that your association with this pub predates the bib. Afterall, The Sportsman has been here for nearly 18 years now, and reading about the genius of Stephen Harris in 2017 will mostly be nostalgia for you.
Aside from Sportsman, he has kept busy in the last couple of years through his many recipes and musings about the virtues of Burgundy in Noble Rot magazine (Harris has family connections to Dan Keeling) as well as his hand in helping to launch the wine bar.
I'm not the first to have wondered why the bib never promoted The Sportsman as I don't see why Kerridge gets two, and Harris doesn't. And this makes me curious if he is still developing his cooking, or if he has already maximised the potential of the Kent terroir (Unlike his luminous self-taught peer, Mikael Jonsson who continues to obsessively upgrade his handiwork and supplier reach from season to season). Terroir is the operative word, for Stephen's mise en place is nearly all recovered from the nearby land and sea. This has always been The Sportsman's greatest asset, and whether you believe in the je ne sais quoi or not, it does create an emotional connection when the food hits your tastebuds.
The disadvantage of eating ultra local is that it places limits on hitting greater gastronomic strides as the nobility of ingredient no longer dictates the difference (even Noma has to reach into Norwegian and Icelandic waters to elevate their tourist attraction). Although this is the same reason why The Sporstman is so admired, staying true to its intention of being honestly local, unperturbed by the allure of say Lozère lamb or Brittany butter (then again, when you churn your own because it doesn't have to travel, it will taste better). Though completely self-taught, Stephen is a knowledgeable guy with an experienced palate, and his ability is the intangible that defines the cuisine at his humble pub.
The full taster menu costs £70pp today, and it can be pre-ordered when you book your table (which is what we did). In addition, we BYOed a bottle with this meal (generous £10 corkage), and I have inserted the taster note for the wine below.
Amuse 1: Cheese and onion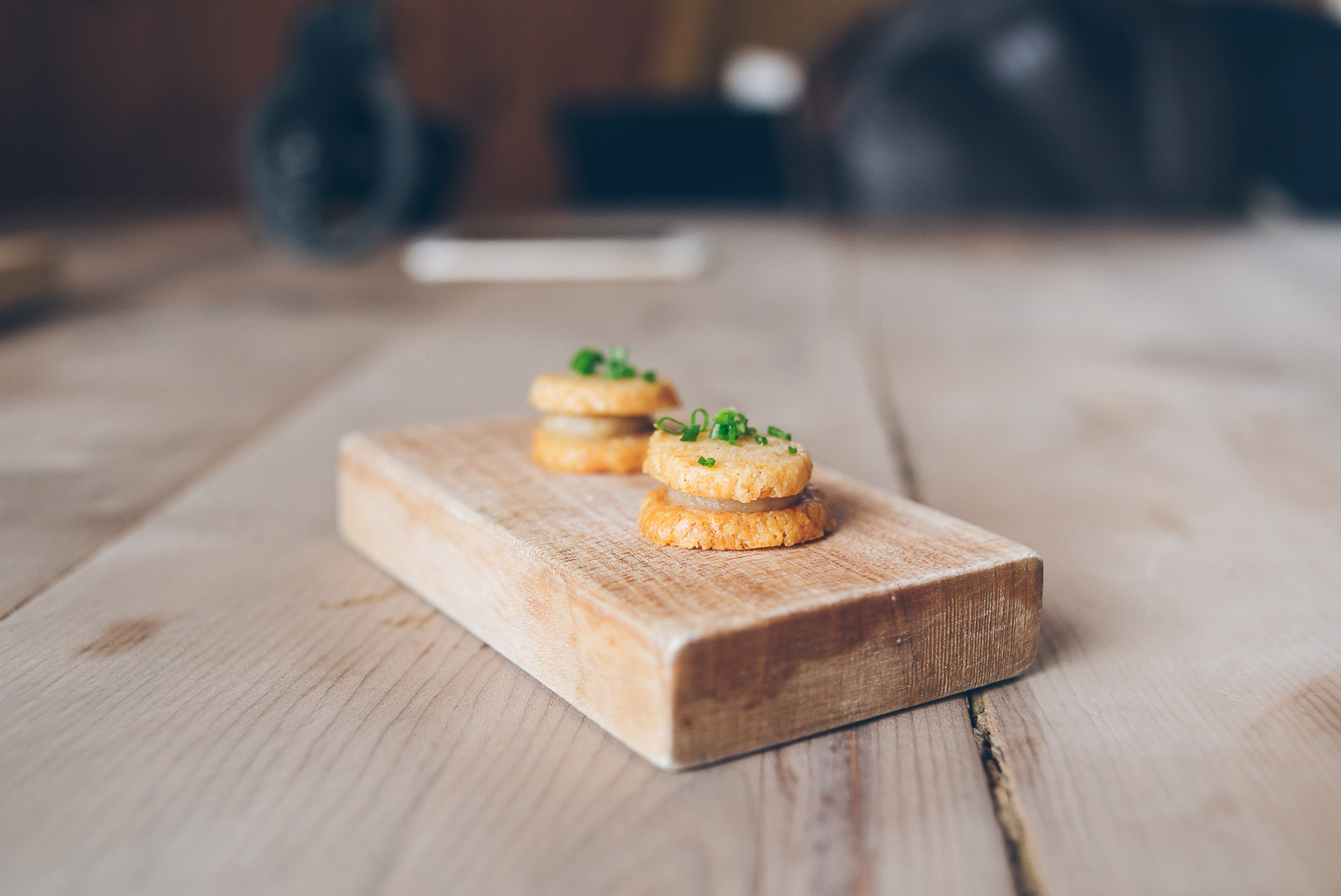 Amuse 2: Lamb's kidney, apple jelly, brioche ; House pickled herring, cream cheese, apple jelly, soda bread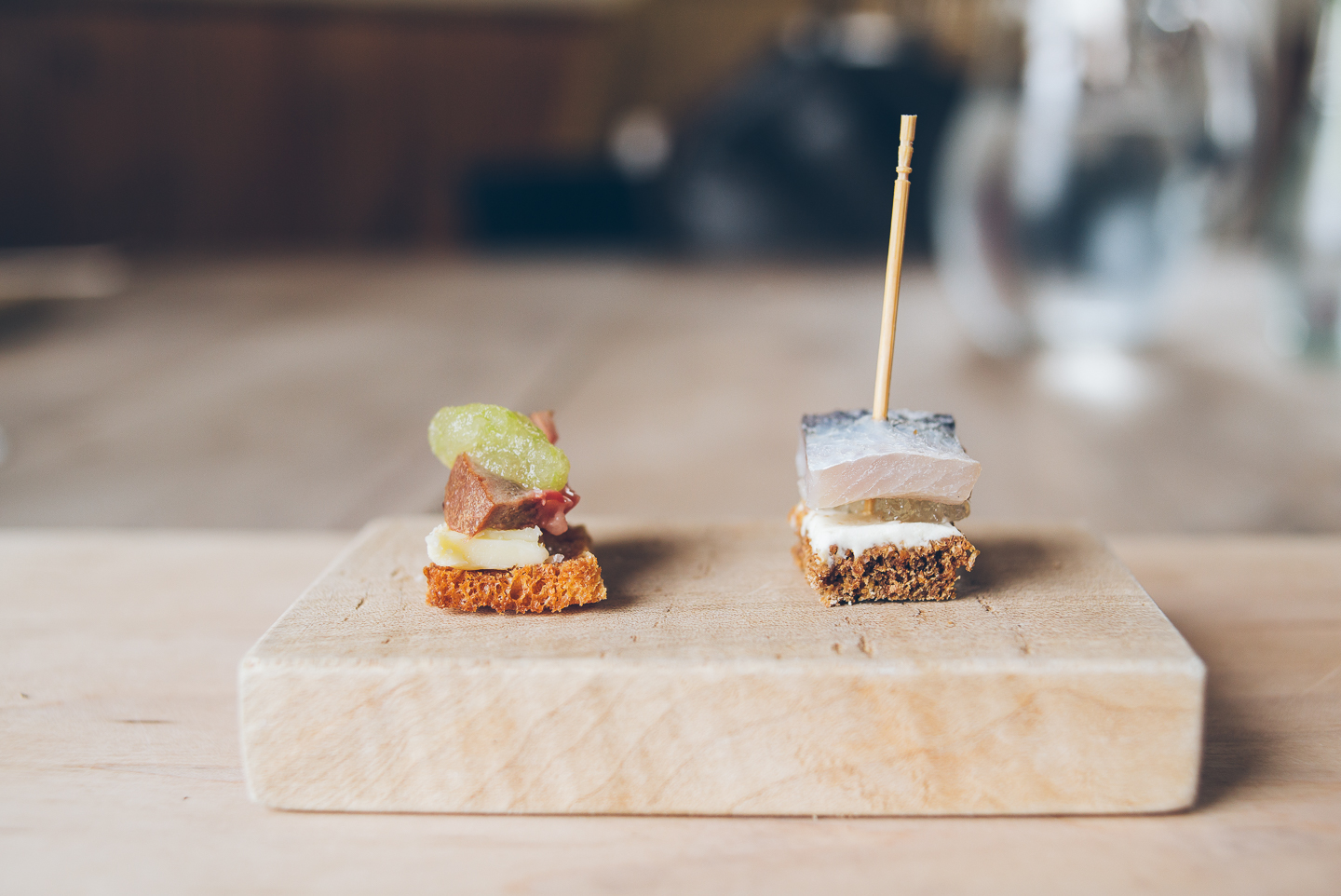 The herring, like shime saba, perky and bright was a foil to the gorgeous custard sweetness of the apple and kidney.
Amuse 3: Brill tartare, soy foam, yoghurt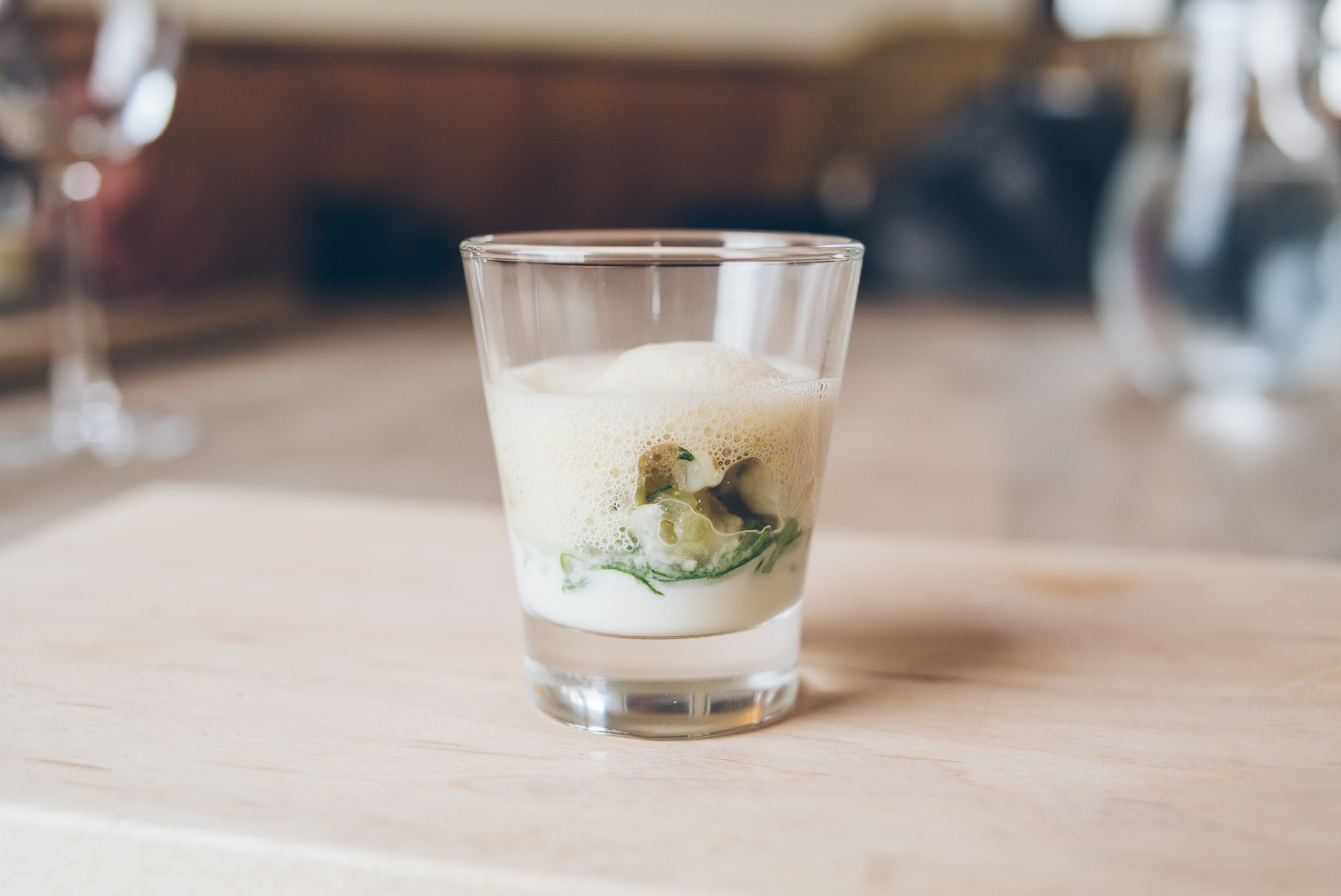 Pretty full on. Sharp and salty, also a herald for the fish course, later in the meal.
1. Whistable oysters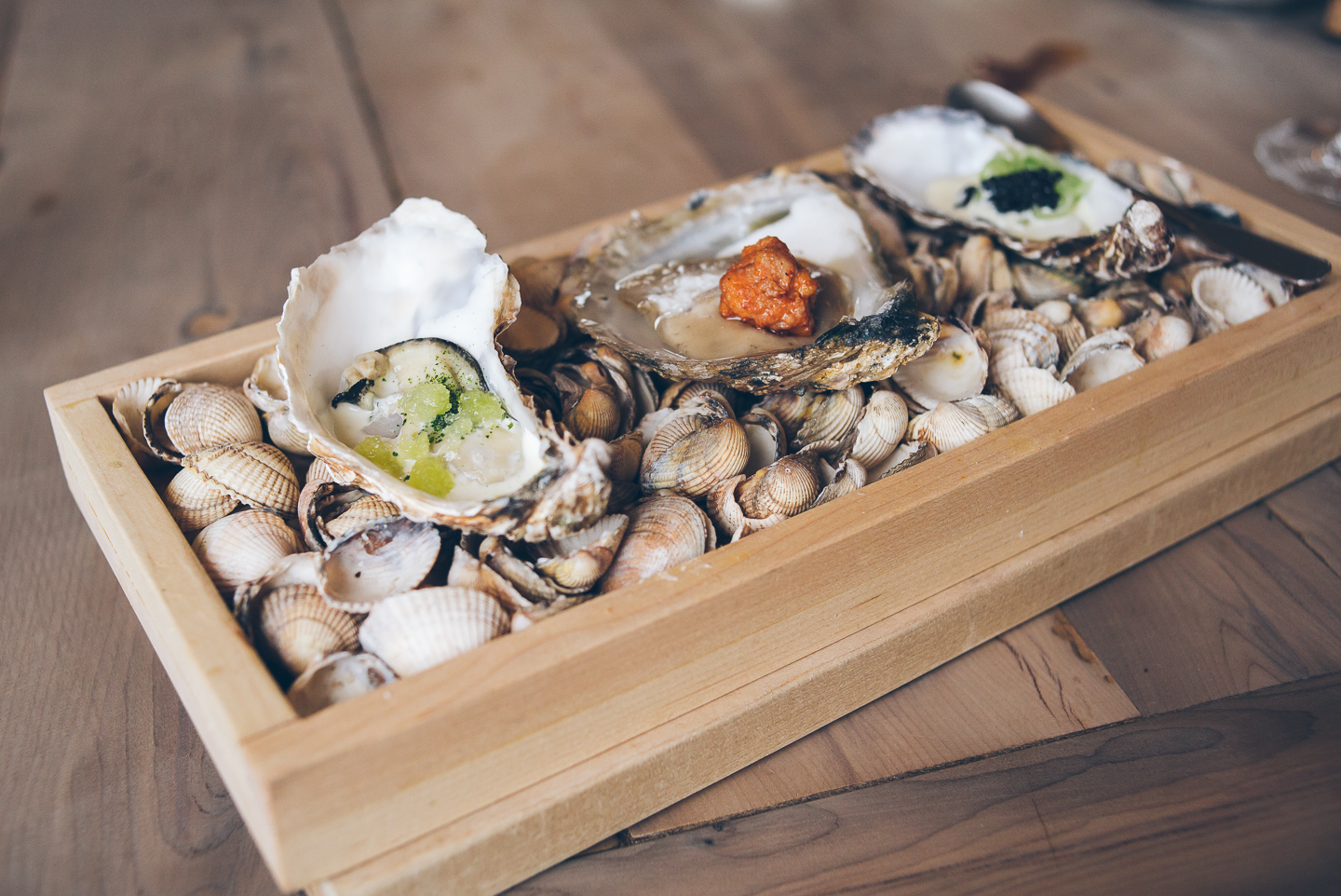 The pride of Whitstable, and (still) in an R month, with a native amongst the rocks.
L-R Poached rock with apple granita and seaweed; Native with house made chorizo and Poached rock with pickled cucumber and avruga caviar.
And there is much to be proud of – some of the best oysters around, especially the full flavoured native. Whitstable oysters are as good as Cornish ones, eaten close to source, even better than fine de claires. These have been carefully enhanced by the Chef's hand, especially the delicious beurre blanc. If I'm not mistaken, he poaches the rocks in-shell, although I'm not sure if he too does them unshucked like Mikael, until they pop.
It would be difficult to find a more profound course of oysters than this, Hedone's Porthillys a close second.
-Bread- Soda, sourdough, focaccia with home churned butter and seasalter salt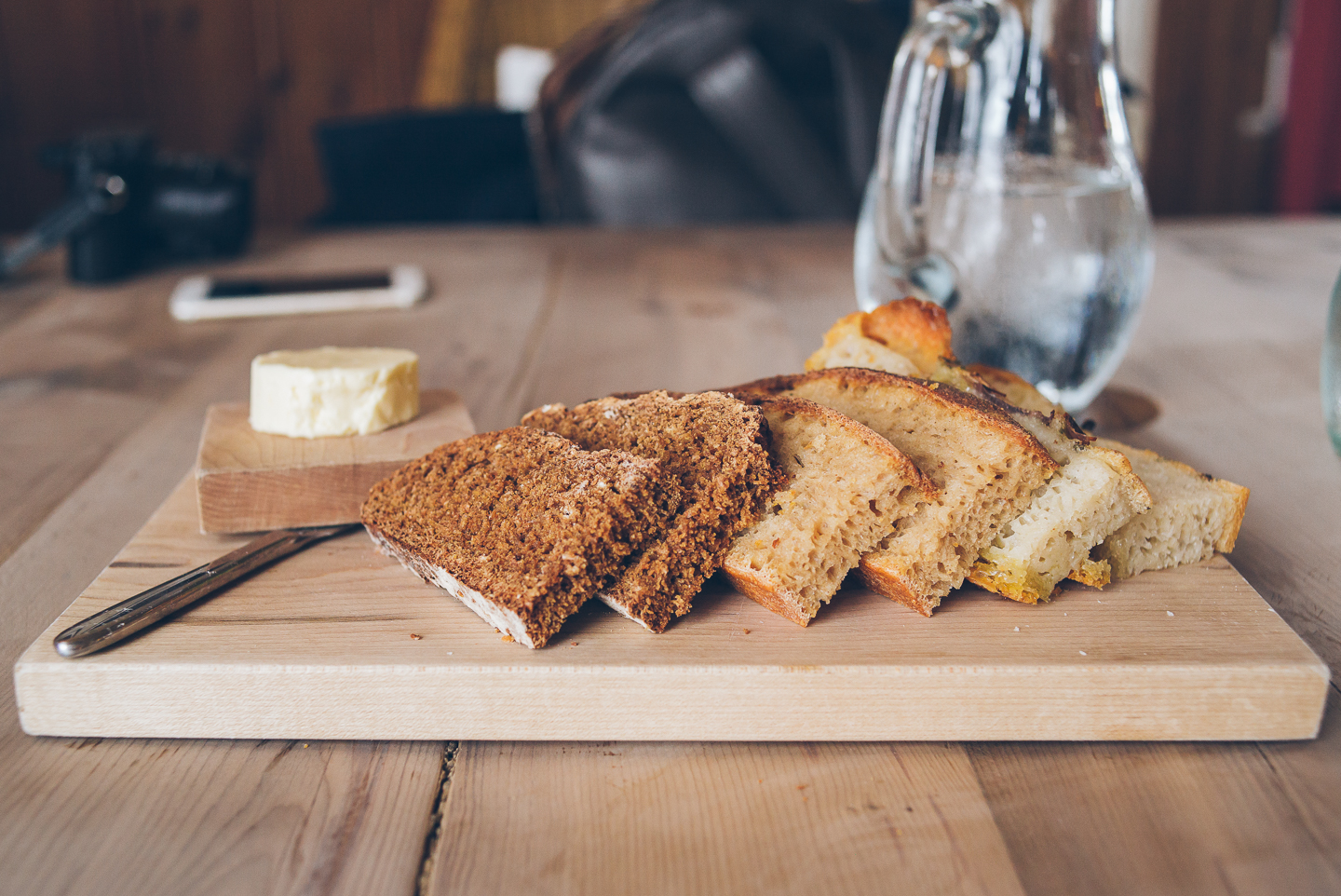 All made in-house and some of the best around.
-wine- 2007 Corton-Charlegmane, Bonneau du Martray (£10 corkage)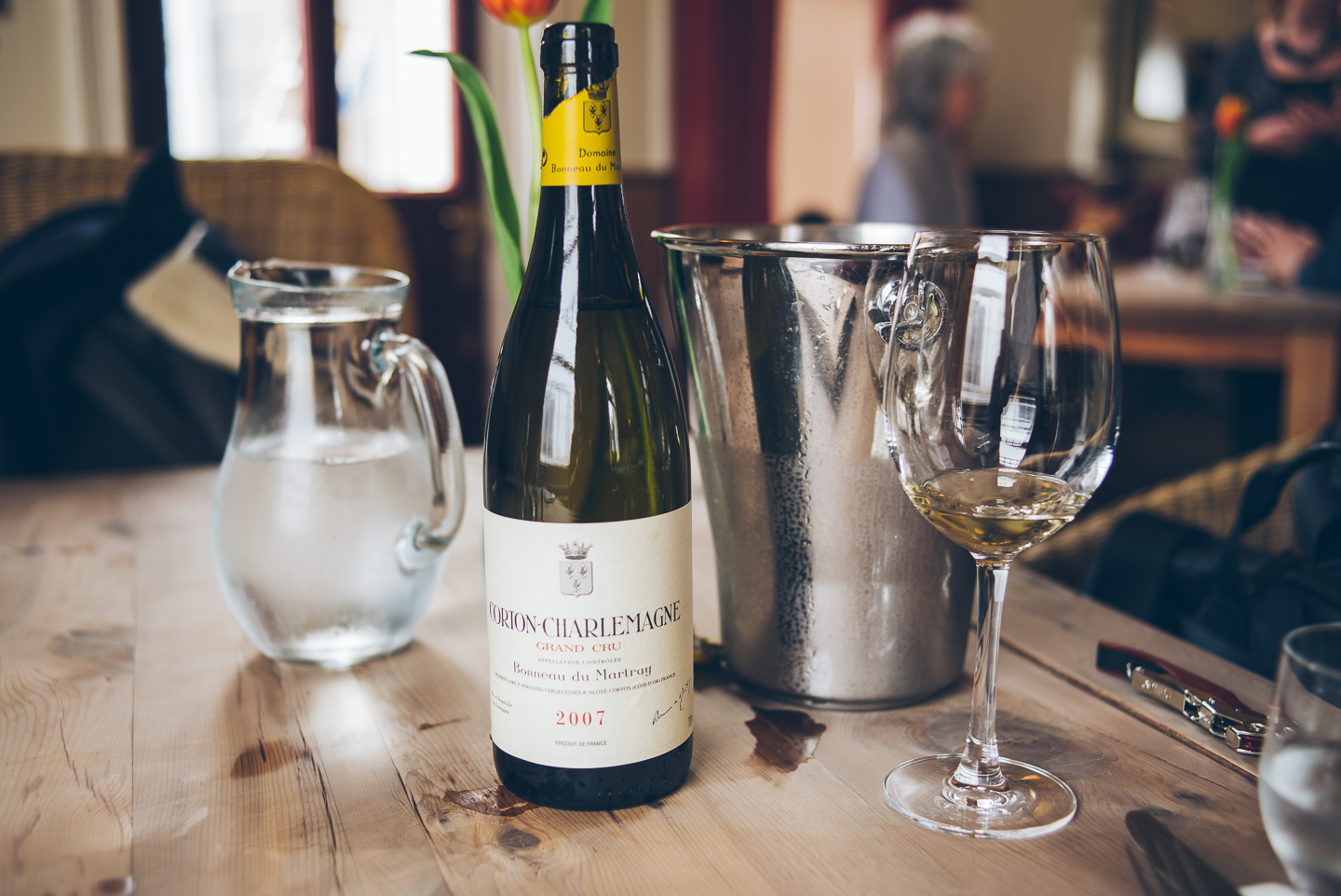 First off, no premox. 10 years in the cellars, and the rewards on the nose really showed, very floral and mineral, palate exhibiting intense acidity and minerality, peaches, citrus, some oiliness, it is so laser focussed, you wouldn't think it is a white burg. No secondary caramel character as yet, and therefore is a wine that I think can still sleep for five years.
2. Scallop carpaccio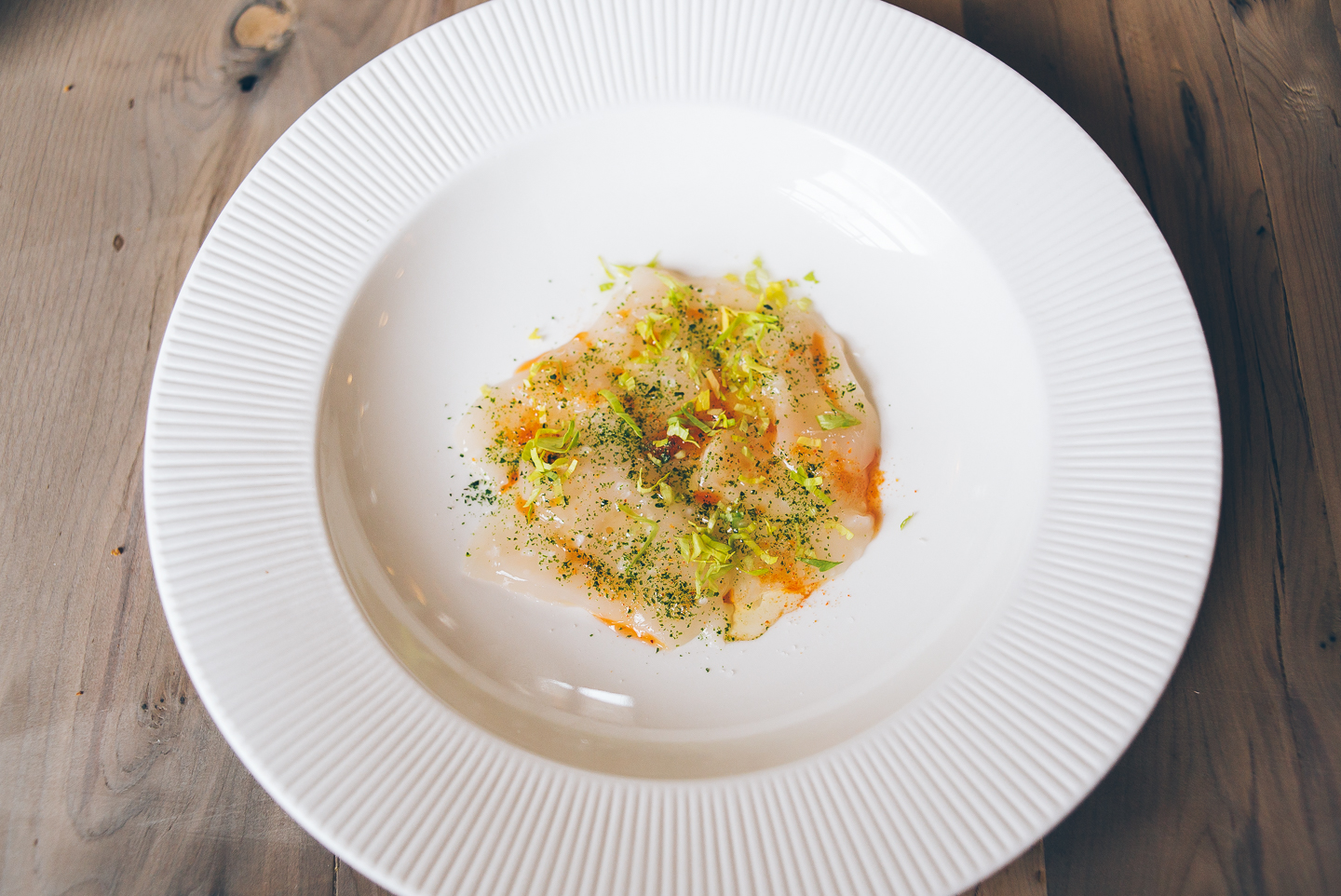 With smoked roe, apple (?) vinaigrette, and precious umami sprinkles of seaweed powder. These are undoubted of the locally hand dived kind. Incredibly sweet scallops, jewel-like and of superb quality. The sauce had this sweet and pickled chilli jam thing going which I really loved. Nothing to hide behind, and a showcase of the noble shellfish in immaculate condition.
3. Crab, carrot and hollandaise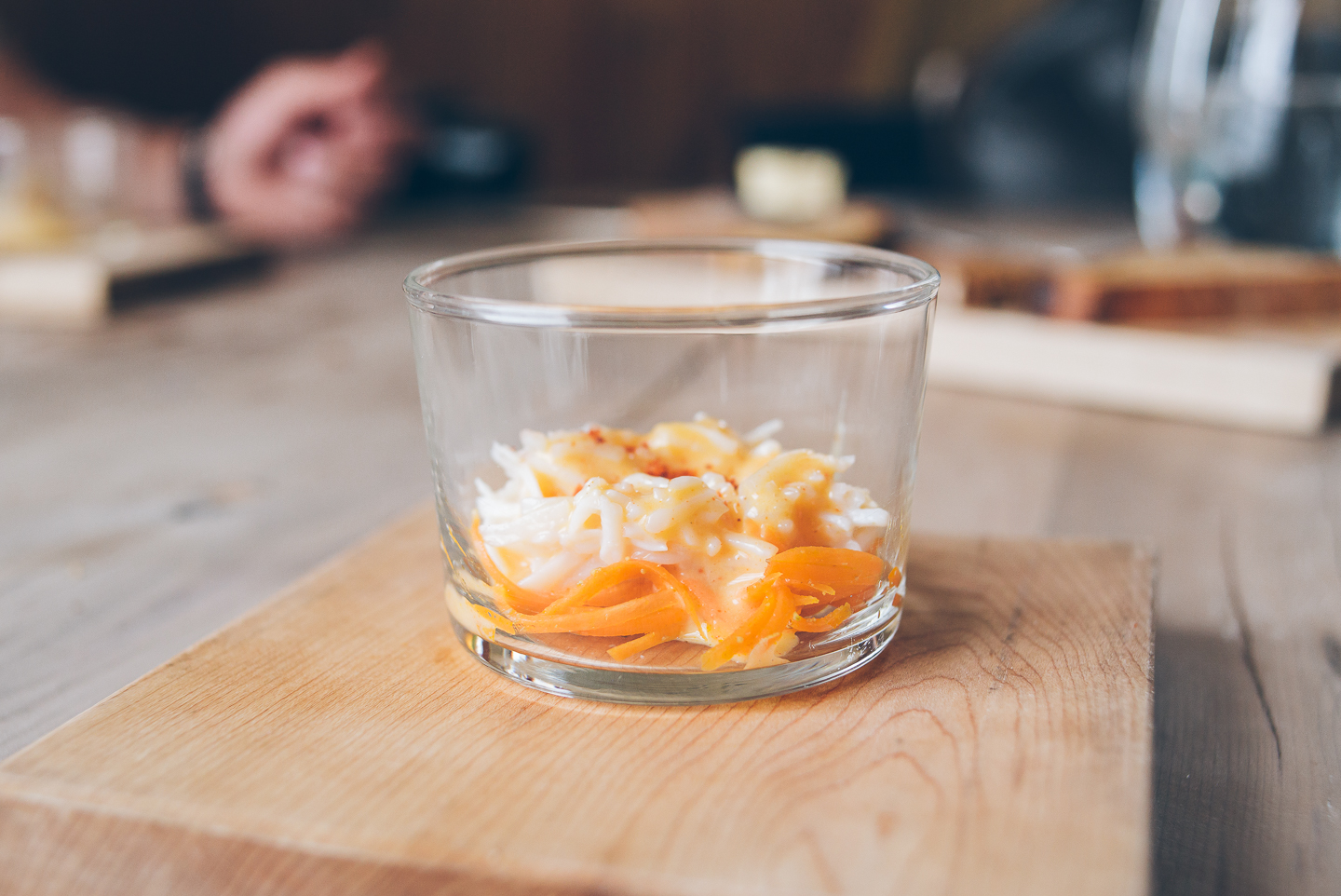 Paprika and others, a subtle curry flavour permeates the sweet carrots, itself accentuating the sweeter aspects of the crab. Coronation crab then. A featherlight hollandaise ties everything together, and beautifully so. Another exercise of less is more, in service of a great ingredient.
4. Mushroom and celeriac tart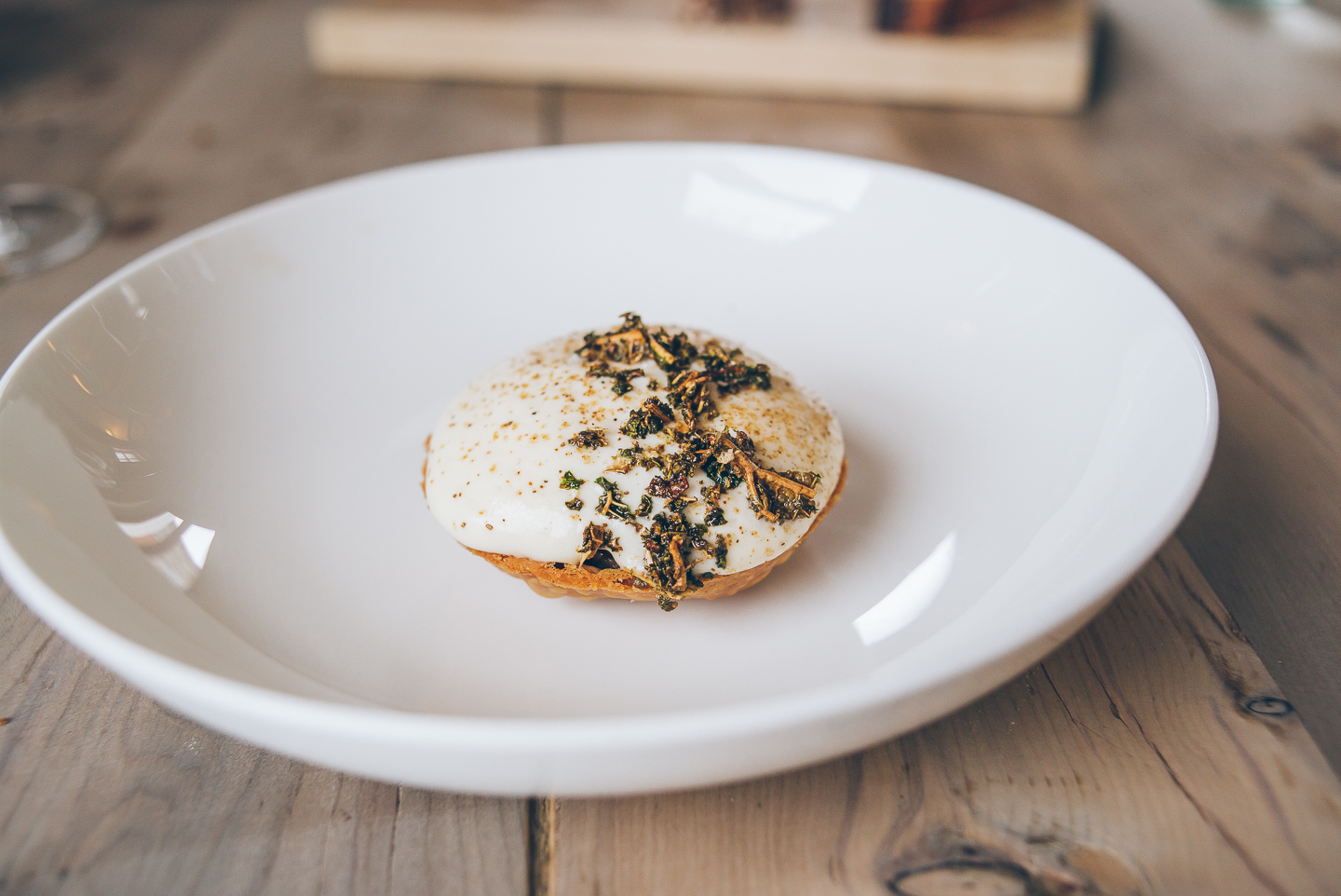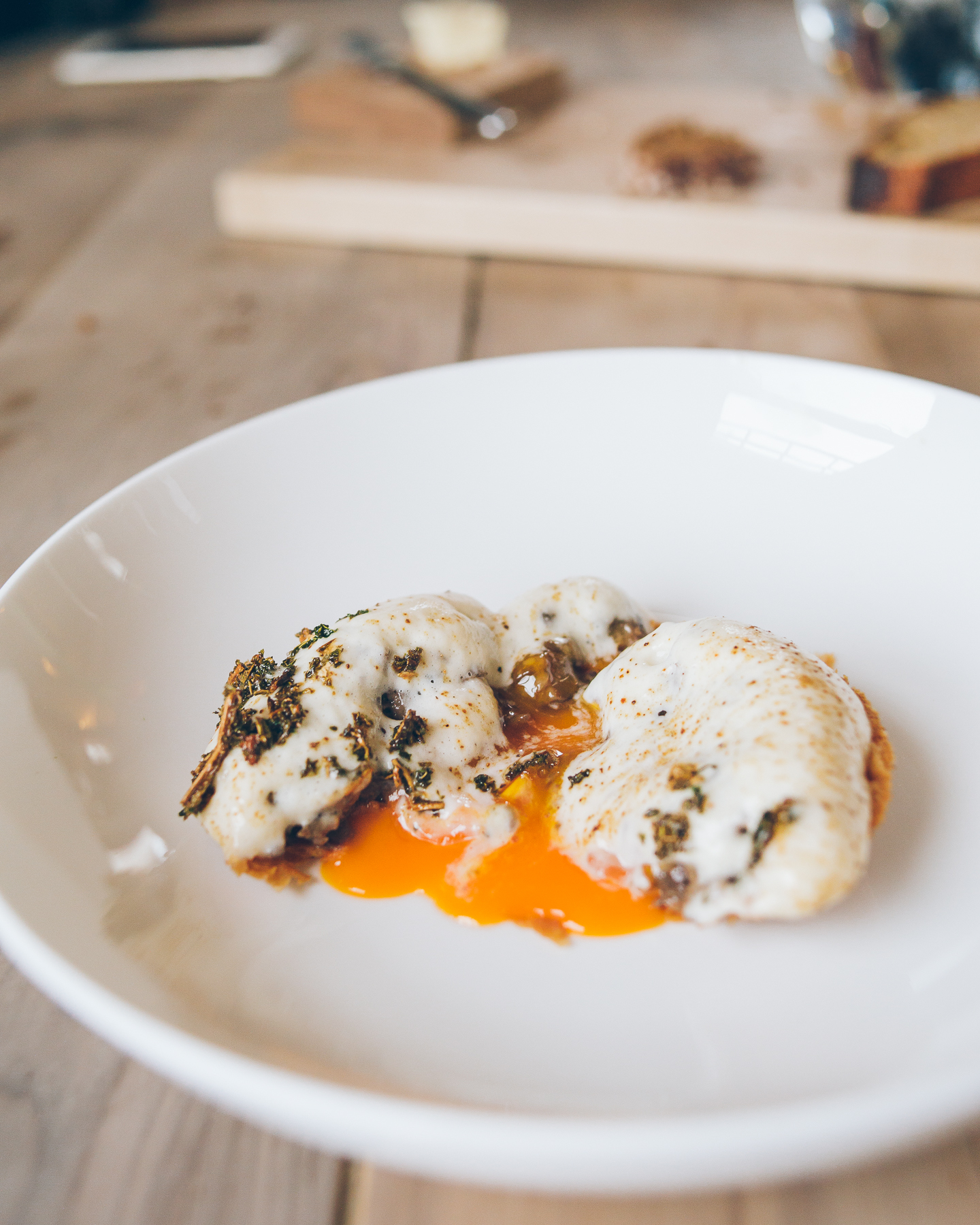 The ethereal lightness as the knife goes through the layers. First the celeriac espuma (siphoned sabayon+puree?), then to the chopped mushrooms, the burst of the egg yolk centre and finally (crucially) the tart base that crumbles and snaps. Fine work, undoubtedly freshly made.
I wonder what the greens on top are. They look pickled and dehydrated, bringing even more umami to a tart that is effectively a celebration of it. Ultimate deliciousness, such wonderful technique to create a dish that is diabolically simple in appearance. A taste of Stephen's handiwork, and the highlight of the meal.
It reminds me somewhat of the revelation of Pascal Barbot's verjus marinated foie and button mushroom 'millefueille'. Timeless umami.
-extra course- The house special. Slipsole in seaweed butter, and slipsole in smoked butter (£10.95)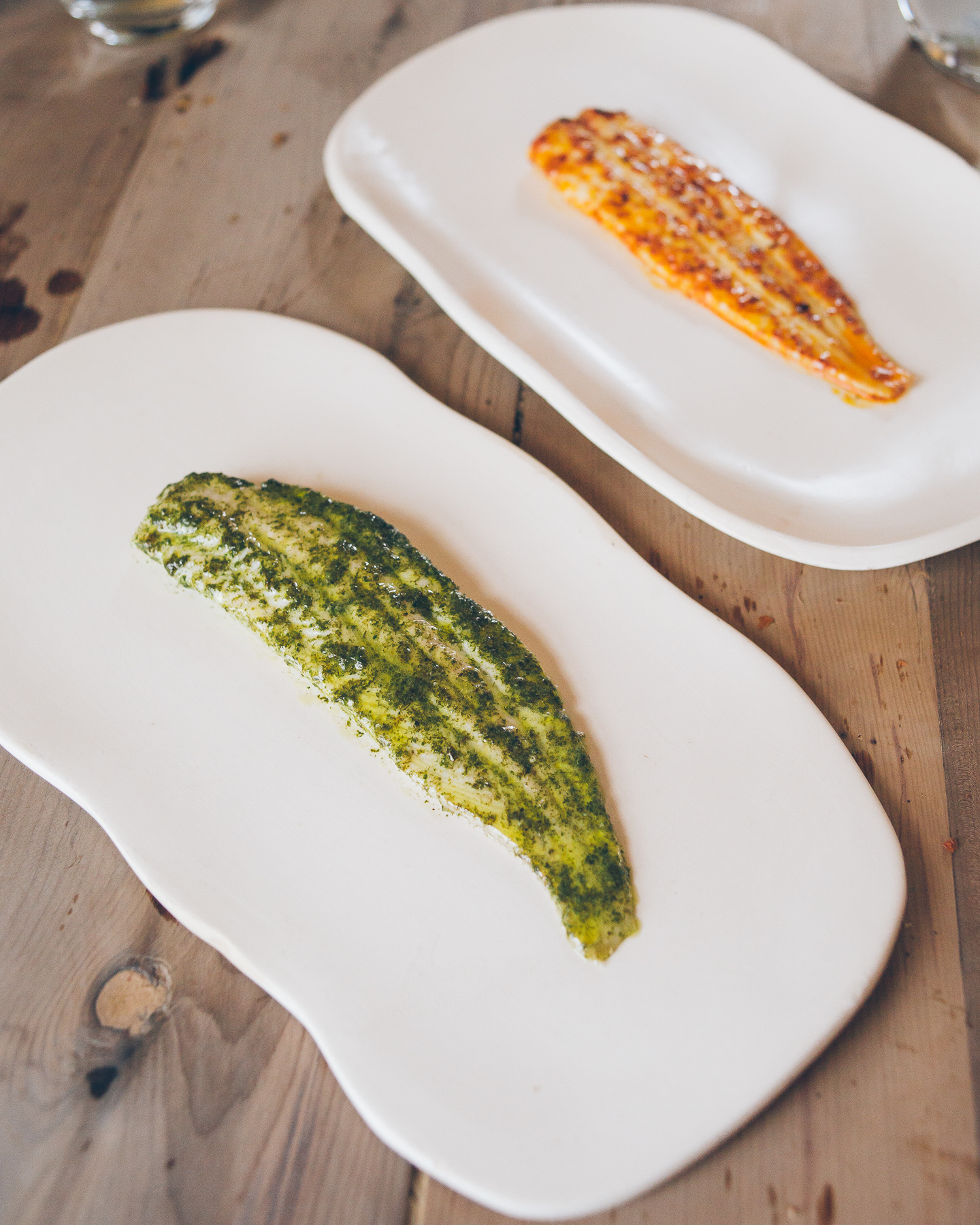 We had to slot these in, because this epitomizes Stephen's cuisine. Also, how often am I able to get a table here?
That seaweed butter is so tasty, like a light laverbread. It amazes me that these only spend a few minutes under the salamander, and yet produces such a satisfying experience. I suppose it is true about ingredients from the same terroir having great affinity with one another. When you have jewels from the sea!
5. Brill, smoked roe sauce with pickled celeriac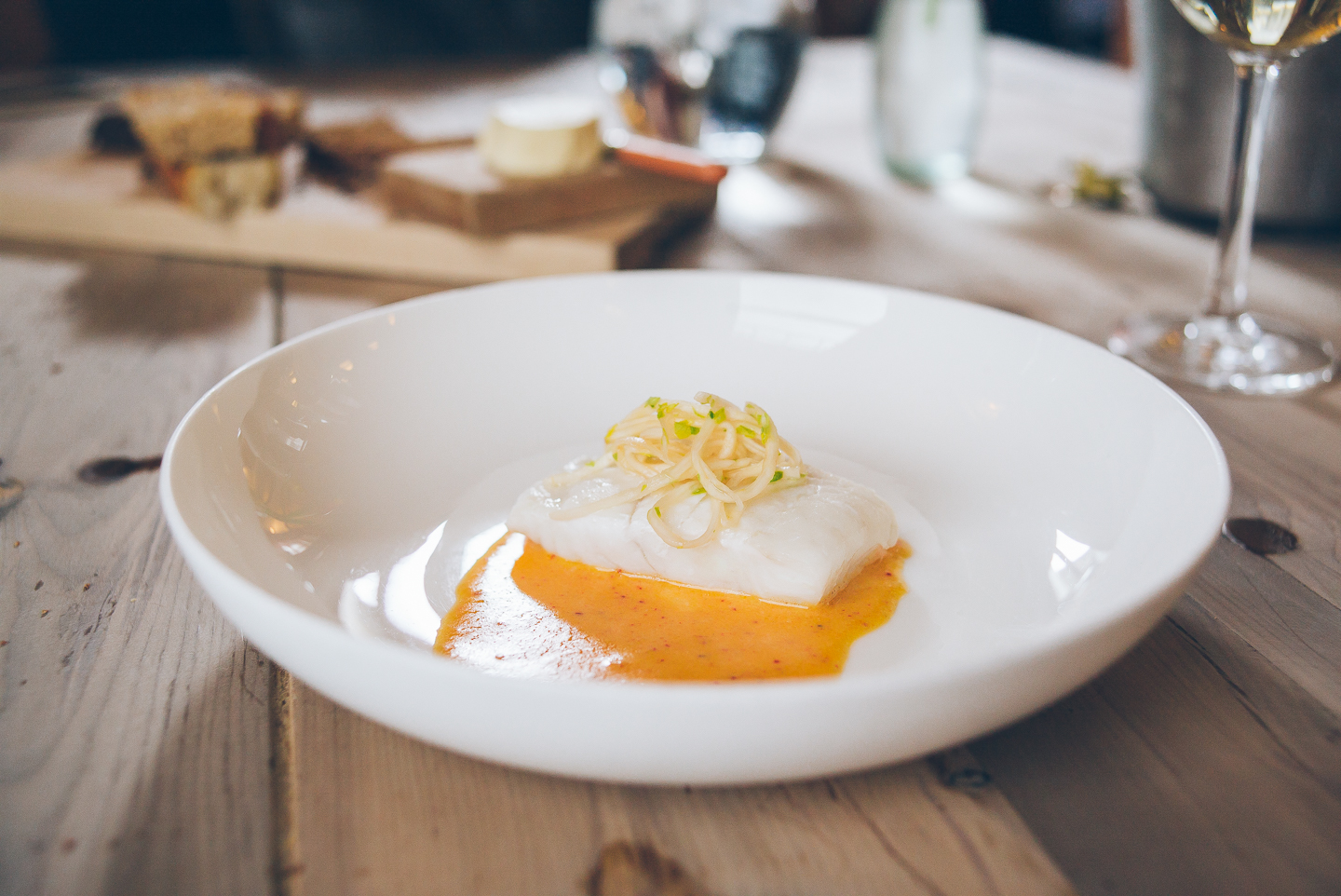 The celeriac is much like ginger to steamed fish, a little too much of it I think, as there are no carbohydrates to absorb this acidity. If I am honest, I found the fish to be ever so slightly overcooked. Mushy in place of firm flakes and pearlescent brilliance. Although the sauce was top notch -even if it seemed like a refrain from an earlier plate- with an intensity not unlike a mild curry.
6. Monkshill Farm lamb in two parts
Part 1: Bread Lamb belly with mint sauce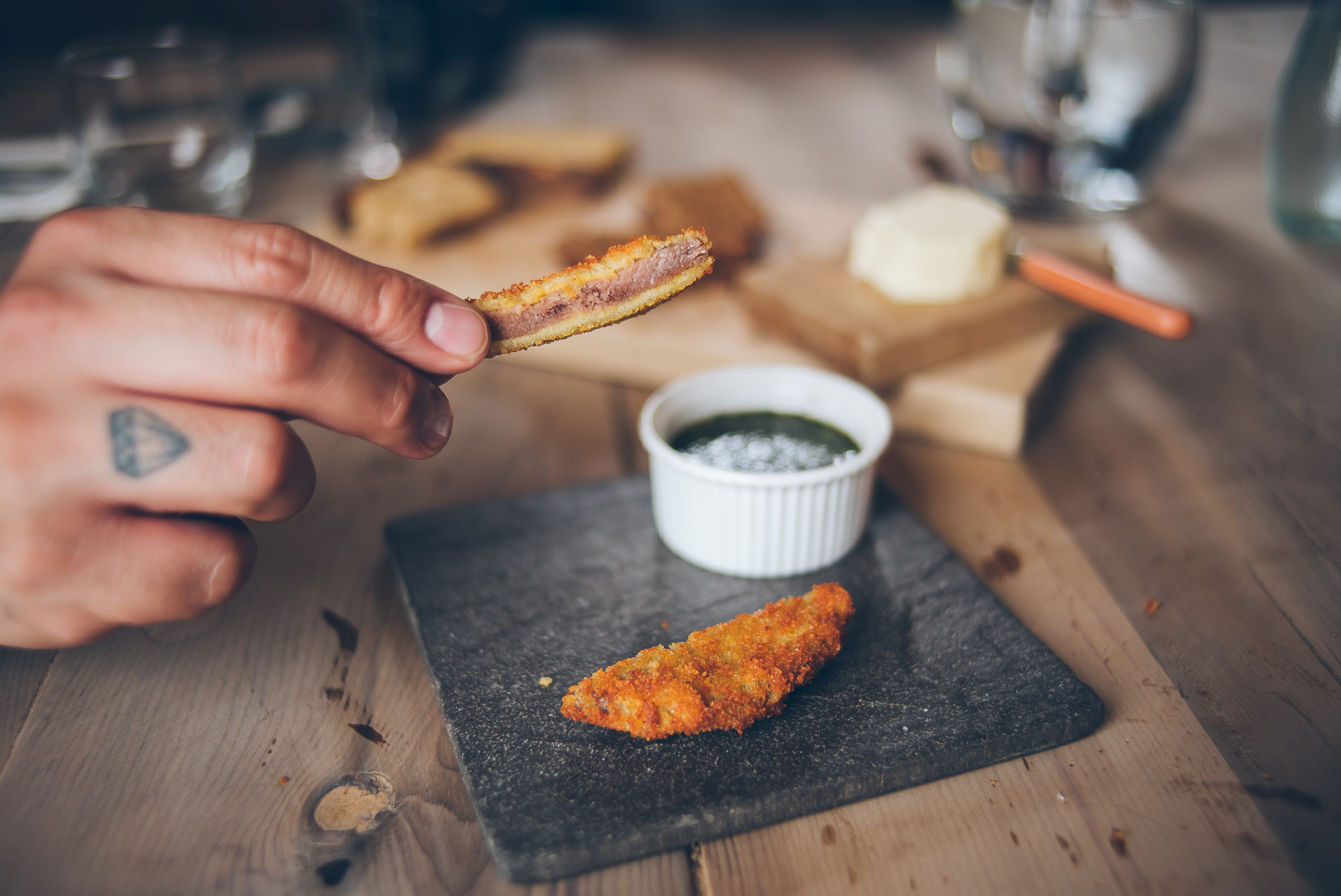 Finger licking lamb katsu, very tender and full in flavour, I could have had many more of these. With a delicious mint sauce that had bags of acidity to balance things out.
Part 2: Roast saddle and braised shoulder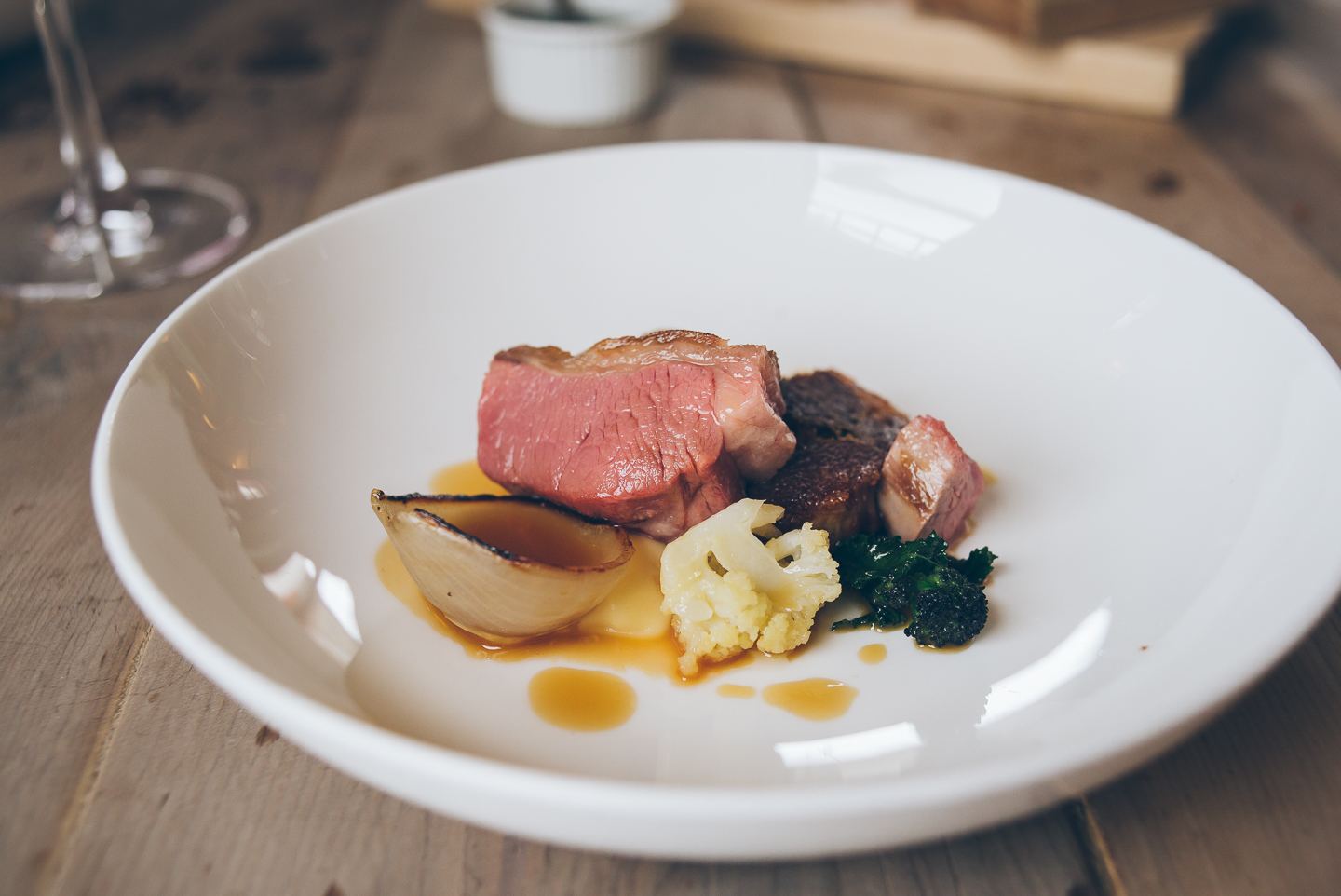 I had wondered about lamb in early March, perhaps this is closer to hogget, as the toughness of the saddle seemed to suggest. Like leather, it was surprising, albeit delivered at the perfect temperature. The braised shoulder fared much better, though overall, this course paled in comparison with the entrees. A little too soon in the calendar I think. Maybe the mapled cured pork loin would have worked better at the transition from Winter to Spring.
7. Pre-dessert of sea buckthorn, meringue ice cream and seaweed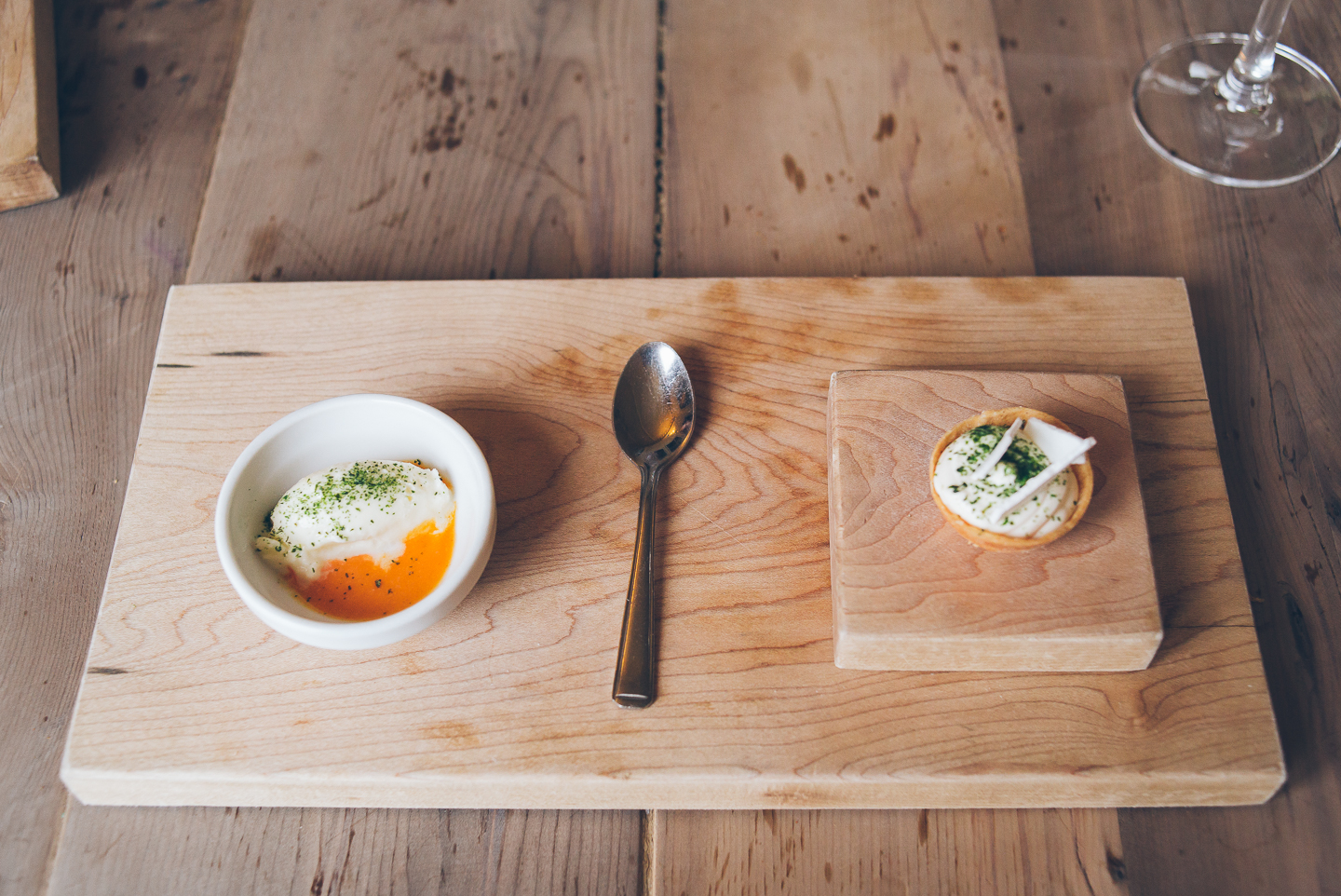 I do like sea buckthorn, to me, they are like wilder versions of oranges, with bright acidity, and make for very spirited palate cleansers.
8. Bramley apple souffle with salted caramel ice cream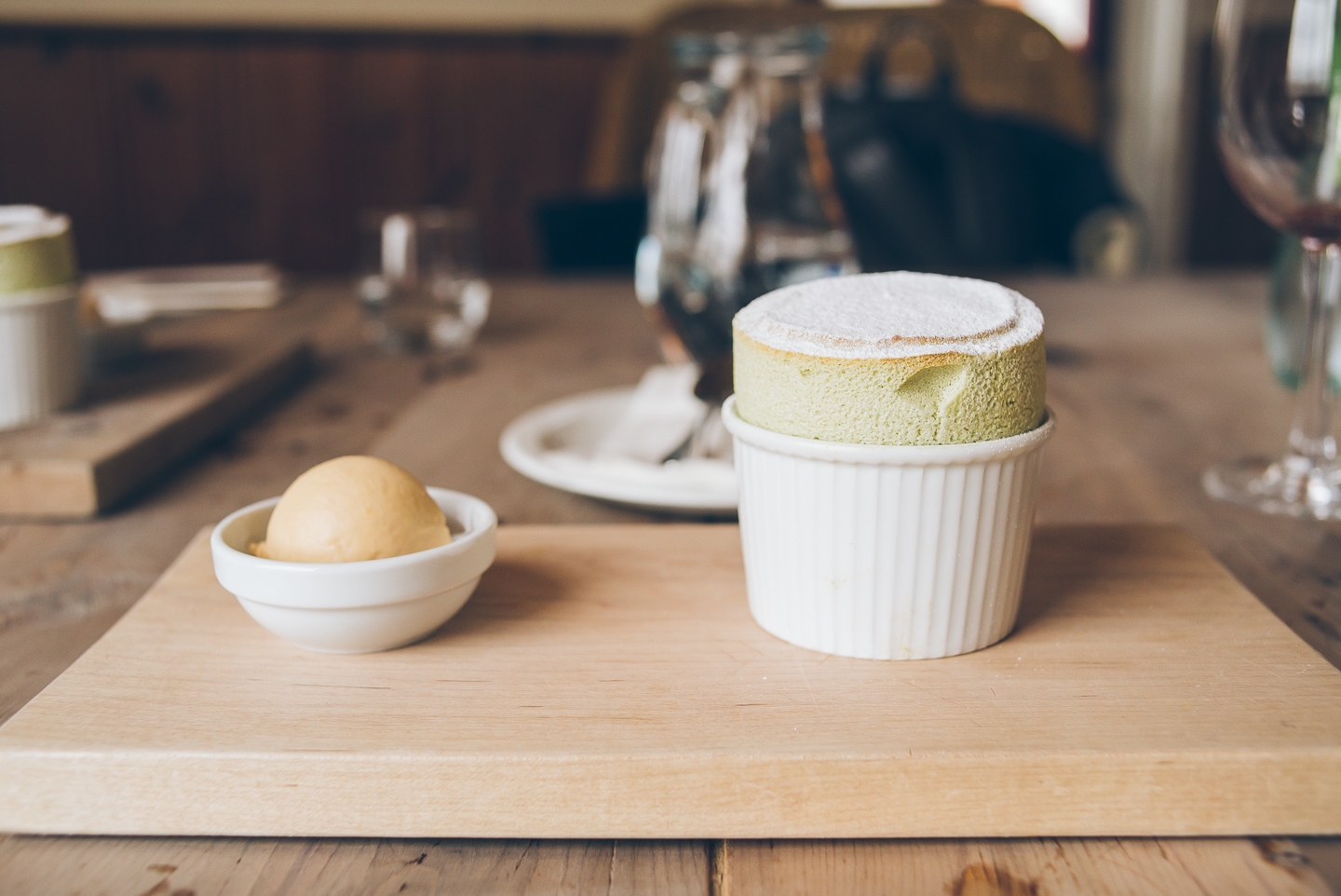 I know souffles are incredibly simple things to make, but I do gasp every time a perfectly risen one comes to the table. There is innocence to this pudding. Its hard not to love the magic of trapped air.
This souffle mix is pretty good, the apple (extract? juice?) seemingly laced directly onto the meringue, as there is no trace of a jelly or coulis in the ramekin. An apple infusion with bright acidity, delivered through the airy medium. Exactly what you want. This meringue also stands up very well, even after you spoon the ice cream over it.
Not sure about the combo though. Caramel and apple probably works better in a tarte tatin as there is nothing solid to hold the flavours together in a souffle format. At the same time, I wonder if that is precisely what the Chef is intending here.
-Petit fours- of dark chocolate and salted caramel tart (with coffee)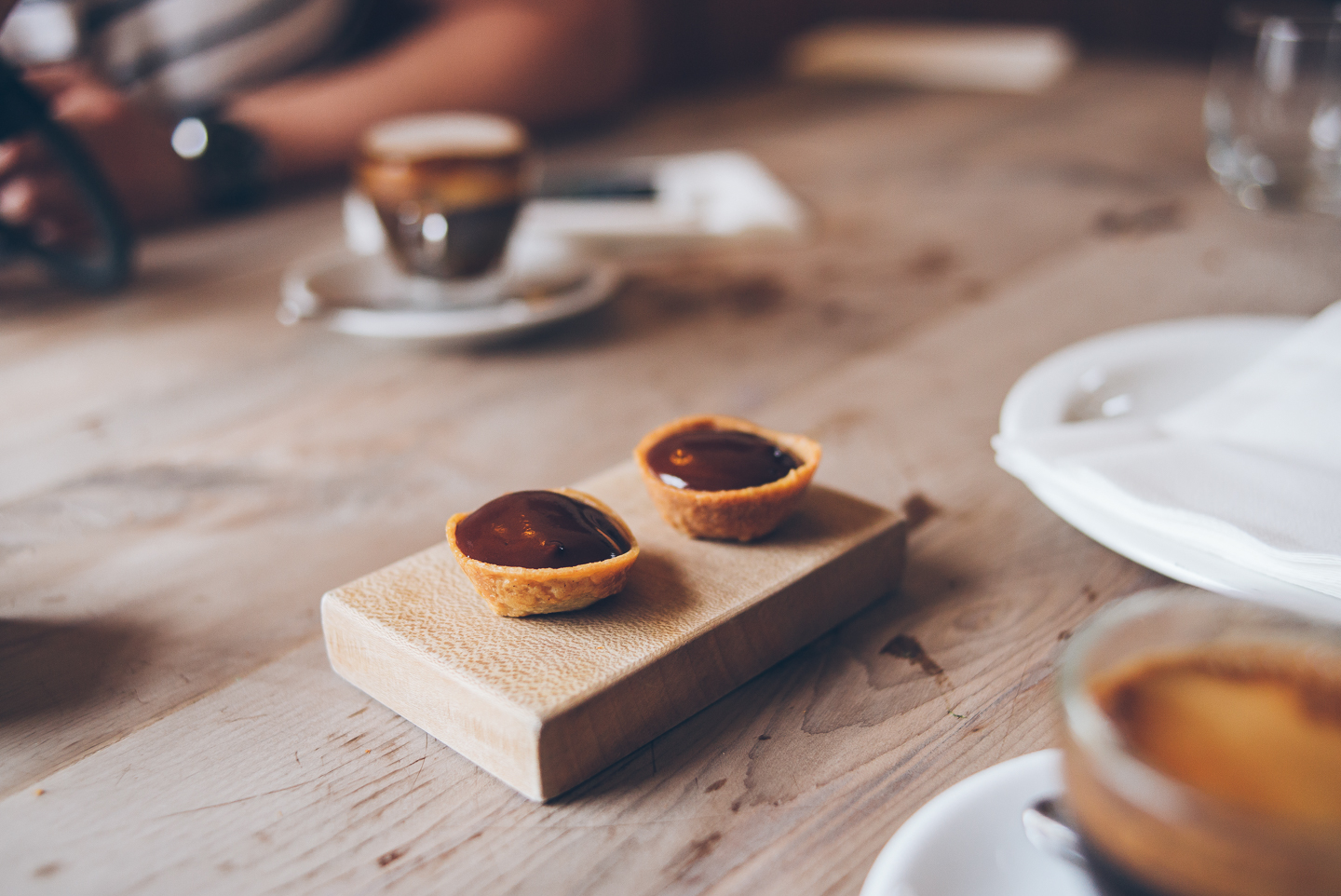 A rich ganache to finish.
We paid £199.95 for 2 tasters, corkage, 2 glasses of wine, coffee and service. Great value for money.
Without question, a delicious meal, one in which I left feeling exactly how I did in 2011. The thing about such a naked cuisine is that it is reliant on both ingredient quality and precision of technique. Small slips here and there, in the case of the fish and meat, did colour the impression of an otherwise excellent start to the meal.
As I mentioned earlier, the pub full of windows has a fantastic atmosphere that allows for the relaxed service to do its magic. Phil Harris was in the house, and we were well looked after by the team. The hospitality is a highlight of The Sportsman.
It would appear that The Sportsman have long since found its identity, a spot so sweet that there is no need to move off it. For Stephen and co, this is the greener pasture. Take that how you would. The food is minimal (nothing overworked, precise classic technique where applied), and it is the simplest dishes that produce the most satisfying moments. Stephen's intervention works like a gentle filter for the riches of the land, he doesn't funnel, rather he lays out the precious terroir across his canvas and invites you to prod, to smell, to taste, to enjoy what he respects and loves. This is what makes the emotional connection palpable and real, and it is in the midst of the slowly unfolding meal that you realise that you have transported yourself to the very land in which you have come to appreciate.
Details
The Sportsman
British
ALC £42pp + drinks + service
Daily Tasting 5 courses £50pp + drinks + service
Full Tasting 8++ courses £70pp + drinks + service
Faversham Road
Seasalter, Whitstable, Kent CT5 4BP
Tel: 01227 273370
Transport: Train to Faversham + 15min taxi