I wasn't going to write about this beloved restaurant so soon after last summer's post, but I was so impressed by this meal (and also given winter mise en place) that I thought it was worth putting the pictures and notes up.
We did not eat game (that being one of our dietary requests), even though I would have liked to have tasted Chinese water deer in the winter. Instead he rolled out his prized Galloway fillet, rebooted a Ledbury classic, roasted celeriac sans ash salt crust, and showed a new dish of braised pork temple. On the seafood front, there was King of fish, a quality turbot of note exhibiting pink-hue nacre and perfectly sweet Scotch scallops enlivened with blood orange. The fundamentals of execution and in-season product quality were consistently top notch per the expectation of Brett's cuisine.
The extra mile however is his commitment to sauces delivered through a combination of jus, gels, purees as well the addition of clever twists, in small but potent quantities to jazz up classic notions of liquid umami. It is careful and thoughtful innovation, and this is where I feel that Brett's kitchen shows talent, depth and maturity.
And so at 12 / 37 years old, The Ledbury is better now than it has ever been. The cuisine is excellent. This was the best meal I've ever had here.
Roll in the top end service led by Darren, Sam and Seamus (Somm) and you have a holistic experience that is very special. In my book, The Ledbury remains firmly as the best of London Gastronomy.
So we shall see come October what the bib thinks. In the meantime, I'm looking forward to my next visit in the Spring and will look to squeeze myself in here every two months whenever those precious tables come free. If you have never been, now is the time.
We were 3 for Saturday lunch in late February 2017. We paid £472.25 for 3 taster menus, 8 glasses of wine (Seamus made a flight, wine notes here), 3 coffees, service.
Notes and pictures below.
1. Chantilly of oyster, tartare of sea bream, frozen English wasabi, caviar, cucumber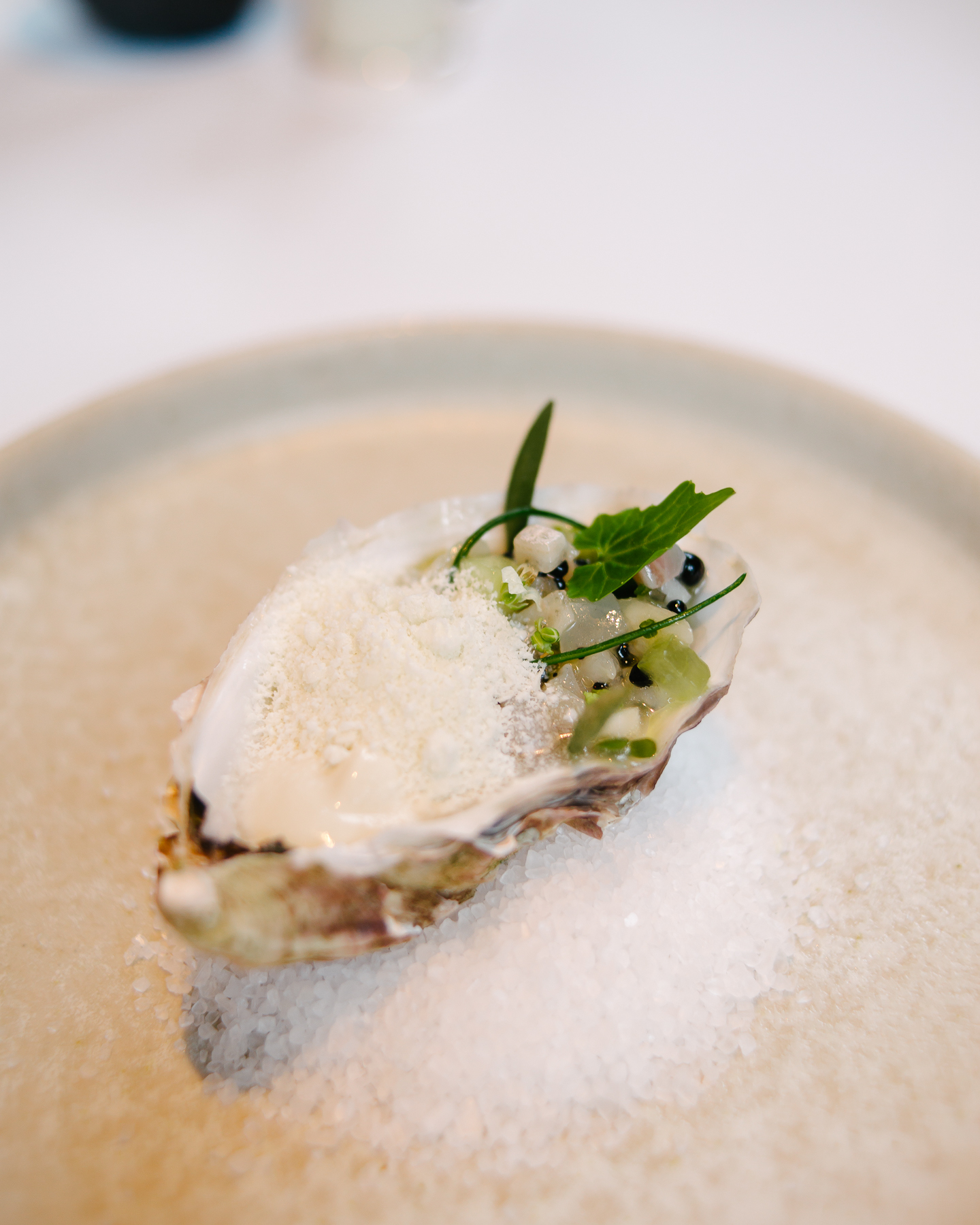 We started off with a classic Ledbury dish, fresh and clean. Today in rock oyster shell, rather than glass.
2. Violet artichokes, crosnes, walnuts, nashi pear and grated foie gras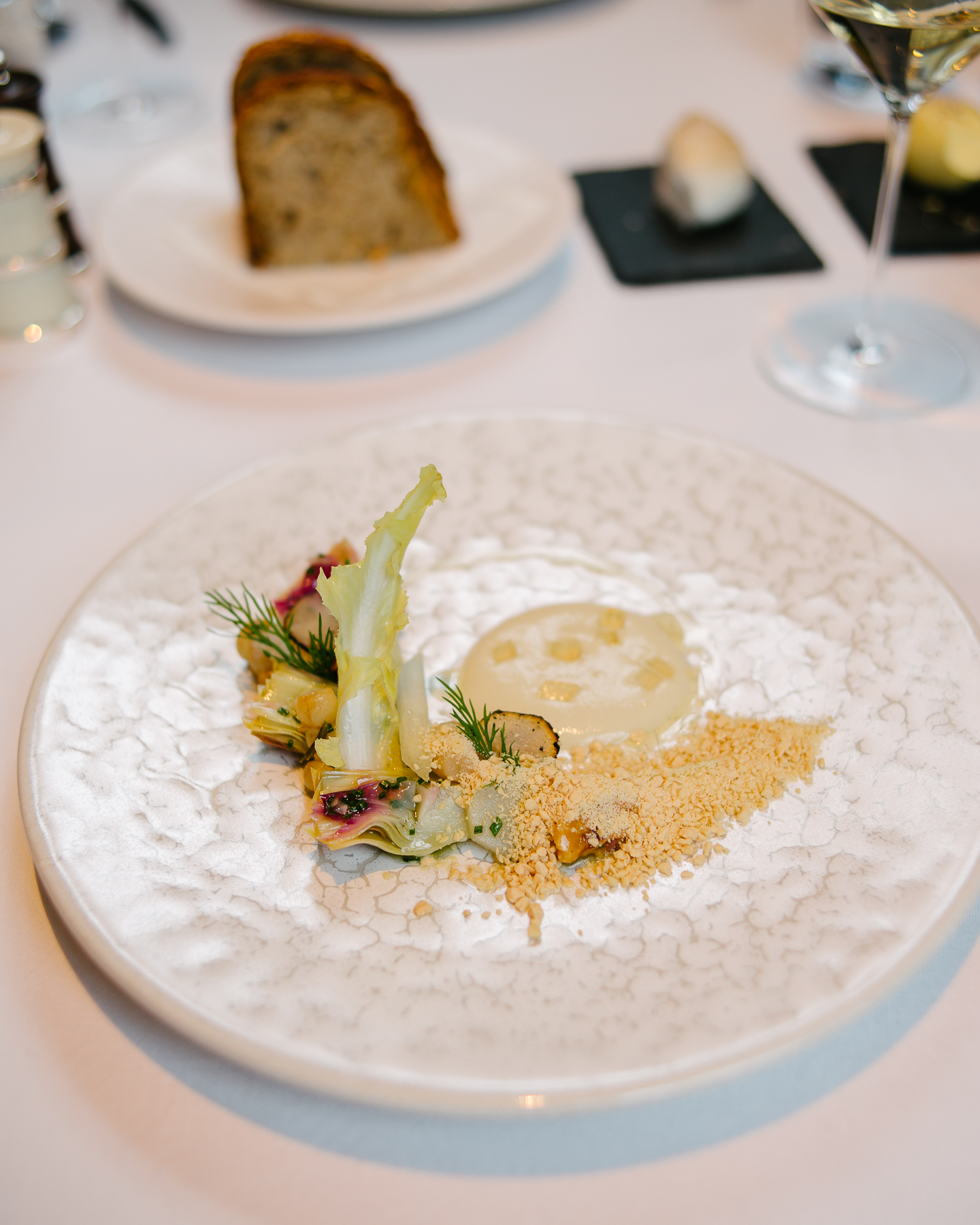 Rightfully renown for British game, though there are plenty of reasons to also admire Brett's cooking of vegetables; it may well be where his true passion lies. This is evident in the way he respects them in the cooking process. The eventual dishes are every bit on par with L'Arpege IMHO. The sheer concentration of flavour and the careful encased roasting to preserve textures. You know the beetroot and smoked eel well don't you? How about that miso aubergine. Best nasu dengaku in Britain surely. 100% legitimate destination dishes.
In effect this is an artichoke salad, Ledbury style. Here we have perfectly moist hearts with a concentration in its natural umami. A medley of bitter (endive), sweet (pear), sour and salty (foie) side-shows raise the artichoke's best attributes, each also providing a different shade of texture and temperature. Thoroughly enjoyable.
3. Roast celeriac, crispy chicken skin, smoked pheasant egg yolk, celeriac purée, grain mustard, lardons, apple, chicken jus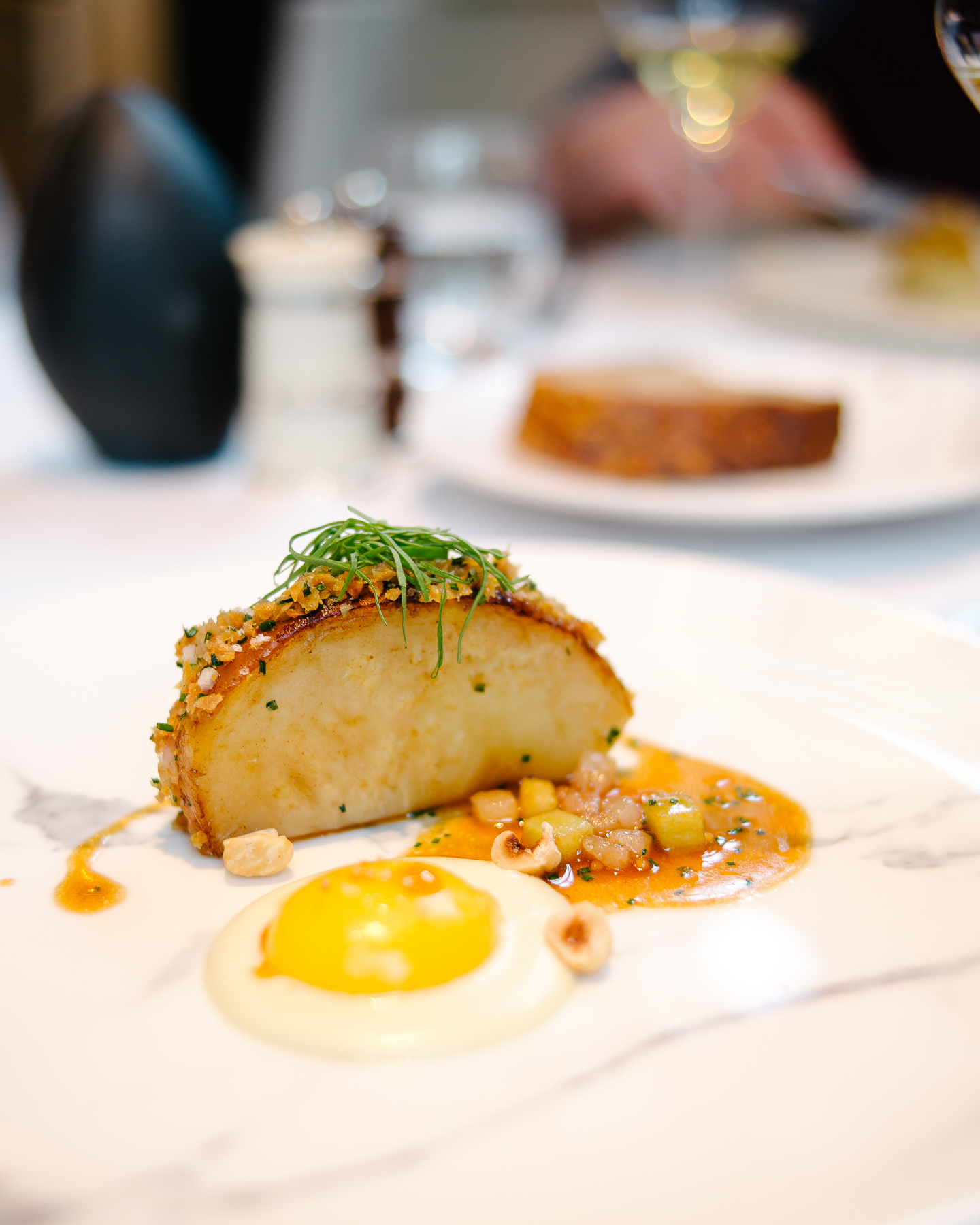 What a dish. This is the aforementioned modernised throwback to vintage Ledbury. Not quite as dramatic as the salt ash crust days, but this humble root vegetable delivers maximum pleasure when in the hands of a skilled Chef. Bursting with juices (akin to steak 'sealed-in' effect) with ultra depth of flavour, enhanced by the sprinkles of crispy chicken skin, forming a crummbed crust. A swipe of the smoked yolk and pureed celeriac and you are in umami heaven. I also love how there is just enough apple as acidity to balance the dish. It is a complete roast chicken dinner, that doesn't need the chicken. I could eat two plates of this.
4. Roast scallop, blood orange, pine nuts and broccoli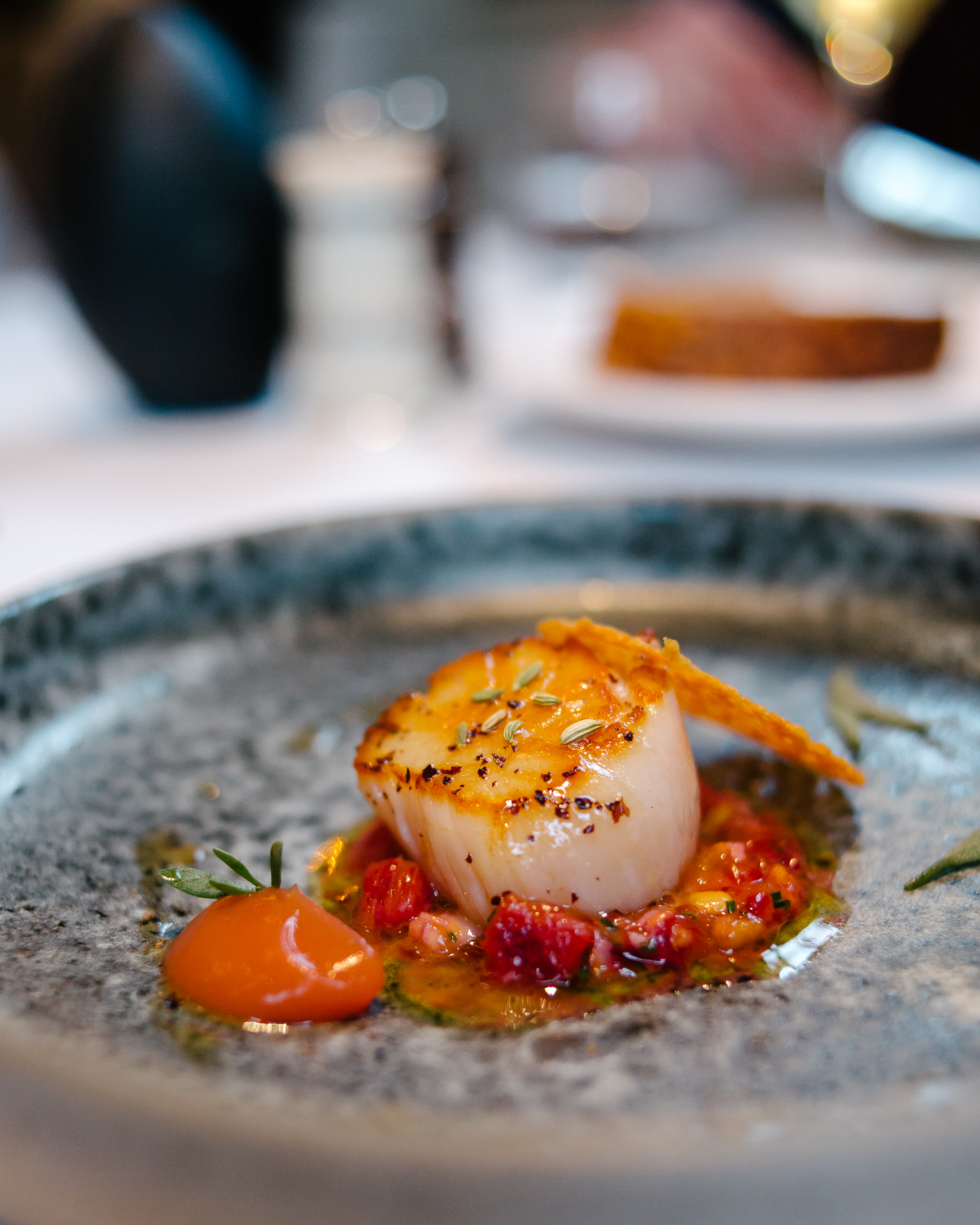 Stunning quality, as you can see. We were lucky. Had the weather for fishing cleared up just after Doris, I wondered. This was perfectly cooked, mi-cuit centre. The in-season fruit amping the shellfish's natural sweetness, and the nuts fuel the caramalised flavours from the hot pan. A crispy tuile very much like a prawn cracker rests on the scallop for texture and flavour.
Great product, great recipe, great execution, one of the best scallops I've had in recent memory. Brett really was feeling it.
5. Cornish turbot, jerusalem artichoke, earl grey, lemon (rind), chicken jus gras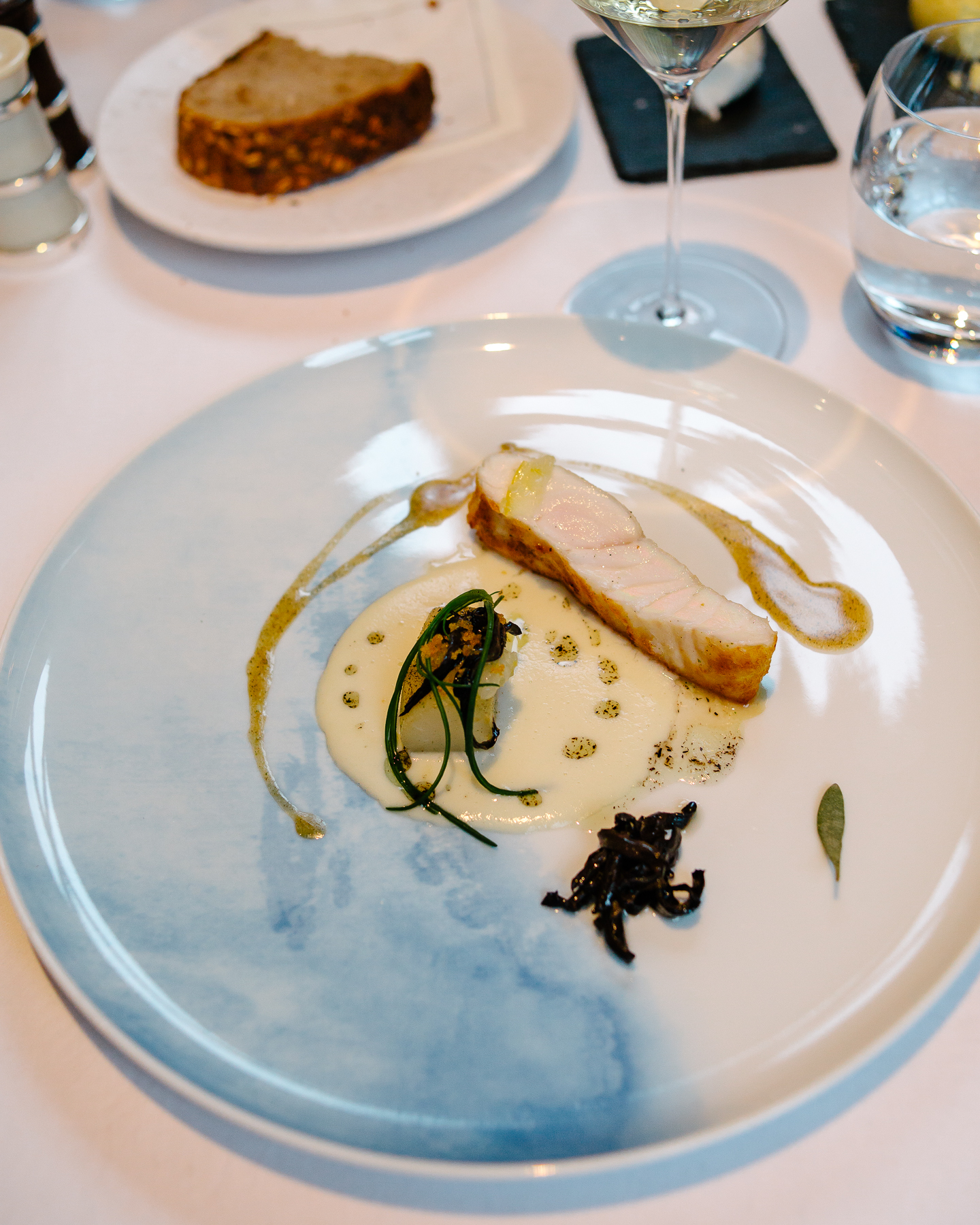 Also with potato and trompette de la mort.
Excellent mother of pearl effect on fillet. With a superb sauce, which in effect is a artichoke puree. The tea and rind element going gave it a a sort of bitter-lime acidic element which I found to be both interesting and complimentary to this noble fish. To me, this is Brett using alternative ingredients to achieve similar effect to say a vin jaune beurre blanc. Except this has more 'complexity' to it, to borrow a wine term. Excellent.
6. Tamworth pork temple and jowl, hispi cabbage, juniper and black winter truffle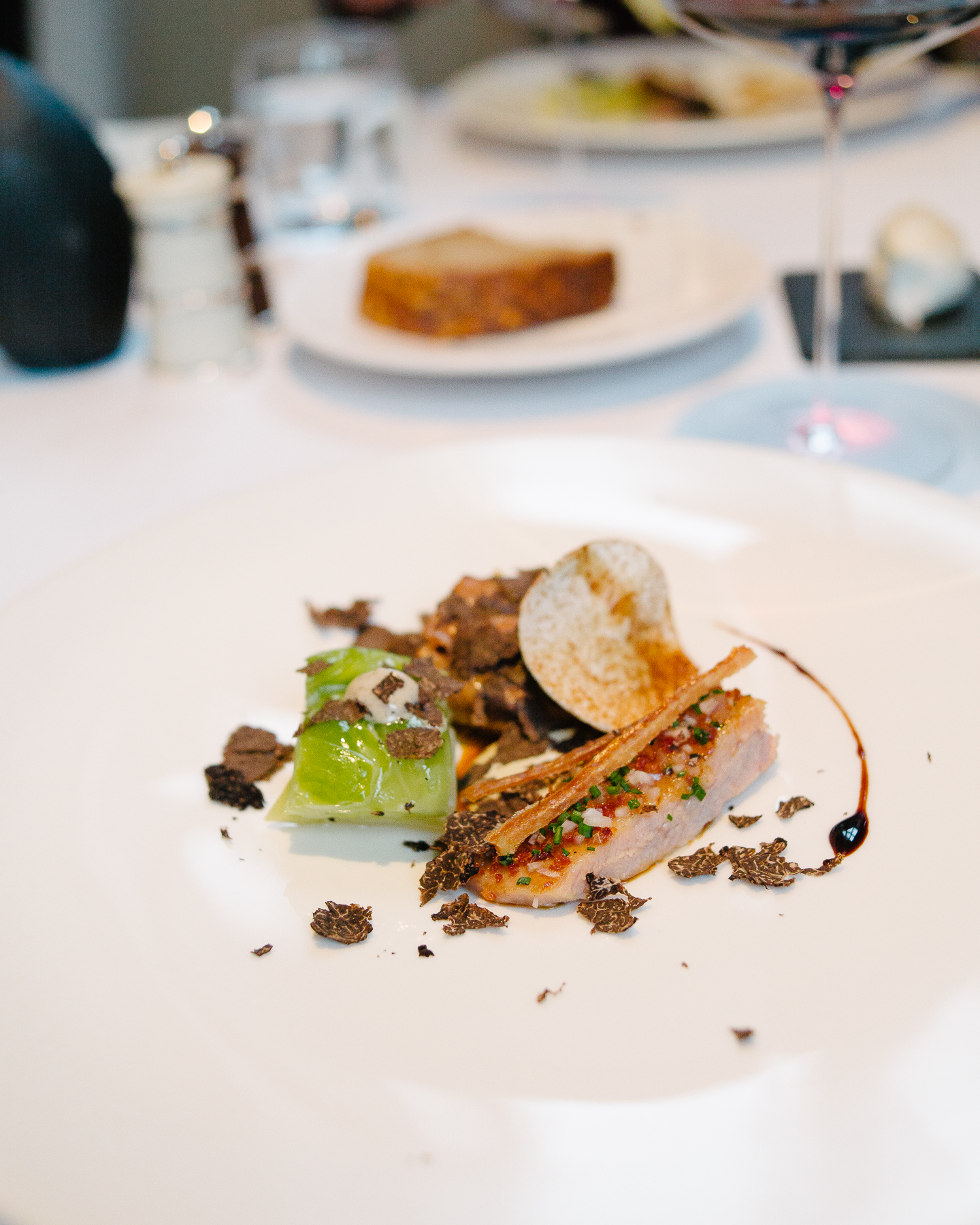 Electric dish. The first time I'm knowingly eating temples on its own (i.e. not in brawn terrine). Great cooking, nearly like a Chinese slow braise, so tender but also meaty like dark meat. Pork version of chicken oysters (only a pair per animal). Precious.
High moisture cabbage and a spirited juniper reduction balance the richness of the brawn.
I like how this feels like a tasting of brawn and I think Brett's managed to up the game on his already awesome slow cooked jowls, which itself are incredibly tender with flavour bombs of melt-away gelatinous fat.
A strong dish amongst many strong dishes. This was my favourite of the lunch.
7. Aged Belted Galloway fillet, slow braised shortrib, smoked marrow, salt baked turnip, padron puree, garlic cream and jus gras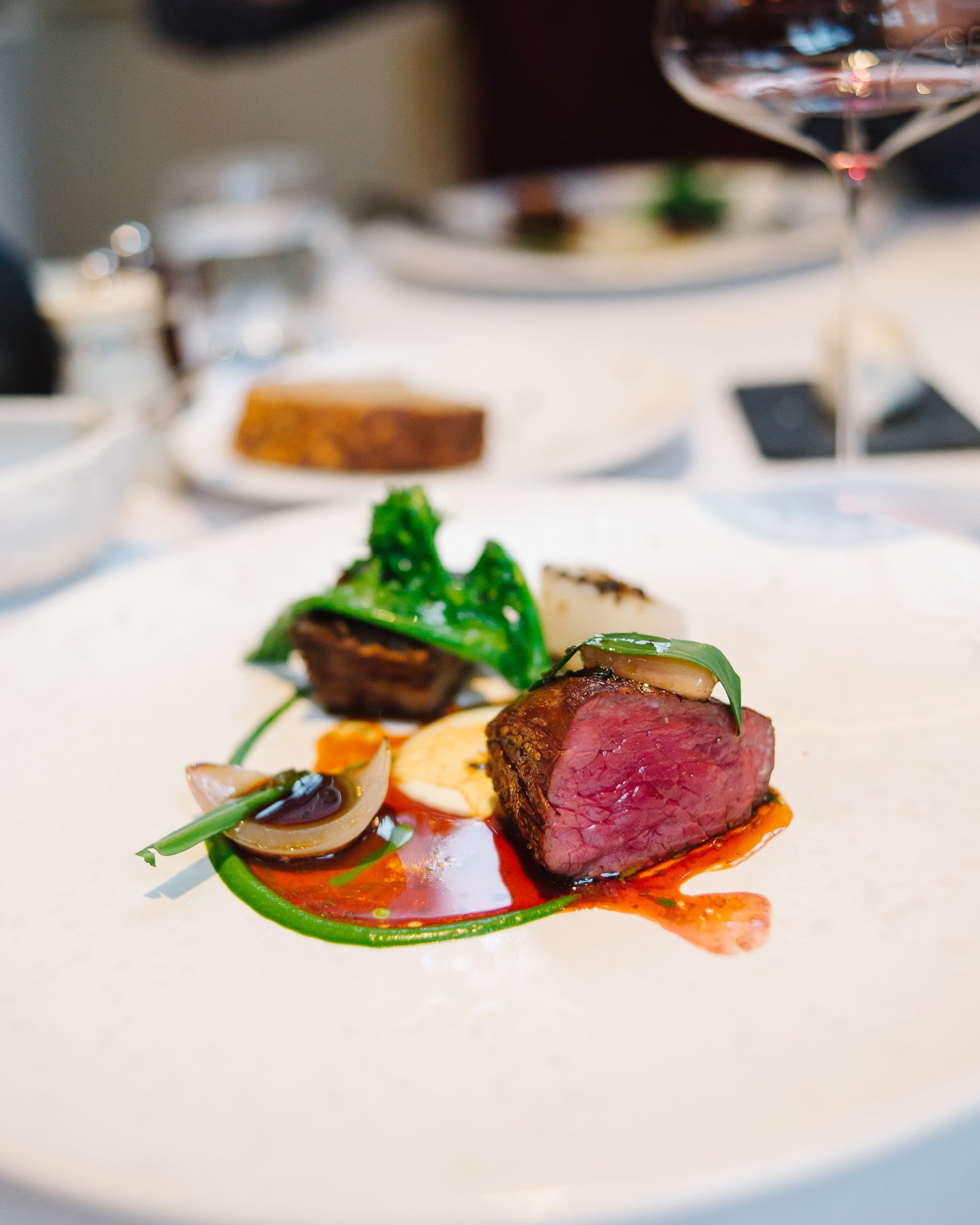 Check the glossy jus and the perfect pink narrow-end fillet that has plenty of dry aged beefiness. Sauced with conventional flavours that are natural combinations with beef, garlic and onion. What really ties the dish together is the smoked marrow, adding a kind of tarry complexity to the beef, like ash in morbier. Overall a satisfying piece de resistance to finish the meal.
8. Whipped ewe's milk, rhubarb and lime leaf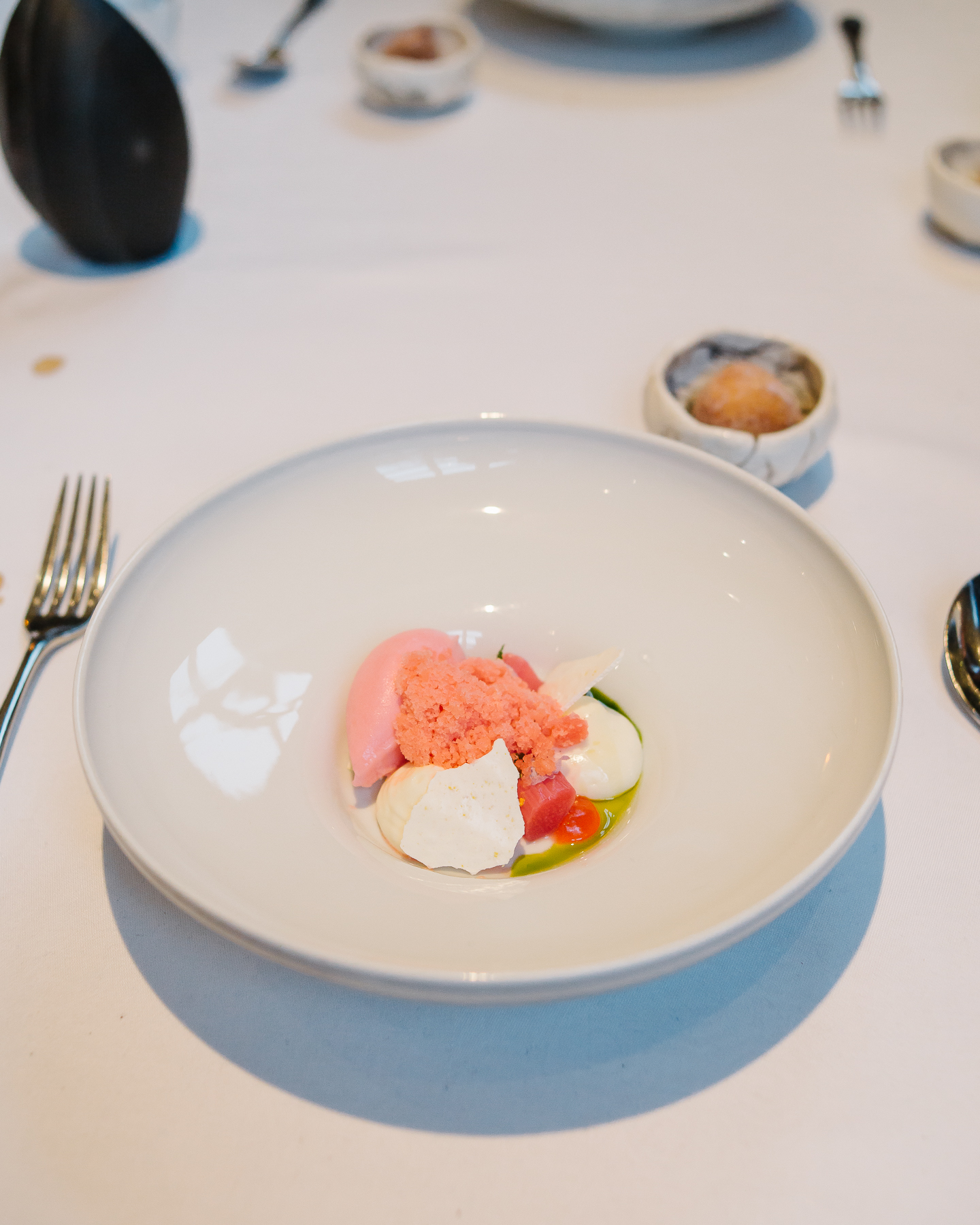 Prep for the signature finish.
9. Brown sugar tart, stem ginger ice cream, poached muscat grapes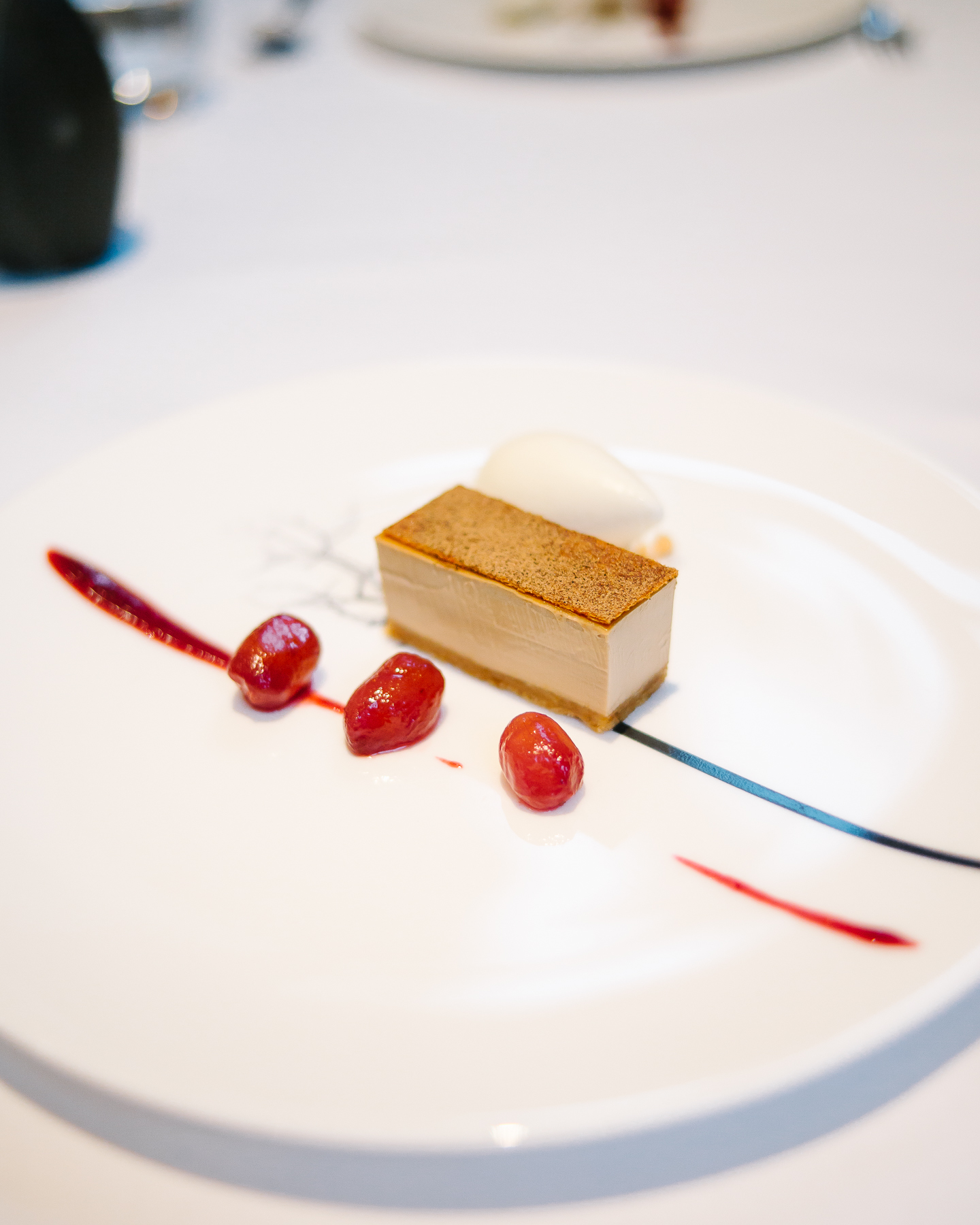 The stem ginger ice cream is what makes this pudding fly as high as it does today – It completely balances out the richness of the custard.
I recall an early iteration where they were still feeling the rhythm of this pud, and that had chopped muscats (skins on) and a white raisin ice cream. Surprising how a little tweak makes such a big difference, something which applies to the oeuvre of Brett's cuisine.
Details
The Ledbury
Modern French
Tasting £140pp + drinks (incl service)
ALC 4 for £115pp + drinks (incl service)
Lunch set 4 for £70 + drinks (incl service)
127 Ledbury Road W11 2AQ
Tel : 020 7792 9090
Tube : Westbourne Park / Royal Oak