Be wary of the giant mound of coats on the sturdy single rack at the reception of the restaurant… there's no system, they chuck yours in the pile willy nilly. While this made for an interesting treasure hunt scenario at the end of my lunch, I did also feel an odd invasion of privacy when invited to rummage for my own coat. In a way, I admire this nonchalant FOH behaviour…. anything goes at James Cochran EC3!
There is plenty of potential in James Cochran as you will have undoubtedly read from elsewhere. The Chef has made smart marketing of his incubation period spent (a total of 5 years) between both of Brett Graham's restaurants, and is the latest in a line of ex-Ledbury talent lighting up London on their own accord.
The appearance of Whitstable oysters on his menu piqued my interest as most London chefs are comfortable with Porthillys. As it turns out James started out over there, my speculation that he's kept his contacts for sourcing and hence Kent coast produce making his menu. This is my first time with his food, as I have not tried any of his previous pop-ups.
His focus at the moment appears to be solely in the kitchen, neglecting to apply Ledbury's renowned art of actually looking after customers, which I'm sure he has picked up during his time there. I don't mind a little tardiness and in 2017, neither you, as you prefer fairer bottom lines, having left etiquette well and truly behind. As long as the food is up to scratch of course.
And here, EC3 hits the criteria and is in my eyes, a new addition to the landscape of London bistronomy.
At lunch, the menu is ALC with an average spend of £5 / £ 13 / £8 for small / main / pudding. For dinner, the taster menus start at £35 (for five courses) and max out at £55 (for eight). Pretty good pricing, shows JC's ambition to pull in the crowds in the opening year.
I visited on a Friday afternoon by myself, and ordered a little too much food, probably enough for 2, and ate all of it, except for 2 pieces of chicken that I took away.
East London Toastie, with Mayfield cheese and smoked eel, £4.5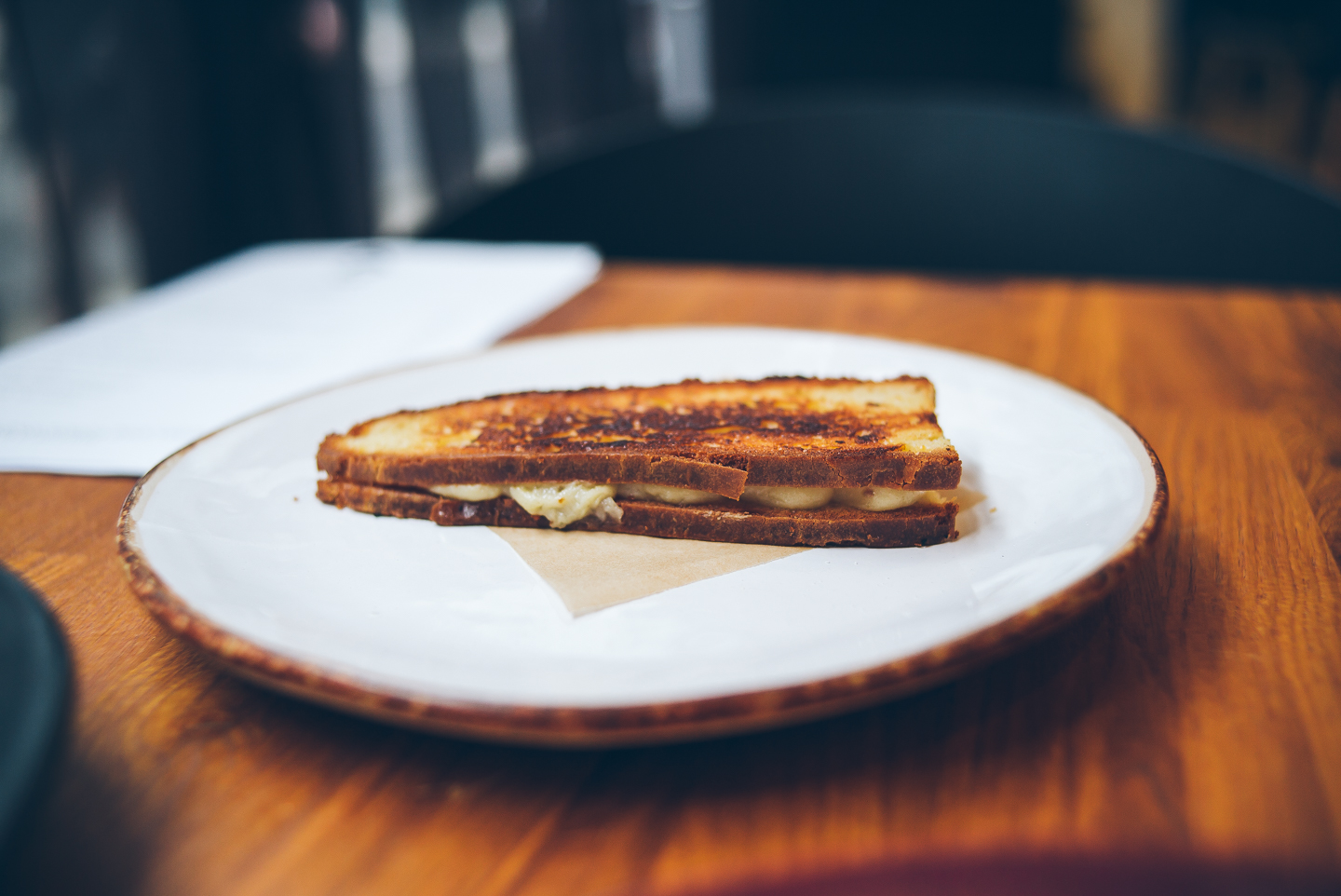 Not a bad grilled cheese sandwich at all, a rather fluffy and slightly brioche-sweet sourdough.
Treacle cured salmon, cod's roe, whiskey and apple jelly, radish, rye, £9.5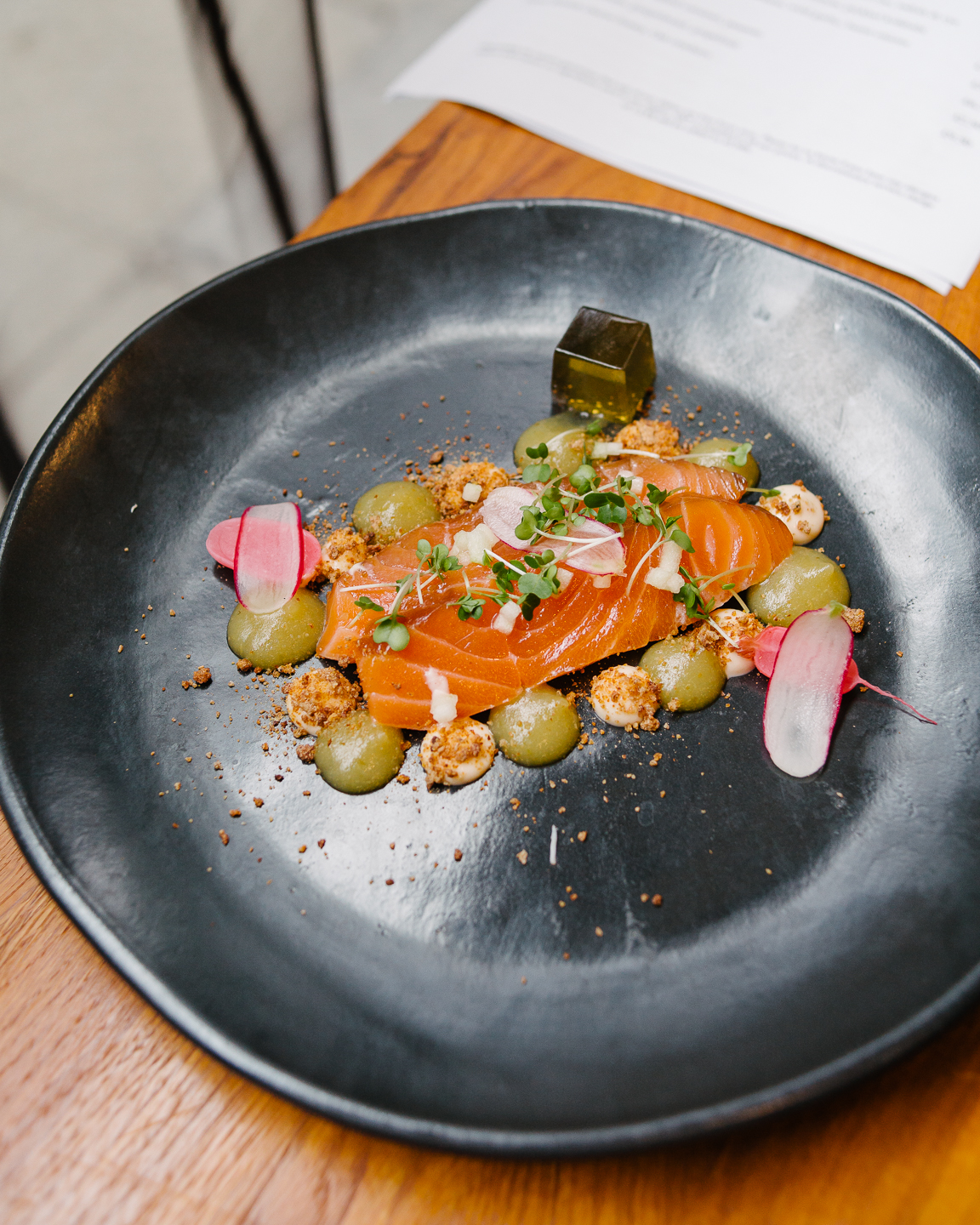 Lightly cured and thick-cut, I assume done in-house, and really quite well. If this was put next to Hederman or Hansen&Lydersen, I'd probably pick this. So yes I enjoyed it very much. Sweetness, acidity, texture, a wobbly cube of whisky jelly. Balanced and refreshing. All good here.
Jamaican jerk buttermilk chicken, pickled scotch bonnet jam, maize, coriander, £6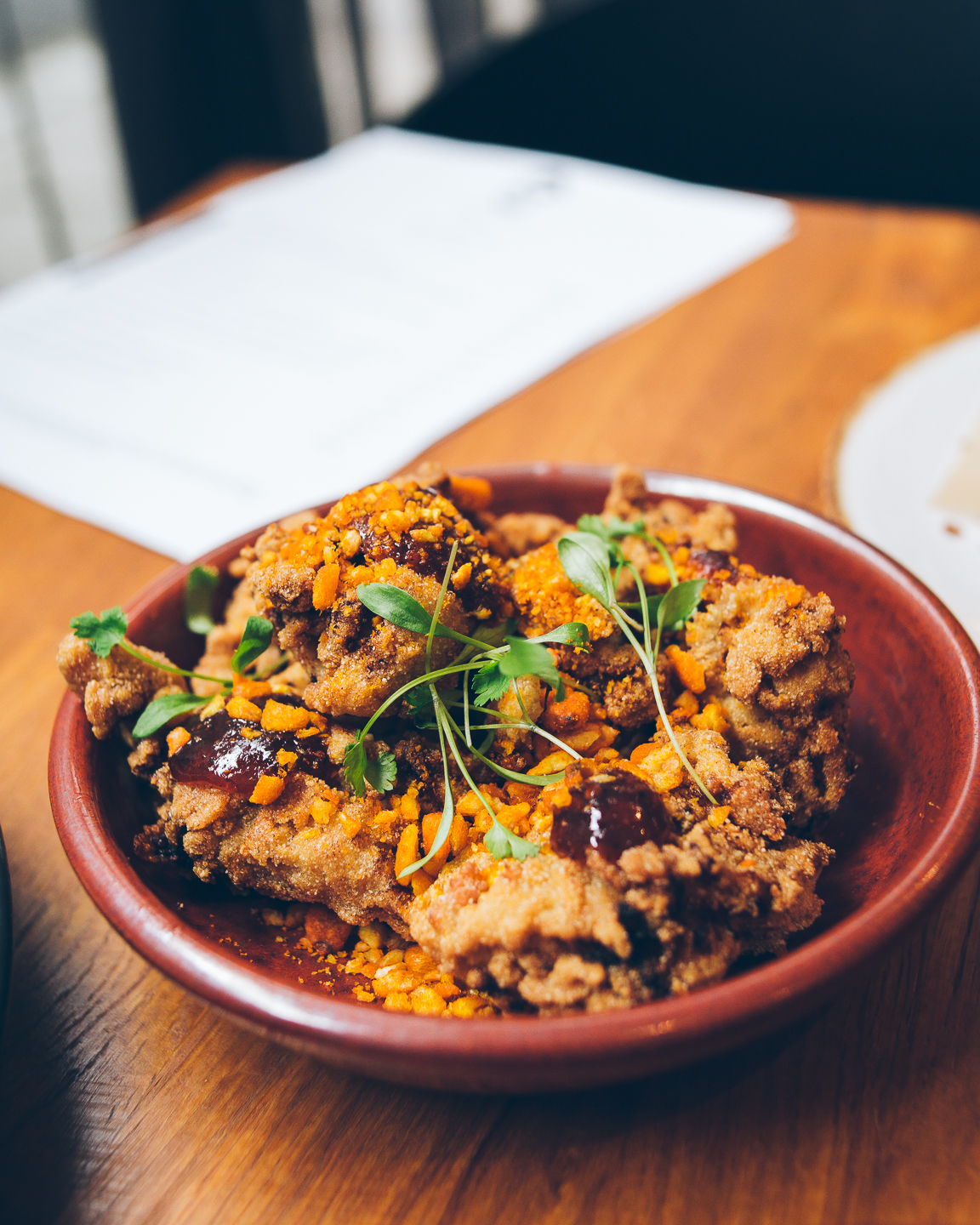 Fried to order. Piping hot, crispy, juicy thigh meat, similar to Isaac's version, except this comes with firecracker flavours. Quite a lot going on, the fried corn, the pickled chilli jam, pretty potent stuff with persistent heat. I wonder if this was inspired by his time at Ten Bells (with Gio). Regardless, this is excellent fried chicken, and the highlight of the lunch.
Baked Cheltenham beetroot, hay cream, lardo, hazlenut, £8.5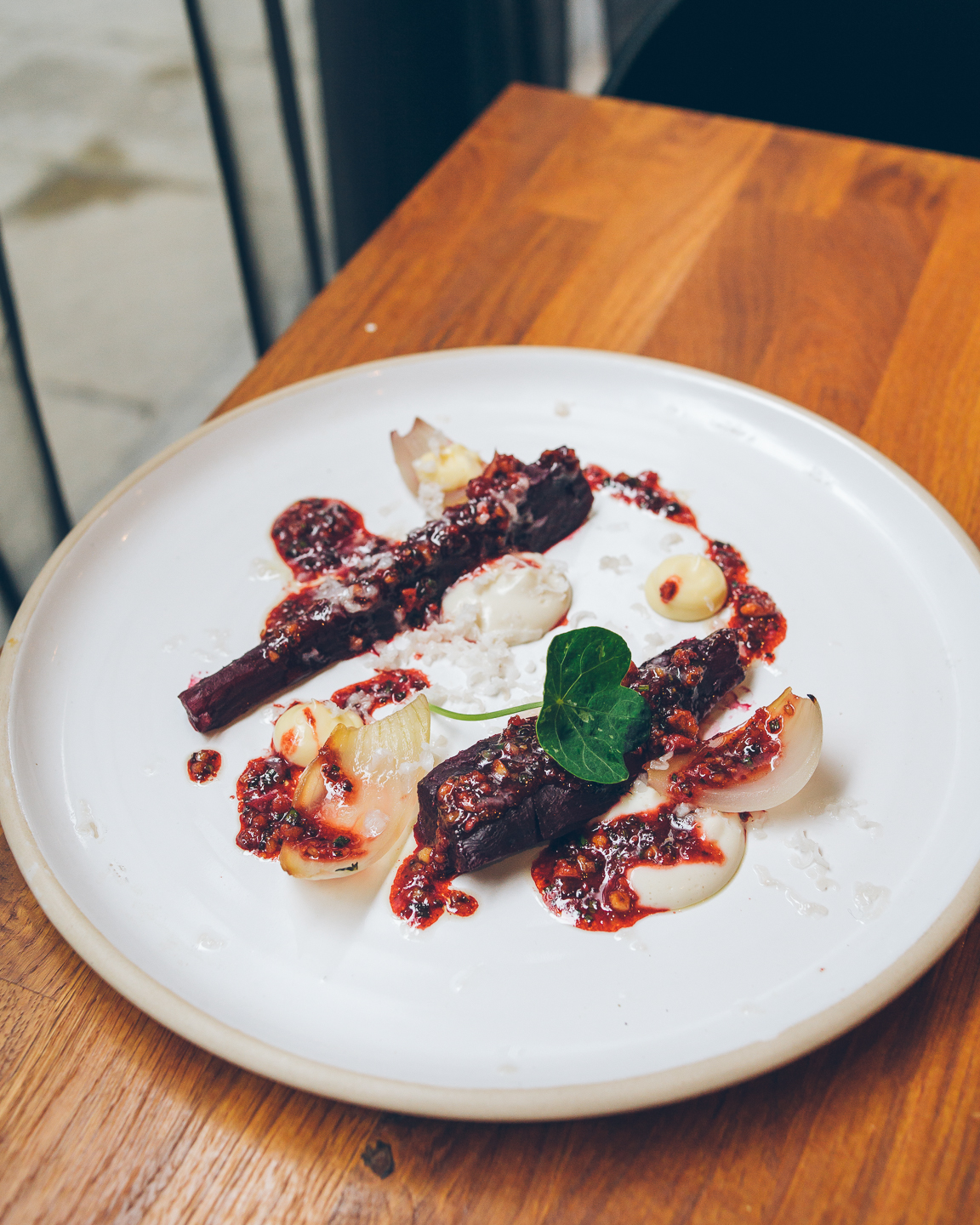 Ex-Ledbury afterall, so I felt the need to give this a go. I like the (frozen?) lardo shavings, but sadly the cooking of beetroot itself was merely ordinary, and no where near Brett's thinly sliced wonders with smoked eel.
Shortrib of Belted galloway, buckwheat, wild garlic, burnt onions, £14.5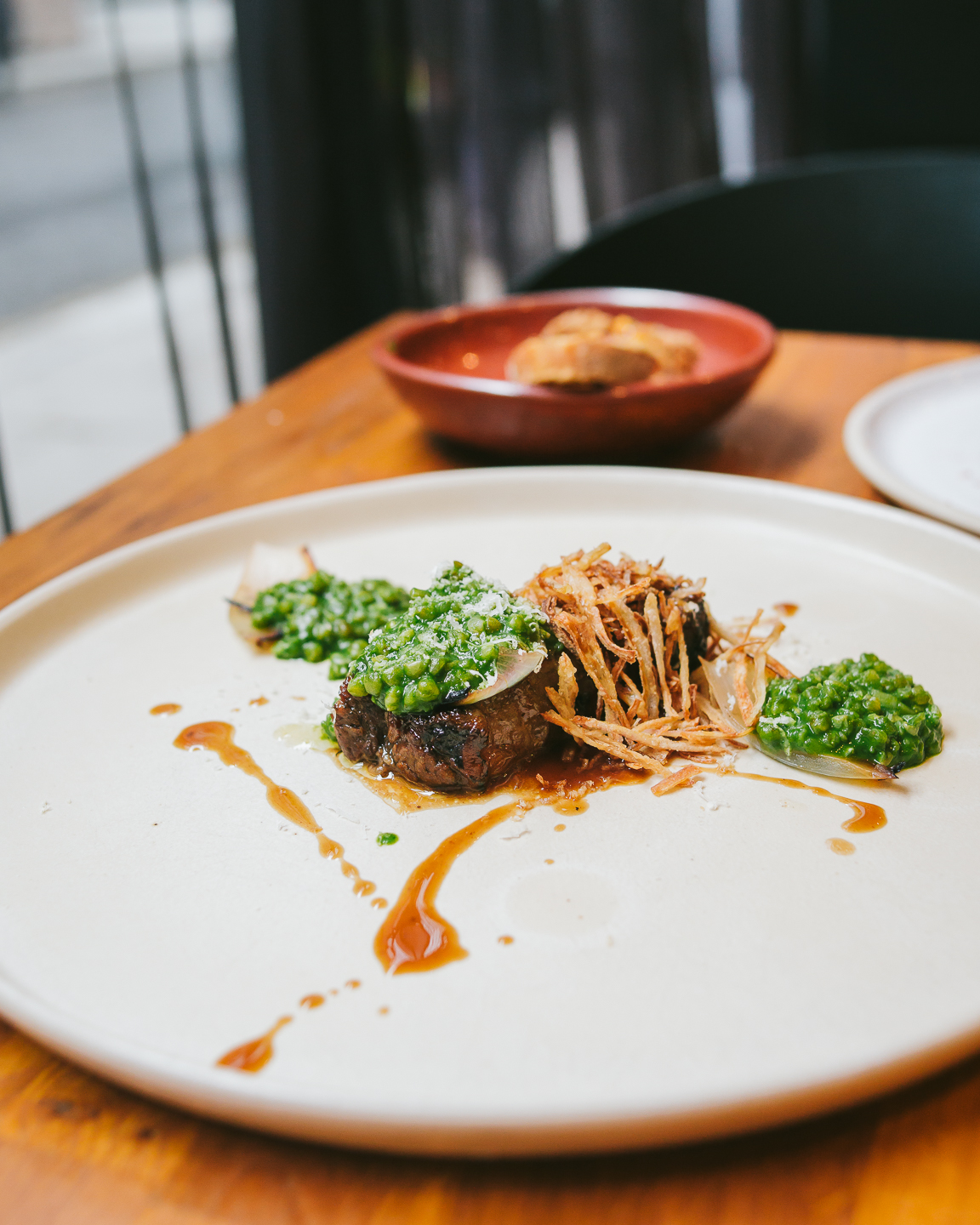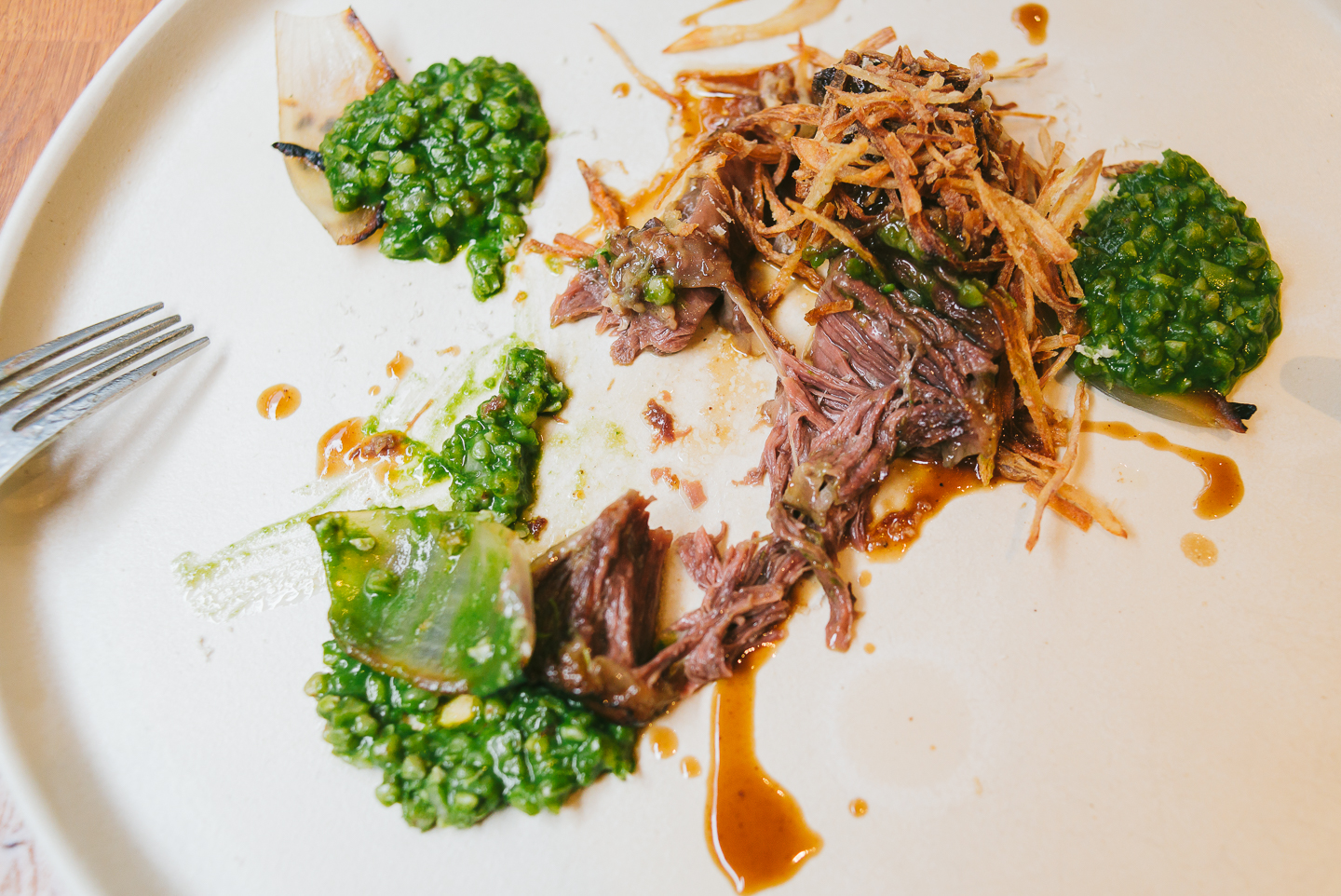 Another shade of his time at Ledbury, James has elected to use the same breed too, this however is without smoked marrow. Slow braised until fall away tender with buckwheat in the form of a risotto and delicious crispy onions. This is classic beef on rice comfort food.
Albeit with inverted plating of said beef on rice, that to my eye is a little over enthusiastic.
My only niggle is the jus is concentrated for rib that is inherently quite rich on its own. I think a little more buckwheat on the plate would help to soak up the flavour. Other than that, it is a delicious plate of food.
Earl grey ice cream, grapefruit, gingerbread, £8.5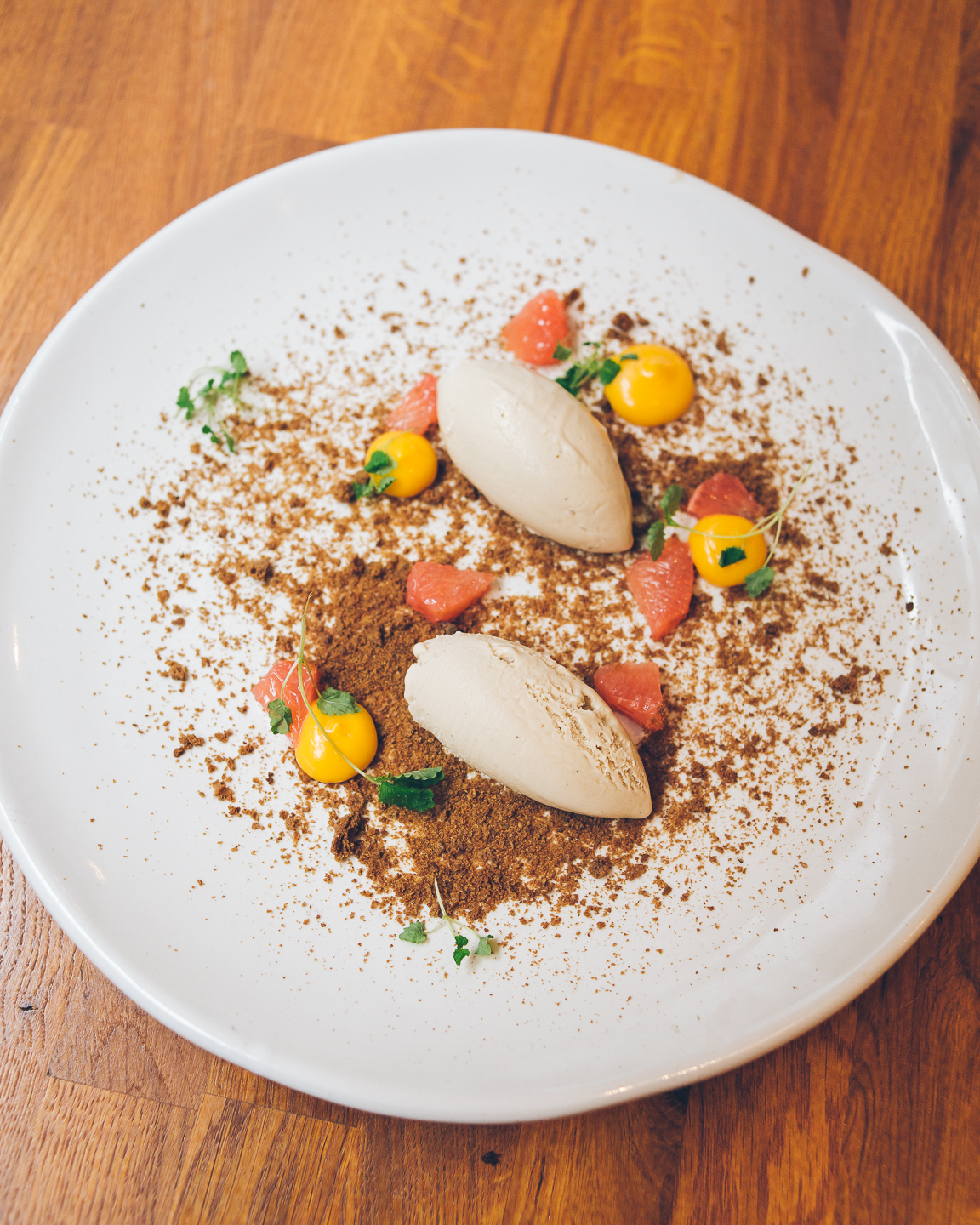 The ice cream was well-made, great on its own, better with the crumble, just about pushing the acidity meter with grapefruit, but totally overblown with the blobs of orange-coloured gel. These tasted like confit orange to me, the zest of the rind, clashing to a screeching halt with tea. Milk tea and confit orange peel. Don't know.
I paid £70.03 for all food, a glass of ripasso (love Veneto) and service.
There is nothing subtle about Cochran's cuisine. The cooking is good, the flavours rich, bright and bold, drawing on his Scotch Jamaican roots. You can feel the kitchen's confidence, beaming and pummeling your palate through a series of elaborate but conventional pairing of flavours. Some of the plates look a little manic, but overall, I came away with the feeling of satisfaction and would happily return for seconds.
I wonder where James will take his restaurant in the future. Will he keep to this riotously valued proposition or will he go the way of Clove and upgrade the mise en place (and price point) over time? It seems to me that James has the ability to polish his cuisine, if that is what he wants to do.
Details
James Cochran EC3
Modern British
Lunch : £31pp (ave3courses) + drinks + service
Dinner: £35pp to £55pp + drinks + service
19 Bevis Marks, Liverpool Street EC3A 7JB
Tel: 020 3302 0310
Tube: Liverpool Street Station