After a long refurb (here's our kitchen & wegner dining chairs), we finally moved into our new house earlier this year. I live very close to New Malden, home to the largest Korean community in Europe, and have spent the last summer exploring the many excellent Korean restaurants in the vicinity.
And what luck. Korean food in K-town is proper good, it (almost) makes those central London haunts look like a complete hype parade. I love Koba of course, but now I'm puzzled why I never ventured to NM in all these years. Of the ones along the high street, I like Yami, their raw chilli crab, Bossam and whole tempura snapper are fantastic. There's also plenty of decent Korean fried chicken, nearly every outfit does it. I picked up this from a chicken shop opposite New Malden station. Delicious. Every version I've had in NM is better than at that Kingly Street restaurant which cannot be named.
It may be an obvious pick, given its huge street cred, but Jin Go Gae really is top of the pile – We've been back 3 times now and absolutely love it. It's less convenient as the others, located along an unglamorous and (could I say?) ungentrified part of town, about a 12 minute walk from Motspur Park station, but it's completely worth the effort. Even so, it's busy every night and we've had to book a table when you eventually visit.
Banchan, £free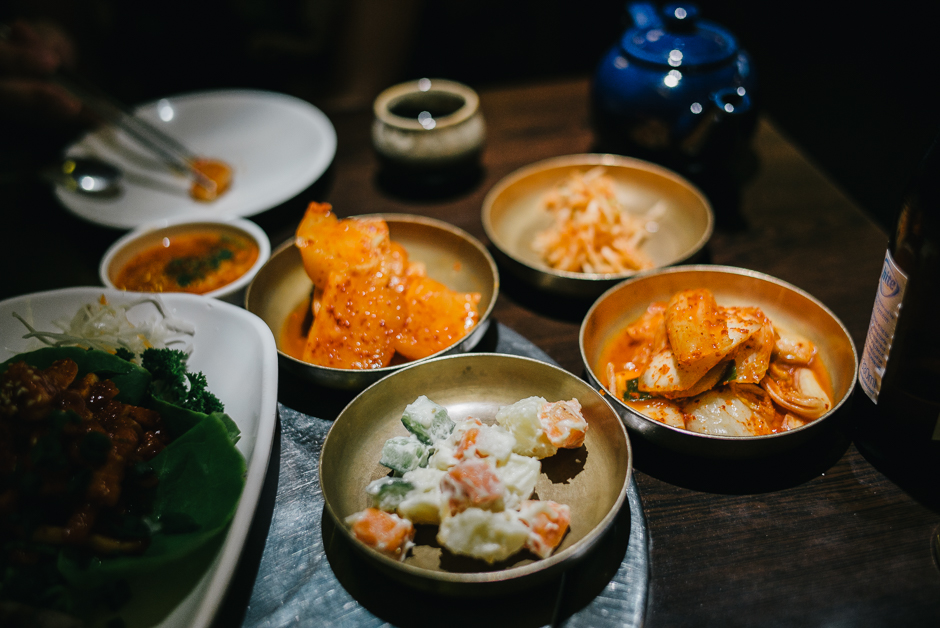 As is protocol, the meal starts out with a few pickled appetizers, kimchi, potato salad, pickled radishes (i think).
Bossam, £16.90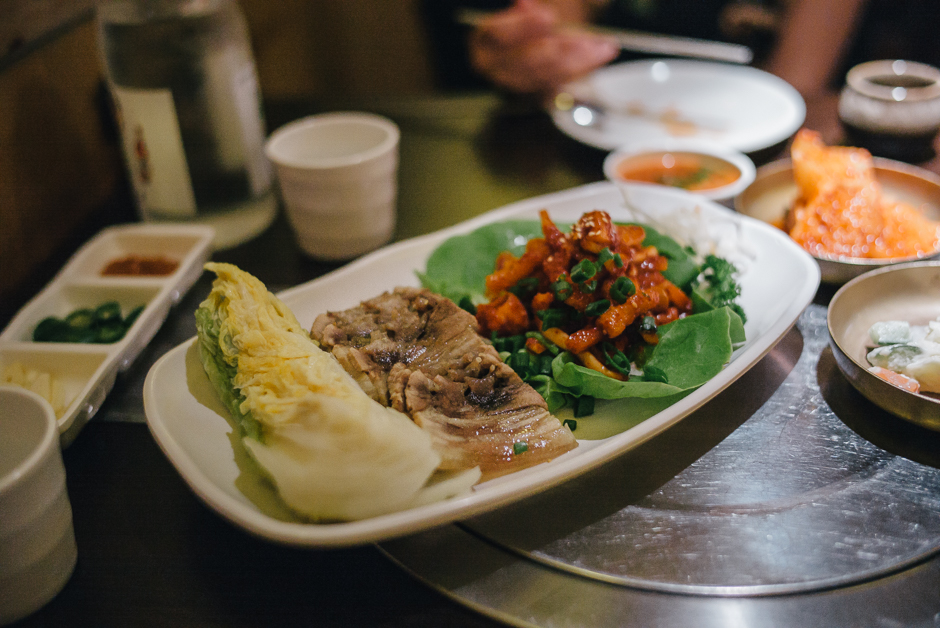 I suppose you David Chang fans are already familiar with this. His recipe is delicious but so is the original recipe which uses steamed pork belly. No oyster shooters and pork shoulder here. You make a personal 'wrap' of the cabbage with the chilli oyster sauce marinated radish and slices of garlic. It's pork belly heaven, cleaner less oily. It's good here, but as I mentioned earlier, I also love Yami's version which keeps a thicker layer of gelatinous fat that give this incredibly satisfying melting sensation.
Par-jeon, £7.90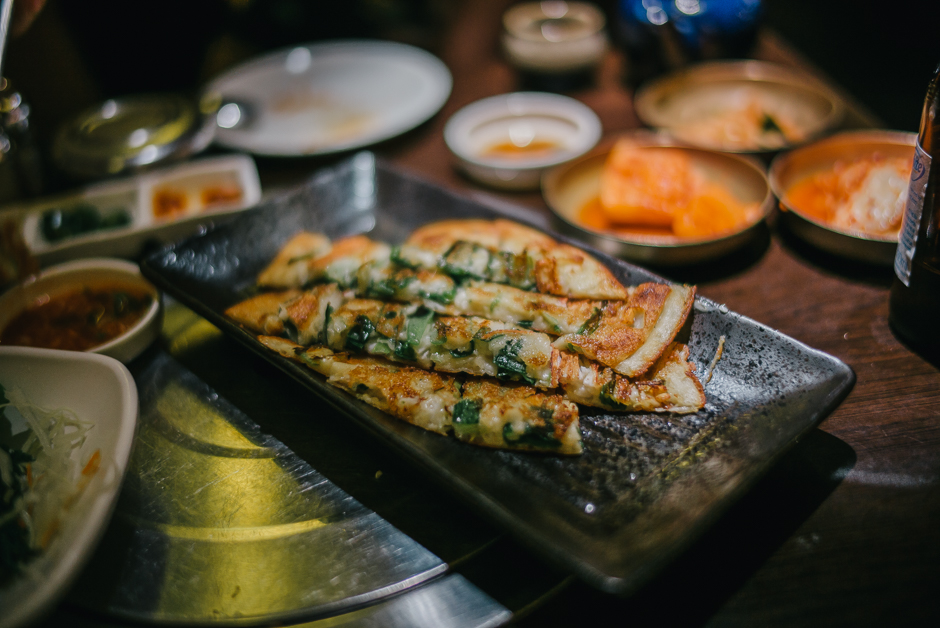 Seafood pancake with spring onions, crab stick and squid. Just proper, crispy and doughy, delicious.
Yuk-Whe Dolsot Bibim Bab, £9.20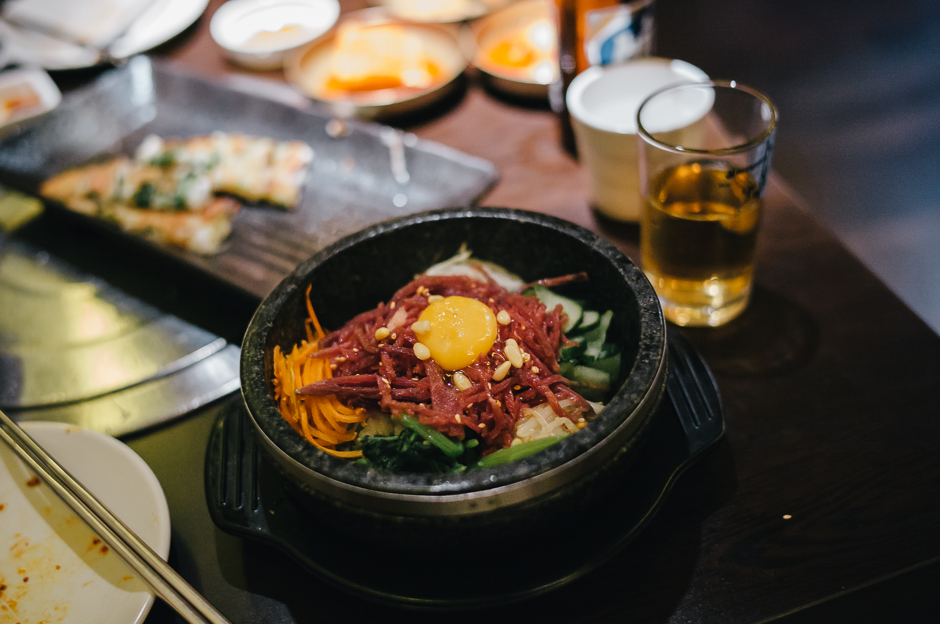 The obligatory hot stone bowl rice mix with vegetables, raw beef strips and raw egg. They let you do your own mixing, and I'm a lightweight and tend to ease off on the gochujang when I can. Stir and leave until the rice stuck to the bowl goes crispy.
Sul-long Tang, £8.50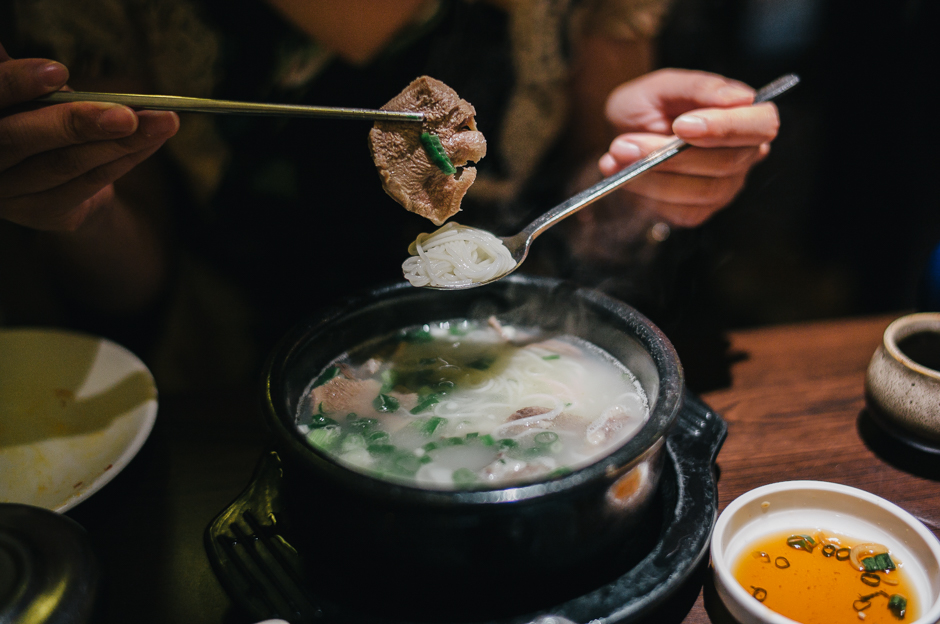 The main reason we came to Jin Go Gae was to try their renowned beef soups. This one is light clear broth. The missus prefers this winter warmer, but..
Kalbi Tang, £8.50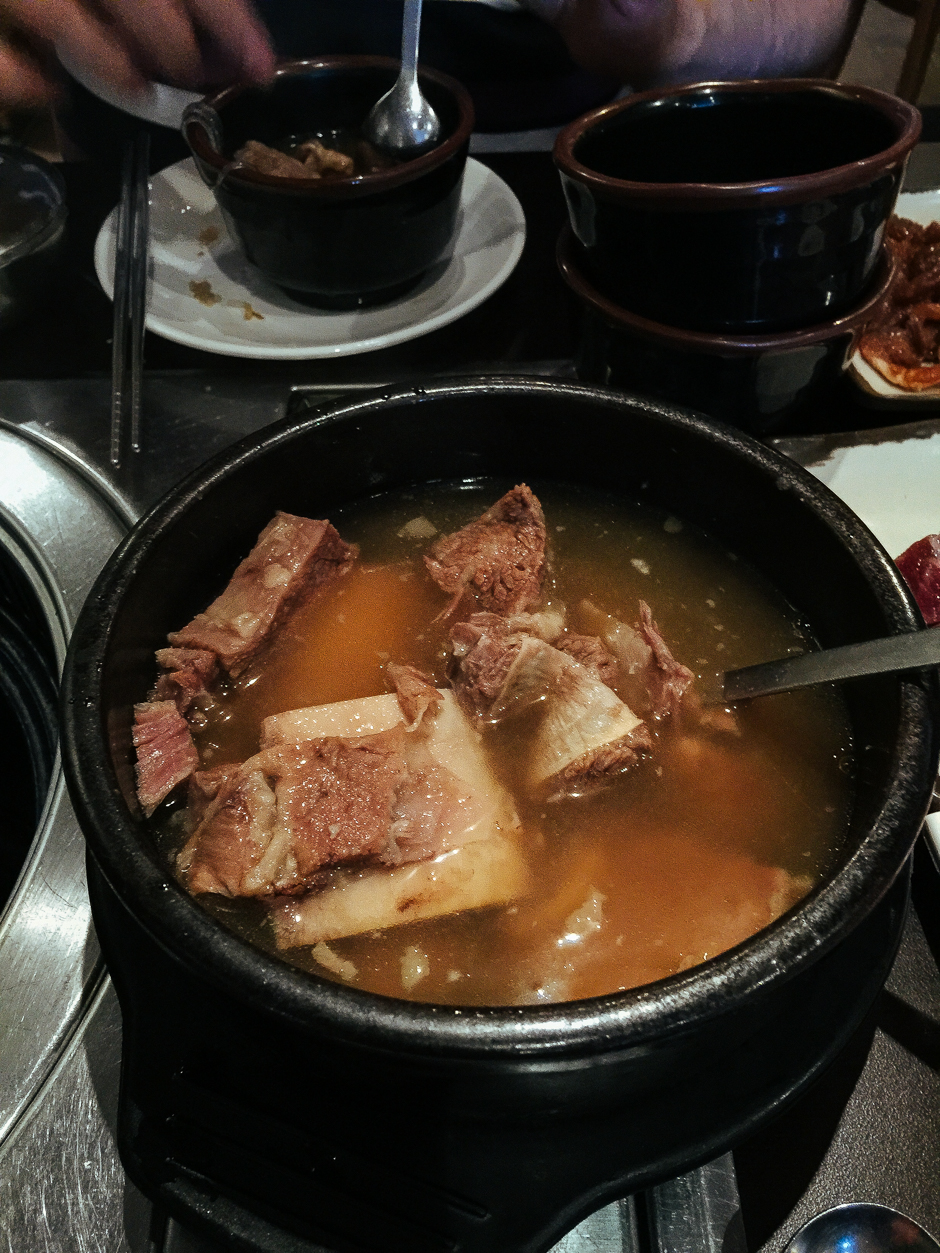 …it's their shortrib soup that really hit the spot for me. Full beefy stock flavours. Their local reputation as the Kalbi Tang specialist is well deserved. Drink it like the soup it is.
BBQ charcoal grill, pork and beef ribs, £9.50 a portion.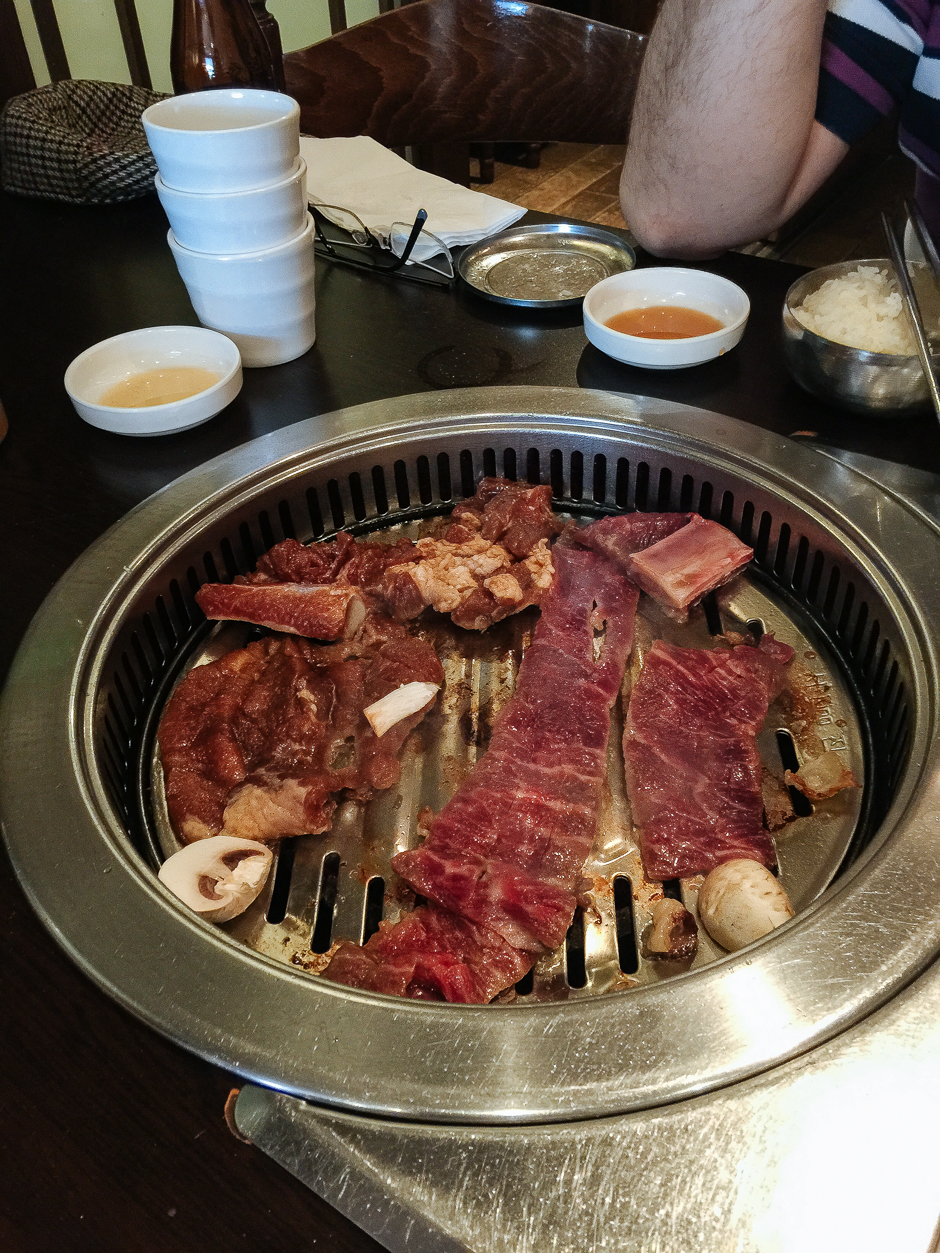 Korean BBQ is just great every where in the world, meat lovers can't not love it. It's a proper hot charcoal underneath, with fan control that blows hot air up the grill, so everything you cook comes with groovy smoky sensations. All about the marinated ribs here. The Wang Kalbi is totally great but my favourite are the Dae-ji Kalbi, marinated pork rib cut. You know that feeling of crispy, juicy, sweet, tender pork… yup. That's it. They come close to my memory of those cubes of wagyu melting over hot coal in Yokohama.
The pork kalbi over bimbimbap rice reminds me just how lucky we are to be able to savour the simple pleasures of life. Wash down with a cold Hite. Ahh….
Including service and beer, we averaged £25 per person across three meals here. East has always been a trek, I mean, Ink is miles away from me, but good food is always worth the effort. New Malden really isn't that far, it's 2 stops from Wimbledon, and you should give this a go, especially with a big rowdy crew. It's got that darkly lit Korean BBQ atmosphere, so you'll have a great time. I'm hardly the Korean food expert, but I love Jin Go Gae and think the food here is just fantastic. This is my favourite Korean restaurant in London now.
The Details
Jin Go Gae
Korean
£25pp
270-272 Burlington Rd, New Malden, KT3 4NL
Tel : 020 8949 2506
Rail : Motspur Park