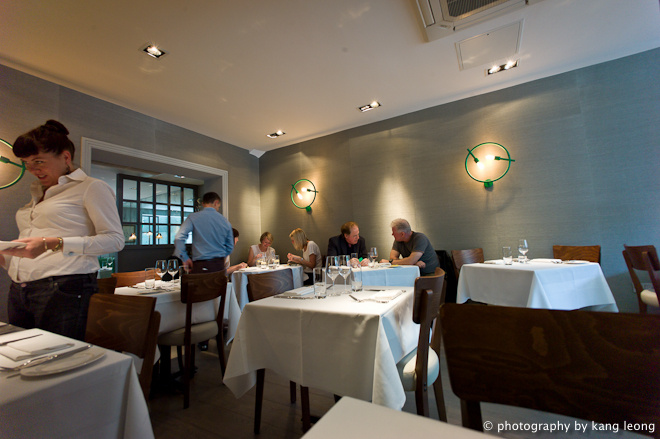 Remarkable. The standard of cooking is dastardly high, the artistry kept well in check, the flavours were – in my opinion – calibrated to run riot on your palate, that it made for a breathtaking dining experience. Service took an equally disciplined yet playful approach as the cooking, and so too was the decor; lime green and quite so basic, but refreshing and pressure-free. The only question I kept asking myself throughout the meal was "What's the catch?". Why is it so damn affordable.
As I understand it, this modern restaurant offers their three course ala carte menu at a princely sum of £25 during lunch, and the same menu for £38 during dinner. Not that I'm complaining of course, but after a string of new openings (NOPI and Pollen St Social and even St John Hotel) that seem to indicate the return of the swinging binge-times, Medlar's prices come as a welcomed surprise.
You and I should pay attention to Medlar partly because of the pedigree behind the team. In the hotseat is one Joe Mercer Nairne, previous sous-chef at Chez Bruce and before that, The Savoy Grill. Managing front of house affairs, is the very charming David O'Connor whose CV involved running the teams at The Ledbury, The Square and also Chez Bruce (all of which are Nigel Platts-Martin restaurants) , where he and Joe first forged their friendship, and eventually hatched their plans for gastro-domination with Medlar. Presumably of course.
The ambiance is that of the perfect neighbourhood restaurant. Considering the apparently high average disposable income, it is ironic that King's Road lacks credible places to dine, so Medlar is actually very good news for this part of town. What do we have here? Sushinho? Confused and tiresome Brazilian-Japanese fusion. Bluebird and it's ever expanding premises? More style than substance. Made in Italy? Massive pizzas, but a brand of restaurants nearing its twilight, imho. I would be surprised if the King's Road branch of Byron is not raking in the millions. Lest I forget, there is the Cadogan Arms. That's semi-decent.
But not as decent as this. Check this out: New season's asparagus with soft polenta, poached pheasant's egg, St Georges and Mrs Kirkham's ; Chilled courgette, chervil and oyster soup with preserved lemon and flowers ; Halibut with petits pois a la Francaise, lardo, radishes, baby gem and jersey royals ; Under blade fillet with persillade snails, salad, triple cooked chips and béarnaise. Starters and mains which could easily slip into a Michelin starred menu for fifty quid; but here, they are part of a £25 lunch menu. £38 when the sun goes down. I drank a glass of (£9) American pinot, La Crema, Sonoma Coast, USA, 2008. So jammy sweet that they as well have supplied my fat burgundy glass with a straw. Silkenly genial.
Duck egg tart with red wine sauce, turnip purée, lardons, young sorrel and sautéed duck heart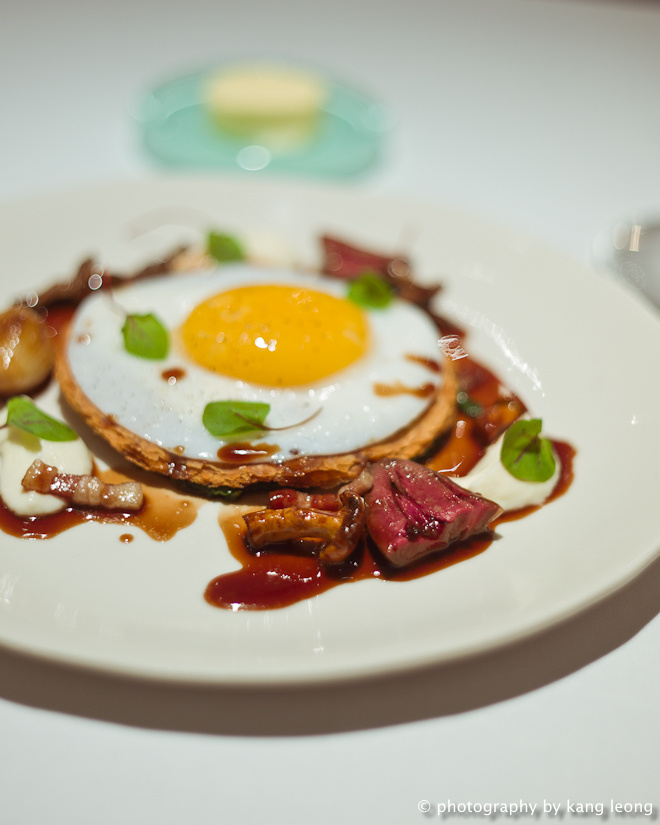 Wow. Layers upon layers of flavour. Runny duck egg yolk, a thin (and buttery) filo pastry, spinach (i think), make up the tart. There was strength and maturity in flavour, it was redolent of a well sourced Camembert or perhaps even an Epoisses. The rich red wine sauce only served to amplify the wonderful complexity of the tart. Rich flavour nicely complimented the rubbery texture of the duck hearts and mushrooms. Forest foraged brawn, on a plate. Mmm.
I was told that this was their most popular starter, and with good reason. It's a real winner, and probably on its way to becoming a future signature dish. I showed my appreciation by mopping up the last of the sauce, with the excellent in house foccacia.
Roast cod with artichokes barigoule, borlotti beans, mussels and rouille… and extra triple cooked chips.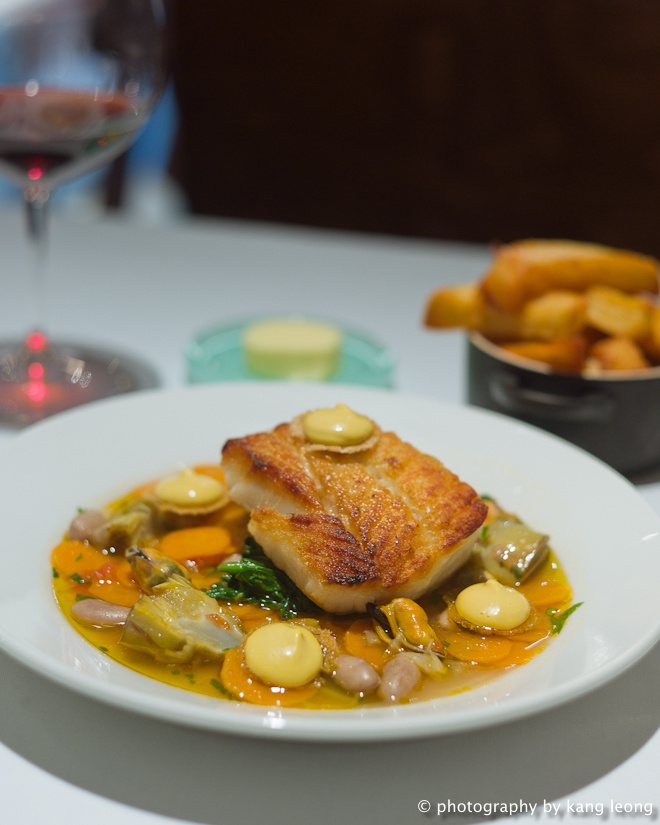 Rejoice, rejoice. What perfectly cooked fish. The crust was coarse and crispy, but underneath, the insides were so silkenly flaky, that tearing the flakes of flesh from the loin, was as slippery smooth as changing gears in a Ferrari. A presumptuous reference, of course. Getting this sort of consistency with the fish – just slightly undercooked centre – is extremely difficult. That sort of masterstroke cooking is exactly why you pay money to eat out.
The broth of summer vegetables was inherently sweet, and the chef had managed to eek out all the wonderful stocky warmth from the ingredients, the juice gave the fish a wonderful coat of moistness that is on par with many of the capital's most established restaurants, Zafferano included, since I had a fish dish there recently.
The triple cooked chips were good, crusty and powdery, but probably just a little below the superiority of Blumenthal's effort. Although the killer bearnaise was as described. Vinegary egged whipped, fresh!
My only criticism with this dish was that it had too many slices of carrots, and not enough artichokes.
Nonetheless, this is graceful cooking. Triumphant, exultant and supremely confident and admirable stuff. Most of all, it was a right joy lapping it up. Very near perfection (whatever that may be) , and in my opinion, this is at least a one star dish.
Elderflower sorbet with redcurrants and freshly baked madeleines.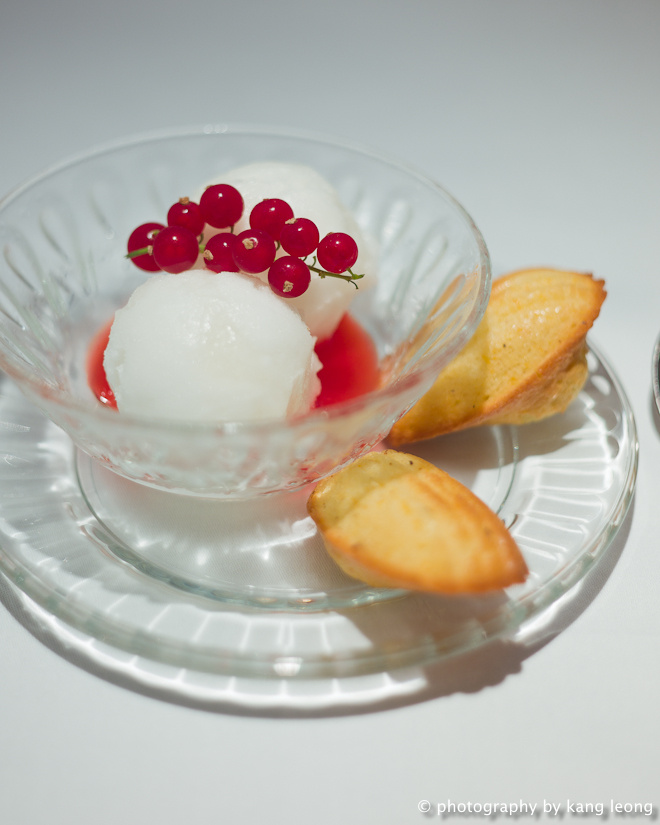 Gooey, syrupy and sticky, I was slightly puzzled about the pairing of the zesty sorbet and the doughy Madelines, but individually they were superb. The madeleines took their time to come out from the kitchen, but it was worth it. Warm, fluffy, dense, like the smell of freshly baked pop-corn. I thought St John madeleines were perfect, but these came very close to dislodging that line of thought.
I paid £38.25 for the solo lunch, food, wine and service included.
What remarkable quality of food, what an admirably tireless smile from the waiters and what genial soulfulness from the ambiance. It's a restaurant that one could easily fall in love with, and one which I desperately wished was closer to me, or at least further up the road and away from World's End.
It is the perfect neighbourhood restaurant, period. This is King's Road's finest hour in gastronomy, and I do not believe there are no finer points in this price bracket.
The talent behind the restaurant may have been honed in the rigorous tradition of star chasing ways, but I believe that David and Joe have chosen to break away from the tiresome ponce of tradition and have created what is – in my opinion – a modern restaurant designed for diners who simply love gastronomy for the act of eating great cooking, and not for the glamour of eating out. This is not a temple to worship the skill of a chef, it is a temple to celebrate one's love for food.
On reflection, there is one other restaurant which is similar to Medlar, and that's Bryn William's Odettes in Primrose Hill. The philosophy is similar, congenial atmosphere, eye popping technical points in cooking, modern yet hearty recipes and a front of house who are there to charm your boots off, as they fill them with the glorious food.
There are few restaurants that feature such clarity in its cooking, and I think I've mentioned the C words enough times through this post. If Medlar doesn't get some kind of New Restaurant Award, or a mention on a National critic's end of year list, I would be quite shocked. I am aware that this post is based on only three dishes, so you'll have to wait for the subsequent visits if you still want to know if I think it is a serious contender. I will follow up with more thoughts in the coming weeks. But while I do that, I highly recommend you make Medlar a top priority for your next stop in your own list of must visit restaurants.
The Gist of It
Medlar Restaurant
British £25 for lunch at £38 for dinner.
438 Kings Road SW10 0LJ
Tel : 020 7349 1900
Tube : Sloane Square
Elsewhere : Metro ; Andy Hayler ; Felix Hirsch ; Fay Maschler , Guy Dimond
Did you enjoy reading this? You can subscribe to the Newsletter. Alternatively, you can subscribe to the RSS feed.