I first went to 28-50 in Fetter Lane 6 years ago and have since enjoyed returning to the Marlyebone and Maddox Street branches. I like the 75ml measures, the ever changing themes, eventually coravin for rarer things. I have always loved Paul Walsh's food in those days (now with City Social and fully deserving his michelin star) and have always thought 28-50 was a winning model for a wine bar.
Xavier Rousset, one half of the ex-Le Manoir duo (with Agnar Sverrisson) which started up Texture in 2007 and then the first of the 28-50 winebars in 2010, has come out of that relationship to open his own, Blandford Comptoir. The paint is barely dry, his wine bar is still very new, they opened their doors to the public just last week.
Naturally he takes a number of ex 28-50 staff with him, including Alice Bernigaud to run FOH and head chef Ben Mellor to run the kitchen. This wine bar is small, though a lot of its decor reminds me of 28-50 Maddox St and Marlyebone Lane. In fact it is situated just a stones throw from the latter.
Wine
As is now the norm in a London wine bar, you will find an evolving wine list that is likely to be refreshed over time. Any chatter here is thus centred around philosophy and pricing. In their opening list, they have 250 wines with 8 whites and 8 reds available by the 125ml glass or a 375ml carafe. Priced between £4.5 up to £9.5 per glass, it's decent pricing if you want to drink indiscriminately.
I am always interested by coravin offerings and I think that restaurants/wine bars are finally harnessing the potential of this device. I have noticed that wine bars are increasing pricing coravin drawn glasses with the same margins as they would a full bottle, and not add a novelty factor on top.
Side note: Coravin makes economic sense when it comes to by-the-glass lists, as the key advantage of the device is that wine integrity remains un-disturbed, since you do not pop the cork, and thus there is no wastage. Whereas for standard by the glass, you have to open the wine the old-fashioned way, and so you have 2 to 3 days in the fridge before it goes bad. In practice, this means by the glass wines are typically cheap wines to begin with, with high mark-ups or if it is slightly good, then it will come with even greater mark-ups. This is the difference on the wine list, in case you wondered what a normal by the glass is versus the coravin by the glass was.
I love this gadget at home, as I can buy more single 'grail' bottles without worrying about drinking it all in one evening. For a restaurant, this gives them the opportunity to offer nicer labels which they wouldn't typically do by the glass. Some of you do not like it as it stops you from unhindered hedonism (then again you likely do not drink by the glass), but I do and I think the gadget is genius.
This opening list features 4 wines by coravin, each available by 75ml or 125ml measure. I like small measures because I think the joy of visiting wine bars is to be able to drink variety.
On this visit, I was solo and I chose from 3 of the 4 coravin wines. All French incidentally, the other was a Hunter Valley (fabulous wine country outside Sydney, I've been there) – 2009 Semillion from Brokenwood (£7 for 75ml).
I started with 2 Burgundies and finish with Rhone. Notes as follows, for what it is worth.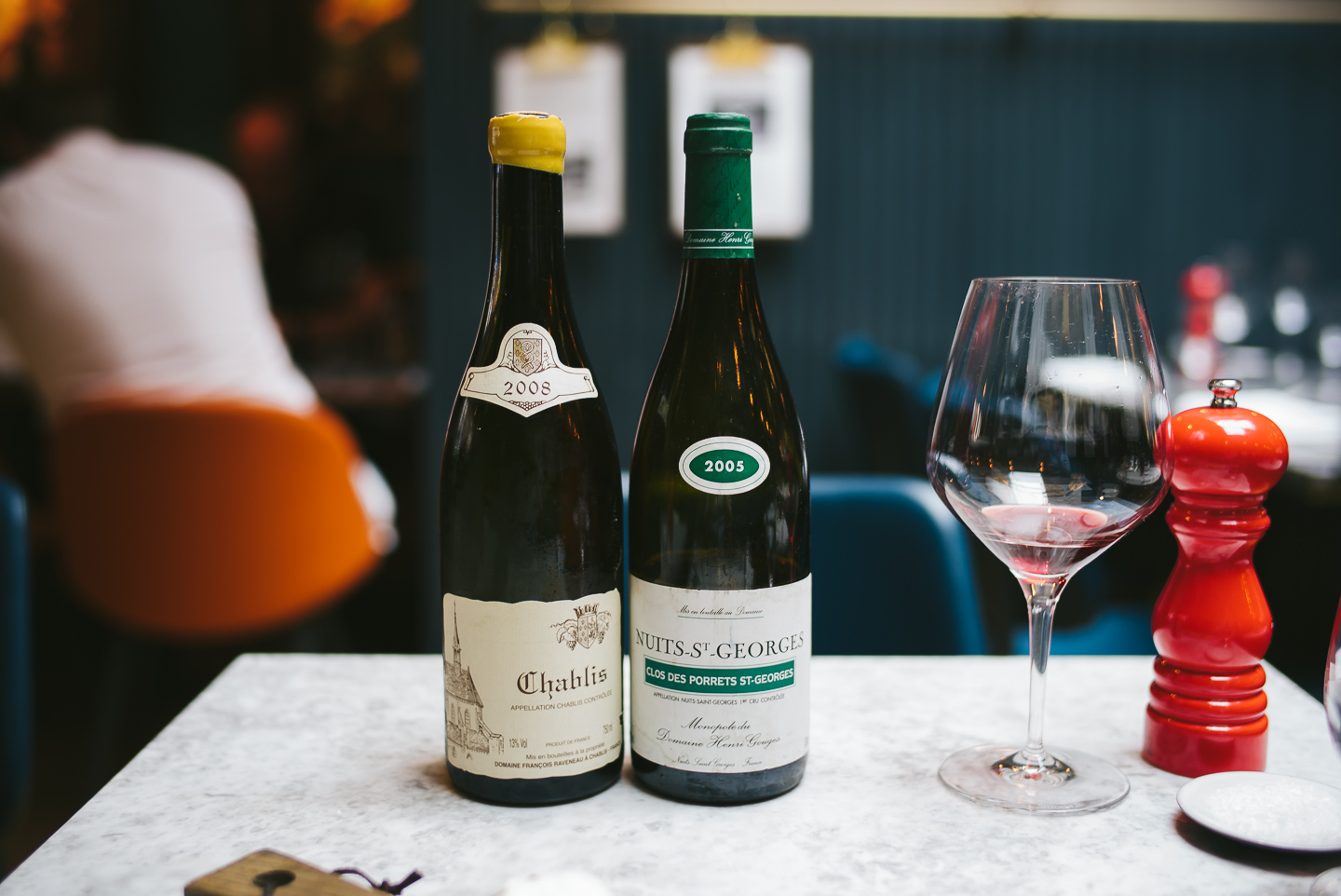 2008 Chablis, Domaine Raveneau, £12 for 75ml
The famous Chablis producer was showing well and featured saline laced liquid rock sugar – the fundamental characteristics of what makes their wines so sought after.

2005 1er Cru NSG Clos de Porrets (Monople), Domaine Henri Gouges, £13.5 for 75ml
As for the Nuit-St-Georges, it is a very good vintage for Burgundy, so I was rubbing my hands to try this. On the nose, it's a farm! Barnyard and then some. Palate is ripe and spicy all the way down – warm vintage alright. I like that the fruit is still completely alive but I think a couple more years in bottle will be peak. The finish already showing subtle sous bois. It is nice plonk nonetheless.
2001 Mourvedre, Domaine Rabasse Charavin, £5.5 for 75ml
I do not know Rabasse Charavin, but it drank very well. The wine is fully developed, sous bois, blood, rust but still had a fruit filled finish.
—
Of course, the sensitive aspect of any wine list is mainly to do with mark-ups. Here, as with other flying winebars, Xavier is pricing attractively with mark-ups that range from 1.3x to 2.8x, based on a quick eyeball across the pages. Using the wines I drank as examples (and depending on how and where you buy wine, single or by case) the Raveneau Chablis likely retails for £60 – £70 range, the Gouges NSG a little more for £70 – £80 and so both represents about a 1.5x to 2x mark-up. Not bad really.
I survey the rest of the wine list liberally rather than deeply, starting with the standard list, I see wines from all over the world. No particular allegiance to old or new world and they start from £23 up to £72 a bottle. I did not check the mark-ups here.
Rather I am more interested in the reserve list, 'Older & Wiser/Young & Rare'. This to me, is the name of the game and what draw in the regulars. I'm enthusiastic about wine, but very much still learning about it (I have yet to leave the comfort of Bordeaux and Burgundy). I'm sure this list will change up as it gets depleted over time. The day an underpriced Leflaive Chevalier-Montrachet appears, I'm there. I list bottles which piqued and I have listed prices and approximate mark-up based (also on approximate) current retail/market value. It's always hard to judge the going rate of older bottles as EP prices in those days were no where near retail today (which is also the point of futures to begin with) and then there's also auctions which can be rewarding if you are hardworking and savvy. Also you wonder about storage and provenance, and if you encounter low shoulder, do you think too much leakage, if you encounter high shoulder do you think too good to be true and if you encounter mould do you think complexity?
2000 Riesling Kabinett, Egon Muller, £96 (2x)
2008 Meursault, Coche Dury, £300 (1.3x) < – expensive for villages, but the quality !
1976 Clos St Hune, Trimbach, £570 (1.4 – 1.8x)
1976 Frederic Emile, Trimbach, £270 (2.2x)
1998 VCC Pomerol, £168 (1.5x)
1998 Conseillante Pomerol, £168 (1.5x)
1989 Ridge Monte Bello, £190 (2.5x)
2000 Montrose St Estephe, £198 (1.6x)
2008 Charmes-Chambertin, Armand Rousseau, £354 (1.6x on a good day?)
Like at 28-50, lots from private consignments also appear on the wine list. No doubt something which Xavier had introduced originally. This is appealing to me. (FYI: still trying to flog my case of 07 Clos St Hune if anyone is interested. Young, but it's a good year….)
Food
And if you have decent food to pair, winner winner chicken dinner.
The menu is Italian-ish, with 4 to 5 items in each section of raw, vegetables, fish and meat. Some dishes can be had as half portions, which is great if your priority is to drink. There also is a dish du jour to 5pm, for £15 which includes a glass of wine and a cup of coffee. This is a good menu. Classic things, 4 or 5 ingredients on a plate, aromas with many things made in-house include their boudins and terrines.
Sicilian red prawns, Amalfi lemon oil, 6 for £9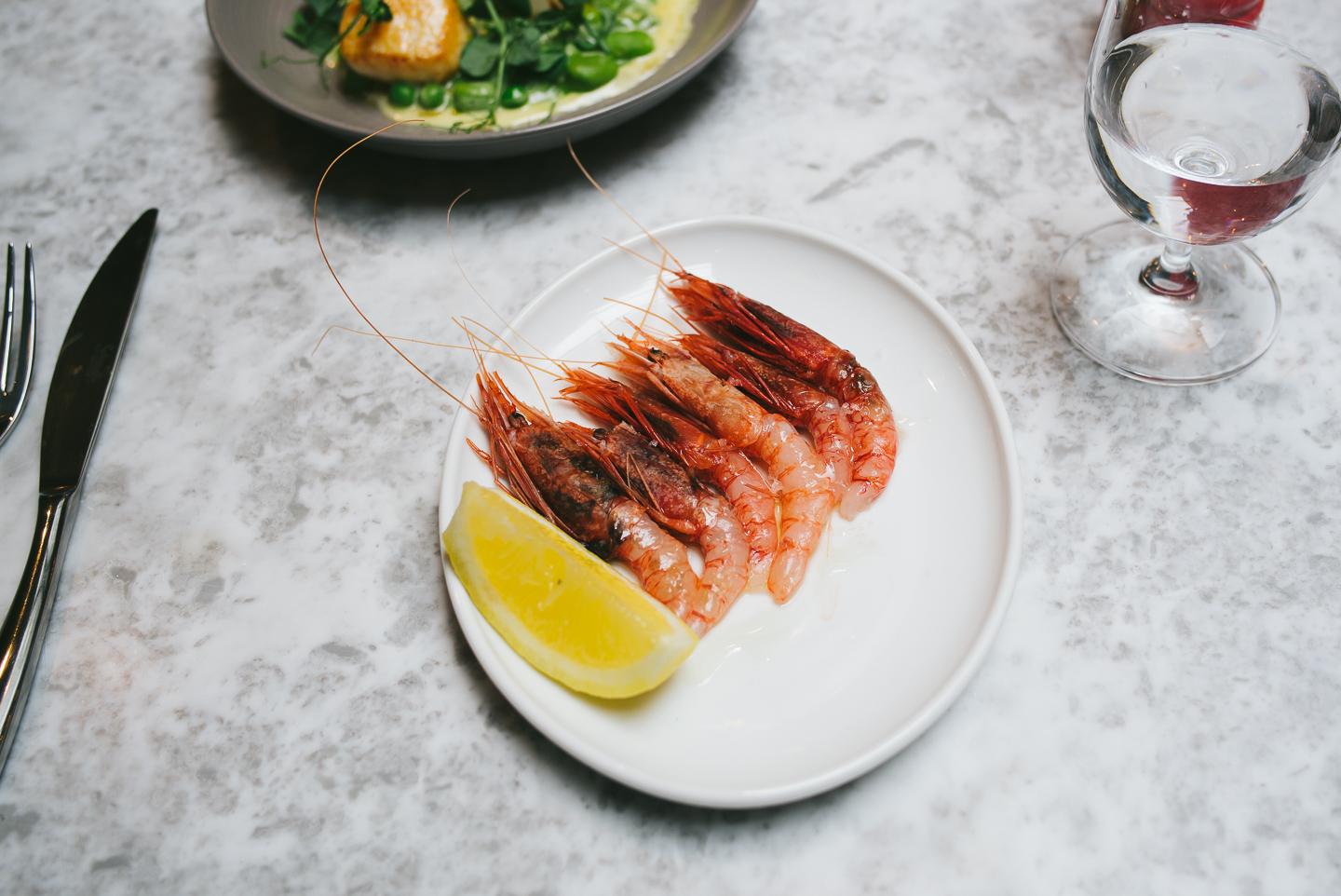 You know these beauties from R&M days. These are always so good, incredible sweetness, I love them. They are not as cheap as R&M (they were 10 for £10), but still decent value.
Scallops, peas, feves, fish veloute, £9 (half)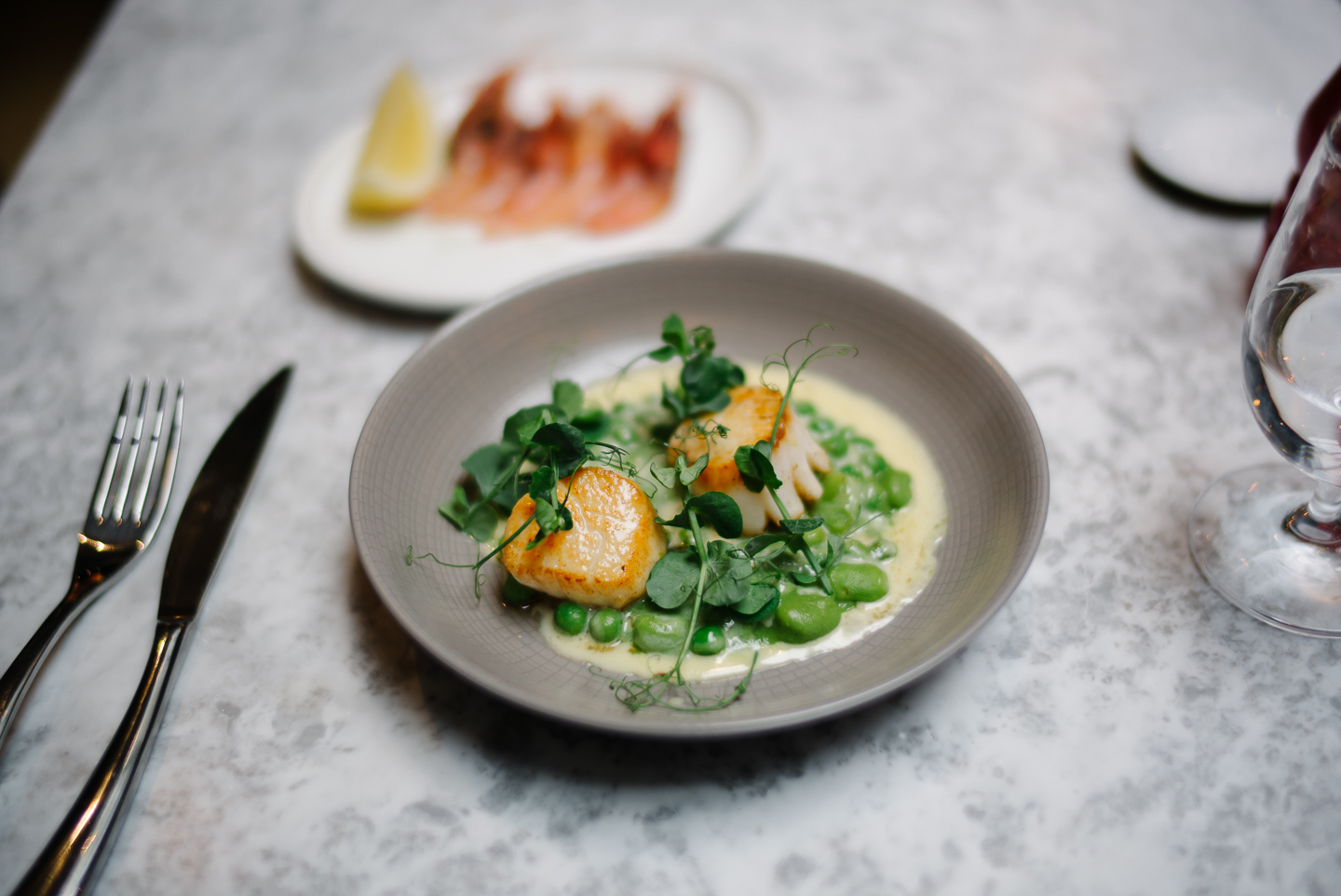 I forget to ask where from, but considering size these must be Scotch. A transculent centre, it is cooked correctly, but it is the fish veloute that has excited me, as I wondered what exactly has been stirred in to make the soup. White stock could be? Whatever it was, it was aromatic and came as a punchy flavour of stock. Beauty.
Quail, truffle boudin, pine nuts, £7 (half)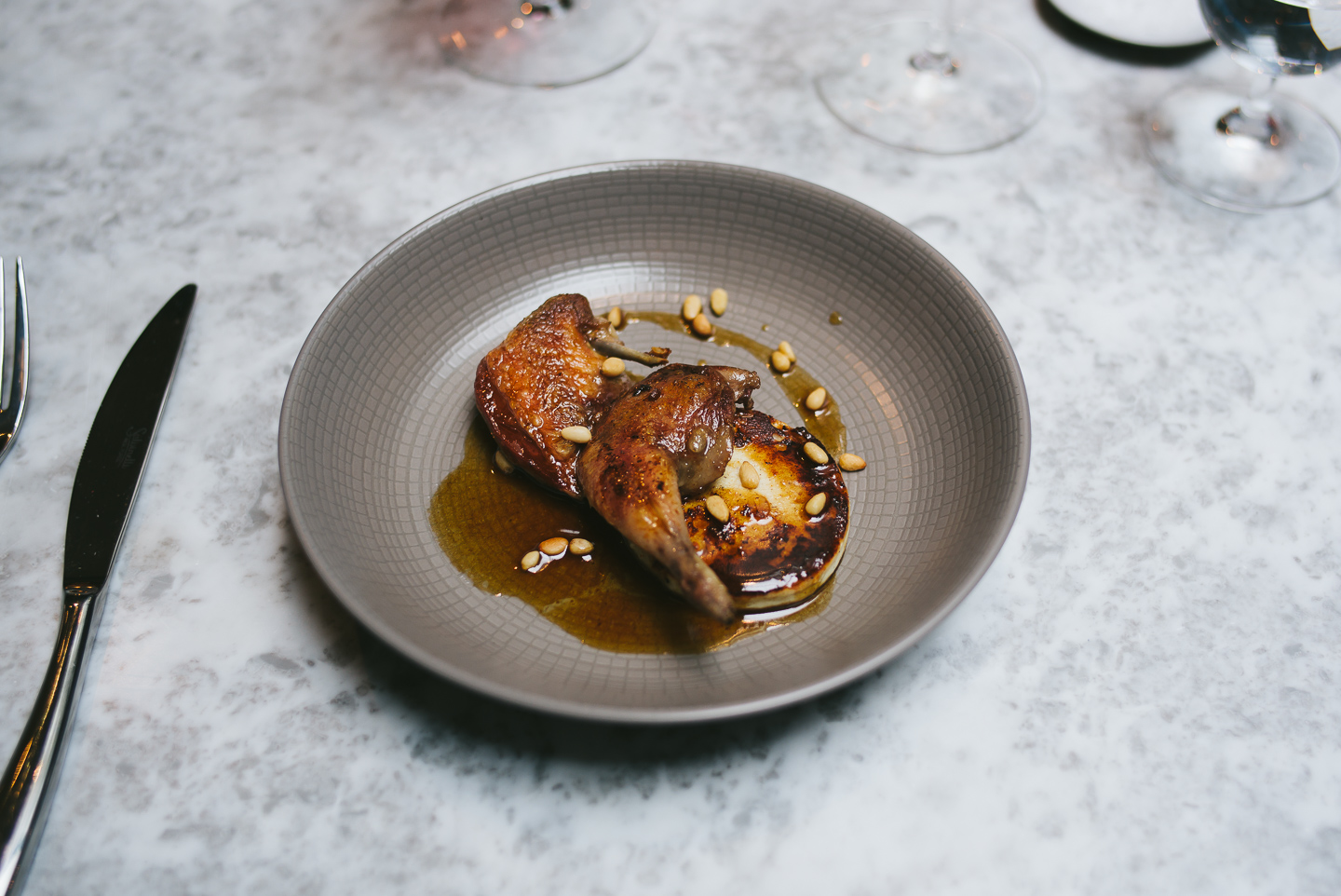 Total winner. This is a half (£7), I should have gone for full (£14) portion. The white sausage (made In house!) is simply great, full truffle flavours over a platform of loosely packed and smooth chicken mousse. The quail was incredibly juicy, a glazed quality even, aromatic again and just delicious.
Cheese. 3 for £9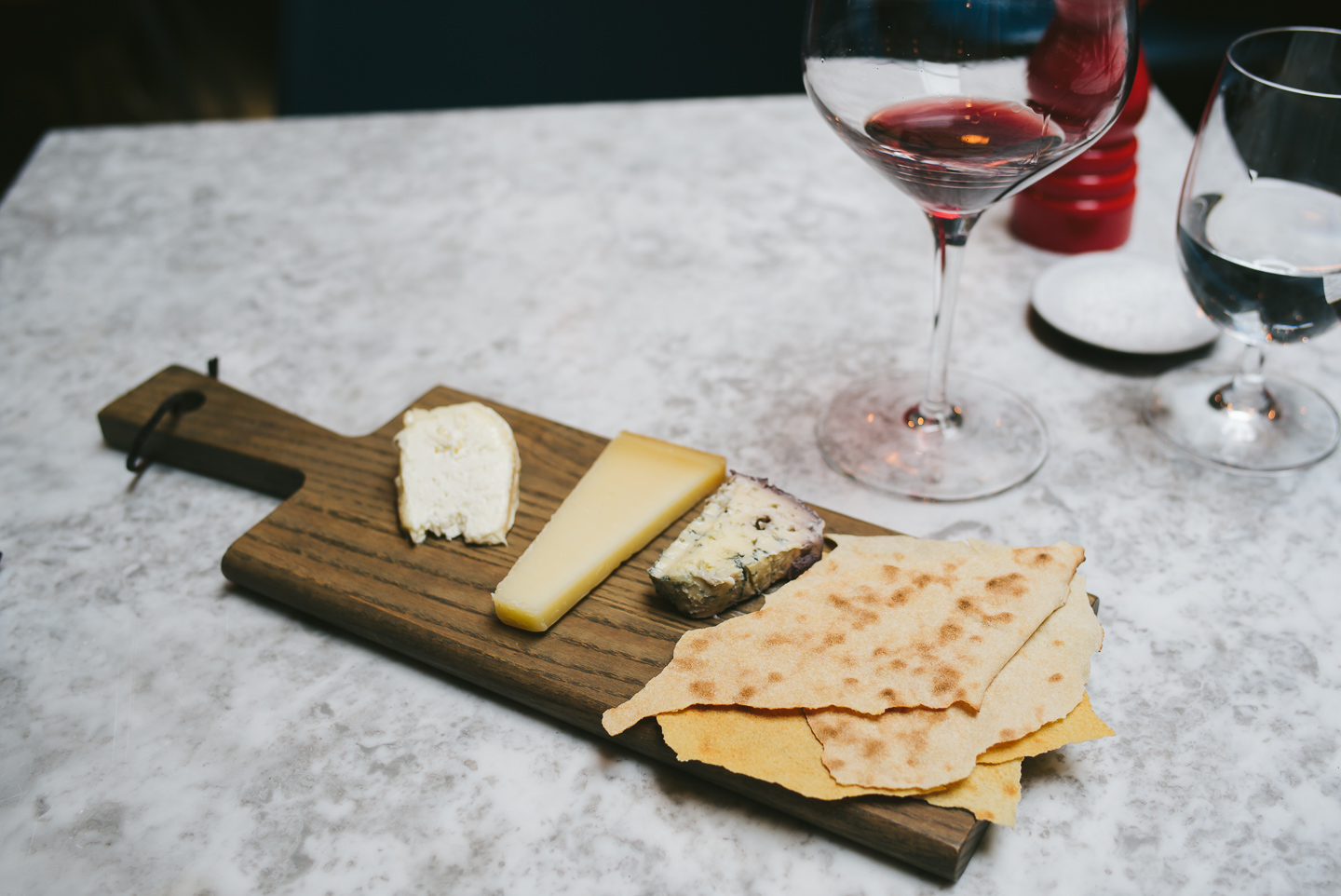 I asked about the cheese on offer, six in total and was impressed that my waitress knew her cheese well and had explained each in sufficient detail. Nice work FOH.
L-R I go Robiola Rochetta, a soft made from cow, sheeps & goats milk ; San Andrea, hard not unlike a Gruyere ; Blu'61 an Italian blue. This is very good, probably taste the love here. A 50th wedding present from husband Antonio to his wife. This is washed in local wine of the region, Raboso passito and cranberries.
I paid £76.22 for food (£25), 3 glasses (£31), 1 dbl espresso (£2.75) and service. With wine bars, it is hard to predict spend as it depends on how you like to drink. But as far as food is concerned, the menu is priced competitively.
The food is pleasing and surprisingly good. I found a lot to like, it is the kind of food I like eating and I can see myself ducking in here for the long summer afternoons ahead. By the way, this kitchen looks like it is open all-day every day. So far so good on Week 2 of service. You expect no less from Xavier and well done to him on his solo venture.
You can safely add Blandford Comptoir to the long list of excellent London wine bars. The Remedy, Noble Rot, Antidote, Les 110, Terroirs, Sager & Wilde, Verden, 10 Cases (even Bob Bob Ricard) and this goes on and on. Natural wines to First Growths and everything in between. I'm sure I've left out a few gems, but such is the depth in this category that you really can say that now is some sort of golden age, inching closer as a rival to Paris for a tipple tour. Don't forget to swirl your swill, it needs to breathe too.
Details
Blandford Comptoir
Wine Bar
£30pp + swill + service
1 Blandford Street W1U 3DA
Tel : 0207 935 4626
Tube : Bond Street / Baker Street