Time to celebrate another year gone by, as it continues to make a map of my graying, grizzling, wrinkling face.
I have two favourite restaurants in London that I make an effort to visit every so often. One is Cambio de Tercio – which I've been going to for 12 years – and the other is Medlar.
Ever since my first meal over there in 2011, Medlar has slowly evolved their menu and consistently delivered truly memorable stunners through these past 4 years, like this , this and this. I've never had a bad meal there, every single one has been a smash.
For me, Medlar is the embodiment of a (my) perfect restaurant. It has a timeless charm, a private ambiance, the service is always careful and fragile (they whisper), you go to be pampered, and most of all, the food is always delicious.
This cosy corner at World's End is carved out by chef Joe Mercer Nairne and his fellow co-owner and FOH manager David O'Connor. Perhaps due to their shared background in Platts-Martin restaurants, Medlar's 3 course Prix-Fixe structure is similar to that of Chez Bruce's (the original neighborhood institution of course). Looking back to my 1st review, the prices have gone up, though it remains a relative bargain in 2015 for this level of cooking. £30 for lunch (£25 in 2011), £46 for dinner (£38 in 2011). Sunday is £35 for lunch and dinner. It's the same menu offered both day or night.
The menu is seasonal, though their signature dishes – such as the crab raviolo, duck egg (and heart) tart, steak with triple cooked chips (and the finest bearnaise in town) – are available year round. This lunch took place in mid July and featured a lighter touch to reflect the season.
-STARTERS-
Gazpacho, scallop tartare and fresh almonds.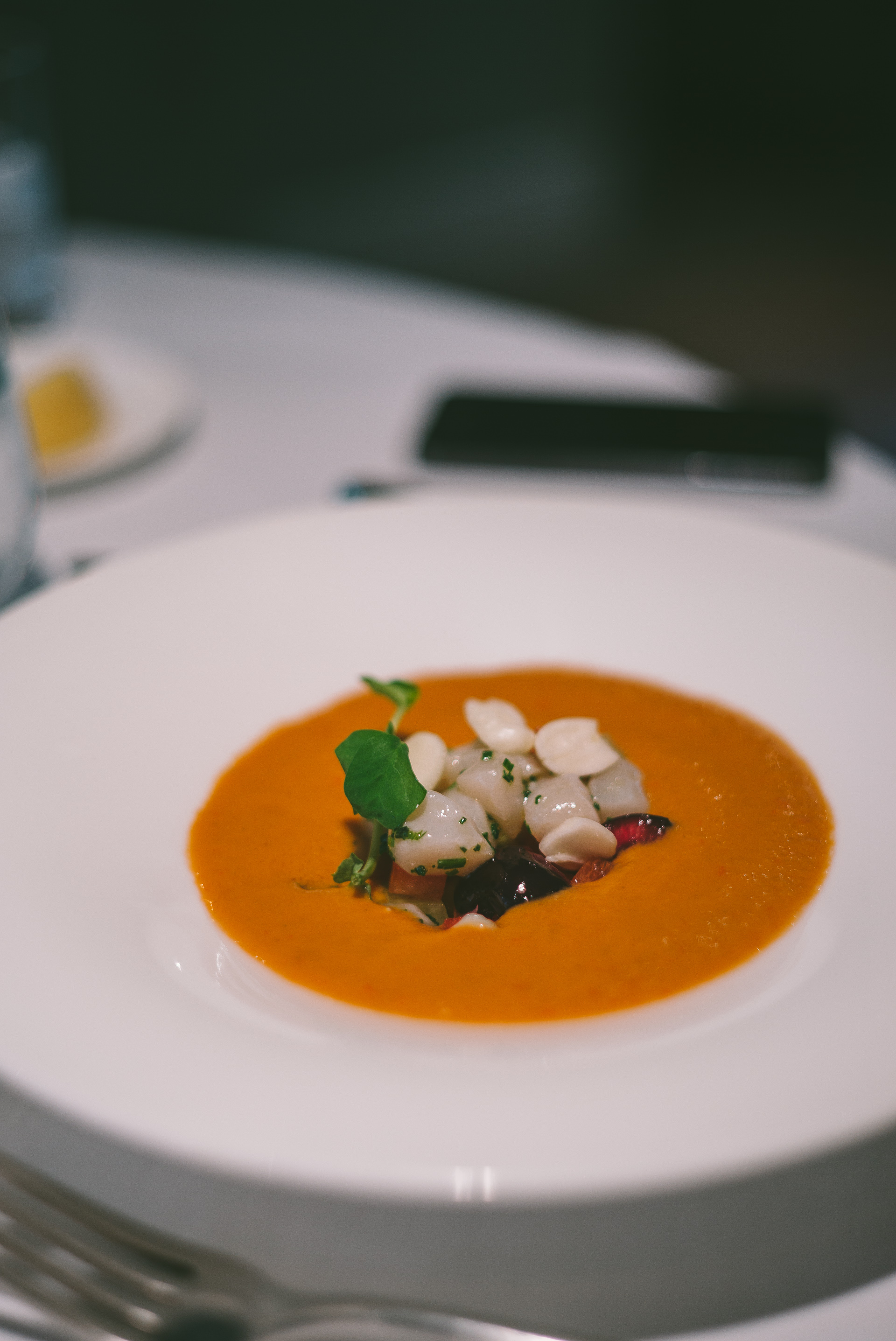 Cooling freshness. Summer. That beguiling balance in Joe's cooking is ever evident and just a pure pleasure. Silken, raw, sweet scallops, against the zest of the cool gazpacho, with fragrance of almonds. Revitalising. Bravo.
Boneless chicken wings, coco beans, fresh corn and Australian black truffle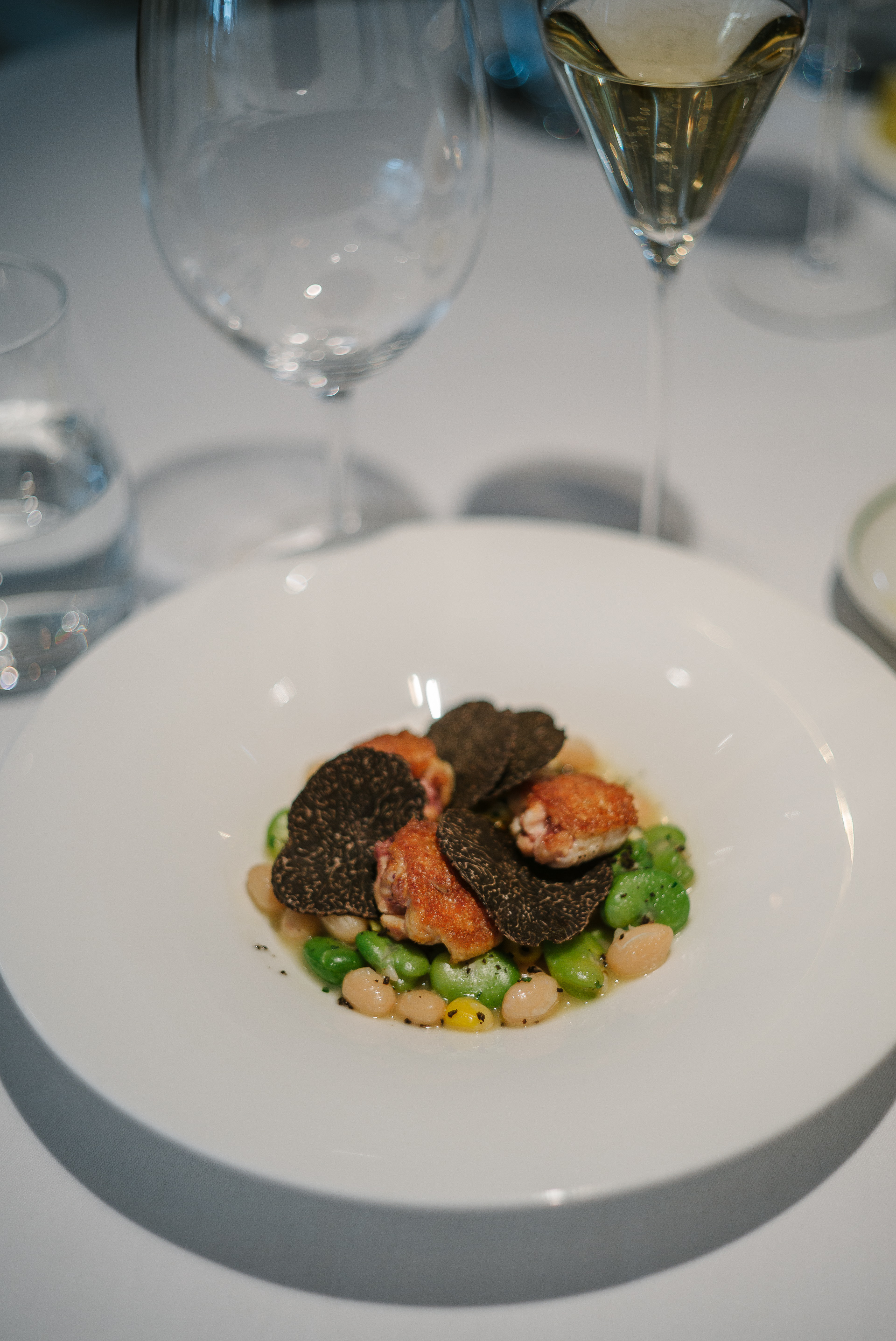 The purity of the chicken stock and the aroma of truffle anchors this particular dish. It imbues the perfectly crispy, juicy chicken wings with natural flavours of great density. Beans for texture, and corn for a dash of sweetness. This is formidable comfort food.
-MAINS-
Roast Skate, palourde clams, girolles, baby artichokes, fennel puree and sea aster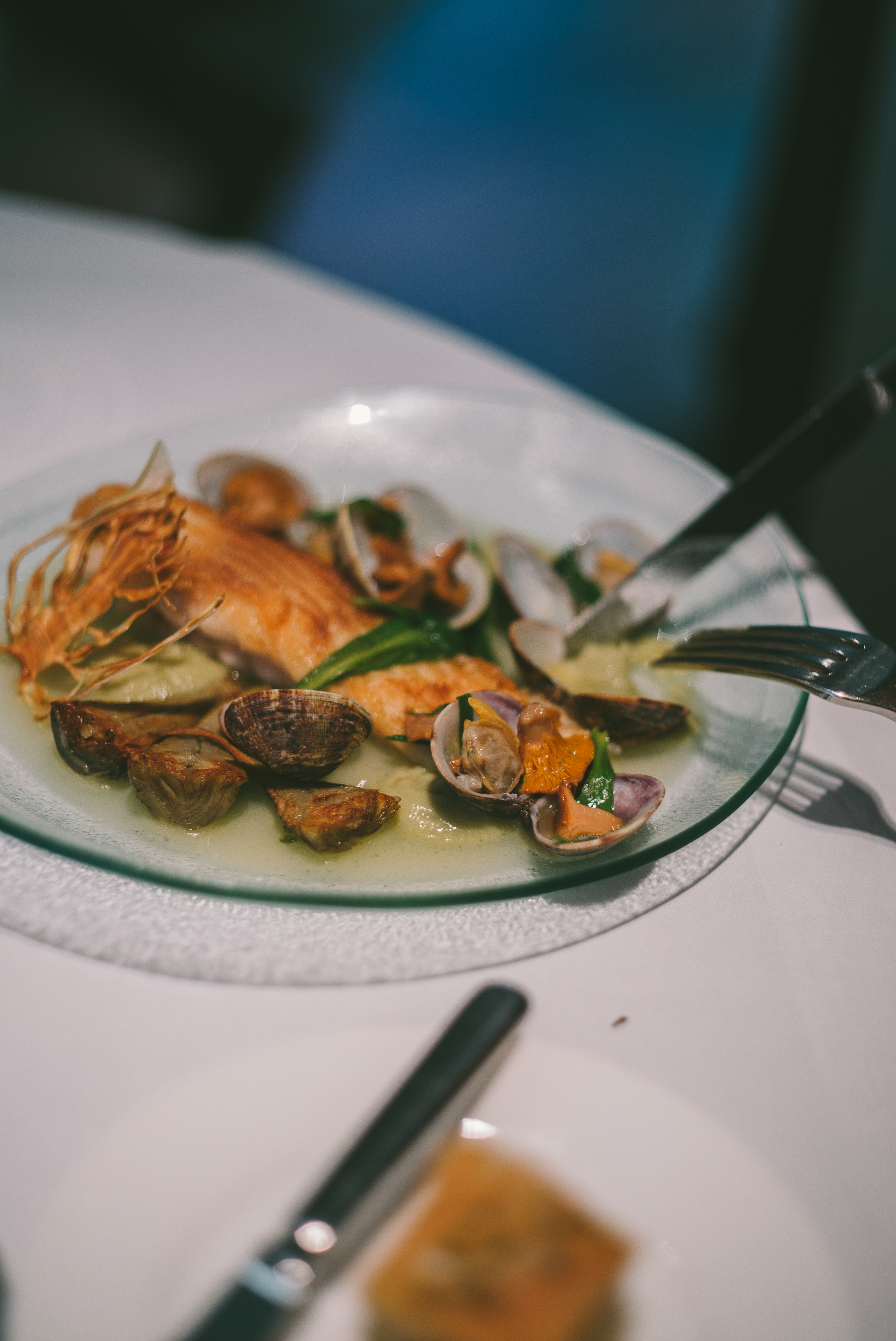 The missus' dish. For me, Joe's cooking regularly puts on show his mastery of weaving together coherent recipes with a large selection of ingredients. The flavours are always balanced. The menu description sometimes looks like a mouth full, but it always comes together on the plate, and everything is always carefully and perfectly cooked.
Sautéed gnocchi, black truffle, girolles, peas, white onion purée & baby carrots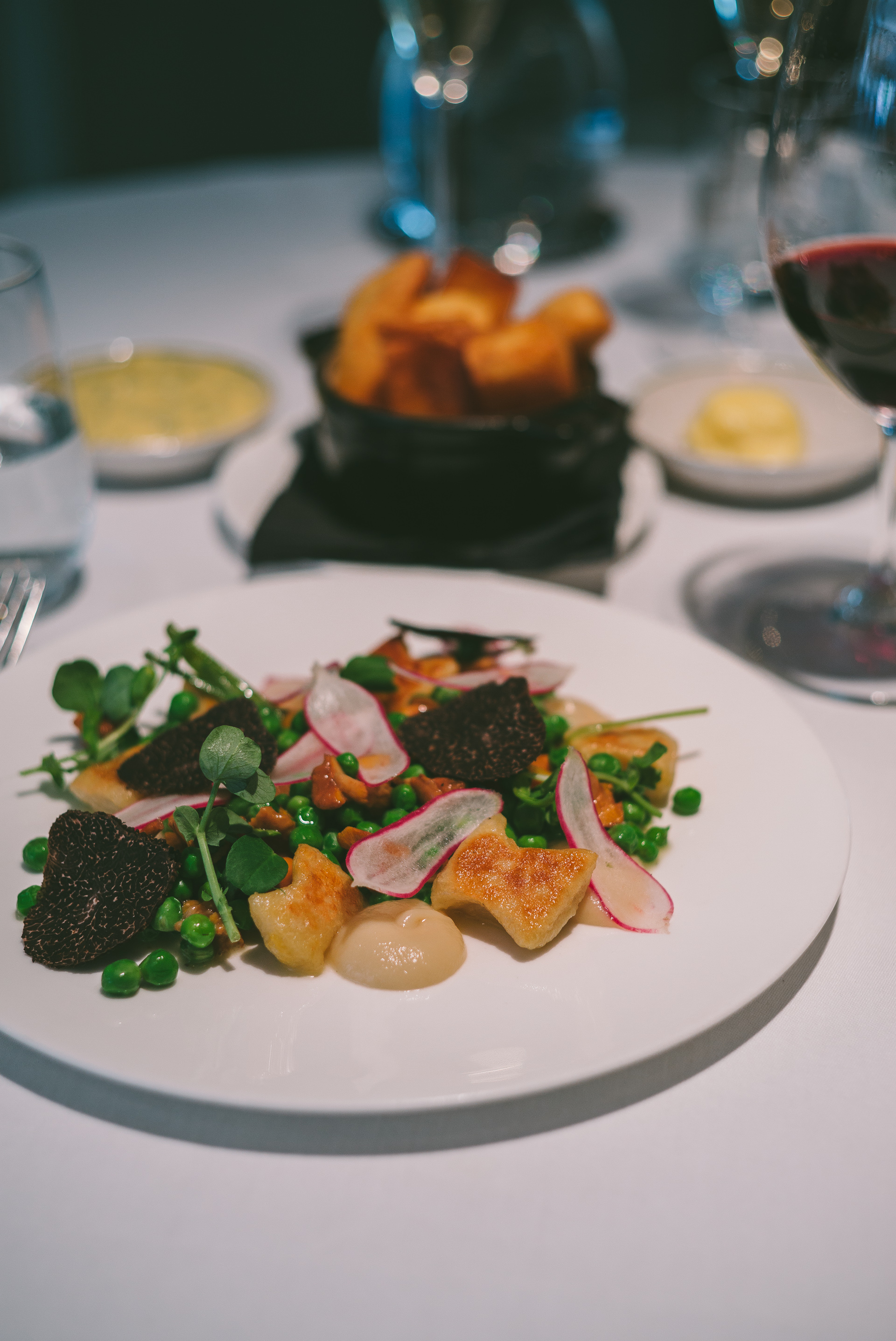 Very summery dish. As expected, each individual element cooked á point, this feeling of freshness and balance, richness without the heft, a pseudo-salad masquerading as a mains. Classy stuff. I love it.
-CHEESE-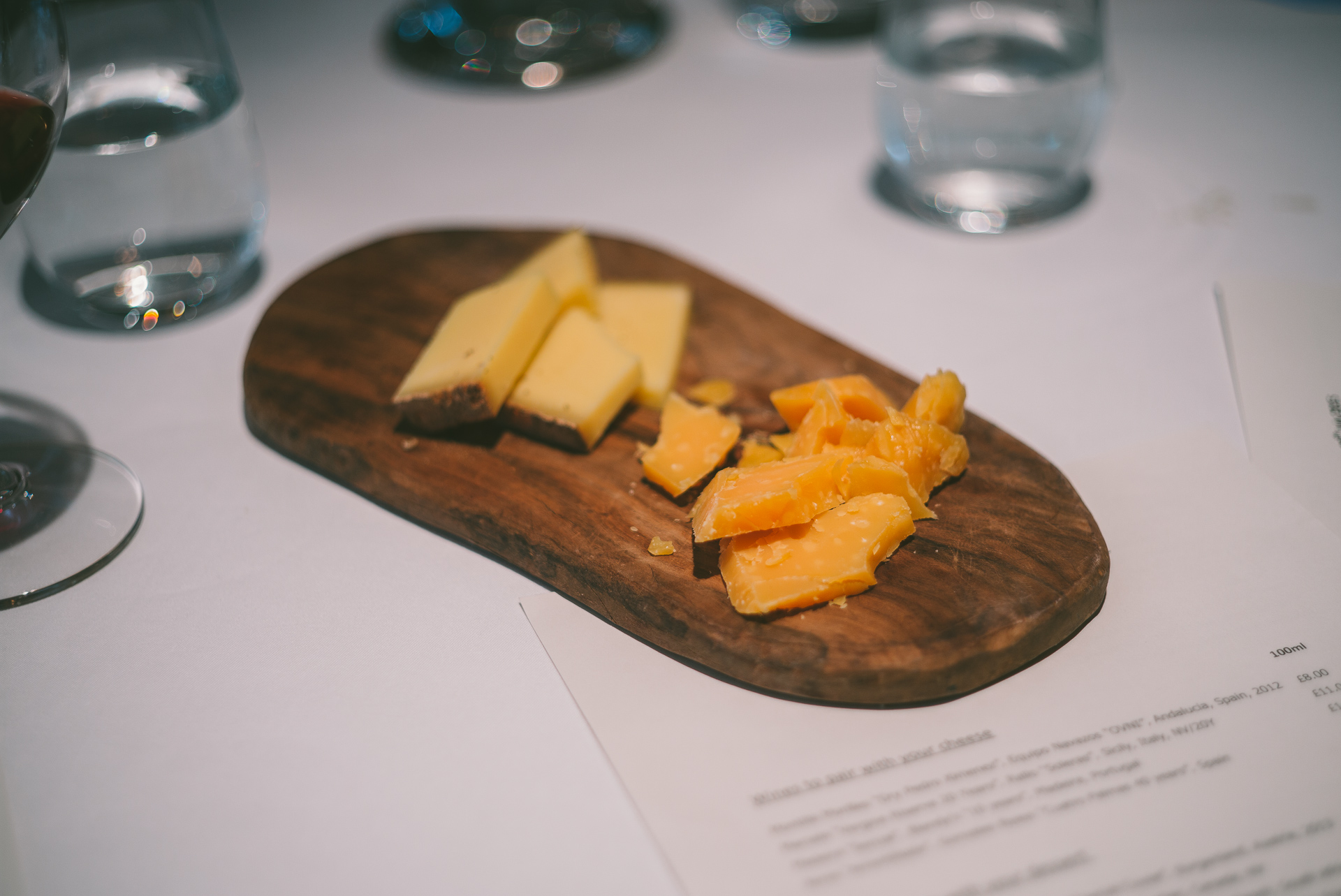 David offered their usual house signature 3 year aged Comte – a deliciously crumble of nutty caramel, which is always a must – but today, it is supplemented with a newcomer in the form of 4 year old Gouda.
-WINE-
2000 Saintayme, £15.50 per glass
I have always respected the young Sommelier Clement Robert's wine list (now outgoing to be replaced by incoming Chris Delalonde) , especially their by the glass/carafe selections – It has typically offered a buttery white burgundy and a cedar-rich claret. Additionally, their coravin selection offers a rotation of 4 or 5 hallowed labels. Mark-ups are about 3x, consistently across the board. For example, this 2000 Saitayme could probably be had for £30 retail, whilst they sell for £80 a bottle.
Anyway, I am a little bittersweet about their replacement of the lush 09 Margaux by Ch Margaux (their 3rd wine), which was available by the glass. Seriously sexy wine from a warm vintage, in which my certainty that it will never shut-down in its entire drinking window continues to be confirmed.
However, I am very happy that the replacement is this 2000 St Emilion by the Pomerol hitman Denis Durantou. I didn't know that he also owned this rightbank property. Apparently the plot is near Valandraud with young(ish) vines at 35 years old of which are Merlot and Cab Franc. The wines typically feature nearly 100% Merlot when bottled.
Today, the 2000 is fully open for business at 15 years old. Blackberries, plums lathered with honey beautiful nose fully open just whiff of pencil lead. Fine tannins breaks into freshness on the palate, followed by smokey oak finish with more pencil lead. Goes sour cherries with abit of air. I had two glasses.
-PUDDING-
English Strawberries, Prosecco Jelly, Mint and lime granita, strawberry sorbet and meringues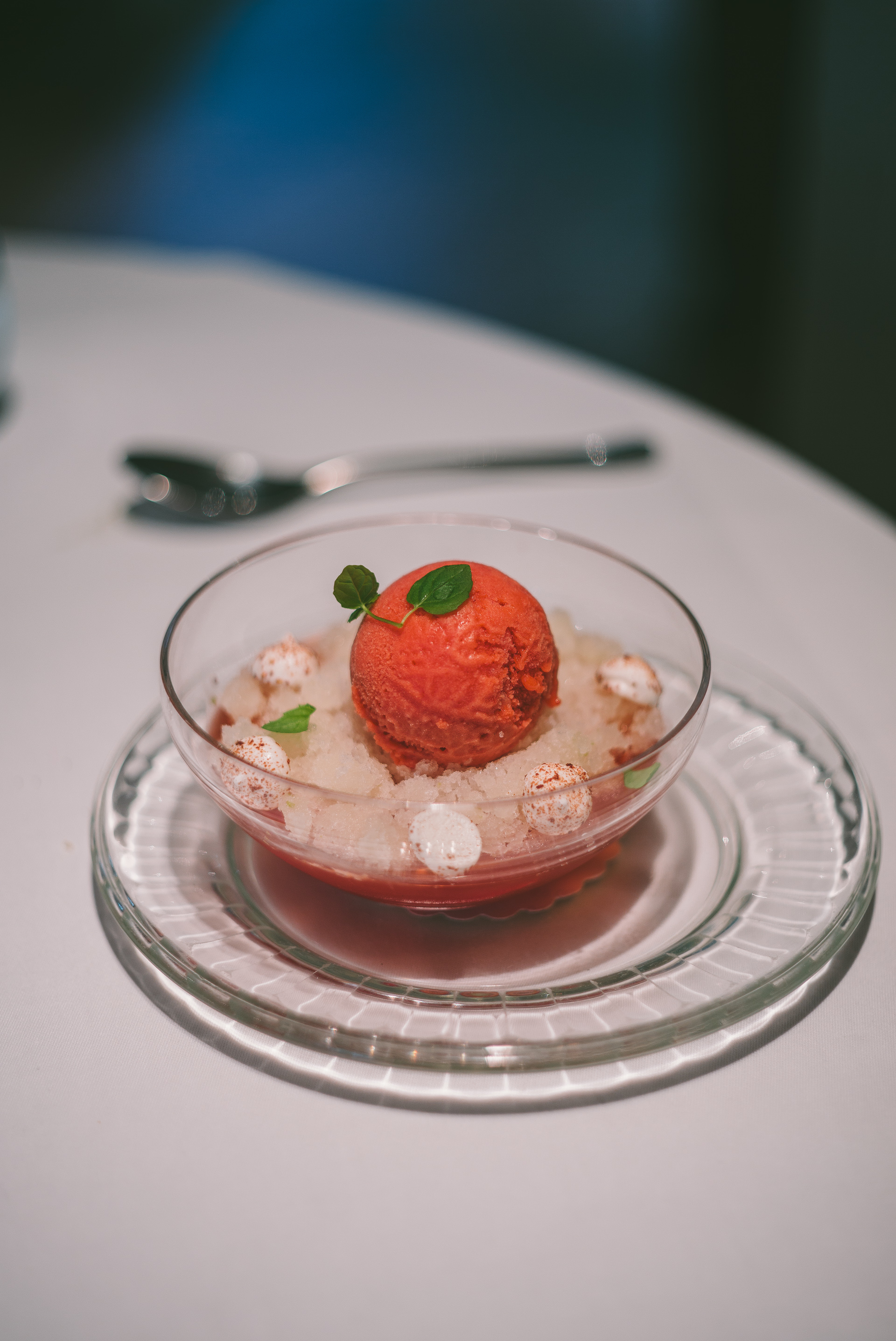 Refreshing, but..
Cherry and pine nut tart with milk ice cream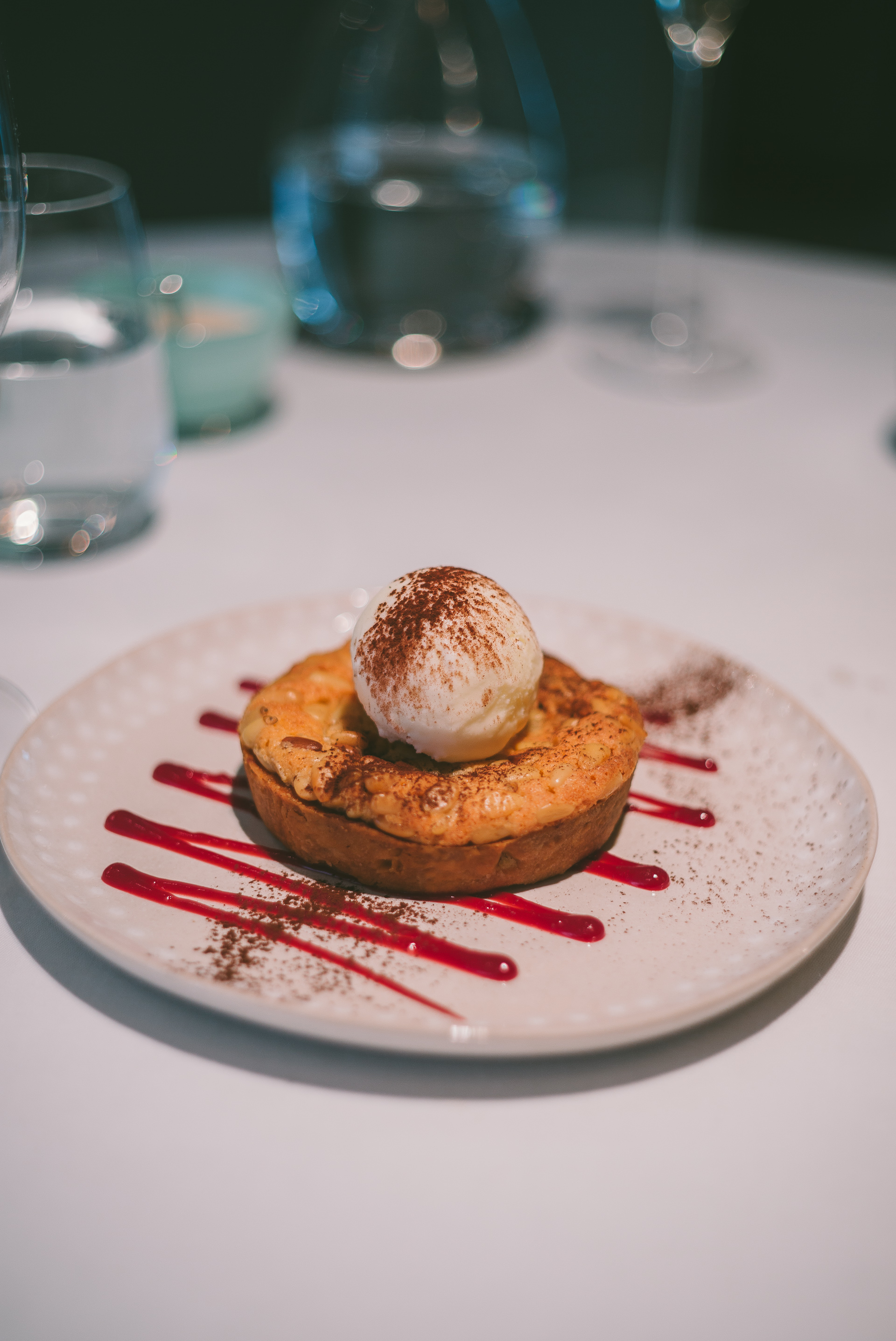 … it's all about the cherry tart. This was awesome.
Lemon and elderflower posset with pink gooseberry compote and beignet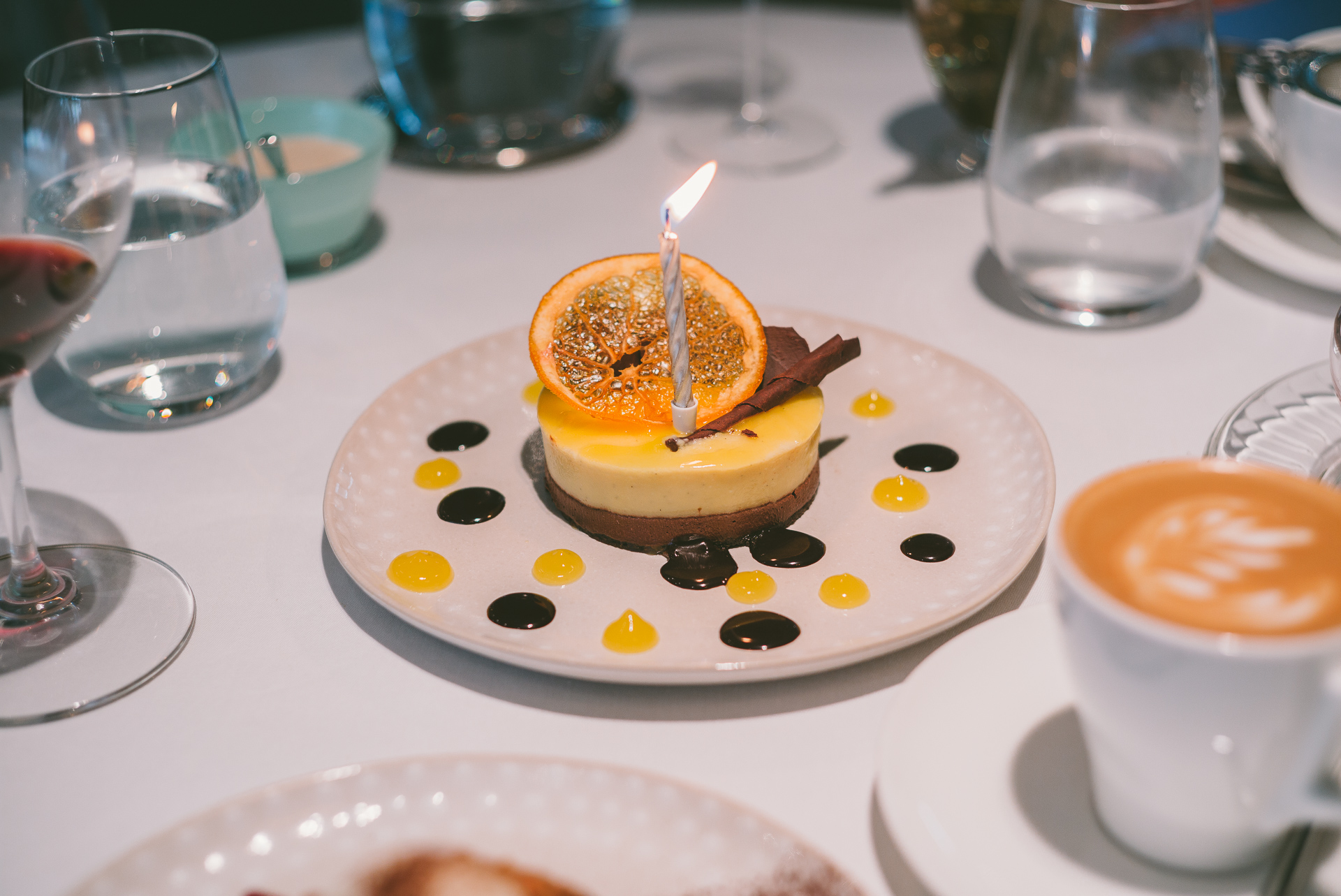 David brought over this posset and we celebrated yet yet another wonderful birthday lunch.
We paid about £75 for two. The wine, cheese and posset were on the house.
If you scour my IG feed you'll see long descriptions attached to the Medlar pictures, taken from the various meals in the past few years. I love Medlar to bits.
The classic neighbourhood bistro that is totally dedicated to the art of hospitality. Consummate professionals, there's no ego here, everything disappears to service the customer. Everything is designed so you can unwind, enjoy the meal and enjoy the company. This is what love tastes like. Every aspect of Medlar is just beautiful. And as a £30 lunch, it remains a steal.
I wish for many more amazing meals here. The moment they put the potato, quail egg ravioli with truffles back on the menu, I'm there again.
Details
Medlar
Anglo French
£30 for lunch / £46 for dinner / £35 all day Sunday (+ drinks + 12.5%)
438 Kings Road SW10 0LJ
Tel : 020 7349 1900
Tube : Sloane Square