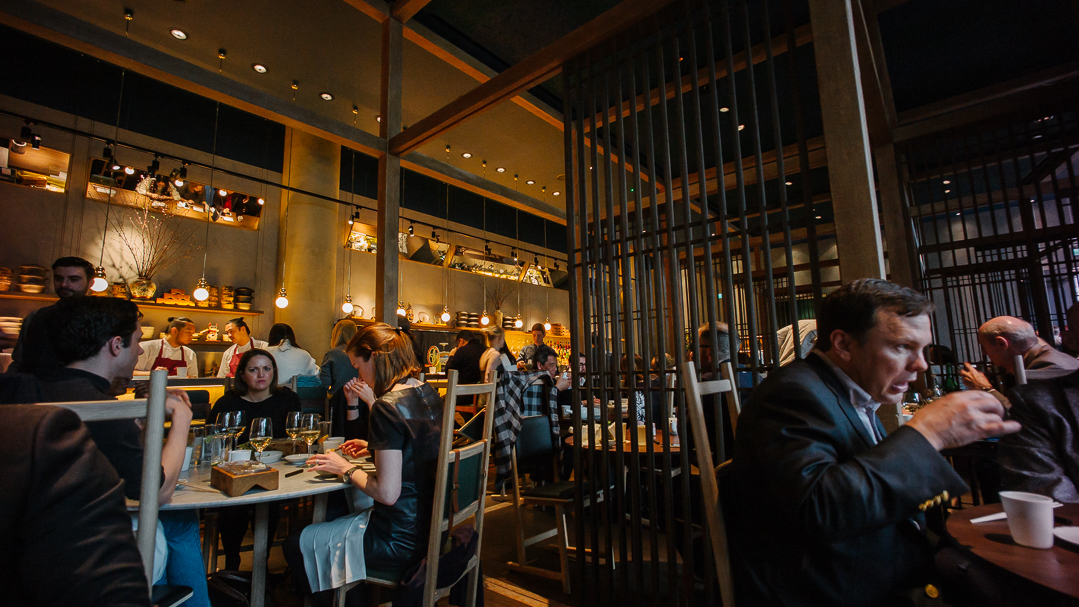 This is the next in Jason's ever growing Social empire that spans six cities, and is his seventh restaurant in London. I'm an Atherton fan, followed Jason since Maze days (been to all but City Social) and think his London restaurants are great. I don't know what his books look like, but all this expansion (and superb interior design) must mean it is pretty healthy.
No expense has been spared to create this space that has internal wood beams which take inspiration from the interiors of a traditional Minka house. It is beautiful and premium, as are all his Socials, designed by Shanghai studio Neri & Hu, which also did Pollen. I love that they brought over those automatic washlets by Toto (toilet paper finally becomes redundant), and spent more time than I should, fiddling with the remote in the restroom. There is also a bar called 7 tales in the basement and as is now the fashion, there is a restaurant in the restaurant, a 10 seater kitchen counter serving a seasonal omakase called Kisetsu which should reveal itself next month.
Naturally Sosharu is connected to the sharing theme of the rest of the Social restaurants, but with an interesting departure offering an Izakaya menu, the Japanese equivalent to pub or bistro for every man comfort food.
What got me really excited is the man on the pass, Alex Craciun, long-term chef with Jason, formerly sous at Pollen, who Jason has groomed to tackle this ambitious undertaking. Alex was sent to Japan for a year to study the cuisine. He was with the Kyoto Culinary School and also stinted with a couple of true Kaiseiki institutions including national treasure Murata san at Kikounoi in Gion-Maruyama, Kyoto and Yamamoto san's revered Nihonryori RyuGin located in Roppongi, Tokyo.
Kyoto is laden with tradition and is an excellent place to take inspiration for food. I have tender memories of saba sushi, unagi, tofu, Nishiki market, Pontocho alley and no doubt, Alex will showcase what he's learnt with kaiseiki when Kisetsu opens.
Hamachi, £7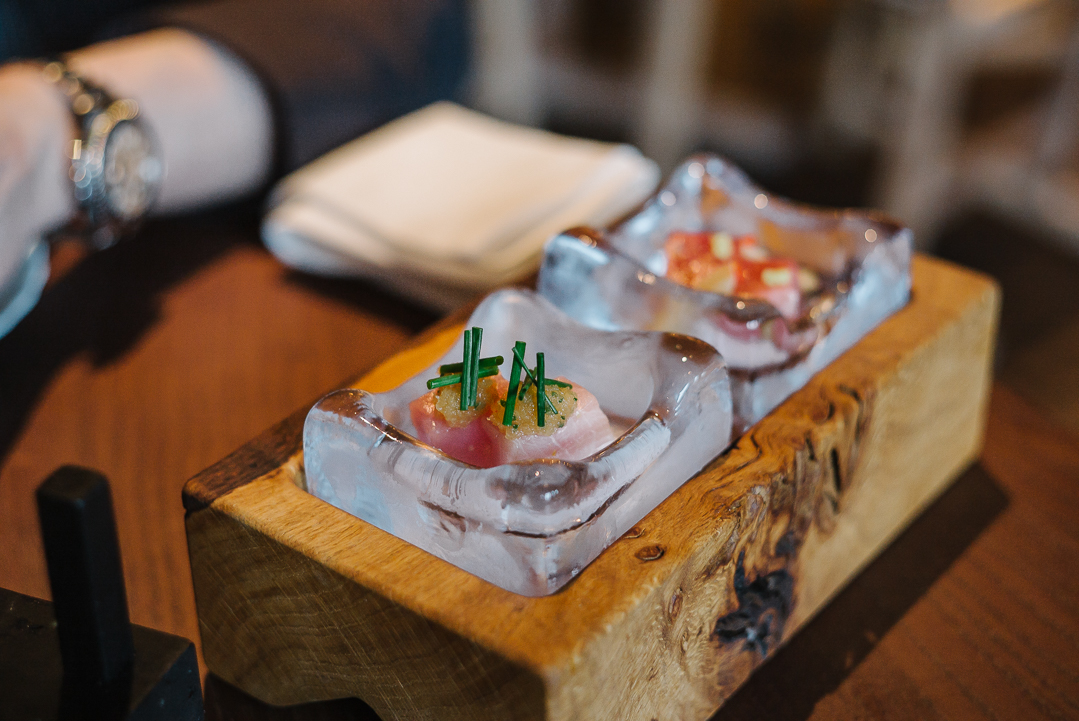 Chu-toro, £10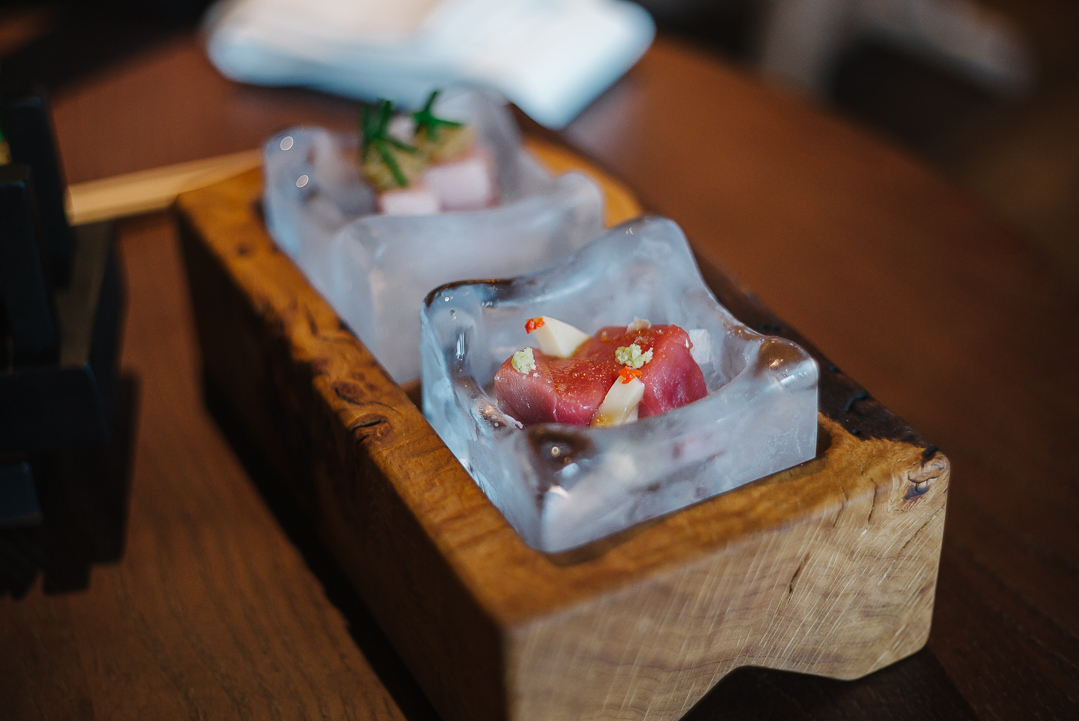 Cut as cubes, kakuzukiri, probably due to the tenderness of the fish, but a little too small considering the price.
The tuna is farmed bluefin and comes from Malta. Hardly the landed Oma black diamonds which you Ginza hunters love, but it is Spring and even those are hard to come by for the season. I applaud the sustainable route, farming bluefins is a difficult task in itself, these giants consume so much and they need the world's oceans to get in their daily dose of high speed swimming.
The tuna is good, surprisingly, quite mild in flavour, sweet almost but it is no where near as fragrant as wild Pacific bluefins. The yellowtail is sourced from the South of Japan. It has a darker colour, brownish, quite fatty and muddy in flavour, which leads me to assume that these are farmed amberjacks. Both fish do not receive any more in-house ageing, so I am told.
(Why not get Norwegian farmed yellowtail, closer to source and fantastic quality. Clean, clear tasting, the pride of their superior aquaculture industry.)
Of course, I was not expecting high end fish at this supposed izakaya, the sashimi is adequate, but I am disappointed Alex didn't bring more of his Kyoto training to this part of the menu. Instead of offering expensive foreign fish, why not get creative with something locally sourced, exercise some control over the supply chain, selection, line caught, ike-jime, in-house ageing, etc. There's good (cheap) local mackerel, so why not offer shime saba? Is he holding back for Kisetsu? I hope so.
Open Temakis
Tuna, scallion, tobiko, sushi rice, spiced mayo, £7.5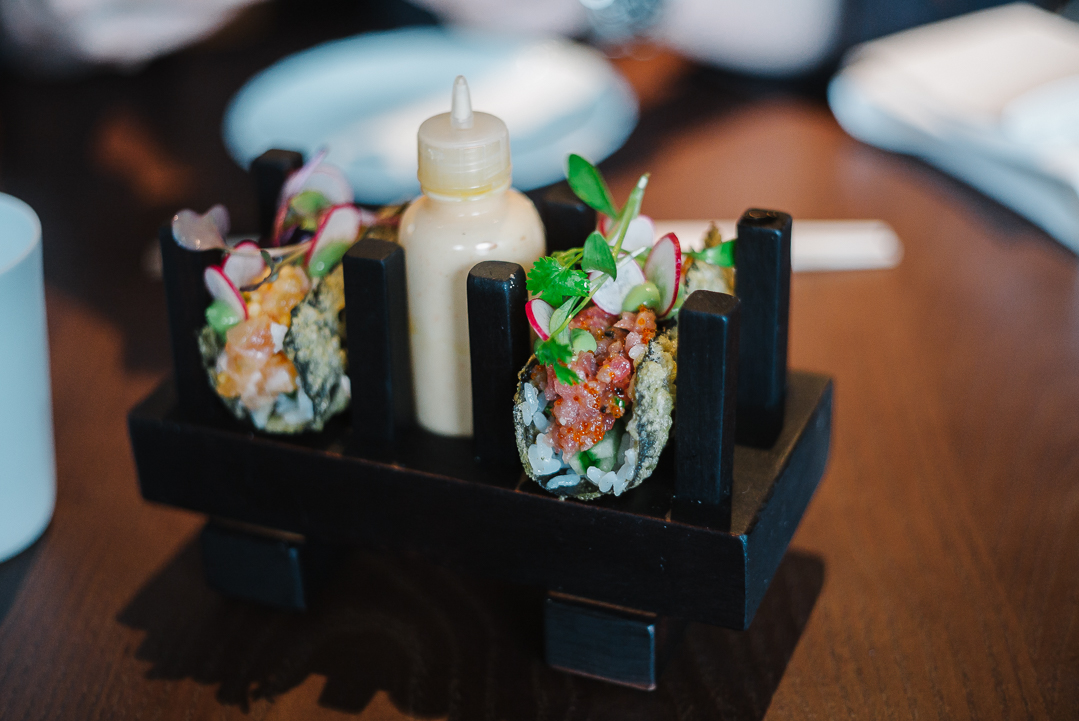 Salmon, sushi rice, spiced cabbage, coriander, avocado, £ 6.50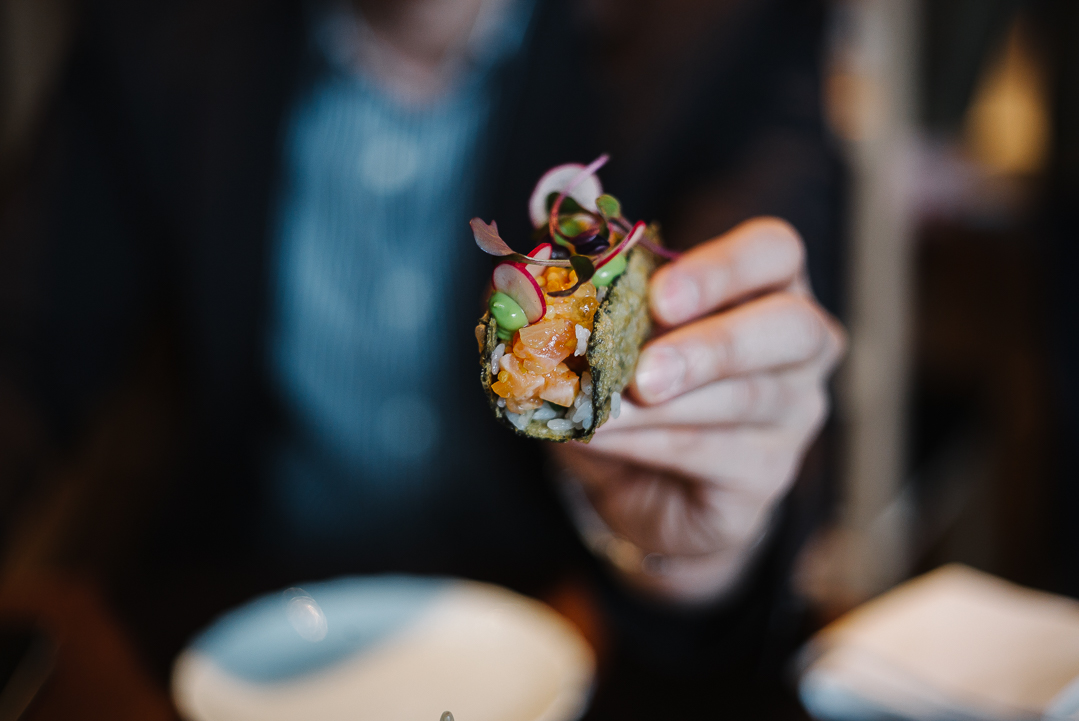 Between an un-rolled maki and a hand-roll , and great negi-toro mix. The nori fried in tempura batter is a fantastic idea. I liked these, they are much sleeker versions of Nobu's sashimi tacos, fresher recipes. Good, but bite sized.
From the bincho, L-R
Stuffed chicken wings, pickled turnip, £ 8.50
Chicken skin and tsukune with yakitori sauce with an egg yolk, £10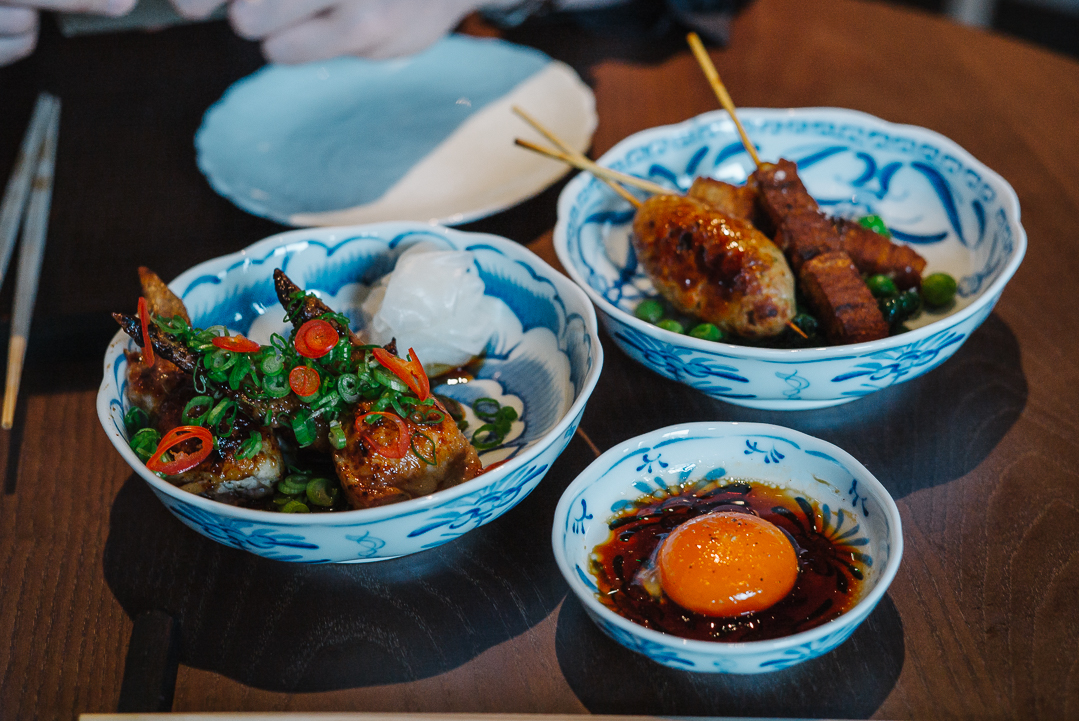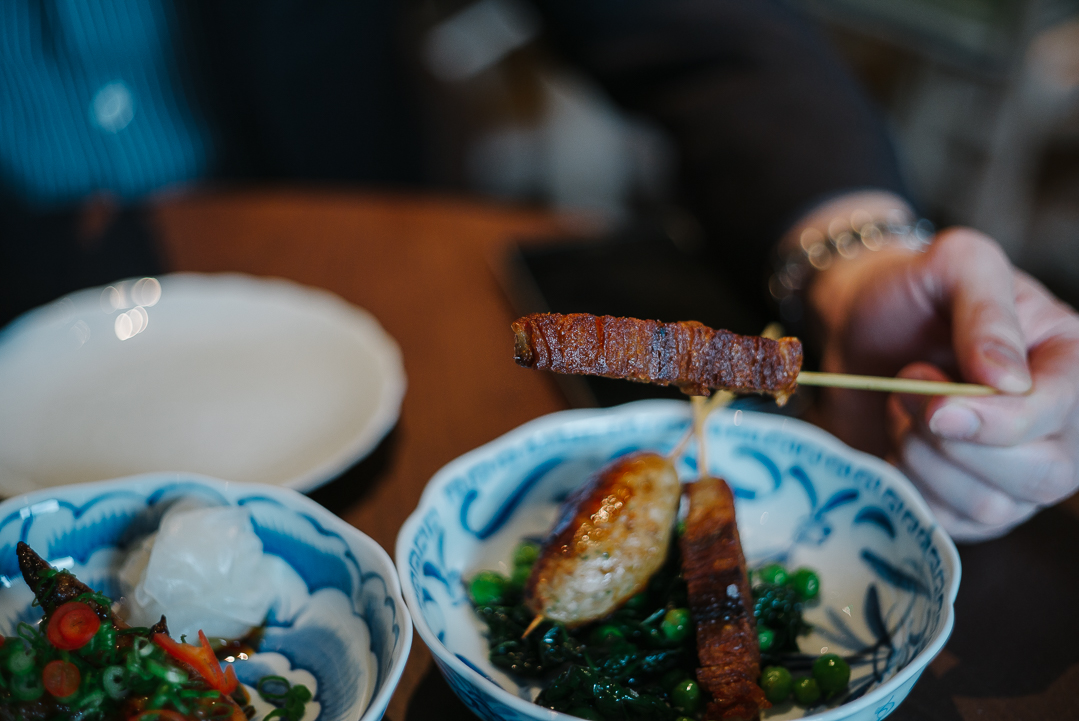 I love chicken skin skewers, but I think these were a little overcooked – it's dry and crunchy, like eating burnt batter. As for the tsukune (oddly only one of these was provided), a chicken meatball made with breast meat, for me, it also is too dry. The meatball really needs some more fat in the mix. Why two skin skewers and only one tsukene though?
Stuffed wings were quite good, like chicken oyster meat, and much more juicier than the skewers. Needs more charcoal, but the subtle hint is nice. AWong still better though.
But no grilled unagi. Why??
Remember Bincho in Soho? God I miss that, choking on the smoke by the grill. Their chicken skin skewers (£1.50 each) were some kind of heaven. Those were the days hey. How about Tosa? I need to go back. These days, I get my yakitori fix at Shoryu Carnaby street instead. They are huge, juicy and less expensive. And frozen kirin. Yeah baby.
Pork Katsu, sugar snap peas, kombu dressing £18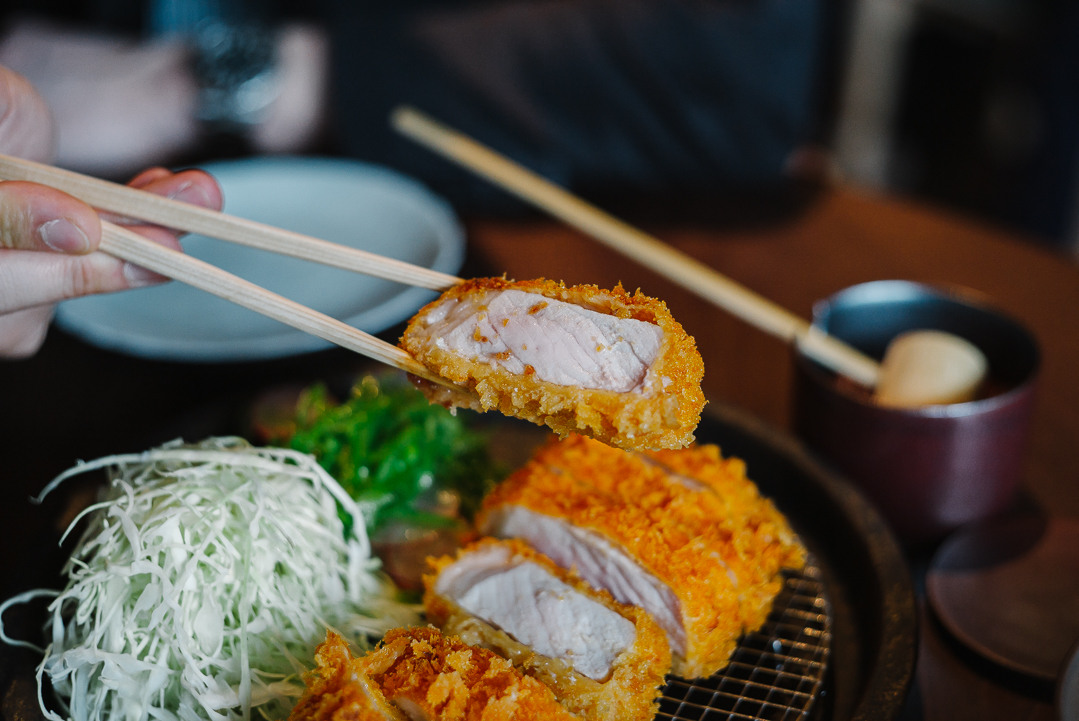 Yohshoku's poster dish. It is ironic considering the humble Pork-chop or Pork-Cutlet was originally localised for the Japanese palate 100 years ago as Ton-katsu, which itself probably began life as a version of beef steak in Japan. Here, Sosharu has re-imported the Japanese version and reworked the recipe for the London market.
Norfolk pork, very clean in flavour and just cooked, bursting with juices, spot-on with the thickness too. Because the pork is so lean, I would prefer it a little pink. The panko crust is nicely done, crispy. The sauce is like a spicy tomato chutney is rather good, though it is a departure from the classic Worcestershire and ketchup based sauce. The pork is decent, but it is almost too clean and not buttery enough. Not to everybody tastes, but for me, I would prefer a fattier pork, Kurubata, Mangalitza, Kintoa, I note that Atari-ya Swiss cottage offers an iberico pork katsu (for £14.50).
I get why Alex has modded this dish to fit the menu, it's a lighter version of tonkatsu, but that's because there is no rice to absorb deeper flavours (also no miso and no grounded sesame). I just can't, I'm sorry, this is supposed to be a classic one-plate meal. I asked for the rice pot to be served with the katsu, but they didn't acknowledge it, and only served after we finished the pork. For me, it is jarring without rice, it's like eating fish without chips. It's all supposed to go together.
They could have offered a massive slab with miso and rice as a lunch set. Many would sing Alex's name if he did, instead of the £29.50 multi-course set that is currently offerred. I honestly believe there is a gap in the market for a decent tonkatsu specialist. I brought this up in my Engawa post last year.
I was hoping for Alex to bring more Katsu feels back to London with him. I love Katsukara (and prefer it to Maisen), it's a small chain of restaurants in both Kyoto and Tokyo, nothing premium just honest fried pork and one of the best things I've ever eaten. There's even a choice of weight, cut (sirloin or fillet) and breed. Check out their Yonezawa Sangen sirloin. Simple pleasures. The 'thick piece', 160g with barley rice, katsu sauce and soup goes for 1780Y (£11).
Rice pot. Seafood, tobiko, citrus, shellfish broth, £19.50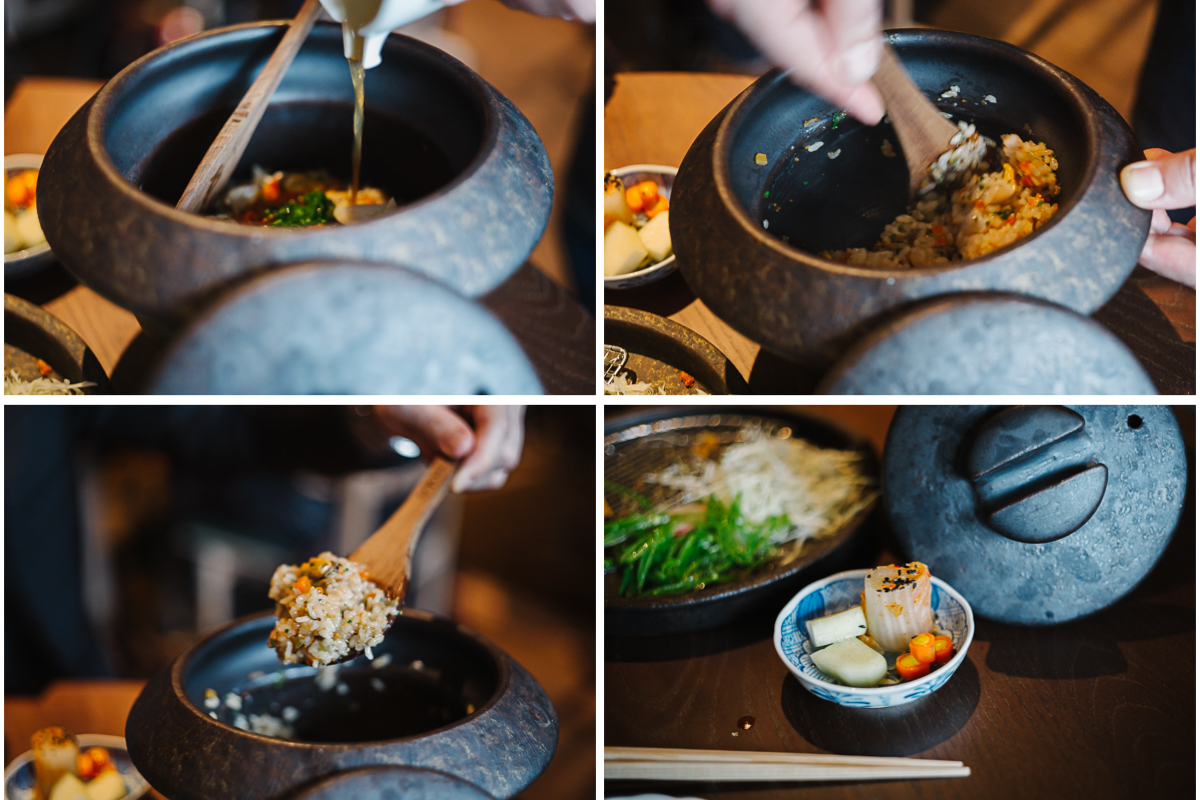 £20 for a pot of rice..? This better be damn good. I had a great lunch at Roan Kikounoi once and I was really looking forward to some replications here. A few pieces of shelled shellfish including razar clams, clams and mussels, cooked and carefully garnished on the bed of rice. Shellfish broth is poured into the pot at the table and along with a squeeze of lemon, it is stirred into the rice. Alot of steam followed by alot of condensation. For my tastes, the rice is too wet, almost soggy and I think either too much fish roe, or fish roe that's getting cooked until the sweetness is turned bitter. There's good gohan but it's drowning in the soup. The broth seems to have good flavour, but I don't see why so much of it has been poured in, after the fact. Why not serve it on the side as soup? Why not just let the seafood cook with the rice and let the natural juices infuse it? A waste of the donabe.
Good tsukemono though, so credit where its due.
Matcha mille crepe, matcha sorbet, £8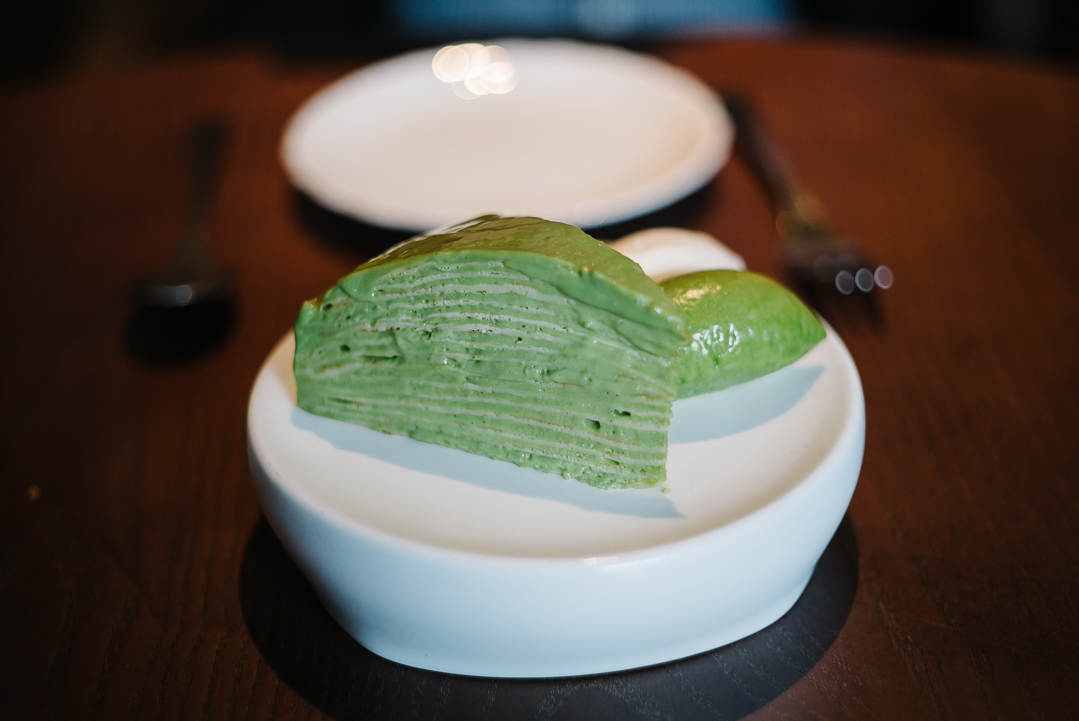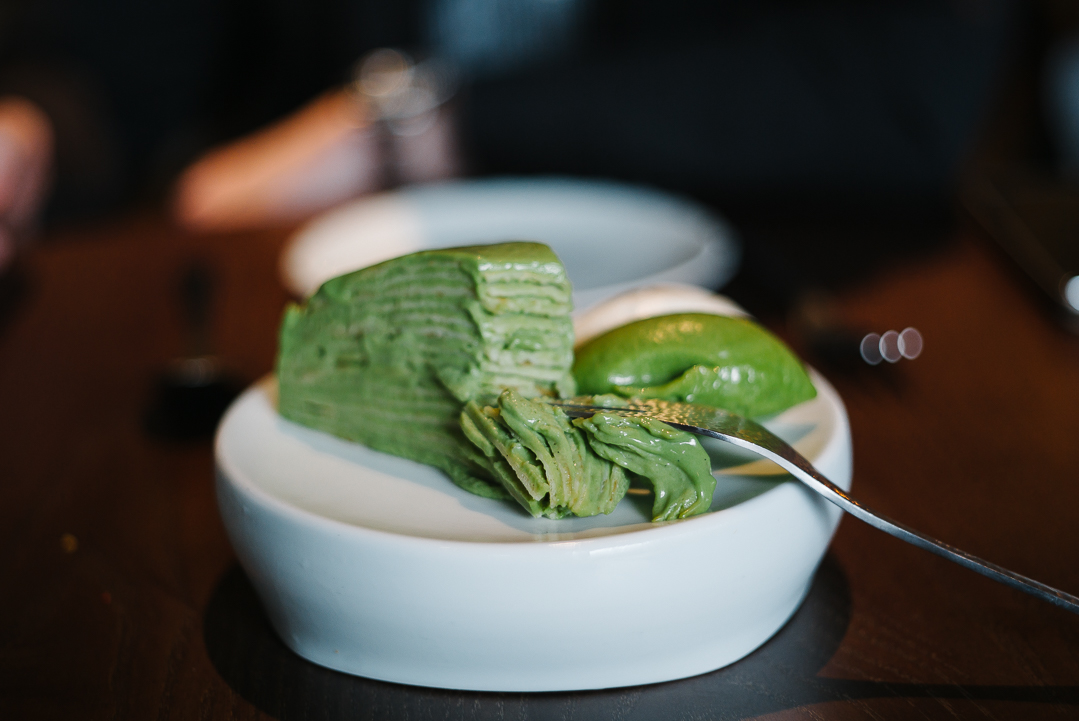 All Socials have good puddings, and this is no exception. It's night and day contrast with the savoury. If you do eat here, do not miss this.
The green tea sorbet is a sorbet, icy and clean, just brimming with sweetened matcha flavour. And that layered crepe, I mean, look at all those beautiful layers. Generously and totally lathered in matcha custard, the whole thing wobbles too. Very satisfying. Lady M would be delighted.
Shaved ice of rhubarb, hibiscus, mochi, £8
Shaved ice, churned using a manual shaving machine that takes a large block of it, with sweet rhubarb syrup poured over it. This is a delight, rhubarb reflecting the season too. Along with Nice Ice guys, it is a real pleasure to see this in London, especially for the summer. I cannot claim to have been brought up on kagikori, but Brunei is bang on the equator and I grew up on local versions of it to cool off the searing humidity. It goes by Ais Kacang (ice beans) or 'ABC', an acronym for Ais Batu Campur (ice mix) and you can put almost anything sweet on these shavings: Red beans, nuts, sweet potato, yam, sweetcorn, syrups, it all tastes good. Get creative and it tastes better. My favourite is milk, syrup, sago and cendol.
We paid £133.31 for all food, 1 cocktail and 1 beer. Ouch, £67 per person. It must have been an expensive fit out, clearly reflected in the bottomline.
I was expecting generous food, instead of this grazing menu. Too much has been trimmed to fit into a media friendly concept. It's just not built for real eating, very far from an actual izakaya. It feels illegitimate in same way Duck&Rice feels like commercial up-cycling of the everyman dinner. It's clear that the kitchen has the ability to turn out good cooking, but the recipes are all over the shop, and I think the heart of the restaurant is in the wrong place.
What does it want to be? Dethrone Roka? Take on Shoryu? I can think of so many places in London which do better versions of the food on offer, and have been for years. Dinings still going strong as an Izakaya with flash and Kurubata has hit on an excellent formula. For low-key, I am happy to stick with Atari-ya Swiss Cottage and Soho Japan (the owner loves his claret). Even Yashin Ocean House has a better hot tapas menu, in addition to the whole fish head to tail offering. And there's the lesser known quantities, including Lisa Maitland's Kaiseiki at Yoshino and newer ones such as Takahashi san and wife's outfit in Wimbledon. With so much promise on paper as well as Jason's mighty support structure to do it right, it is disappointing to see Sosharu suffer this misshapen conception.
Maybe Alex is holding back his cards for Kisetsu. I am still intrigued and hope to see more of his Kyoto training reveal itself when that opens shop.
The Details
Sosharu
Japanese
£70pp
64 Turnmill Street EC1M 5RR
Tube : Farringdon
Tel : 020 3805 2304