MAY 2016 UPDATE
Saturday dinner, 1st week of May was not so successful. Great atmosphere however, but it seems Francesco is more patron than chef, even his front of house admit his appearance in Sartoria is a little random. This service was full, but kitchen seems unable to keep up. Some things were solid such as the beef tartare, but pastachijna was cold and worryingly the signature fregola dish was totally ruined by overseasoning and completely overcooked pasta that were soggy.
Spaghetti carbonara was 'not bad' by London standards, but that does not really say much as there is little to compare in London. For me, I feel that the bones of the dish are missing, for one there is too little pecorino and pepper. On the other hand, the extra egg on top gives the sauce an overriding taste of yolk. The sauce is supposed to be tossed with pasta and over very low heat (over bain marie) until a kind of creaminess emerges, without the use of cream. The sauce here is much too runny, it is effectively still raw yolk and not nearly cooked enough yet to achieve the right texture. It was unbalanced, when there should be richness and tension between cheese, pepper and egg. Guanciale sliced wafer thin did not provide the fried crunch that I feel is integral to a good carbonara.
Pan-fried turbot was over-cooked, a couple of shells, some without clam inside is stingy and does not warrant the premium price tag. I also had the zabaglione and surprised to find it is now whipped full of bubbles. I quite like it in this form, it had great flavour as I remember it from L'Anima, but at the same time I also missed the creamier texture. You have a couple of spoonfuls, but all that air fills you up quickly. Recipes are classic of course, but it is the kitchen that is lagging behind. Avid L'Anima fans would find this meal merely ordinary. On this form and for these prices, Mazzei lags far behind Theo Randall, River Cafe and Locatelli. Hope it's one-off, but I think Mazzei needs to be around more often to keep the quality of food up, or he will run the risk of fading into obscurity.
-Original post from March 2016-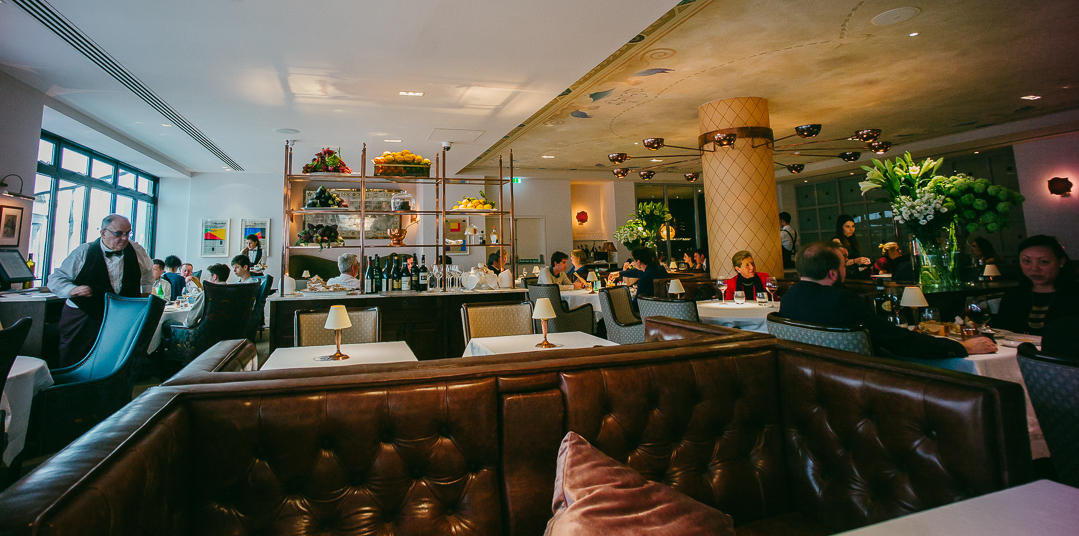 After 8 years at L'Anima, Francesco Mazzei left his much loved Soul in the city, to join up with the monster D&D group to reboot Sartoria in December last year. The aptly named restaurant located in Savile Row has been totally re-upholstered with thick carpets, lots of soft corners to reflect the famous tailoring address. Designer David d'Almada was enlisted for the facelift to this 18 year old haunt (once a Conran before D&D buyout). It's a huge space which in addition to the dining room includes a terrace, bar, ciccheti counter and two (rather large) private rooms. I have not been before the refit, but it still looks oddly stuck in time, more suited to closing deals than breaking bread. It is however much more comfortable that the cold glass and stone interiors of L'Anima.
Ah, memories of L'Anima. I last ate there in 2010 to celebrate the missus' birthday and remembered having a fantastic meal, the seafood fregola, beef tagliata (oh, the joy of ovinsardo) and the zabaglione. So you'll be glad to hear that the menu is basically L'Anima transposed, with most of Francesco's classics making its way here. Whilst Sartoria cannot be classified as cheap, at least prices are similar to when L'Anima opened. His signature beef tagliata is actually a little cheaper at £29, compared to £33 at L'Anima six years ago.
The menu is not exclusively Calabrian, as you will find veal Milanese and Roman carbonara, but it does meander further south to the foot of Italy. He has long been quite the ambassador of his home cuisine and his menu includes reflections on Calabria such as bergamot, liquorice, bottarga, salt cod and of course njuda, the famous spicy spreadable sausage from the region.
Antipasto: Battuta di manzo scozzese, £11.50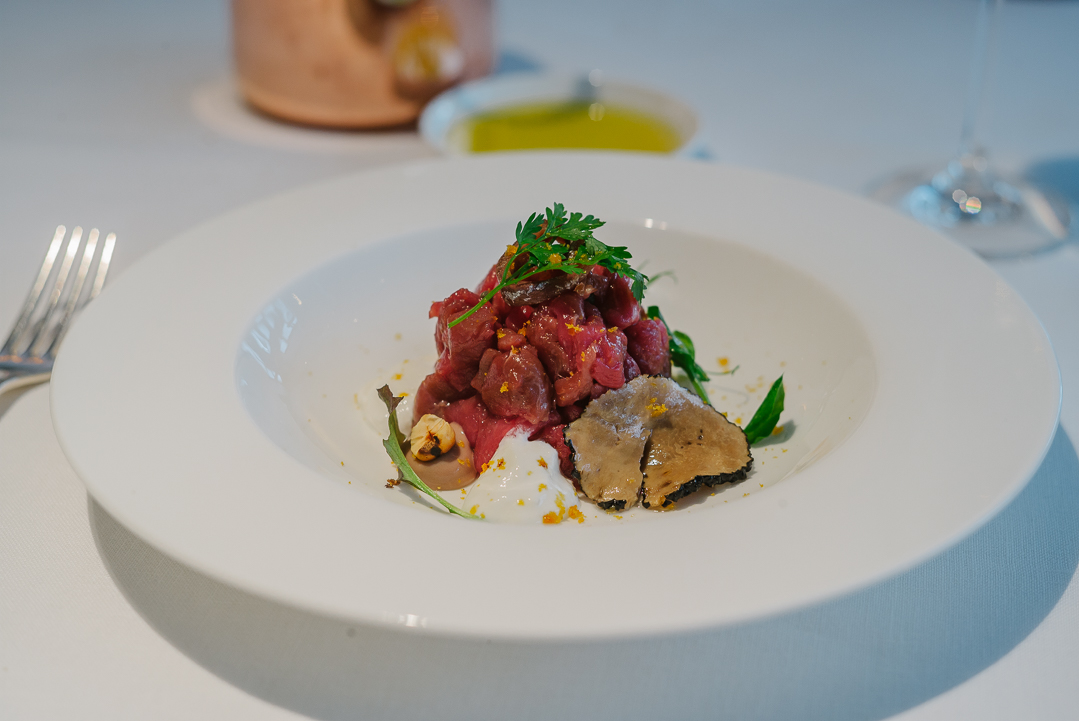 A generous portion of hand cut Scotch Angus, interlaced with pieces of anchovy and garnished with anchovy puree, bottarga shavings, burrata, hazlenuts and pickled truffle. I love the fresh creaminess that burrata brings, almost as a replacement for egg yolk in a conventional tartare, and then to these aromatic salty elements, anchovies and as purée, shaved bottarga. Mix it up, and you have a fragant, creamy and richly seasoned steak tartare. I was pretty sure I also spotted some candied or pickled fruit in there, little gold colour translucent cubes, giving a sweet finish. It is an excellent take on tartare.
I asked about the candied cubes and was told they were the pickled truffle. Hmm. Anyway, you can see a large slice of it, judging by colour, this is summer black truffle (winter blacks just exiting season now). It's all but lost its natural aromas, so for me, this is more bling than actual flavour.
Primo: Pastachijna, £15.50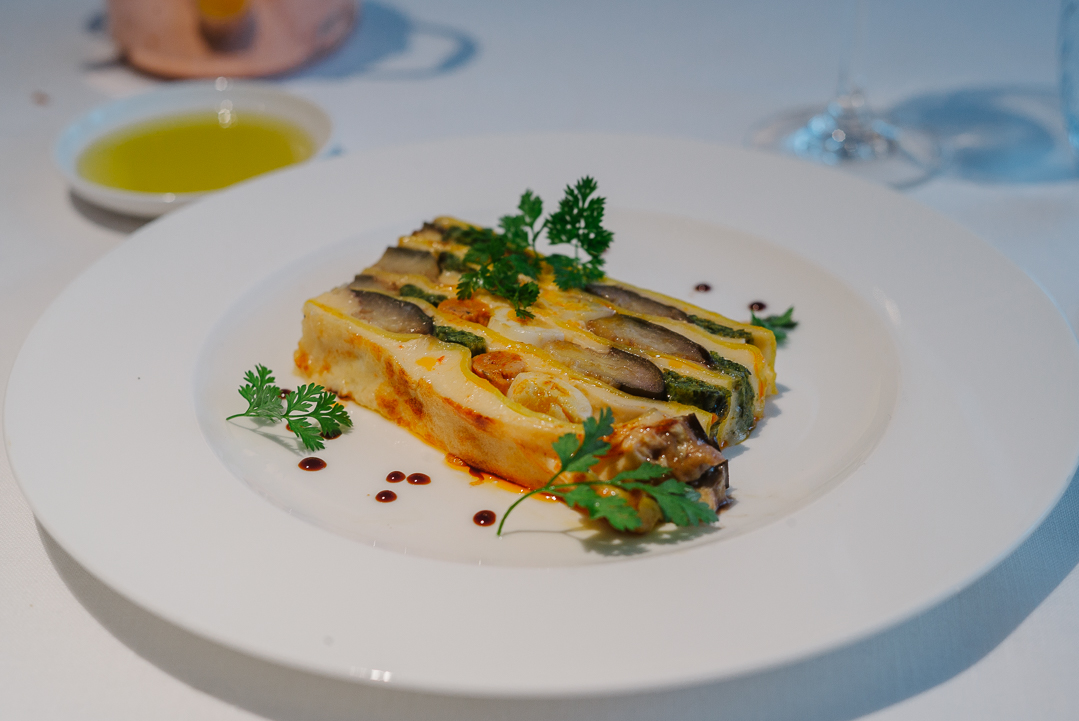 Yes, it does resemble a pasta terrine. Based on his mother's recipe, this is honest homestyle all the way and I love it. By way of the ingredients used to build the layers, you are treated to these beautiful pillow-soft textures all over. Tender aubergines, gently boiled quail eggs and these almost mousse-like meat strips – sweet and a touch spicy – which I assume are made from a mince of veal and beef. Layers of egg pasta, nettle pasta, the beautiful bechamel, pesto, ricotta and the drips of sweet mosto cotto. All of this works together very well. This is good, no, this is brilliant lasagne. I could easily have another plate, two plates, give me the whole tray of it.
Secondo: Baccalà marinato alla liquirizia, £26.50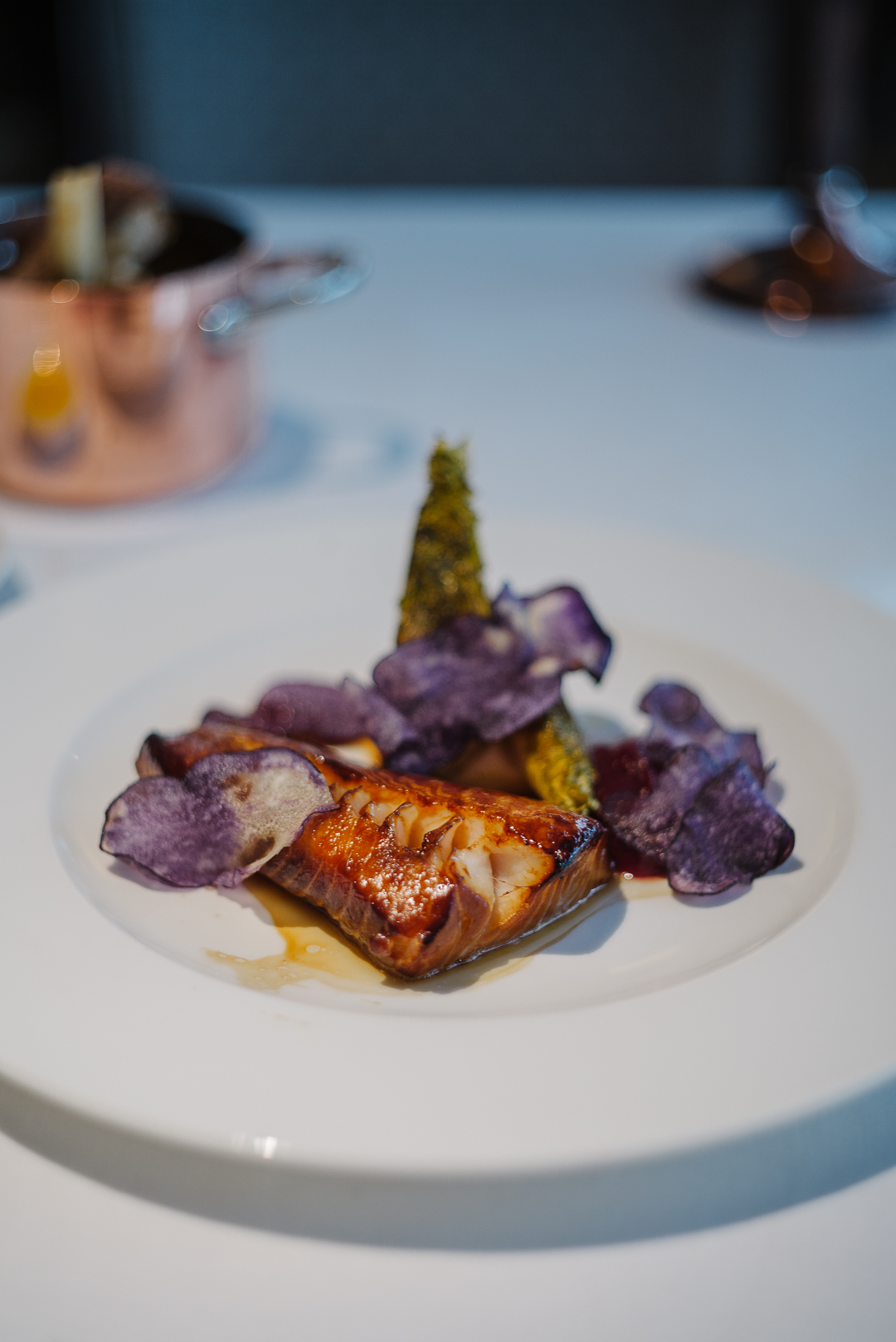 Interesting, in-house salted cod. I love salt cod, not just for christmas, and always thought the Mediterranean's appetite for it is sustained mainly by Norway's supreme aquaculture industry. I didn't know that Calabria's curing tradition includes the salting of cod.
So they must have a stash of dried salt cod somewhere in the larder, but maybe you can ask when you visit. I assume this is soaked for re-hydration (and to desalt) a day or two before cooking.
Served with hispi cabbage charred on the cut side and crispy purple potato chips. Wow the smell, browned off exterior is like caramilised sugar. The fish is beautifully cooked, flaky, and the salting has added bounce to the fleshy texture. Good.
This liquorice marinade is aromatic like brandy, imparting a delicious silken oiliness and leaving the characteristic funky herb tingle in its finish. I'm reminded of Heston's salmon version, though I think this is a more fragrant, lighter parallel to Matsuhisa san's timeless black cod miso recipe. It's a smart dish with balanced flavours and is well executed.
Dolce: Tiramisu, £8.00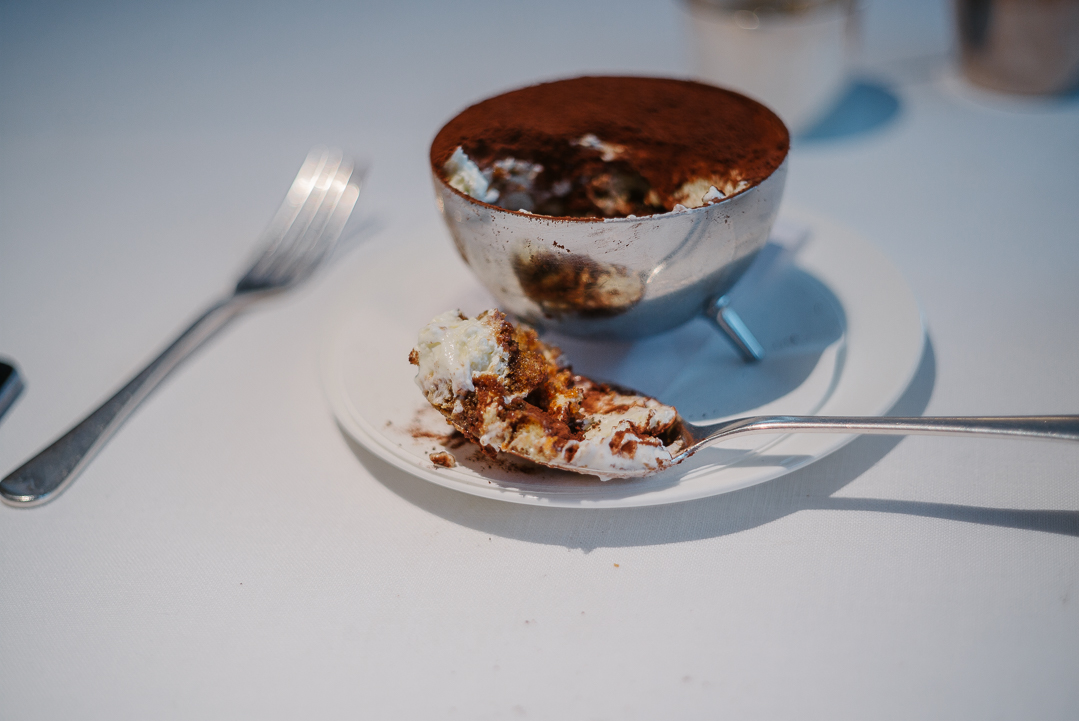 I wouldn't know if this is truly London's best, but it certainly is a very good tiramisu. The mascapone is fresh and fluffy with a glowing sheen akin to just beaten meringue.
I paid £82.69 for a satisfying solo lunch (very full) which includes four courses, a glass of Gavi and a double espresso. Mazzei's food has never been inexpensive, though Sartoria is slightly cheaper than L'Anima and not totally out of step if you compare with say Locatelli or River Cafe.
Maestro Mazzei cuisine seems to have smartened up with time. It was already classic but now it is even more focused and he's already got his new kitchen purring like a well-oiled machine (he was not cooking during this visit). The rustic feeling is still evident, but there's polish and the recipes are all properly tuned after all these years. His style of cooking, unfussy with a hint of class is very appealing. I hope he continues to offer his classics, the pastachijna in particular is endearing. The point is the food is delicious, generous even and it is not hard to see why it won the hearts and tummies of so many.
Next time, I will return with the better half for the bigger plates which require two. The Elephant's ear, veal Milanese, beaten to size of a medium pizza looks like a contender to Da Rita e Antonio. And his classic Zabaglione, no longer from martini glass, rather it is served from a copper saucepan, enough for two, perhaps even three to share. Next meal planned. It is all about food, glorious food and obscenely comfortable leather chairs that gobble you up. Buonissimo!
(PS: I am abit of a purist for Roman carbonara but London is starved of good examples so next time, I will also try Sartoria's break in protocol, with extra egg broken into the pasta by the table, hopefully with decent guanciale…)
The Details
Sartoria
Italian
£80pp
20 Savile Row W1S 3PR
020 7534 7000
Oxford Circus