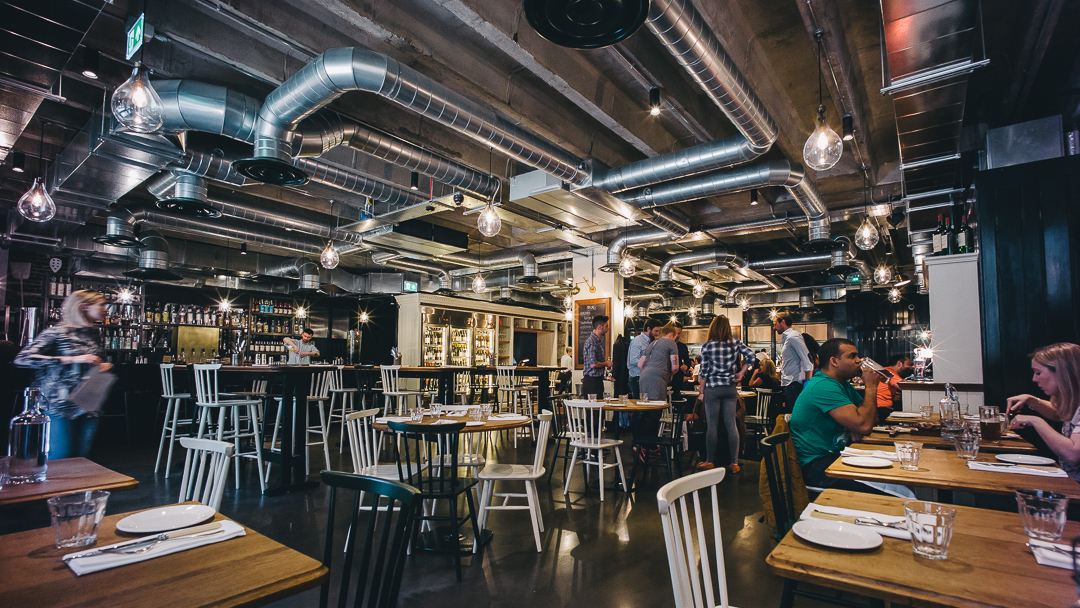 I can't remember when I was first at Pitt Cue's southbank truck (searching my own twitter feed the conventional way is a near impossible task), but I do remember Jamie Berger introducing me to picklebacks – shooting whiskeys and chasing it with the briny pickleback juice. I think I had the pulled pork with baked beans (hence the search) which Tom Adams had whipped up while we lined our stomachs with alcohol. It wasn't long before they opened their tiny Newburgh site, barely 20 covers in the dingy basement space, and half of London descending upon it at 5pm every day. I always sat upstairs by the curtains because let's be honest, you can hardly breathe down there. I hate queuing, but such was the quality of the food, that it was all worth it. Well almost. My last visit to Newburgh was last May, I had those beautiful smoked jowls and rolled belly … omnomnom, god damn they know how to pork!
All change in 2016, the Newburg site along with the picklebacks and pulled pork are history. The owners Tom and Jamie are obviously same, alongside their original backers Richard Turner (love T&G mate) and Simon Anderson, but the BBQ has now grown up into a proper meat restaurant. The new Pitt Cue is absolutely massive, able to fit in 100 covers, and also let's you book a table.
I really like this open plan industrial look, the brick walls are naked, so too the concrete ceiling and ventilation system, with the occasional dark green wooden panel as a design theme, coordinated with the green and white modern Windsor-type chairs. No visible plastering here. Always a fan of polished concrete floors (or perhaps technically sealed concreted), it runs the entirety of the site, it's cost effective and hard wearing, and looks great. I sat in the opposite corner from the bar (and microbrewery). It's by the the windows and has incredibly comfortable leather (also green) banquettes.
As you peer into the distance, you'll spot the large open kitchen equipped with a godzilla £60k grill made by Grillworks in Michigan. Infierno 154 – "Designed to thrill chef and guest alike". Fuck yeah. All this gear lets the kitchen offer a grown-up menu, including fish and house made ice cream. Head chef Oscar Holgado must enjoy showing up everyday to operate this bad boy.
Oh hey, I recognised our waiter from Spuntino and Polpo days. Receipt says Nigel, sorry I did not catch your name, I hope that's you. Anyway, if you're reading this, massive props dude, you know the menu inside out and you really took care of us.
Bread and dripping, £6
Check the ears. We started the meal with this fantastic sourdough, dense and heavy, it's sour like really yeasty rye, and the drippings has this blistering sweet, malty and nearly honeyed fragrance. It is lard right? I think he mentioned bone marrow too, I can't remember, absolutely top bread.
What I really enjoyed was the butter. Churned in house, it's got a grainy texture, fresh and alive with flavour. Don't know what's gone in this, but given the Mangalitza galore, I hazard that some of that beautiful fat has made it in here as well.
We took some of the leftover bread and butter home and I used it to scramble eggs. It gave the eggs this incredible richness and a distinct aroma, it's almost like scrambling eggs with guanciale oil. Brilliant butter.
Grilled Octopus, £8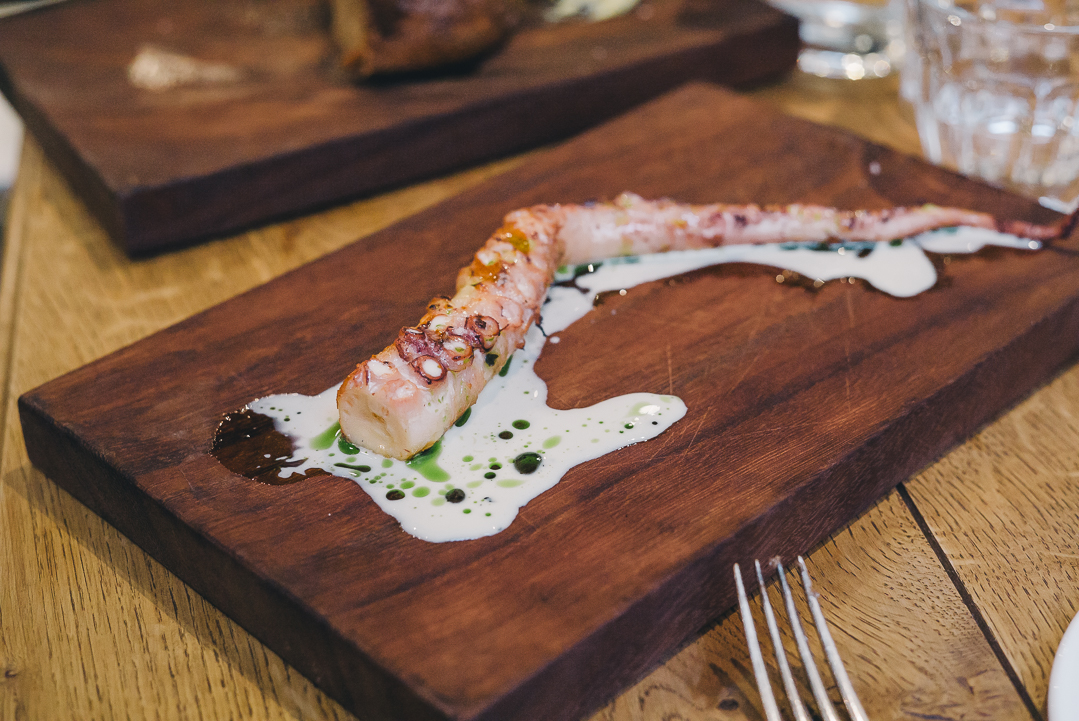 First off that shiny grill, perfectly smoky tentacle of octopus. On it's own, good, but with that whey butter sauce, it's yeasty and lively, like buttermilk sensations. What's that green oil I wonder. Basil? Olive? Great.
Eel and Mangalitza Sausage, £6.5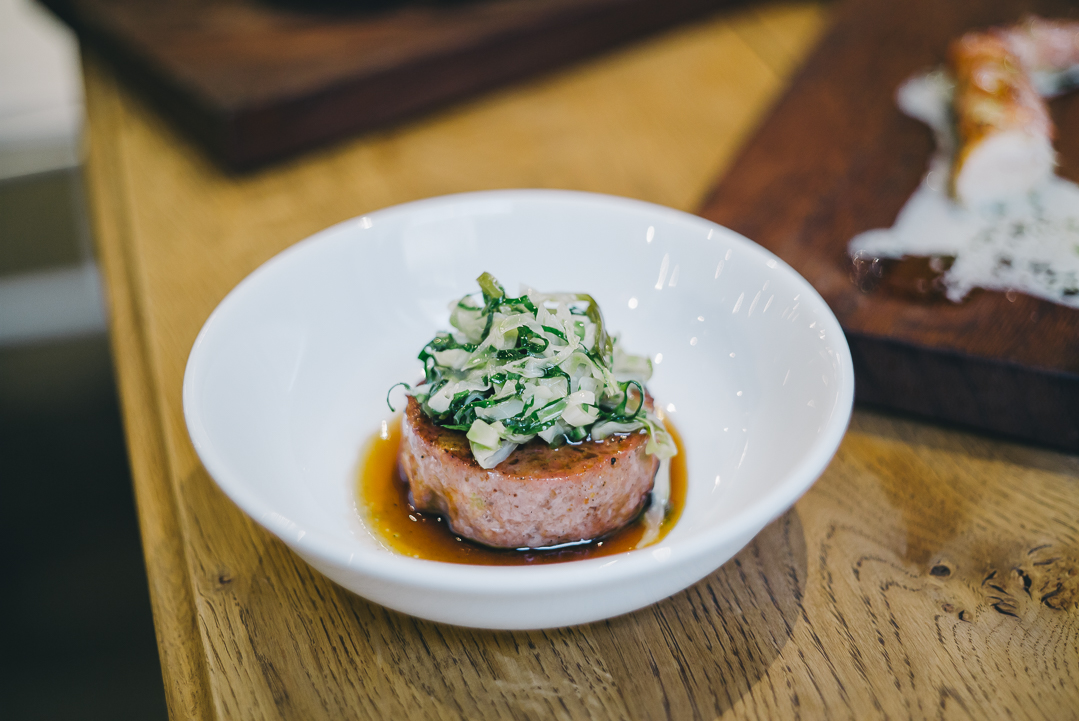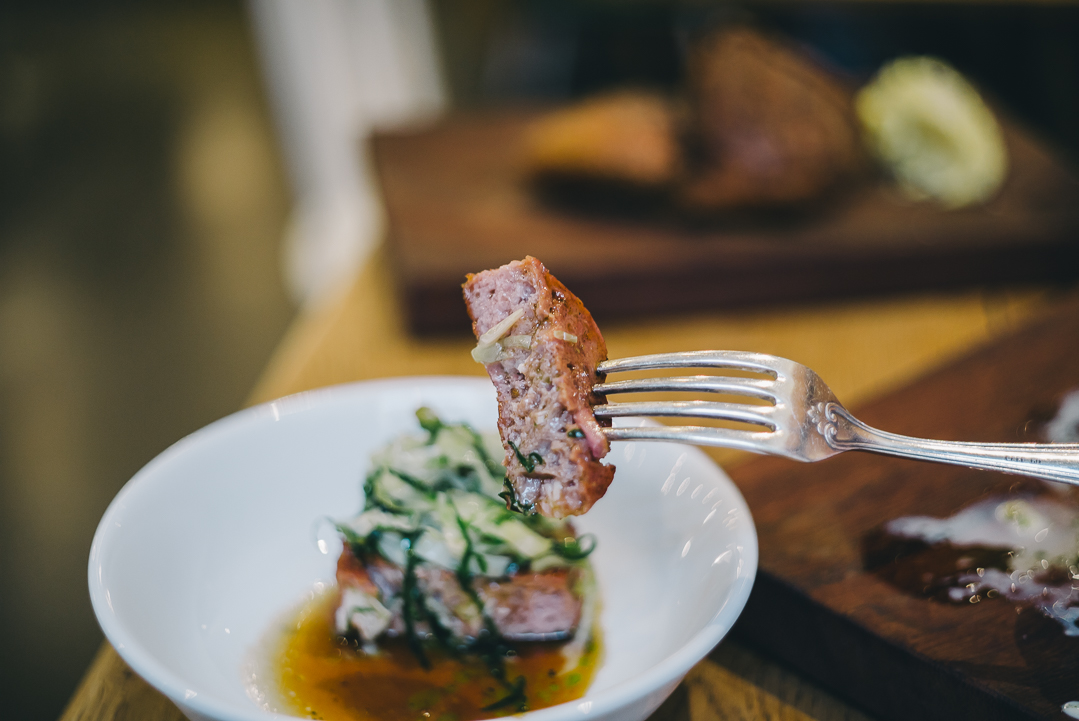 Mangalitza galore continues. The restaurant could be renamed Mangalitza.
This dish just highlights the quality of the pork fat, you are hit with this incredible full saltiness. The texture has a spring-like bounce and also a lick of smokiness. The greens absorb all those full rich flavours. Balance. And great prices too. Good.
Mangalitza Pork Chop, £16
Fennel, apple & almond salad, £5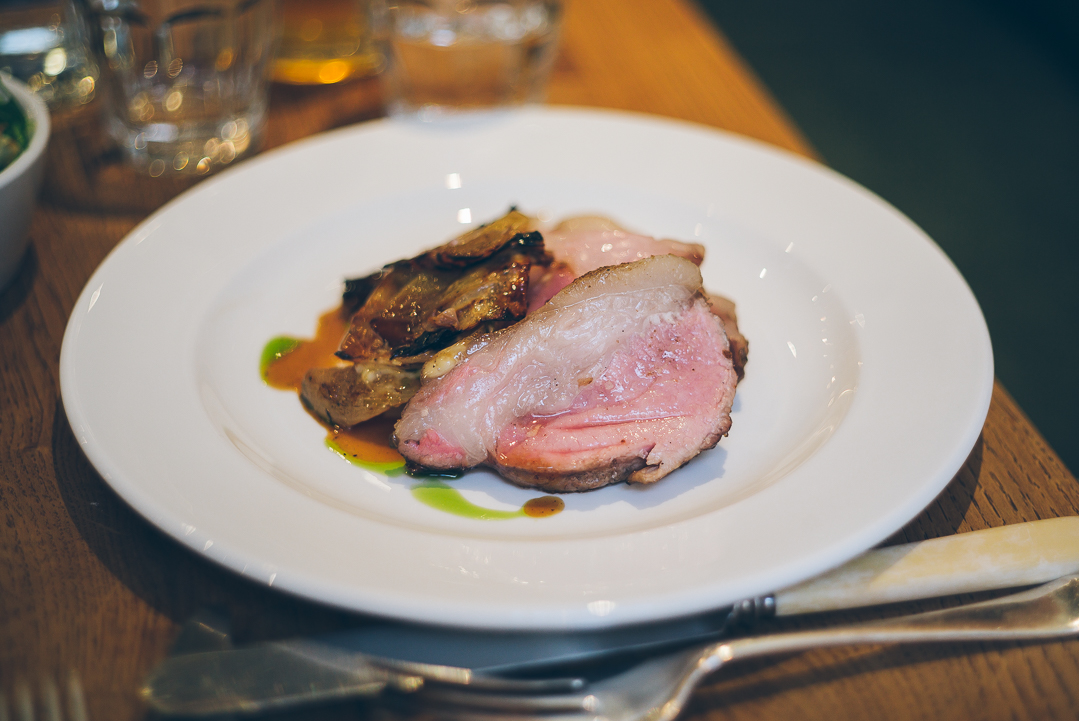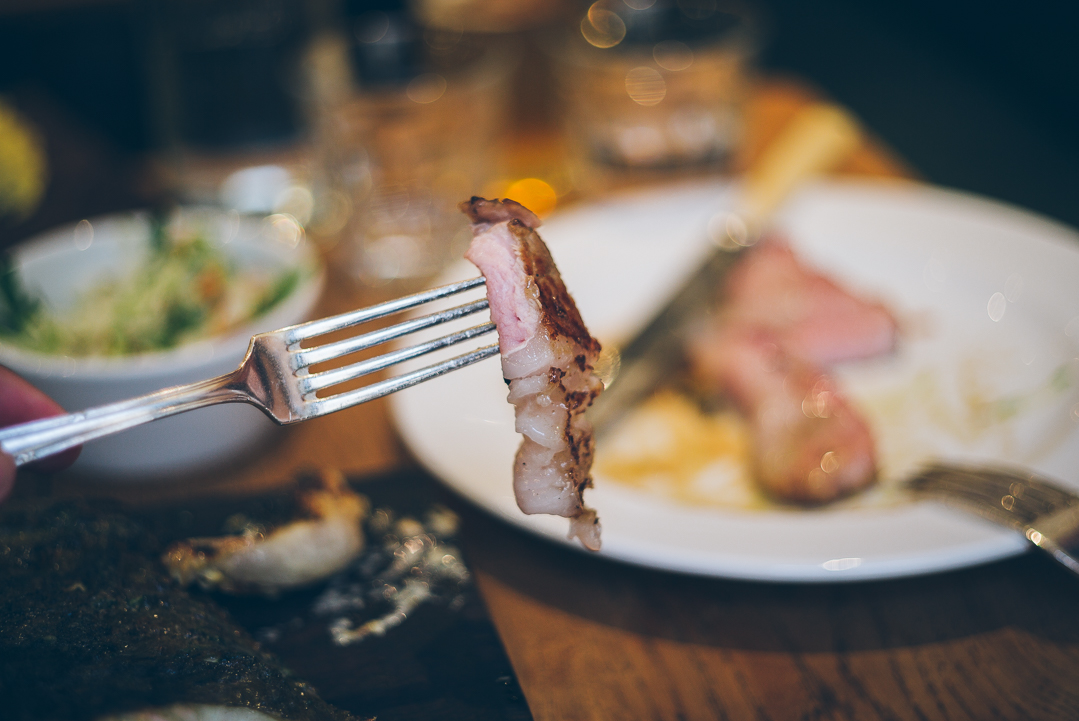 I don't think there's anybody in London who has more passion for pork than Tom Adams. The lengths he's gone to establish the entire supply chain is incredible. Check this out. His pigs are now reared in Charlie Hart's farm down in Cornwall and Pitt Cue is the foremost restaurant to eat the best examples of this rare breed pork. This isn't just produce, this is pure love.
Pork here is typically hung for 4 to 6 weeks to concentrate flavour and further improve texture. The fat to meat ratio is really quite something, nearly 50/50 (not counting the marbling) in this chop. The fat is aromatic, sweet and nutty and all of it just melts as you eat it. I prefer pork pink like this. Served medium is good because much of the fat has been cooked down. I think this has been perfectly coaxed on the grill, all the natural textural qualities are retained. Very tender, it has a natural buttery flavour to it and the juices burst out as you eat it. Pork heaven.
Like decent Kintoa and fresh 5J Iberico, this furry pig is pork's parallel to Wagyu, as is often described in the interwebs. I wish I could get into Kawamura, but I'm glad we've got Adams-san over here.
For some people (such as the better half), the fat could benefit from a longer sear, more maillard reaction, to render it down, ideally to maintain the same pink meat. Not criticism, just an observation that some people prefer leaner meat. Denver cut maybe. Next time.
Turbot Collar, £18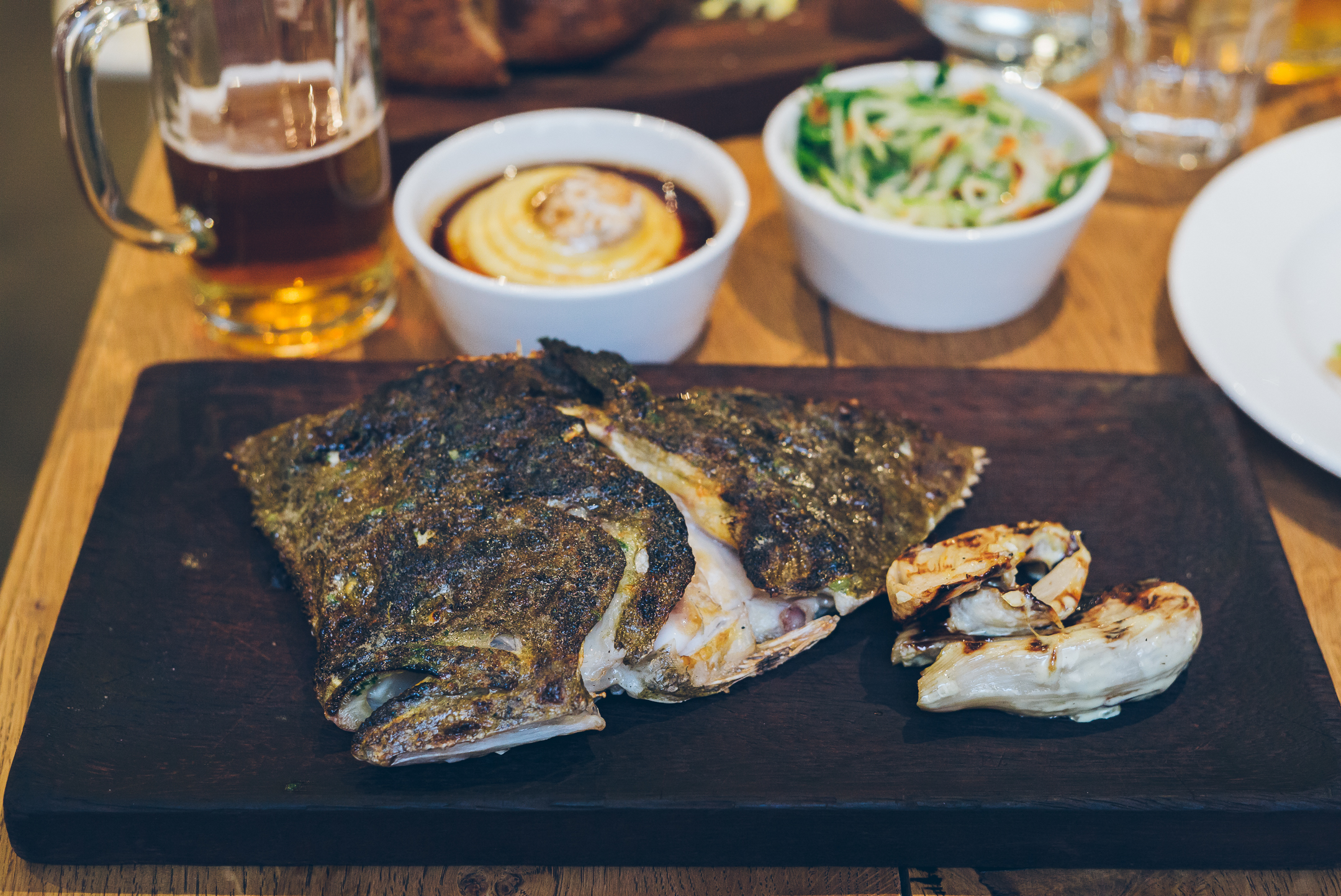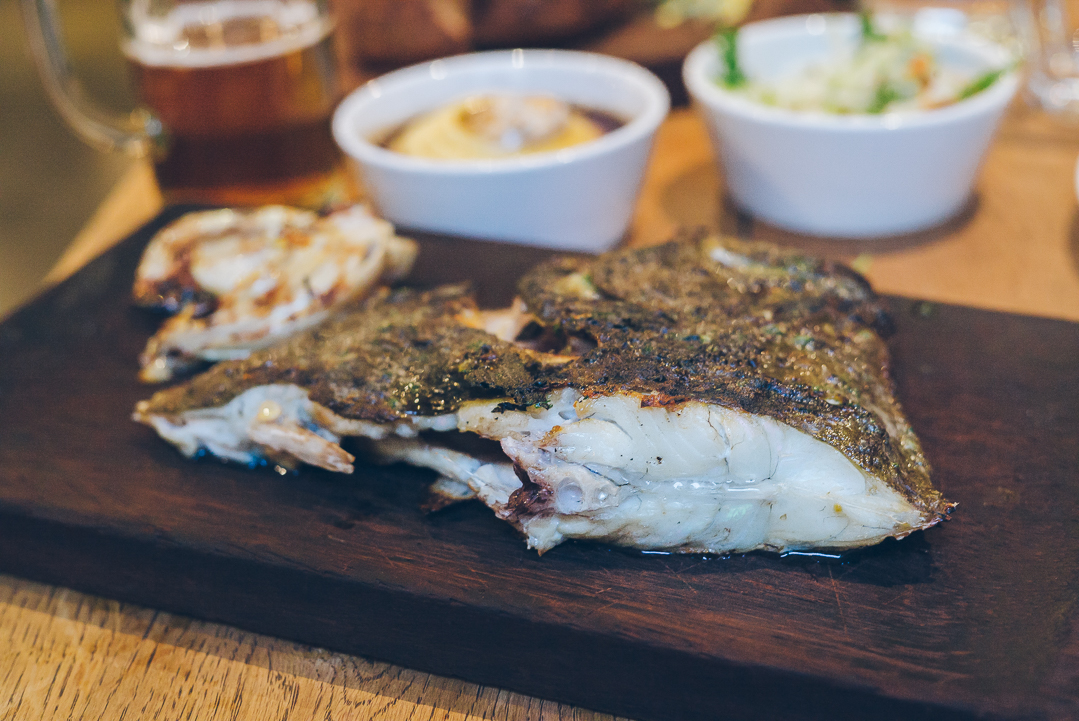 This turbot collar, with the rest of the head too. All the fish's best bits here: The juicy cheeks, the meaty & oily neck (or upper head?), the silken tongue, the gelatinous collar, beautifully grilled with the bone intact, entirely kissed by smoke. Everything on the white side is juicier, fattier, tenderer etc. There could even be the slightest glimmer of a la nacre, but that could just be me thoroughly enjoying this. With grilled fennel on the side. No extra ageing aside from time for rigor mortis to dissipate. Grill skillz and then some. This is a gorgeous plate of food.
There must be at least 450g here, how is this only £18? This is excellent value. Beautiful day boat catch, zipped up to London via the Cornish Express. It is almost April so it must mean it is turbot season soon. Have this when you go there, trust me you will not regret it.
Kama is always the best part, there is *almost* no need to travel to Getaria. (Last of the hyperbole I swear).
Mushroom and bone marrow mash, £5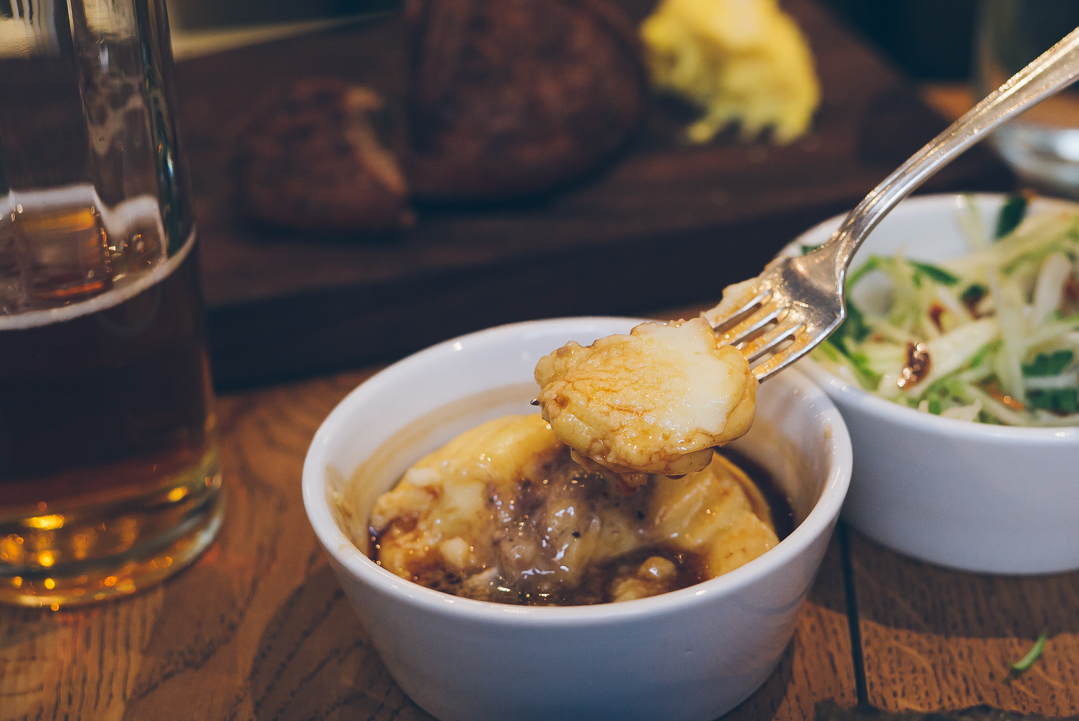 Oh yeah. It's as good as they say. Order it.
Lardy Cake and vanilla ice cream, £5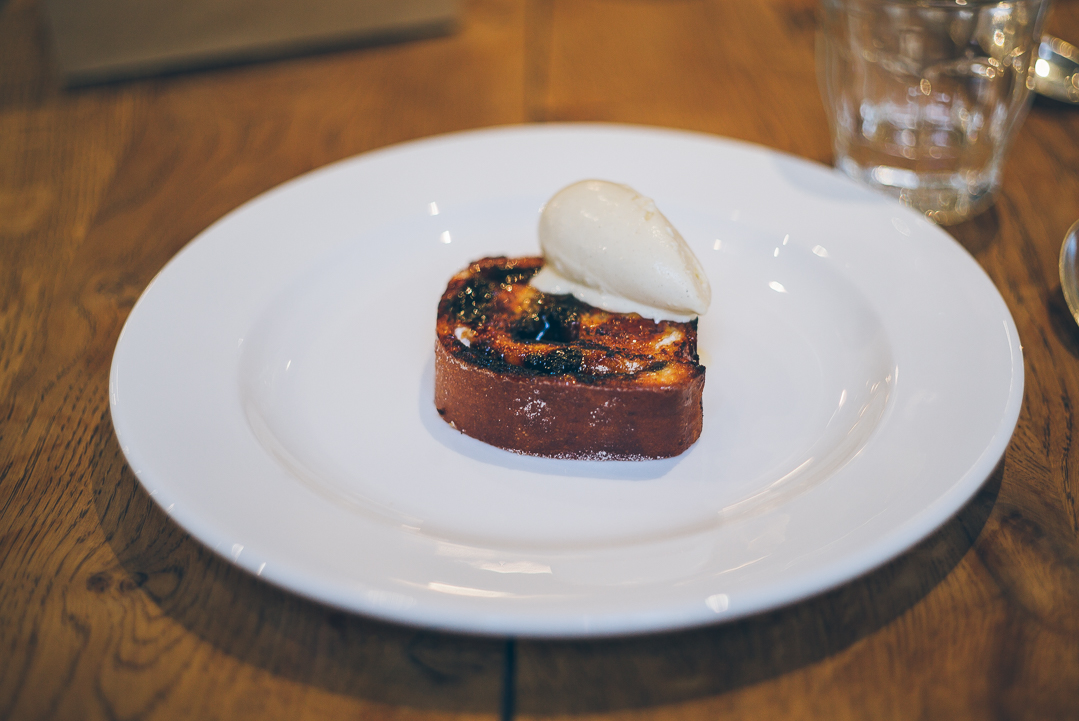 More mangalitsa lard to send us off. It goes in everything because it really is just that good.
We paid £91.13 for all food, 2 beers, 2 black coffees (only £2 each!). That's £45 per person for all this goodness.
The new Pitt Cue has grown up into a very capable restaurant, it might even have the bones to become something truly special. The pork is wonderful and the specials board seems to indicate seasonal seriousness. If they continue with the current ethos, this restaurant can only get better and better. Because of the city location, they are a weekday outfit only (for now), but I can see ticketed weekend dinners happening here. Meat sweats thinking about it. Still love Goodman and Hawksmoor obviously, but Pitt Cue definitely up there for me. There's no fussing about, just great meat (and fish) carefully grilled by people who live and breathe it. Perfect.
Details
Pitt Cue
Meat
£45pp
Mon-Fri only
1 The Avenue, Devonshire Square, EC2M 4YP
Tel : 0207 324 7770
Tube : Liverpool St