Extra sprinkles of smoked pixie dust make The Smokehouse more than just a decent pub and dining room, after two visits, I have got to admit that I love what they're trying to do. Yes, I'm still struggling to get my blogging groove back (incidentally, this blog has been going for five years now, getting old for sure) , mostly because I think this year's openings have felt like much of the muchness. Until I stumbled on Smokehouse which has really jolted me to post about something. Think finger licking quality local produce, smoked in ceramic Green Eggs, remixed with European and maybe Asian influences..mmm..
The Smokehouse belongs to the solid group of pubs as The Princess of Shoreditch and Lady Otterline, with the smart exception of a certain Mr Rankin being enlisted to do the food. You will have heard of Neil and principally his mastery of smokin' sensations (cringe…yes, but hasn't my writing always been?). He stinted at the Pitt Cue before taking over the reigns at John Salt at the end of last year, which was short enough that I had missed his residency. He's also had time in Rhodes 24 and Chez Bruce before he developed his current smokin' reputation (double cringe!).
My first visit was a couple of Sundays ago, I was solo and wanted just some nourishment to start the day. The pub side of things has a very respectable list of beers both on tap and in bottle. Very happy to report that they serve the good stuff from Camden Brewery (on tap) so I started my lunch with a large pint of very agreeable Hells Lager.
A roast menu is laid out on Sundays and this runs from all day from 12 to 9.
Potted smoked mackerel & mullet, £6.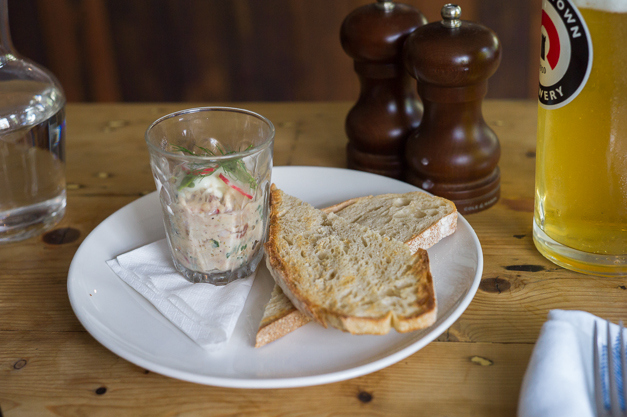 Although not apparent, this pot was filled with generous chunks of fish, juicy and plump. Only gently smoked and delicately salted but it also had this lacing of spice. My waiter explained about the process of how the bones were part of the mayonnaise mix, all in all, I was pleasantly surprised by the quality of the starter. Balanced flavours, well made and just gorgeous.
Roasted pork ribeye & shoulder with apple sauce, roast potatoes, veges, gravy and Yorkshire pudding, £16.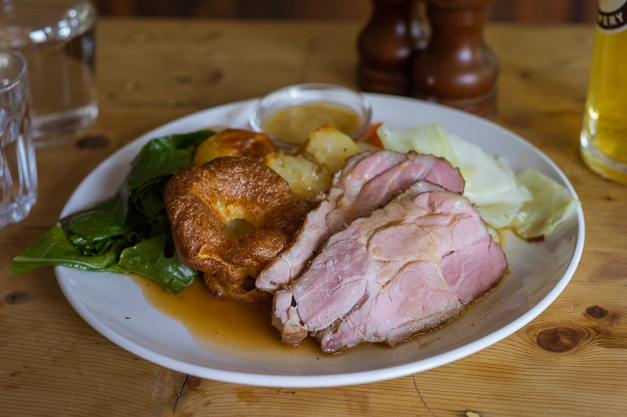 I'm quite certain the vegetables had spent time in Neil's Green Egg, I can't confirm, but I'm convinced I caught whiffs of delicate smokiness with the veges. Lovely stuff for sure. The pork ribeye was PERFECT. Succulent, tender, glistening and a wonderful off-pink hue to the meat. This meat was coaxed to a level of perfection by a kitchen that knew how.
Hidden under the ribeye were flossed pork shoulder, also tender but with a faint whiff of smoke, with a different flavour profile the ribeye. I was most surprised by how good the vegetables really were, as I said, this gentle smokiness was absolutely spot on. You can never have too much gravy and I would have loved a small jar on the side, but again overall, I thought it was a stunning sunday roast.
I felt the lunch was put together with quality in mind without surrendering to the current trend of visually impressive mega portions. This is not an indirect knock on the Hawksmoor roast, which I also love equally and is fantastic in its own regard, but the pork was seriously superb. My immediate thoughts were to compare the overall feel to The Sportsman. Ok maybe not at that level but I do think if Neil sticks around, his team really have that potential for greatness. The food has a kind of zen about it and it feels like someone's spent an appreciable amount of time thinking about it, refining it, getting this simple but profound thing right.
Friday Pie, £5.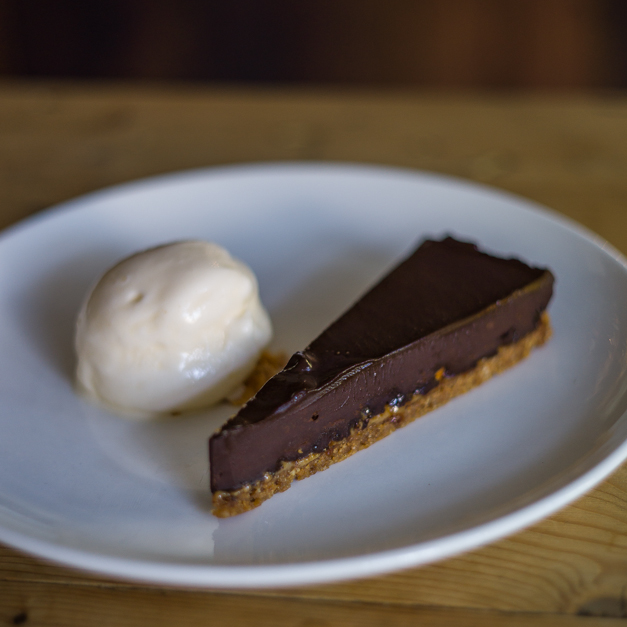 I finished with a monolithic chocolate tart on (presumably) a honeycomb base. The intensity of hundreds of dark chocolate bars pressed into this single slice. A light own-made honey ice-cream balanced out the sinful excesses of the chocolate. Again, well thought-out, brilliant execution and admirably simple. I paid £37.46 which includes coffee and service.
Following this lunch, I decided to book the next weekend to try the proper smoked dinners.
Dinner…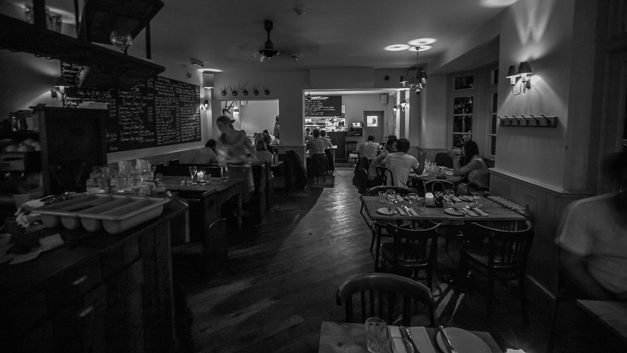 The pub in its entirety is (obviously) nicely done up and I think the dining room is charming. Cosy tables for couples but also large, accommodating booths for groups of four to five. The beer garden is also very atmospheric, though at time of writing, they don't serve food there outdoors yet.
On my second visit, I took two friends and the better half.
Foie gras, apple pie & duck egg, £10.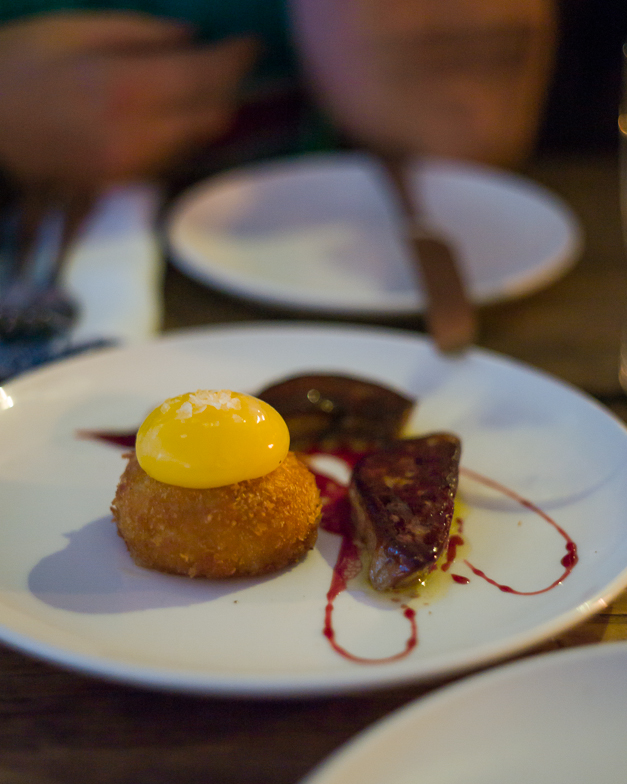 We got things rolling with the poster-child starter and boy was it good! Unbroken duck egg yolk is photogenic for sure and this threesome melded together nicely flavor department. We had the starters to share and all four of us took turns to mop up the last remaining bits of this excellent dish.
Chopped brisket roll with gochujiang, £5.5.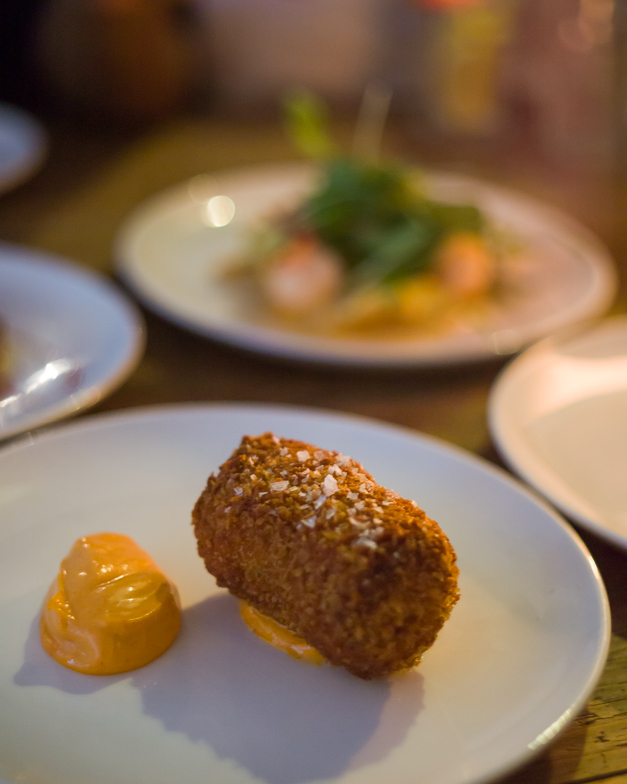 I thought this was a revelation. Naturally, the flossed brisket encased inside the deep-fried batter (or breadcrumbs?) was beautifully turned out, smoky, chunky, kind of reminds me of a fried mutton roll. The gochujiang or fermented Korean chilli sauce appears to have been used to almost make a alternative form of choron with a kick. A great recipe. Smoked meat re-imagined. Kind of.
Lobster Frittata, £12.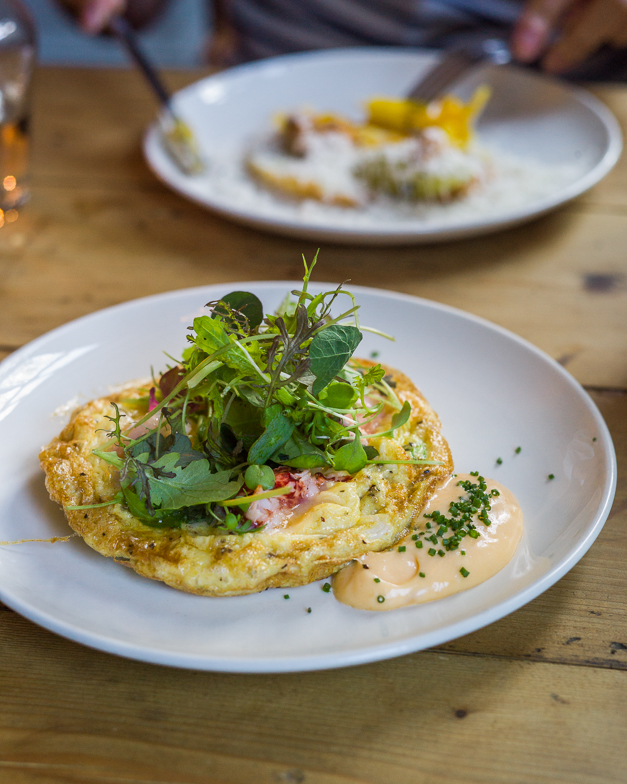 Generous lobster tail meat seemingly mixed into broken eggs in a pan. Like the foie gras, a care-free sort of recipe with flashes of decadence. Very appealing stuff.
500g Galloway sirloin for 2 with roast potatoes, veges, smoked bearnaise (+ lamb stovies on the side), £50 (+ £4).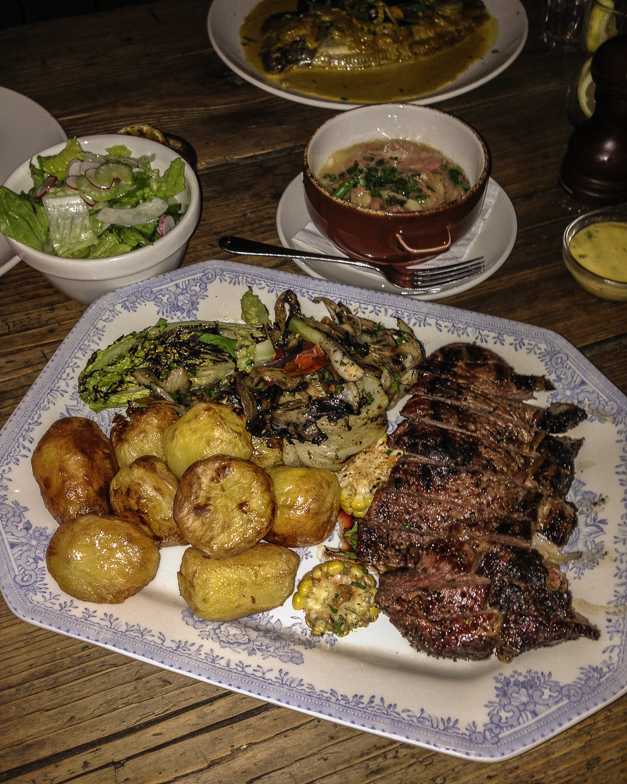 I was really looking forward to this, but unfortunately, we thought this fell short a little. The sides were fabulous, the smoked béarnaise was (also) seriously great, revelation level stuff and even the stovies (made with lamb belly I think) sent us swooning back to our plates, but the beef …was just merely ok.
I asked for medium rare, but really it was came nearer to medium well. Like everything else, it had lovely smokiness about it, which I'm guessing is the due to the pre-smoking before grilling, but the meat was dry, tough and overcooked. For £50, this 500g felt small. If it were cooked just a little bloodier, I think my opinion would be different, but oh well. I do think the kitchen messed up on this and I really should have sent it back. I regretted not having the short ribs.
Mutton chops, caponata with 'nduja migas, anchovies & parsley, £17.
On the other hand, these mutton chops were absolutely to die for. Now this was definitely medium rare, so it maintained its juiciness, deep natural flavours and that signature smokiness. I ate this the sloppy way by dispensing with cutlery, making the finish all the more satisfying. Yummy.
Clockwise: White peach & bourbon Zabaglione (£5), Vanilla vanilla vanilla (£5), Friday Pie (£5), Krun Chee Nut (£5.5)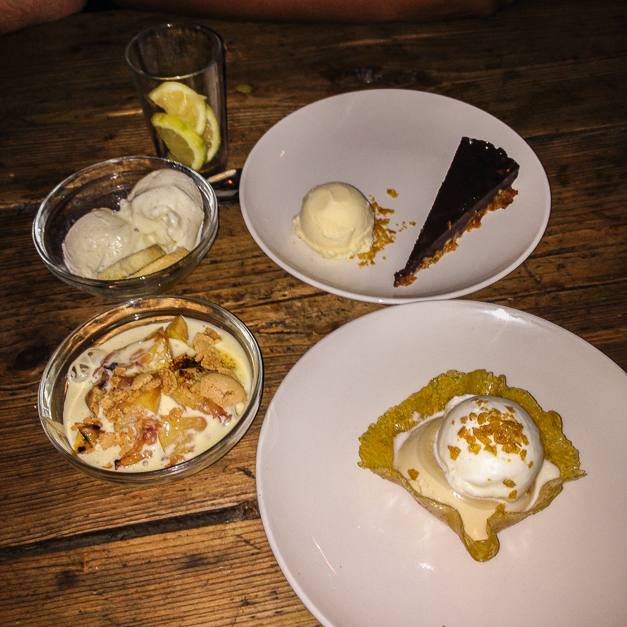 Neil's desserts could easily sit in a 'finer' menu and perhaps even worthy of a couple (well, maybe one) of macarons. The zabaglione was a little runny and maybe not quite as potent as its Italian original but the the inclusion of poached peaches just took the recipe to the next level. Pure raciness. Next up the Vanilla ice cream, vanilla short bread and spiked vanilla sauce (I think) was a Vanilla lover's idea of paradise.
Neil's homage to the Kellogg's Crunchy nut however was the one that took the checkered flag. Reversal of roles with milk made into a kind of pannacotta & ice cream slowly melting in a edible cradle that tasted like sugared Kellogg's crunchy nut. It hit all the right spots for me. Forget cereal milk ice cream, that's well and truly the past; The Rankin Krun Chee Nut is the future.
We paid £220.85 for a table of four for food, coffee and lots of booze.
The Smokehouse is wonderful, it isn't perfect, the fish mains don't seem to be on par with the smoked meats (yet) for example, but I feel that the direction of the menu has the potential to go the distance. The best part is that the food stays grounded, unburdened from being overly conceptual. There are clever ideas which bring some flair to the menu's simplicity approach and it is definitely the kind of restaurant you can revisit without the anti-climax of occasion-type meals. For me, this is the most enlightening visit this year and I have a feeling I'll be making more visits before the year is out.
Details
The Smokehouse Islington
£30-40pp
63–69 Canonbury Road Islington, N1 2DG
Tel : 020 7354 1144
Rail : Highbury & Islington
Did you enjoy reading this? You can subscribe to the Newsletter. Alternatively, you can subscribe to the RSS feed.