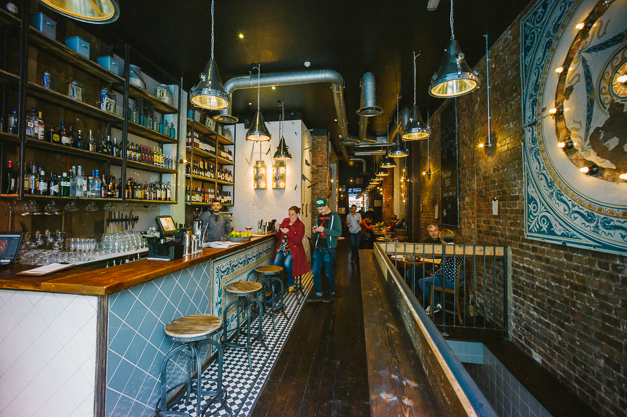 Hello 2014!
…So how've you been? I'm guessing you're still very disciplined adhering to your dry January schedule to sweat off those holiday excesses. My 2013 was a bit of a whirlwind. Lots of distractions, not enough time, but there was enough time to put up half a dozen posts last year plus a site re-design and an upgrade to my Lightroom filters. Anyway, I'm back now, focused, recharged with a huge backlog of things I ate last year to share with you.
I thought I'd kick off the calendar with something easy going with Chop Shop. Located in Haymarket (where Planet Hollywood is), opened last fall by Michael White (The Altamarea Group whose crown jewel includes the 2 starred Marea in NY), in collaboration with Will Guess, one part of the brainchild behind the sumptuous (but sadly now defunct) 101 Pimlico Road.
All of a sudden we are back in 2011 again, shades of Polpo, post-crash optimism, less is more, less is cool, hipster galore decor. There's nothing wrong with it of course. It look greats (high ceilings!), it feels cosy and recreates the stripped down diner effect very well. But maybe it just has too much of a been there done that feeling. It's either great coincidence or this is a sign of Russ Norman's true influence seeping into the 'the current trend'.
In spite of its name, Chop Shop isn't all meat sweats. The chop part of the menu is preceded by a selection of grazable dishes to share, arranged by type of crockery – jars, crocks and planks.
The Snacks.
Cotechino scotch egg with salsa verde, £4.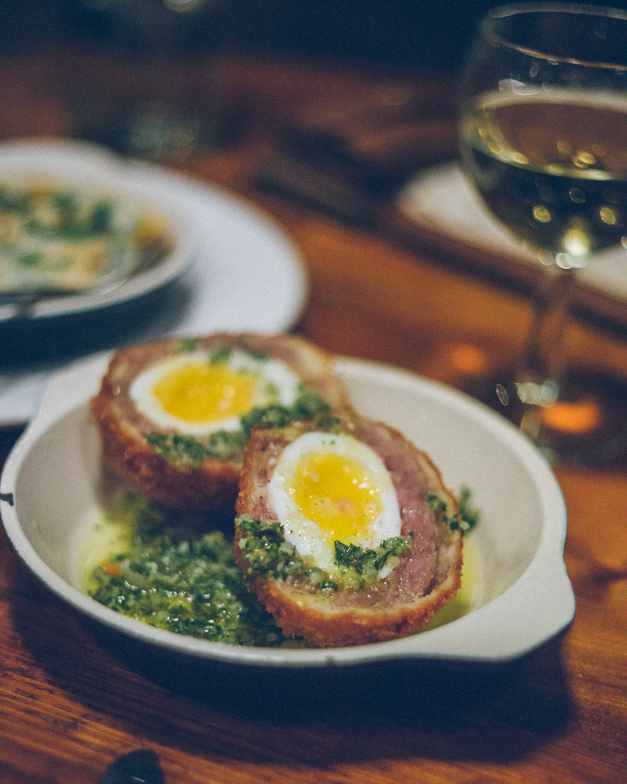 We started our first meal at Chop Shop with piping hot, giant scotch eggs. Richly seasoned, punchy salsa verde and made with the biggest eggs in the market. Almost a meal unto itself! Of course, we enjoyed the yolk that's still half runny. Good stuff.
Not photographed on my 2nd visit were the very enjoyable crispy hot wings served with cashel blue cheese (£6) … just STUNNING. It's closest rival is the similarly prepared version over at Patty & Bun, except this is hot and the parallel is BBQ. A kind of pressure-cooked, fried batter coated with heavily caramelized chilli sauce and melt off the bone tender meat.
The Jars.
Prawn Cocktail, £7 ; Duck liver Mousse, £6.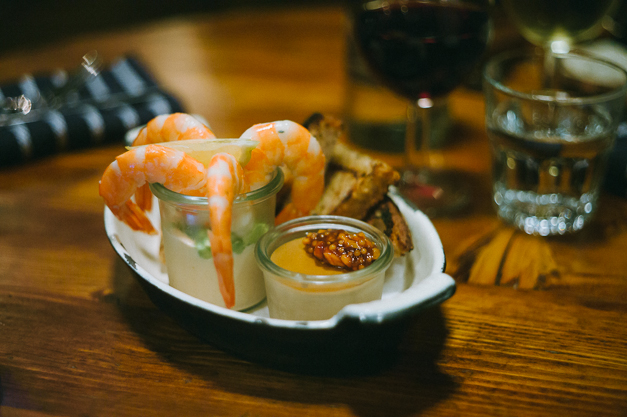 Jumbo sized shrimp hung off the first of the jars in this mighty lost in time starter. Refreshing avocado & marie rose dip. The duck mousse was as expected & whetted the appetite when melted over the hot toast, it was served with. Great. Sadly though, the prawn cocktail was replaced with a crab cocktail on my 2nd visit to the restaurant …and I think they should consider keeping the prawns on the menu.
The Crocks.
Cottage Pasta Pie, baked pasta, braised oxtail, parmigiano £9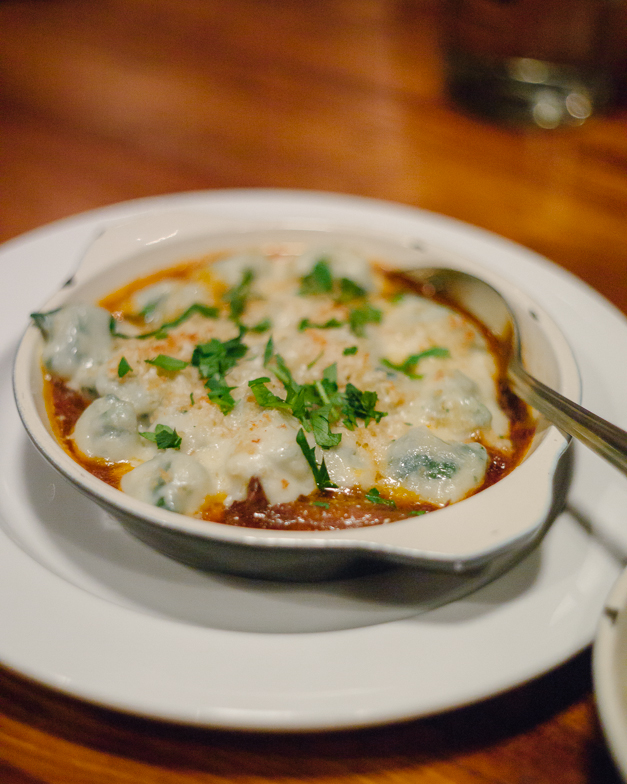 This was my favourite dish during both my visits to Chop Shop. I would say it's very home-style, very hearty, again richly flavoured, winter belly warmer and just satisfying. Almost the perfect way to kill the Monday blues after a long slog at work.
The Chops.
Rosemary Brushed Lake District Rib Chop (300g), £27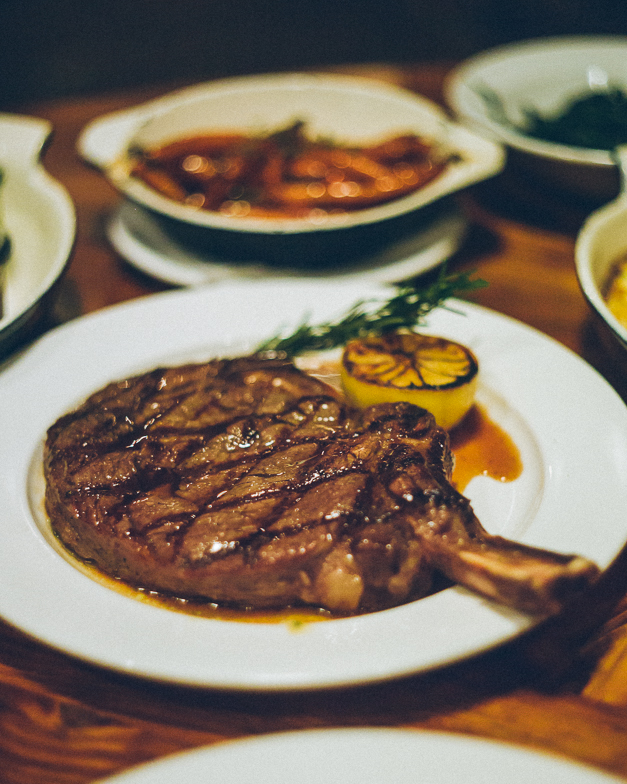 The béarnaise as well as the bone marrow sauce are respectable, you can choose to add fried eggs or whole garlics to accompany the chops, so all the expected bits of the formula are all there. Very good beef from lake district, tender with nice dry-aged flavor and served 'wet' with a rosemary infused sauce. It's good but you know there's stiff competition in the meat slab business these days, so on this occasion (at least as of last October), the chops have some way to go before coming within touching distance of say Hawksmoor, perhaps even the charming reboot Foxlow or even Flat Iron.
The Mains.
Soft Polenta, chicken thigh, rosemary braised wild mushrooms, parmigiano £14.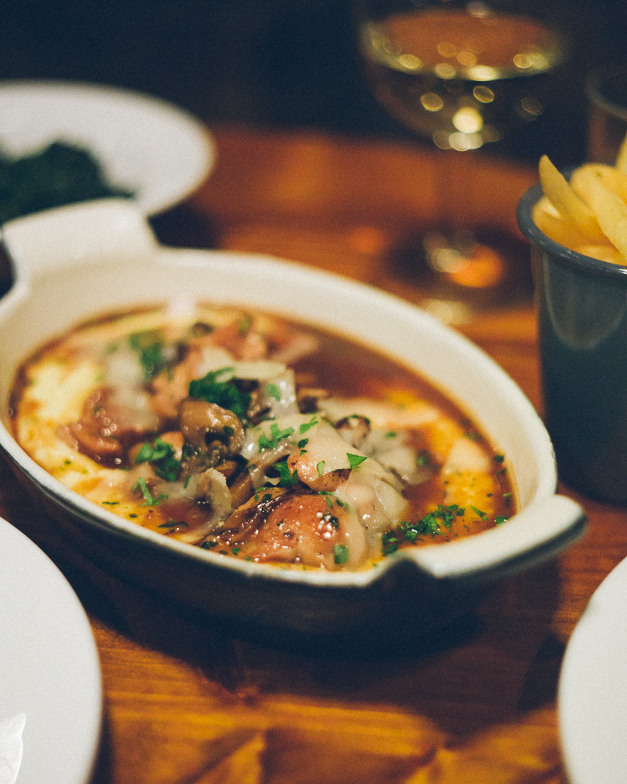 Done in a similar homely, hearty style as the cottage pasta pie and in my opinion, this is the heart of Chop Shop's menu. These warm crocks of starch filled goodiness, all to share, seems to be its strong suit. Love the deboned chicken thigh meat enveloped in hot polenta.
Beyond the on-trend stripped out décor lies a laid back and dare I say a nice old-fashioned restaurant serving some hearty hot food. It's not complicated at all but most of it tastes good enough to leave you rubbing your belly at the end of the meal.
Details
Chop Shop
£30pp
66 Haymarket London SW1Y 4RF
Tel : 02078428501
Tube : Piccadilly Circus
Did you enjoy reading this? You can subscribe to the Newsletter. Alternatively, you can subscribe to the RSS feed.