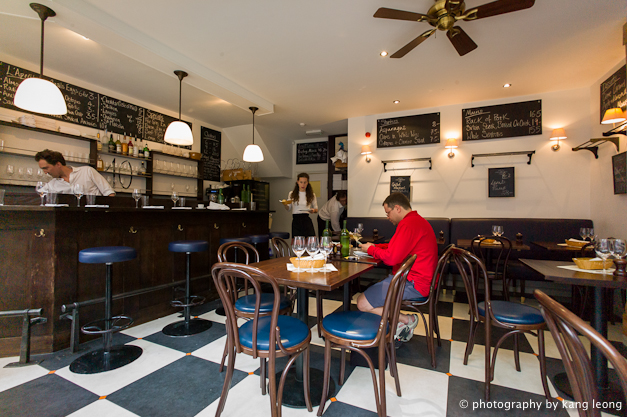 The austere profile and procurement gimmick should – on paper – make 10 Cases an instant hit which is keeping with current trends. But in reality, this restaurant is so deliberately lacking that the end result is nearly banal.
Styled as a British Bistrot, it offers 10 reds and 10 whites at any time. Each wine is bought 10 cases at a time, and when they run out, presumably it would not be bought again. Every wine is offered by the glass, carafe and by bottle, so you could say this is a wine bar as well.
The menu can only be read on the chalkboards nailed to the walls. Only the wine list is available on paper, hand written, suggesting everything is in constant rotation. The total number of the starters and mains do not exceed the digits on both hands.
Foie Gras en Cocotte, £9.50
with 125ml 2007 Bordeaux Blanc, Ch Doisy-Daene, £9.00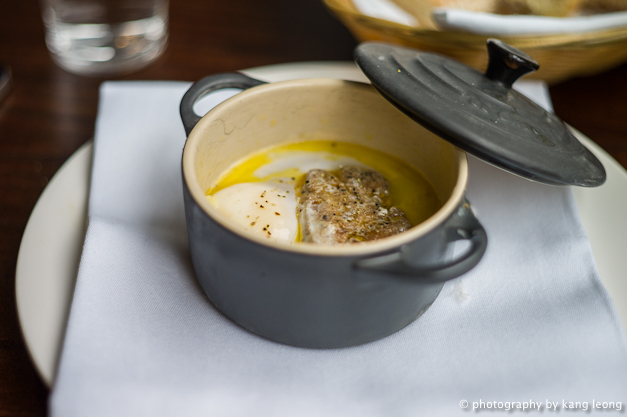 Bordeaux clarets will drawn many sighs these days and it often overshadows the brilliant whites the Bordelais are capable of producing. I only recently sampled a white bordeaux from 2007 – a white Cos, at Sketch's Lecture Room – and was intrigued by how well it was showing.
Made from 100% Sauv Blanc, this dry white comes from a solid 2nd growth Sauternes producer who is better known for making beautiful pudding wines in good years (rather than dry wines). The vineyards are located in Barsac within Graves – home to historic chateaux like Haut-Brion and Domaine de Chevalier, two of my favourites.
Anyway, the Doisy was just lovely to smell, lemon and maybe orange peel. A buttery mouth feel, like peaches and cream, with gentle acidity. Gulg, gulg, gulg…. ah but what's this? £9 for 125 ml against a bottle price of £35 : The maths seems out of whack.
£9 x 6 = £54 (125ml x 6 = One Bottle) suggests that it costs a lot more (extra 50%) to drink a glass than it is a bottle (750ml) – on a per ml basis. Priced to ward off solo diners perhaps? As much as I would have liked another glass, it may be cheaper to buy it retail for £20/btl.
I liked the starter. A large lump of pan-fried foie gras, butter, egg served (maybe baked?) in a warm le creuset. Robust and classic flavours, the foie gras was melting tender, the yolk was runny, a dizzy fragrance of butter. It was absolutely delicious. I lapped up every last drip with baguette. Exactly the kind of food I was expecting.
Sirloin with Braised Ox Cheek, £19.00
with 125ml 1998 Gevrey-Chambertin, Vallet Frères, £10.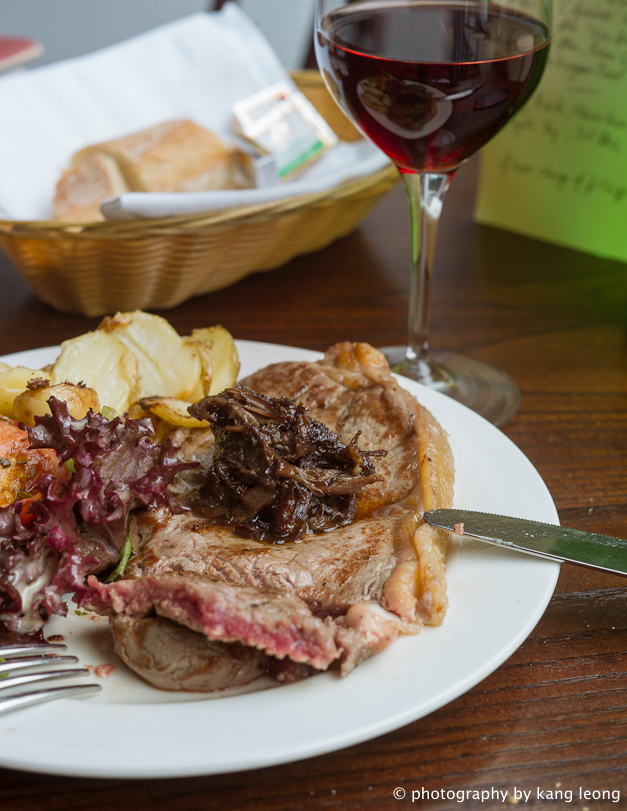 The sensual hedonism of pinot noir …mmm… it smells dusty, sweet, so earthy… only old world! More of the same on palate but with a purity, sweet black fruit, a little oak power and those unmistakably silky textures that make Burgundies such devilish beverages. Well matured, and a pleasure to drink. But pricing is (again) non-sensible here – £10 for a glass (£60/blt equivalent) versus £38 bottle price.
The wine retails for £25, making for 1.5x mark-up on bottle price (reasonable) compared with 2.4x mark-up on based on scaling up from the per glass price (less reasonable). It just made little sense to order another glass.
The steak was cooked rare as requested, but it was small (for £19) and cut so thin that it was drying, rubbery and completely unspectacular. It looked as if it was hastily thrown together by someone who is bored of cooking.
On the other hand, I was completely surprised by how delicious the braised ox cheek 'paste' was. It was great cooking and so it's baffling why there's so little of it on the plate. Fantastic with baguette.
At £19, it's terribly overpriced. You could easily have the same thing for half the money at da Polpo.
Stilton, £5.
with 125ml of 2010 Verduz, Marco Sara, £8.50.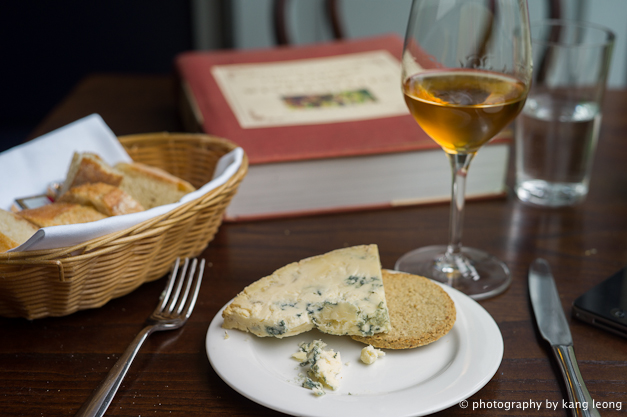 To finish, I drank a sweet wine by an Italian producer – a first for me. Dark amber, syrupy and rich, like orange flavoured cough syrup, I was suggested to have it with stilton and it needed it.
I paid £67.10, including 10% for service (not part of original bill).
It is so difficult to give an undiluted opinion about this restaurant. I like the basic premise, promising but I am perplexed with delivery. So I will offer two opinions on 10 cases.
For the cynic, the austere (and expensive) food doesn't give customers much reason to order more wine, and appears to direct you toward ordering by the glass. However, the per-glass prices are so high, it seems discouraging, even prohibitive, considering the context of it being a small bistro. Maybe they want you to order bottles, but what about the solo diner/drink looking to sit at the bar to take in a glass or two? In practice, it is a terrible wine bar and barely adequate as a bistro.
On the other hand, the optimist will view this as a low-key, centrally located bistro with a good selection of wines, honest food, a friendly atmosphere and intimate service. Classic cooking deliberately designed to play second fiddle to sharing an affordable bottle (or two) of good wine. For larger groups, the reasonable bottle prices do represent good value. A decent wine bar and personable bistro.
I am leaning toward the latter, if money was a laughing matter, then 10 cases is easy to love. It's just so admirably blasé in execution. But then I think about how much I paid – £67.10, an eye-watering amount – for a so-so 2 1/2 course lunch; I cannot help but gasp at the way these guys have just completely priced themselves out of the market. Granted I could have chosen cheaper wines, say £5 glasses as oppose to the £8.5-£10, but that would still have resulted in a bill near the £45 mark. Food alone was £33.50.
I just can't see this being competitive, it's like the restaurant isn't really interested in doing business. I booked a table thinking it may be packed to the rafters, but I arrived (at 1pm) to the quietest restaurant for Friday lunch in Covent Garden. Completely empty. There were two instances when people walked in sat down, looked at the menu and walked off again. Of course, I don't know how they do during evenings or weekends, so it might have been a quiet day when I went.
I think we can establish that the chef Juette Shallow (ex-Coq d'Argent) can cook (as many reviews have indicated), so why not challenge the kitchen to come up with a more aggressive menu, maybe even introduce a set menu. As it stands, they have overpriced boring and – to put bluntly – lazy cooking. Although I will say that the foie gras dish is great as it is. With only 3 to 5 items per course on the menu, there shouldn't be much stock in the fridge. Surely constricting choice should leave the kitchen more time and effort to deliver better focused, high(er) quality dishes. I'm not calling for fancy dishes, I'm just saying they could have better thought out recipes, with dishes feeling more like more energy has gone into it. The home-style idea is similar in spirit to what the 10 Greek Street folk are attempting (and with success). Over there, they offer a juicy (thick) rib eye for £20. Recipes are simplistic, but definitely more interesting, delivering a sense of value and a sense of excitement.
I think the owners Ian and Will have a great idea, I like what's already in place, but it feels half-baked. Perhaps turning tables is not their ultimate goal. The problem is, a meal here makes the decent places (ie: le competition) in the area look even better than they already are (32 GQS, Copita, Giaconda, Ducksoup, 10 Greek Street, Russ Norman, dare I suggest, Bistro du Vin..). With a few tweaks, 10 Cases has the potential to become something special, I am rooting for it do so, but till it evolves past this honeymoon haze, it remains as just an intriguing prospect.
The Gist of It
10 Cases
£45pp Bistrot a vin
16 Endell St WC2H 9BD
Tel: 0207 836 6801
Tube: Covent Garden
Did you enjoy reading this? You can subscribe to the Newsletter. Alternatively, you can subscribe to the RSS feed.