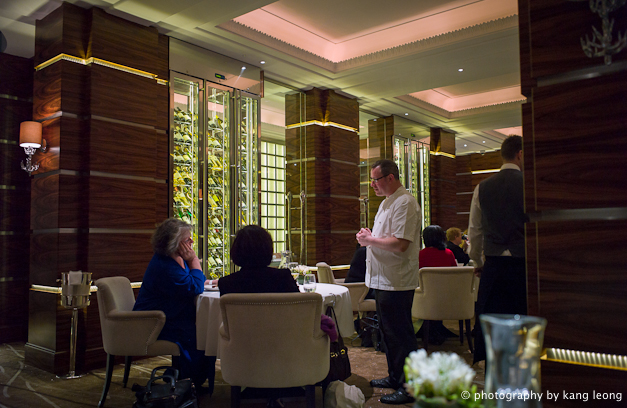 "..surrounded by the greatest wines of the world.."
The dining room is relatively small and is intimidating as it is posh, as the website's official photographs suggest. Built around the 'wine salon', the restaurant's private room takes up to 8 people and is encased by temperature-controlled glass walls filled with some of the sommelier's (Alex Gilbert) most prized bottles. All completely out of my spend range for this solo Friday lunch (or any meal for that matter). Indeed, all of the world's most storied labels grace Alyn Williams' wine list, and I feel it only apt to dedicate the following paragraph to this exceptionally procured cellar:
All the 1st growth clarets feature, from average to exceptional years, including a '90 Lafite. Beyond the formidable Pauillac region, an '85 Haut-Brion (the only 1st growth outside the Medoc) is listed with a centurion '82 vintage of La Mission as the proud emissaries of the great wines of Graves – arguably the most romantic of all Bordeaux wines. Cos, Palmer, Petrus represent St Estephe, Margaux and Pomerol. Glaring omissions may be the popular Pontet, the age-worthy monster Montrose and Graves underdog Chevalier Rouge, all three producing consistently fabulous wines in recent years. Personally, I was drawn to the millennium Figeac, the 2nd tier GCC from St Emillion …for £400, easily a 3x mark-up (Liv-Ex trading at £90-110/bottle in bond prices) and only just within a sensible spend (maybe for my birthday)! You know this is a proud British restaurant when it carries such a complete set of Lynch-Bages. They hold the legendary vintages the chateau is famous for in this century including the '89 and '90 at the £650-£700 mark – also 3x mark-up here, but I suppose within the bounds of fine dining restaurants. Outside of the Bordelais bubble, Dujac, Rousseau and Robert Chevillon stand out from the Cote de Nuits list and there are 3 bottles from the mythical Domaine de la Romanee-Conti: Romanee St Vivant, Richebourg and Echezeaux. The top of the line La Tache or Romanee-Conti don't feature. The two heavyweights of Barossa: Grange and Hill of Grace are also on the list; Stag's Leap 'Fay' (no Cask 23) and Ridge's 'Monte Bello' represent the Napa and Sonoma …and beyond that my knowledge of great labels decline.
In comparison, I drank a very modest glass of '09 St.Laurent by Heinrich (£11.50). An Austrian red and a varietal which I've never had before. On the palate, I mistook it as a pinot noir, silky but somewhat spicy, with a sweet finish, like longan.
Alyn Williams spent 5 years as Head Chef for Marcus Wareing, and many more before that in Gordon Ramsay restaurants, as well as stages in The Greenhouse, Zafferano and Chez Bruce – All of London's long time institutions. Like his predecessors at GR, Alyn has finally put his name above the door. It opened to glorious reviews late last year.
As trends push us away from 'fine dining', it's rare to come across new restaurants which have a dress code. I called 2 hours ahead and was a little surprised to secure a table. I was even more surprised to arrive at an empty restaurant on a Friday afternoon. Only a further 3 tables were occupied later on. The eerie silence was very deafening. This room was crying out for some background music to make up for the lack of chatter.
In spite of the similar positive reception, it is in stark contrast to the runaway success of Dabbous which opened a few months after Alyn. A restaurant which you'd be lucky to nab a table for in October.
Fashion aside, Alyn Williams is still a 2 star chef who has a track record of brilliant cooking. His promise to keep the superb value pricing (for at least a few more months) is still held. The 7 course taster a 'mere' £55 (also rivaling Dabbous) and £115 for paired wines. The 3 course set lunch is a recession beating £24, ALC at £45 for 3 courses.
Amuse Bouche: Truffle risotto balls, crackers with pickled broccoli, and prawns.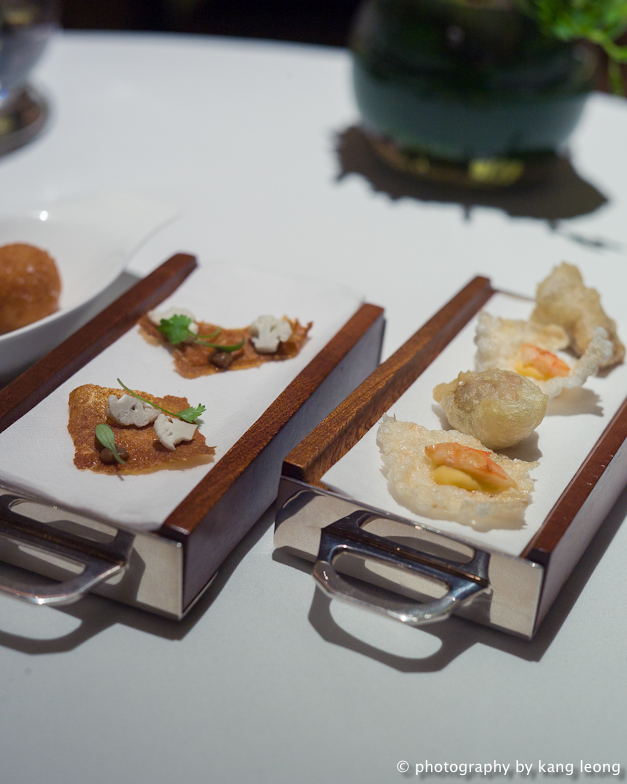 These were all very wow amuses, showing beautiful concentration of flavour. Especially the fried truffle-laced risotto balls – yummy. Not pictured were his brilliantly light as feather gougeres stuffed with stinging Fourme d'Ambert.
Course 1: French onion consomme/crab/gruyere/potato wafer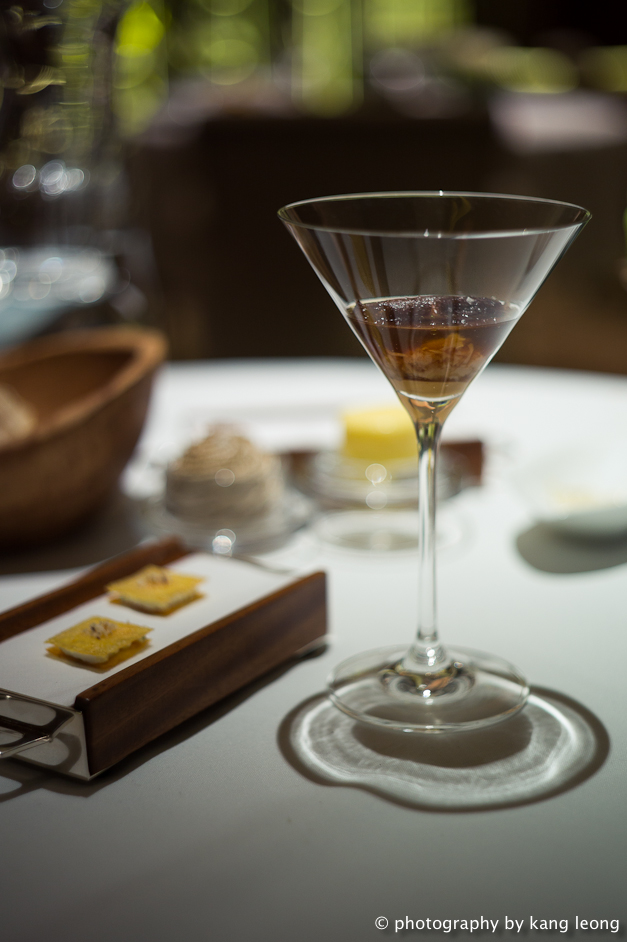 The menu kicked off with a classy rejuvenation of french onion soup. Served cold, as both a liquid and as a jelly, in a martini glass. The jelly was like a concentrated reduction of beef and onion, dissolving with the liquid in the same glass. A tiny 'log' of what appears to be beef cheek with picked crab meat was also present. For a cold soup, I was surprised the smell of onions were still so present. A spoonful of everything produced a precise hit of beef and onion flavours. A cheese wafer on the side served as the cheese crouton. Naturally, the balance of flavours were admirable. What finesse, it reminded me of Jason Atherton's BLT at Maze.
Course 2: Orkney scallop/cucumber/smoked roes/sea urchin
Another cold starter, but this time with the cutting mineral smell of cucumber fighting against the fishiness of smoked roe. The single scallop remained beautifully translucent in the centre. I didn't quite get the 'milk', was it made from the sea urchin perhaps? Delicious, but too subtle for me, and the least memorable dish of all.
Course 3: Smoked egg/celeriac/truffle soldiers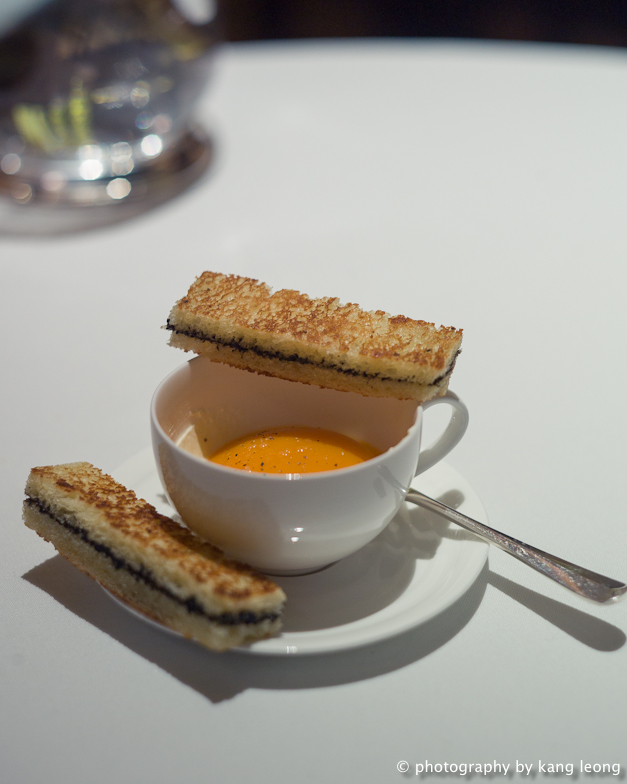 I know, I know, slow cooked eggs are cliche these days, but I am still intrigued with the many variations the capital's best chefs have created. I actually swapped out the foie gras semi-freddo for this dish.
Served in a tea cup, the smoked yolk was dizzyingly satisfying. It was perfumed, to me, it smelled sweet, like vanilla for some reason. The custard-like texture was as expected. I'm quite certain the yolk rested on some sort of yoghurt or sour cream, making this either a variation of a Turkish recipe or a variation of a French recipe or me completely wrong-footed, once again. I dug around the cup, but couldn't find the celeriac – might it have been shredded into the yoghurt? I don't know.
The truffle soldiers were simply that, toast with truffle. It was absolutely sublime in a primal manner, buttery with earthy funk. I could have this truffle spread for breakfast everyday. As he cleared the plate away, I told the restaurant manager – whom I assumed was Giancarlo Princigalli, also ex-MW – that the soldiers were to die for …and pleaded for more! He smiled, nodded and scurried away…
Course 4: Sweetbread/chicken wing/chervil pappardelle/pea puree with ramsons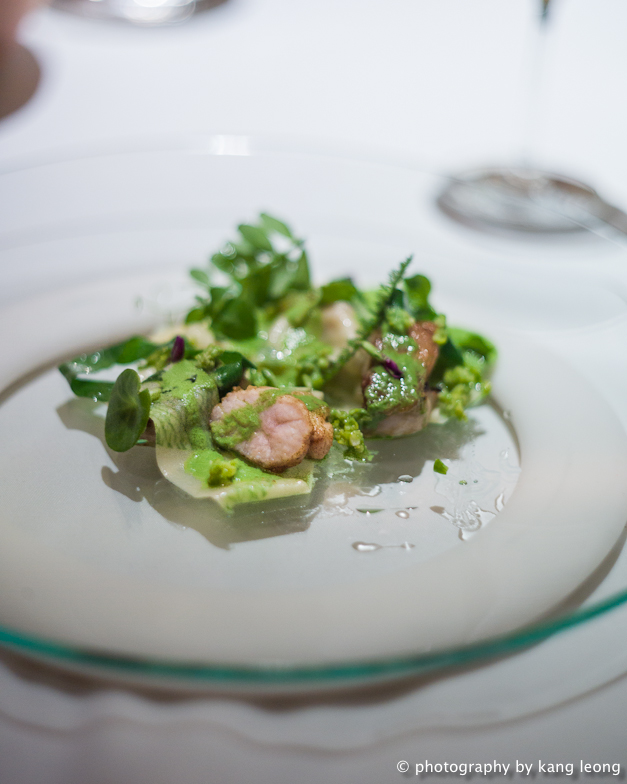 …but instead of returning with more of the truffle soldiers I yearned for, he brought out an additional dish which he explained, that the chef was still tinkering with. Thin layers of pasta sandwiched with chervil with pan-fried sweetbread and chicken wings, both intensely seasoned. Over it, he poured a reassuring warm pea puree scented with ramsons, a sort of wild garlic. Such elegance, control of flavours and delicate texture. An absolute pleasure to eat.
Course 5: Mackerel/seaweed cracker/miso/cockles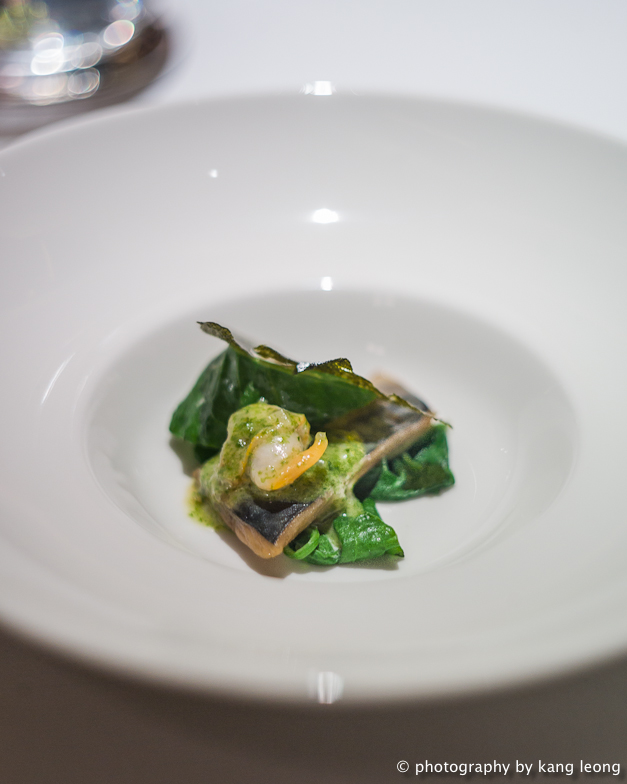 The smell of smoked fish, this is nearly Wales on a plate. The mackerel was nearly transculent, tremendous texture, oily flakes easily sliding off one another. Like the 1st dish, there was a commanding purity of flavours about this. A very intense hit of sweet miso, such a lovely compliment to white fish, the cockles and the nori, reminding me of this was a dish from and of the sea. I suppose this dish is Japanese in inspiration, and my favourite of whole afternoon. I think it was good because it looked completely innocuous, and yet it tasted so completely powerful. It probably summed up the theme, a set of dishes which displayed excellent control of flavour, intense without being overpowering. It seemed like something that may appear on Dabbous or even Hedone's menu.
Course 6: Devon red beef sirloin/jersey royals/leafy turnip/capers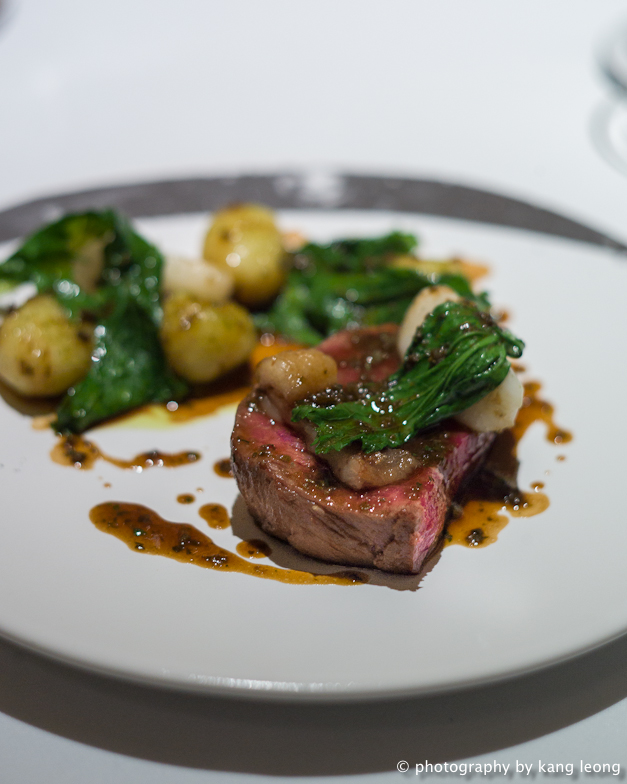 The beef was cooked to a perfect rare, as requested. This would be my 2nd time eating Devon beef in as many months (the other time was at Michael Caines' restaurat at Abode Hotel, Exeter) and it exhibited glorious beefiness that I've generally come to expect from English beef. Juicy, leading me to believe that it was well-rested before serving. The plate was very hot, as it should be to keep the steak warm, so top marks for the attention to detail. A wedge of the beef's own fat was laid over the meat – it was all guns blazing with intense blue cheese notes. This was good beef presented in an effective manner to highlight its strengths. Tender for a sirloin with all signs pointing to it being well hung.
For a beef dish, it was delicate, juice-filled turnips just cut away all of the heaviness of the dish, they were sweet like sugarcane. The potatoes were gloriously fluffy, something that may rival Rogan's vintage potatoes. I always expect beef to be extravagant in high end restaurants – nothing wrong with epic dishes – but I think the lightness was a nice surprise. Eerily precise cooking.
Course 7: Cornish cows curd cheesecake/passion fruit/honeycomb with '03 Castelnau de Suduiraut.
It was suggested to finish my meal with a glass of this sauternes (£13.00), so I did. Not quite the power and lusciousness of a good d'Yquem, but this wine was supple without being in your face. The 2nd wine of Ch Sudairaut, a first growth.
It was well matched with this minute cheesecake pudding.
Course 8: Baked apple/rolos/hazelnut
However, the wine really sizzled when paired with the baked apple, for which it was designed to do. Rolled-up cooked sliced apple, exhibiting bold sharp flavour. It required this medium sweet pudding wine to find harmony. The hazelnut ice cream was very good, but I didn't enjoy the caramel-centre rolos. It was very hard to bite into, and after I'd manage to crack my jaws over it, it stuck to my teeth like solidifying cement. Maybe it was too cold, but only part of this pudding I didn't enjoy.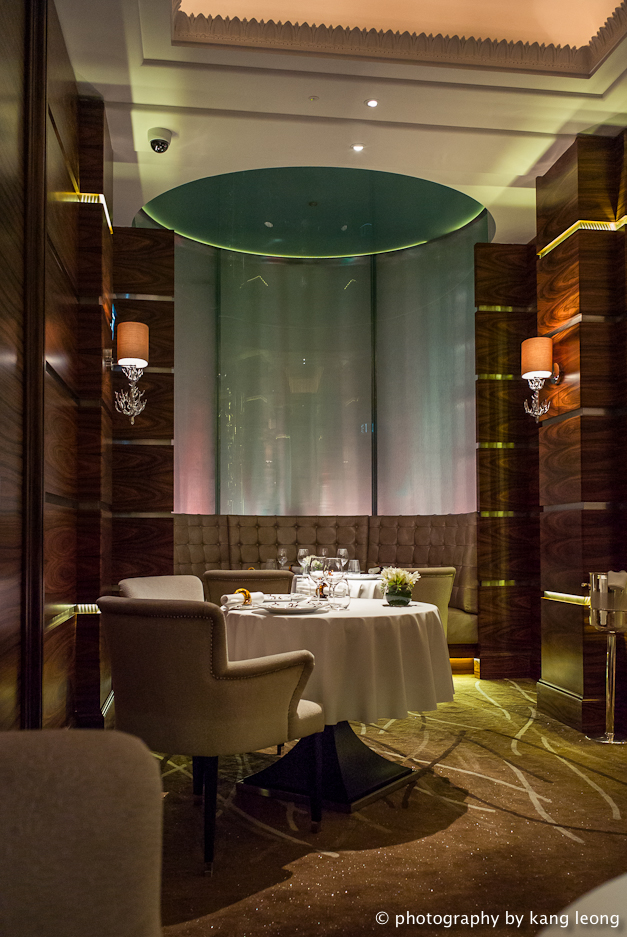 Reflecting on the meal, I am reminded of restaurants which strive to showcase a sort of distilled elegance. Menus that are designed with precision and poise. If I could use one word to sum up the meal, it would be : control. It's not surprising, after all, Alyn has spent much of his career cooking 'perfect' food, albeit within the bounds of the classic fine dining restaurant likely to charm the bib. And within those parameters, Alyn Williams (the restaurant) is certainly worthy of one, perhaps two macaroons. It is clear that he has got to the very top of his craft because he understands how flavours are supposed to work together.
I paid for £95.06 for the whole nine yards and coffee – justified value considering the level I reckon. But most importantly, I thought food was delicious.
I think the major challenge for the restaurant is probably the intimate yet intimidating setting. There is no doubt that the immaculate design of solid rose wood, sparkling carpets and glass booths that pulsate with fancy lighting, is stunning. But with no windows and those imposing wine fridges, it also feels like an immaculately decorated resting place for a Pharaoh. I just think the room needs a little livening up, starting with some background music. Maybe that's why Dabbous is doing so well, it's so airy and open, so too the majesty of HB's Dinner with the centrally installed kitchen and rear facing tables that overlook Hyde Park. As I stepped out, I wondered about the hotel's front bar (the Polo Bar?) and thought if Alyn could perhaps migrate his lunch menu (or part of his restaurant) there, it may attract a bigger audience, for which his food thoroughly deserves.
I have no idea how they do at evening service, at the level of cooking (and price) it should be completely booked up, but I didn't call to check. Having said that, the booths in the restaurant seem very private, which is what you want. It's just I think that the decor makes it feel like its a once-a-lifetime restaurant, which it doesn't have to be. I've seen much seasonal change across reviews, which suggests that it might be worth multiple visits.
Service was top-notch, everybody was hardworking, a little nervous but genuine, down to earth and human. They even managed to dig out the daily copy of the Times for the lonely diner that was me. I probably sat for 3 hours, long enough for Alyn himself to come out to greet all of his patrons, at the end of afternoon service. I was flabbergasted, I stood up to shake his hand nervously, told him he should win the 2 stars for himself soon and that my favourite dish was the mackerel. The conversation culminated with a discussion of Marcus' perfect egg custard pudding. A lovely recipe indeed.
He claimed his restaurant was still in its beginning days, fighting to compete for the public's affection and far from being the complete product he envisions – what admirable spirit. Very affable fella, incredibly modest for someone as accomplished as he is.
I remain intrigued as I write this, especially with these bespoke menus which the staff were telling me about through the meal. You will probably see another post about Alyn Williams soon, and I suspect dishes are still being fine-tuned, even though they are already quite high calibre as it stands. It's definitely worth considering a visit to Alyn Williams, especially while prices remain as they are.
The Gist of It
Alyn Williams at the Westbury
British £80-130pp.
The Westbury Hotel 37 Conduit Street, W1S 2YF
Tel : +44 (0)207 078 957
Tube : Oxford Circus
Did you enjoy reading this? You can subscribe to the Newsletter. Alternatively, you can subscribe to the RSS feed.