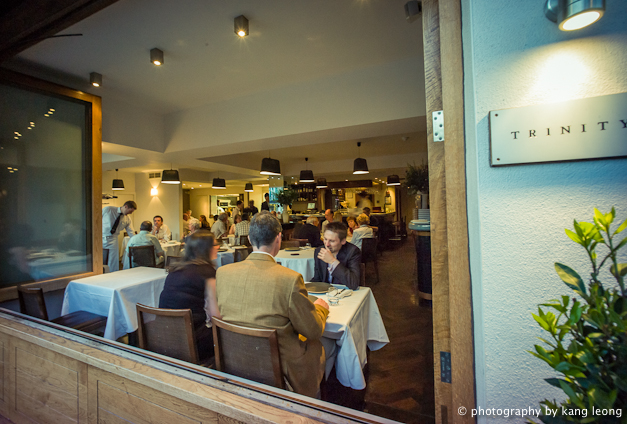 The original Phil Howard protege, Adam Byatt may have had his ups and downs through the years, but things certainly look like they are up and up in 2012. Trinity has turned into a well-oiled machine for six or so years since it opened, gathering a generally good reputation and turning into a local Clapham favourite. Known for the grounded classic cooking with a touch of modernity, overly generous portions and value driven pricing. In fact, things have gone so well that Adam is now on to his second restaurant (also in Clapham), Bistro Union. More of an everyday outfit of sensible British cooking in contrast to Trinity's special occasion menu, as suggested by its name.
Instead of bringing up the Hospital Club days, I'd rather like to talk about his cameo in a delightful book called Londoners : (with a really long subtitle). An album of stories cherry-picked from many hours of (taped) interviews conducted by its author Craig Taylor – a Canadian writer – who lives in London, aiming to weave an 'oral history' of London through the words of its residents. Careful editing has ensured the most compelling of stories had gone into the book to give a very human face and voice to London. Some are so hysterical that it can only be true. Adam participates as the humble working London chef, unsurprisingly as part of the 'Feeding the City' chapter, giving his thoughts about the cliches of molecular gastronomy. His commentary was akin to a wringing moan hiding a temper just bubbling underneath each sentence but all of it peppered with dark humour. A great read, all very well transposed into the written format. He has an interesting opinion that can probably sustain a side career as a food columnist. It reminded me that the last time I ate Adam's food was 2 years ago, a superb Sunday lunch, but we'd always been itching to return.
Initially, I wanted to try Adam's bespoke menu, at 8-9 courses at £60, which is crafted jointly by the diner and the chef ahead of the visit, allowing the kitchen the opportunity to cook some fantasy one-off dishes. But in the end, I was limited by time, and moved my lunch to a Friday dinner with the missus to try the standard taster menu for £45 for 6-7 courses. Tremendous value of course. We forgot to take the Londoners book with us to have Adam autograph his section.
Radishes, smoked cod roe.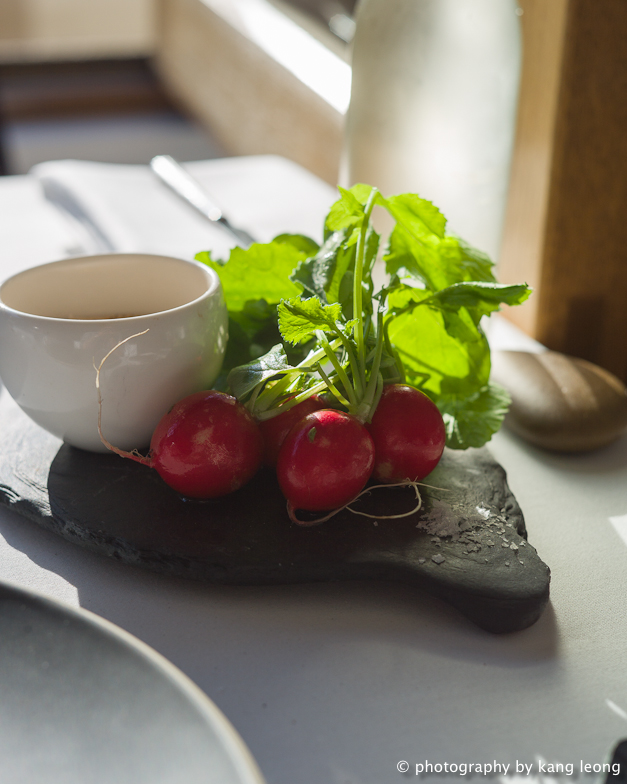 Fresh radishes, served with an extremely addictive pink-hued sort of taramasalata made from smoked cod roe. It went well with everything. We had wrestled to keep on the table as a permanent ornament through the meal.
There was a £2pp cover charge, which covered this, choice of filtered (still/sparkling) water and some lovely house-baked bread.
Burrata.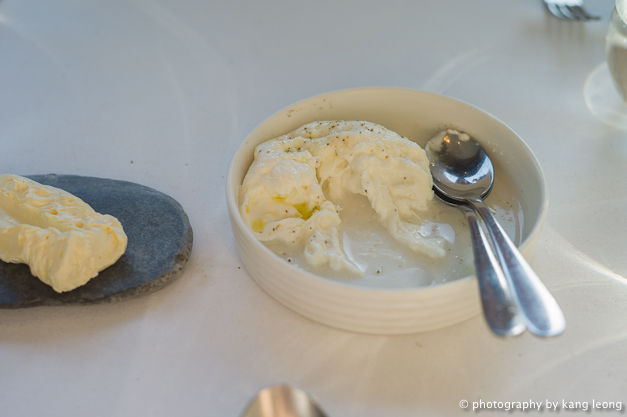 The next canape was burrata – or Mozzarella with cream – served simply with olive oil, pepper and tea spoons. I slathered the cod roe dip all over the cheese.
Course 1: Vichyssoise of English Asparagus and Jersey Royals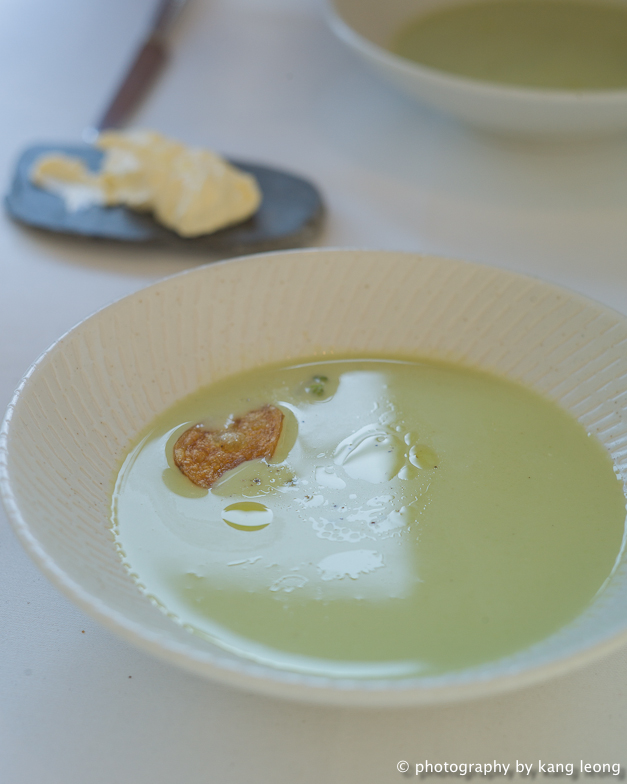 Probably the first time I've come across Vichyssoise, served cold with a single stem of asparagus, cows curd and a single potato crisp. The soup was presumably liquidized asparagus and potatoes. A creamy off-green colour, very appealing, tasting milky, rooty and generally appetizing. A nourishing start.
Course 2: Charred Mackerel, Oyster Mayonnaise, Cucumber and Shrimps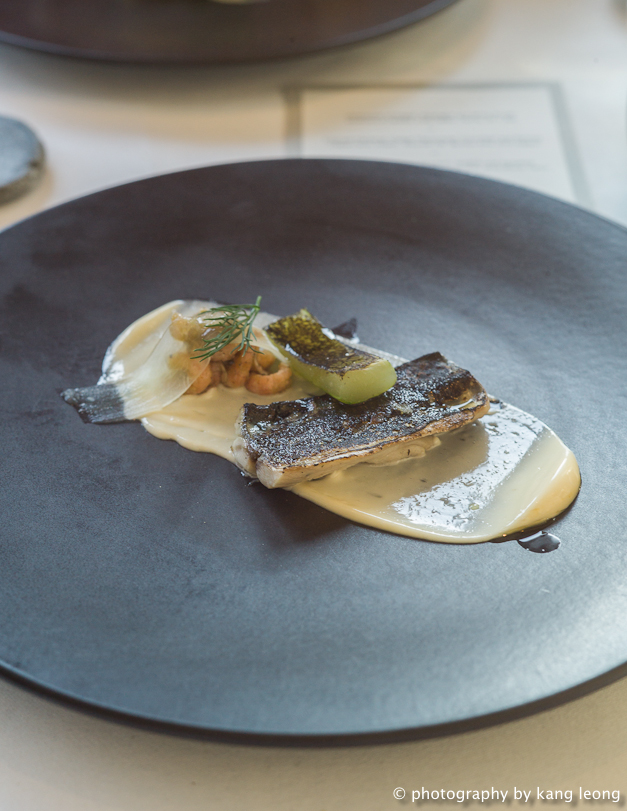 The compressed cucumber texture was like the vegetable but denser, a little smoky (from the charring presumably) made a nice combo with the pickled shrimp which was sweet. The mackerel was nicely cooked, but personally I found it just a slight overdone, however was very well matched with the oyster mayonnaise. Eaten together all, of the previously mentioned flavours were a generally pleasing combo.
Subtle rather than powering. A pleasant dish perfect for the season. If I didn't eat Alyn Williams' faultless mackerel (the silky textures..) dish just a week before, I would probably sing louder praises.
Course 3A: Trotters, Sourdough, Gribiche and Crackling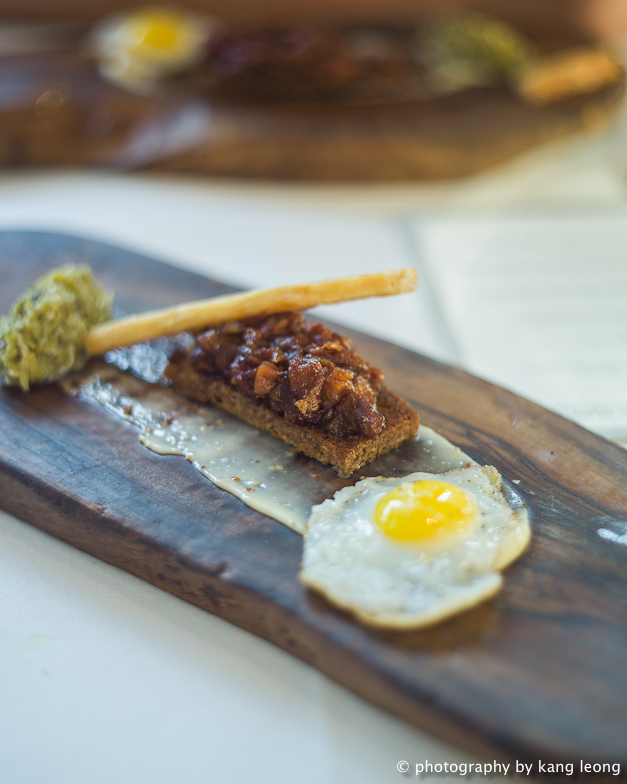 I opted against the scallop dish to go with the Trinity signature dish.
Aka: Adam's pièce de résistance! Roasted, fried, diced – amongst other ingredients – with ham hock, the end result was a sweetish, almost like a cold congealed gel, may also be described as a spread with tasty lumpy bits. It has a powerful depth of saltiness that is distinctive. The yolk adds this richness, this creaminess to the trotters that is redolent of bbq burnt ends. Just delicious.
Perhaps it is brash for me to suggest it, but this could probably make a fine sandwich as well. A generous dollop of this trotters stew, egg with runny yolk, pickled cabbage, gribiche, maybe some of the cod roe dip for good measure, between two floury toasted buns and your hands wrapped around it. Cor, I'm salivating just thinking about it.
Course 3B: Seared Scallop, Mussel Emulsion, Shellfish and Monk's Beard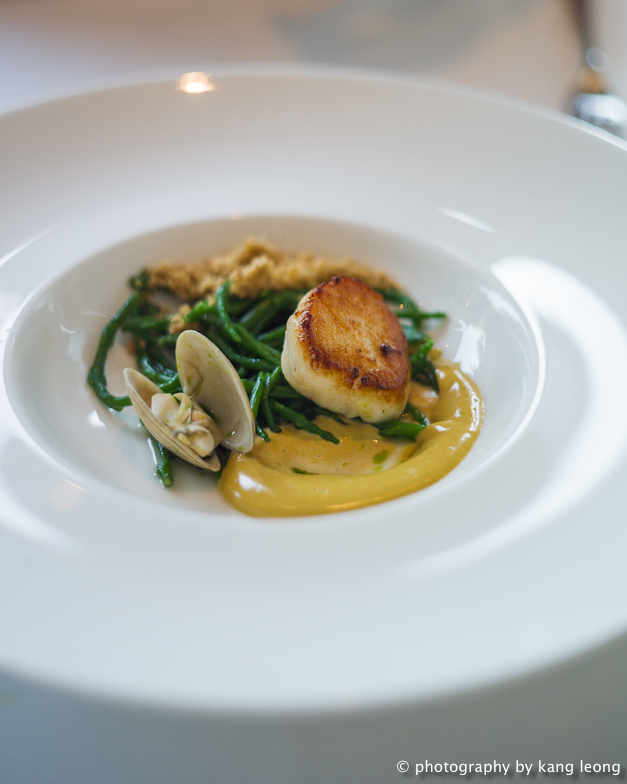 Initially, they brought us two of the trotters by mistake, as the missus opted to stay with the taster menu's choice of the elegant scallop dish. We didn't mind the extra trotters dish, and gobbled it all up, but didn't expect them to follow up with the original order for the single scallop dish – a nice gesture.
How wrong was I to skip this – it was extremely good. This dish also offered the classic power flavours which Adam is known for: Intensely salty samphire, a rich cream made from mussels, and of course a single scallop, perfectly pan-fried and still translucent in the centre. However, the best part of the dish were the almond crumbs, bringing a sweet, perfumed sizzle to the naturally salty mussel emulsion. The dish is modest in terms of innovation, but it was a classic marriage of flavours that was simply delicious to eat.
Intermission : Gazpacho, coriander.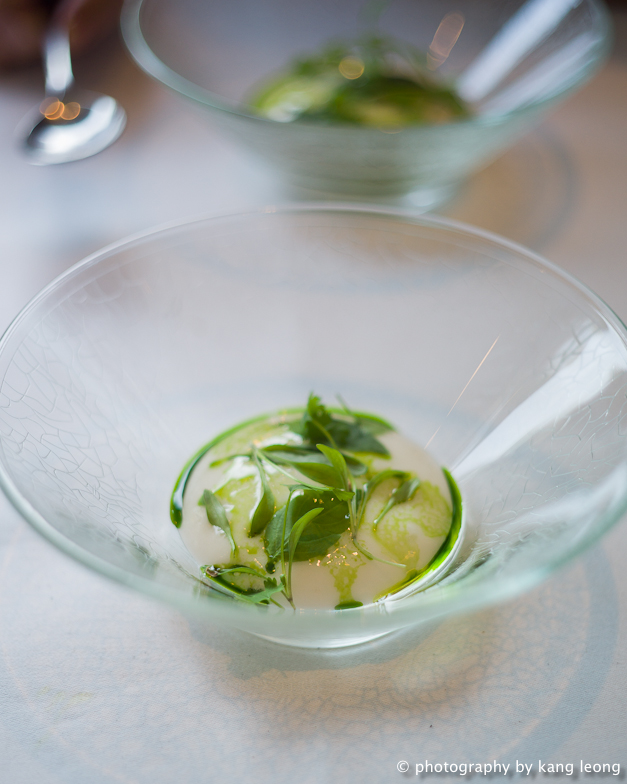 Two puffs of cold herbaceous flavour – two scoops later and it was gone. All foam and no body at all, that played tricks on the palate! Visually it looked just as intriguing, with this opalescence that kept changing as light reflected off from it.
Course 4: Smoked Beef Fillet, Carrots and Wood Sorrel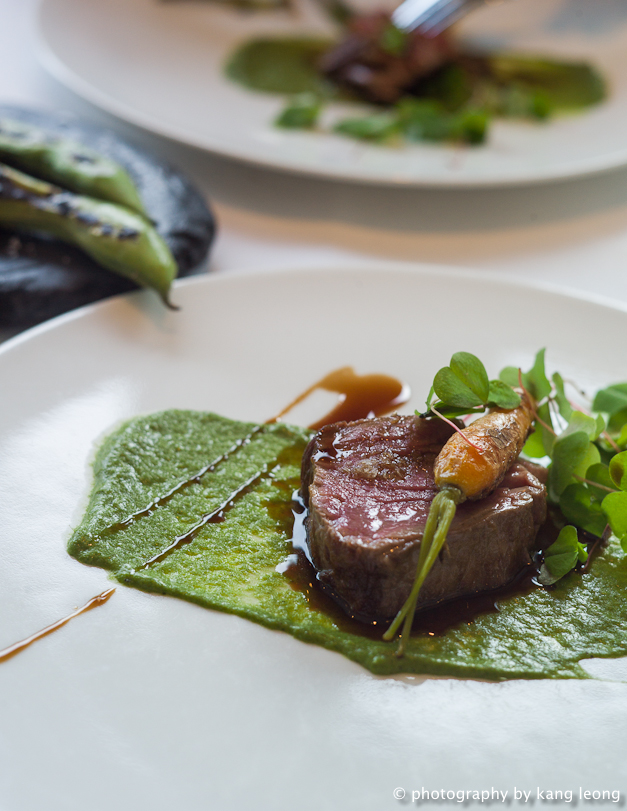 I was told the beef was cold smoked for a couple of hours over oak chips in a bespoke smoker installed at the restaurant's rooftop. And then boiled in a bag for another two hours. I forgot to ask about the provenance of the beef, but we both thought the steak was simply fabulous. Served very pink, I would say rare, but as it's been smoked then sous-vided, I guess I should say that the original textures were preserved. The fillet was meltingly tender and as it should be highlighted for choosing this cut of beef.
Where it lacks natural flavour (as it is a lean cut) , the smoking enhanced with a set of complex flavours to bulk things up : a genius move in my opinion. The smokiness was evident, but integrated within the meat. As opposed to a sort of in your face, bbq-like smokiness, it felt deeply embedded into every muscle fibre instead of coating it. I would also describe the beef as having sugarcane flavour (maybe even grass) and also blue cheese, but that could just be the natural flavour of hung beef being enhanced. If I'm not mistaken, the green smear was made from tarragon, razor sharp and served to balance against the intensity of the steak. Charred broad beans were served on the side.
I liked the simplicity of the main course, with all of the magic concentrated into the beef itself. It's fillet served rare, but with its original characteristics enhanced, rather than swathed by sauce. In a sense, that's the point of good cooking. The table fell silent, we both enjoyed this dish.
( I woke up the next day and punched my pillow. I forget to order Adam's wonderful triple cooked chips with bone marrow to go with the beef. )
Palate Cleanser : 'Elderflower-aid' , Lemon & Thyme ice cream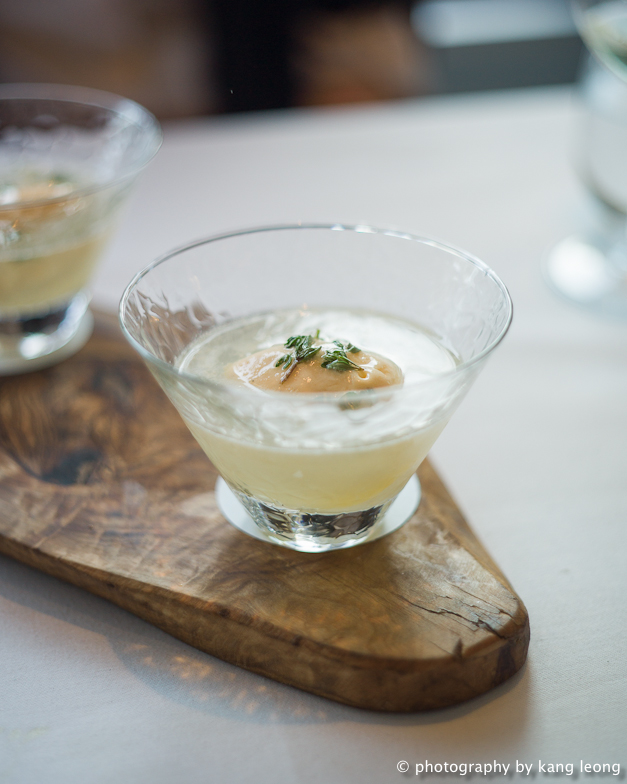 A fizzy elderflower drink, like a 'float' with an intriguing lemon and thyme ice cream. The creamy, seamless texture of the ice cream led me to believe that a Pacojet resides in the Trinity kitchens. We really liked this, really fun palate cleanser, just what you need for summer.
Course 5: Frozen Yoghurt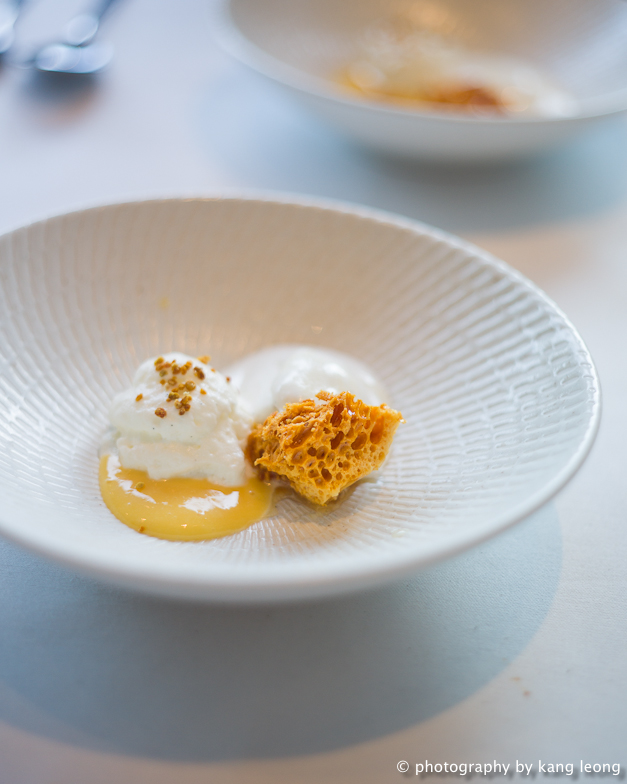 Served with a yoghurt mousse, honeycomb, lemon curd and dried bee's pollen. Such an innocent pre-desert, it looked fabulous to begin with, even better to taste. The lemon curd was razor sharp and excellent. The quickly melting vanilla flavoured frozen yoghurt was also very good, the honeycomb was just a nice touch. The mousse was light as snow, in fact everything on the plate were drops of honeyed snow. Clean, room had been made in my tummy for the chocolate finish!
Course 6: Chocolate Delice, Coconut Sorbet, Almond Praline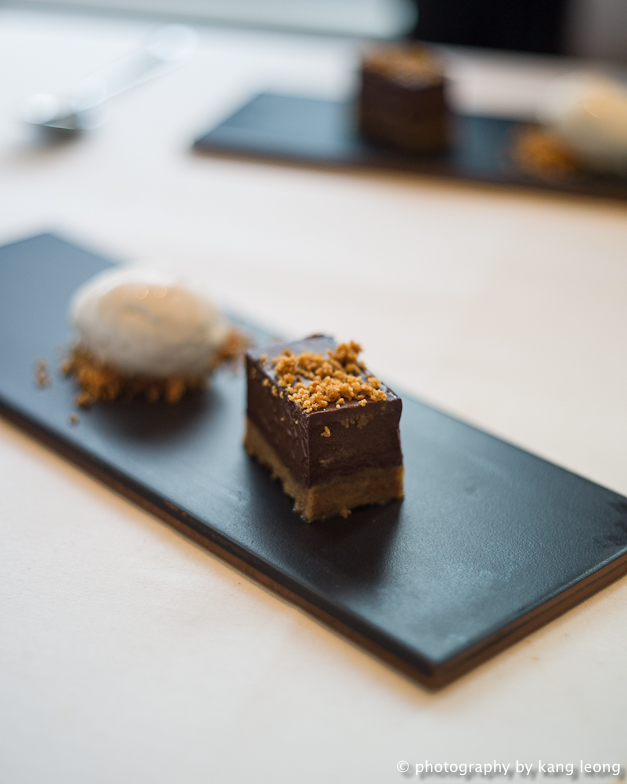 More of this seamless textured ice cream – this time as a milky coconut sorbet. I am certain that they have a Pacojet in the kitchen now, no other machine can break up ice crystals like it. Moreover, I had a similar coconut sorbet made with a Pacojet just a few weeks earlier in Norway.
70% Valhorna I'm told, the tart is a rectangular wedge of unadulterated, sinful, wobbly dark chocolate ganache resting over a soaked almond base. But it's those toasted almond crumbs (which were also present in the scallop dish) that left a lasting impression for me.
We paid £133.37 for two with coffee, a carafe of white wine (£19) , £2pp cover charge and service.
This is a genuinely fantastic restaurant that has definitely become better with age.
Like Bryn Williams, I think Adam Byatt belongs to a group of well-trained chefs, who have passed the promising talent phase and are now maturing into their chef-owner roles. I feel that Adam's recipes are just on the cusp winning the elusive star. Personally, there was enough 'emotion' to suggest that Trinity is at one star level. But importantly, I think a measure of a good restaurant should lie in its ability to keep its neighbourhood as its core (returning) customer base. Evolving over time to become a dependable restaurant that has a running relationship with local residents. Adam's recipes offer precise big-bang flavours in grounded guises. He certainly likes salty dishes, but I'm glad to see that the seasoning is controlled on this showing, with dishes that are well balanced.
Trinity is somewhere between classic, classy and modern. It offers value for money (very generous portions for ALC/Set menus) with a canvas of dishes that feature intensity and honesty. It is already a firm Clapham classic, but I think it will become a true London institution someday. If I was local, I would visit every month, as I did with my (former) local, Cambio de Tercio, or at least make enough return visits to develop stronger sentimental feelings for this restaurant. Adulation and return business – That is surely all restaurants set out to achieve.
The Gist of It
Trinity
£65pp British
4 The Polygon Clapham Old Town SW4 0JG
Tel: 020 7622 1199
Tube: Clapham Common
Did you enjoy reading this? You can subscribe to the Newsletter. Alternatively, you can subscribe to the RSS feed.