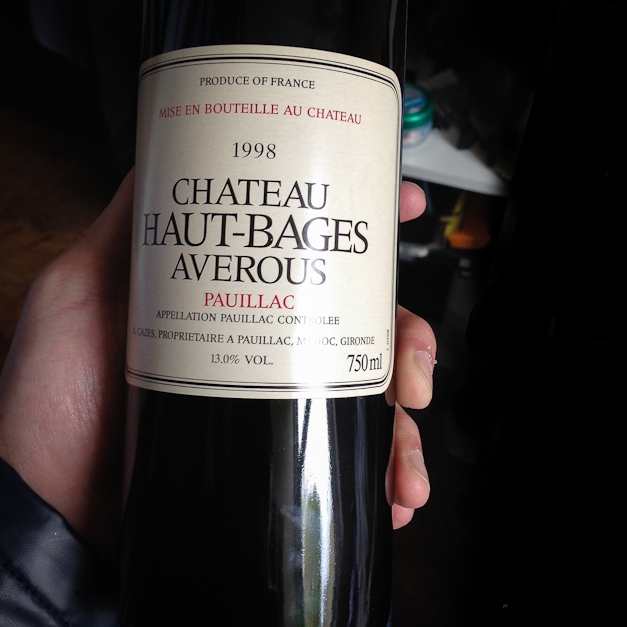 A Prologue
The first of a new series of posts I intend to write on a weekly basis. Not reviews per say and a 'side project' to to the restaurant stuff. Rather these are personal tasting notes, and an open diary about my wine exploits.
Wine has slowly but surely taken a backseat to my food blogging, even though I had always been fascinated with 'discovering' them. Though admittedly, I know very little about the world of wine. I cannot discern all the known discern-able flavours which may present itself in a glass, and I do believe it is entirely subjective. For me however, I think the measure of a good wine is how memorable the experience was, be it fabulous or terrible, moving you to feel some sort of emotion.
Very recently I poured a good proportion of my savings into starting a cellar, primarily for investment, partly as a 'romantic' hobby to amass a collection of wines suitable for drinking when I look mature enough to not be ID-ed at a Sainsbury.
This has naturally upgraded my fascination and caused me to steadily resume this habit of popping a new bottle every week to decide on putting away young vintages for my cellar (hence this series of posts). True to the stereotype, my first twelve bottle case were Lafites. One of the noble five 1st Growths in Bordeaux, from a very good vintage, 2005.
For this inaugural post, I have chosen a classic claret from the famous Pauillac region in Bordeaux.
Origins
Ch Lynch-Bages is affectionately referred to as 'Lunch Bags'. It has an excellent reputation among wine collectors, especially in Britain. Officially, the Chateau is a mere 5th Growth, the lowest 'division' in the Bordeaux classification system (almost entirely unchanged since 1855, save for the Mouton upgrade in '73) , but in current times, the quality of the wines are spoken in the same breathe as the super-seconds (namely Cos and Montrose).
The best Lynch vintages (1989,1990) will set you back a cool £250 – £300 a bottle, good years hover around the £120 mark. No doubt you will have heard much of Bordeaux wines being considered as an investment vehicle these days, with prices for 1st growths escalated (north of £1000 a bottle for good, relatively young vintages) to levels that has priced it out of many drinking budgets. As much as I'd like to, LB just a little out of the spend zone for a non-occasion drinking wine.
Fortunately, chateaux often produce a 2nd wine, sometimes made with fruit not deemed good enough for the grand vin, or other times, from entire plots dedicated to making the 2nd wine. Meant to serve as an introduction to the style and general expression of grand vin, these wines usually become ready to drink much earlier, and crucially at a fraction of the price.
Why this bottle?
As alluded, the HB-Averous is 2nd wine of the Lynch portfolio. Historically, it was once a neighbouring chateau to LB, but has since been absorbed into the fold, after the Andre Cazes (Father to current owner Jean-Michel) bought it in the 70s. In 2008, the Averous was renamed as Echo de Lynch Bages.
I picked this up from Robersons Wine for a cool £46. 1998 is largely seen to be good but not exceptional vintage. At 13 years of age, this should be just coming into right drinking window.
I poured half the bottle into a decanter, and the other half saved with a wine stopper in the fridge for the next day.
Notes
The nose: Instant gratification, very opulent, like an assorted basket of freshly picked berries, the aromas were rushing out of the bottle, the freshness of the fruit was immediately apparent and nearly overwhelming. Lovely stuff.
On the palate: Medium bodied, subtle acidity, bright minerality, generally silky. Fresh, fleshy and sweet berries, maybe like ripe plums as well. This was underscored by a touch of bitterness, maybe oak. Tannins appear to grab hold of the tongue.
Decanting: There was some sediment, but minimal. Breathing for 2 hours did not appear to affect noticeable change, wine stayed pretty much the same. After 3 hours or so, I felt the initial rush of fruit slowly fizzle out, the oak started becoming more noticeable, which I didn't enjoy. After 5 hours, it really felt like the life had been slowly squeezed out of the wine.
The next day: The remaining wine I had held back in the fridge tasted better than the previous day. The fruit was a little sweeter and more intense. The oakiness was lesser than the day before. Maybe oxidation in the bottle overnight did it some good.
Final thoughts: Solid and not challenging. Certainly a delicious wine which I enjoyed to the very last drop.
Did you enjoy reading this? You can subscribe to the Newsletter. Alternatively, you can subscribe to the RSS feed.