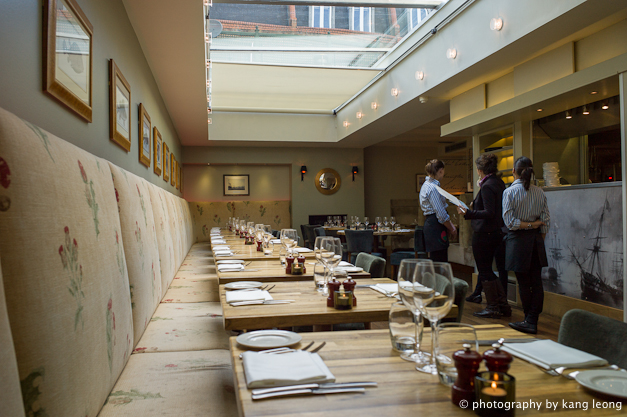 *Update 11 July 2012 – Latest is that Fred Smith will now 'consult' for the restaurant, and Ad Cod will install a new head chef to fill his void. Unsure what this means for the future of Fred's burgers, so do call in advance to check before visiting.*
This is my 3rd visit to the fabulous Admiral Codrington in as many months. By now, you'll have heard about Fred Smith's near obsessive detailed experiments in continuously honing his version of the perfect cheeseburger. In the last few weeks, he's been causing tidal waves of instagram drool with diners tweeting his elusive specials: the double patty burger code named 'The Double Stack' and the other elusive animal : 'The Chilli Burger'. Ironically, on both previous visits, I missed all the specials for dinner as depending on how busy the kitchen is, specials are (mostly) a lunch only option.
Away from his Ad Cod stove, you might have already eaten the Fred Smith x Tom Byng collab on the latest Byron special called 'The Chilli Queen', set to run till early June. With green chilli, chipotle mayo, American cheese and a glazed bun (first debuted for the Uncle Sam) ; The burger is a sort of condensed version (for the 22 Byrons across town) of Fred's original chilli burger. I was fortunate enough to be invited to a preview by Tom and thought it was great. The spice kick was a nice compliment to the already perfect everyman – around nearly every corner – hamburger, all of which rested on a bed of shredded lettuce – another signature Fred Smith move. I had promised Tom that I would resume my run-to-a-byron routine now that he has opened one in Camden, a 30 minute run from Queen's Park. I haven't done it yet, but with the Chilli Queen's closing date drawing near, it provides the motivation to do so.
I've tried all but one Byron special, by my estimations, the only non-beef burger, the lamb burger which only ran for National Butcher's Week last year. While we're on the topic of 2011 Byron specials, I must mention the beloved Big D (after its creator Darragh O'Shea). Yes, the various Byron restaurants had trouble maintaining cooking consistency for it being such a massive patty, but when they got it right, it was a burger of sheer elegance. It needed the strength of the gruyvere, but the result was neither gourmet nor cult, but just a damn good burger. Sadly (for me), it won't ever be seen on a Byron menu every again.
The first time I sank my teeth into the Ad Cod Burger, my eyes widened. Beef sourced from Darragh, a blend of rib & chuck, but smoother and more intense …gasp, could this be …the son of the Big D?
(The original patty is actually available to buy at Darragh's Knightsbridge shop, so you could still try it at home, if you've missed it all. )
Since that visit, I've craved mid-week returns to the Chelsea pub to erase mid-week blues. I followed up the 2nd visit in April, and was surprised to find the american cheese had been upgraded to Fred's own concoction of a bacon infused in-house cheese 'blend' with american, parmesan, and – correct me if I'm wrong – a sort of chopped onion reduction.
Honest, Meat and Lucky are all very good but a mission to get to, and the overall experience can become a little chaotic during busy times. Maybe I'm just fussy you know, I think the Ad Cods' dining area is a welcoming change. It's civilised and comfortable. With the impending long summer days, the skylight roof which runs the length of the room just slices open the ambiance completely. And you can book tables!
Actually a full fledged gastropub, with a hardworking chef, dedicated kitchen and committed front of house (3 visits, still won't let me into the room until 6.30, and after they set all the tables according to spec), they continue to remind diners that they have the capability to deliver reasonable non-burger food. It's difficult to come here and not order the burger, but I think everyone is intrigued by the other things Fred can cook. For this meal, we went only as far as the starters, as Fred had invited the missus and I down to sample the latest version of his chilli burger. Food on Fred, drinks & tips on us.
Salmon, jalapeños, lime.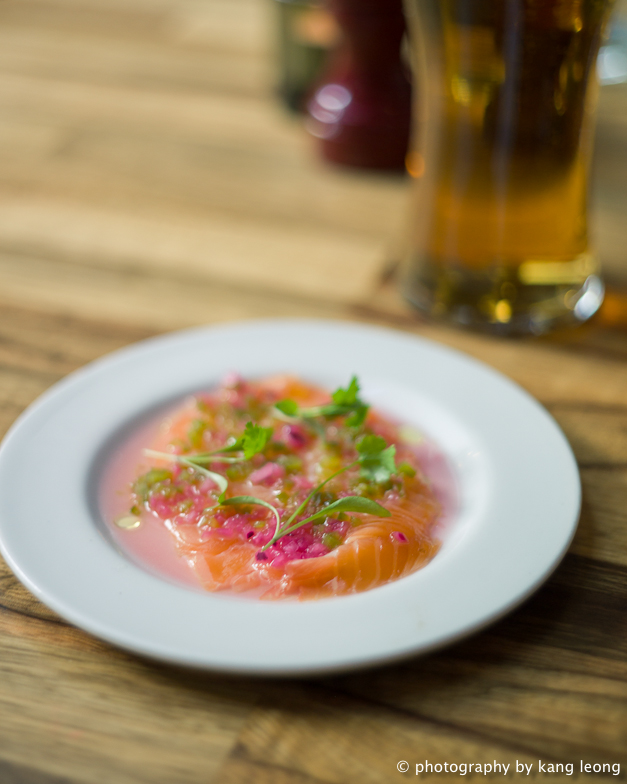 So we began with a zesty ceviche to kick things off. Very fresh, wiped the palate clean, stinging jalapenos.
Diver caught scallops, cauliflower, lime.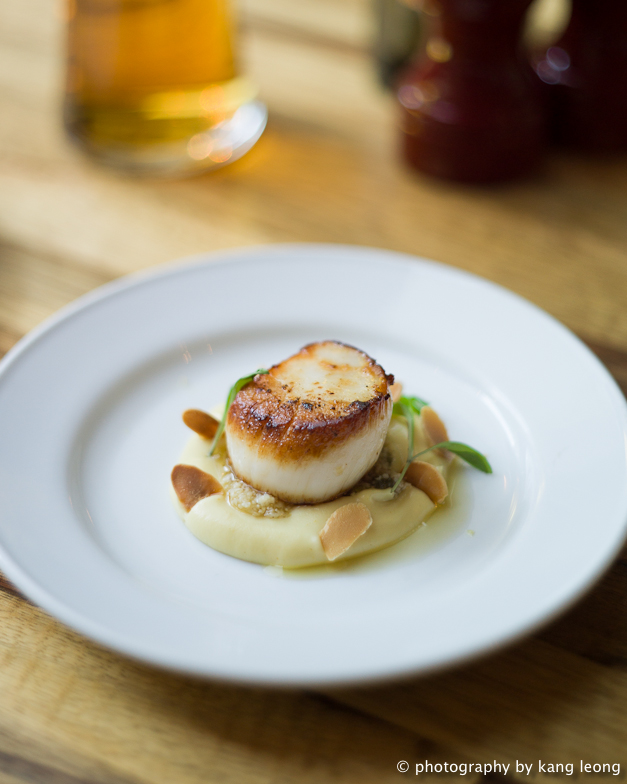 I went to Alyn Williams' (I'll post the write-up after this obviously) for lunch on the same day as this evening visit to Ad Cod, and also had a similar single scallop dish. Alyn's version was served with cucumber, smoked shaved roe, sea urchin and a sort of 'milk'. Both I gather were diver caught Orkneys.
Not to take away from Alyn's version (which was obviously very exciting) , but I preferred Fred's classic take. The scallop looks pan-fried, I would have liked to have seen more heat on the outside, but on the inside, beautifully transculent, juicy like lychees. However it was the cauliflower whip, lifted by a dash of lime that took the scallop to the clouds. I only just detected a hint of curry, maybe caraway seeds, on the fringes. I can't see it on his current menu, so I'm not sure if it's a dish in late beta testing or otherwise. As it stands, it's delicious.
Foie gras creme brulee with brioche soldiers.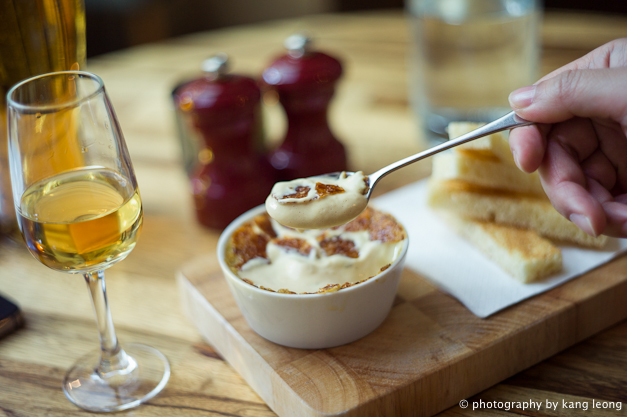 This was still a work in progress, Fred had brought it out to test on us guinea pigs. He says that it's made just like a creme brulee, except with foie gras dissolved into the custard. A crack of the flamed demerara roof revealed a runny custard. According to Fred, he admitted that he hadn't given it enough time to set.
Though the missus and I both thought the runny texture actually worked well, especially since it's meant as a dipping for the soldiers. Of course, the distinctive flavour of foie gras was ever present, just aligning with the sweetness of the custard. This is a tricky dish to pull off since both sets of flavours can easily become sickly if balance is not sought. But I thought Fred's version was well executed. It was mellower than anticipated, but I think potent enough to overwhelm if you quaffed large spoonfuls. It's better with the sweet wine we were served it with (South African Late Harvest Semillon, judging from the wine list is my best guess) , but really shines as a bread dipping. Visually, it's like egg yolk gelling on the brioche soldier. Buttery, syrupy, savoury flavours which all hang together very well. Again, I think it's a successful dish, at least to me, it certainly demonstrates Fred's ability as a chef, and importantly, his attention to balanced flavours. Now he just needs to decide if this is a pudding or a starter.
I once had something similar at Le Petit Normand, a tiny French bistro in Wimbledon, where they served it as a starter, with foie gras and apple. That was a little overcooked and probably too tart.
The Chilli Burger with chips.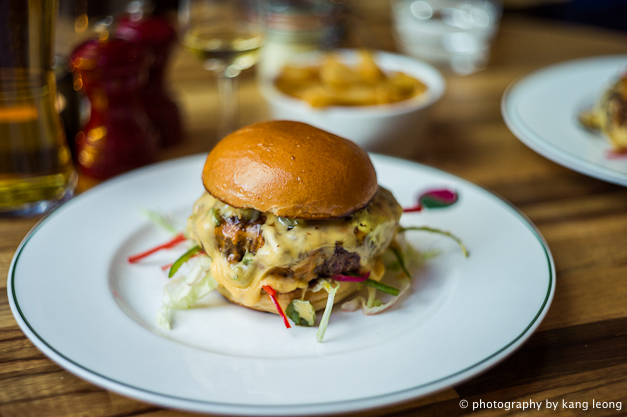 What do you think? Looks good yes? The cheese still melting around the patty, like hot yellow lava flowing down the sides of a volcano.
Here it is from another angle: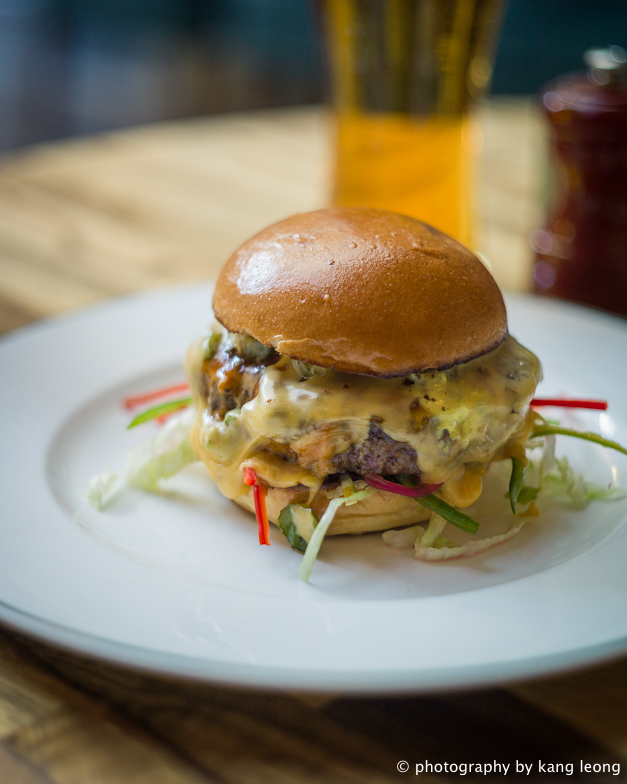 Phew. When I saw it last on the table, my jaw dropped. Is there such a thing as a beautiful burger? The burger is larger than it looks, stacked very high.
Bear with me for this, Fred ran through the details very quickly, and hopefully I didn't make too many mistakes here. But do correct me.
Starting from bottom up:
1. Glazed brioche bun, Millers.
2. Chopped iceberg lettuce.
3. Chopped red onion, red & green chilli slaw.
4. Mustard Mayo with Chipotle Cheese.
5. 5 or 6 oz O'Sheas Rib & Chuck Patty, aged & prepared in house.
6. Fred's in-house made cheese with crispy bacon bits, american cheese, raclette, parmesan.
7. Jalapenos??
9. Braised short rib chilli.
10. Fred's in-house tomato spread??
11. Glazed brioche bun, Millers.
Here is the cross section, medium rare, too pink for some, but for me, juicy and perfect.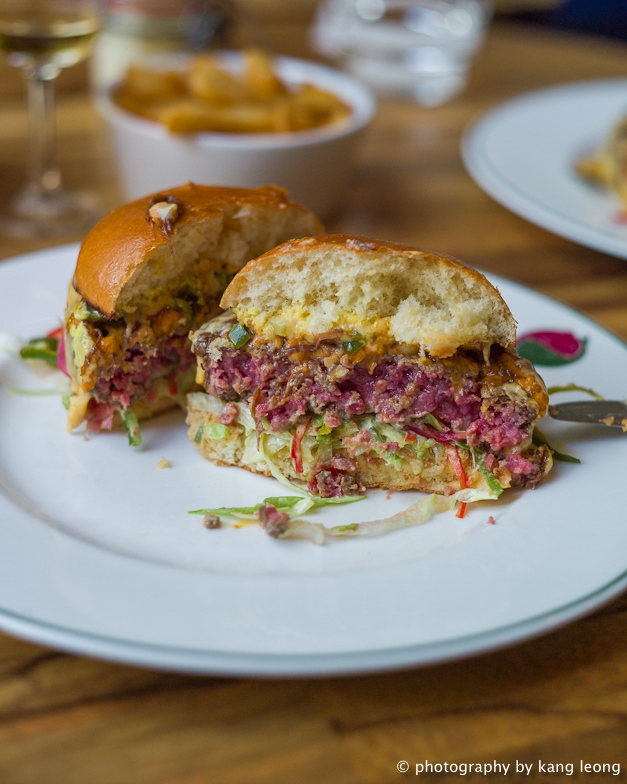 It's a breathtaking burger. Surprisingly restraint, no knock out blow of chilli. In its place, a subtle gradation of spice, of discernible chilli flavours. I felt a warming crescendo that just kept building and building as I worked my way through the burger. The 5 or 6oz patty is much smaller than the standard 8oz Ad Cod cheese, but with so many layers, it seemed it could be slimmed down just a tad. I was not complaining however, the more patty the merrier, though it did slip out of the bun barely able to hold itself together after four or five bites.
I think the most profound 'layer' may be the braised rib chilli. It tasted like the best chilli con carne I'd ever had, melted over arguably one of the best burger patties in town. One that was so imbued with hefty flavour (perhaps from ageing) that it was more than a match for all the spices. Fred still follows the Heston method of uniformly lining up the mince to prepare his patties, so the patty is surprisingly smooth when biting into it. I don't know if it's simply because I know of the technique, but it certainly does come across as such. Though Fred says that these days, he spends less time making it uniform, and rather prefers a patty that is 'less tidy'.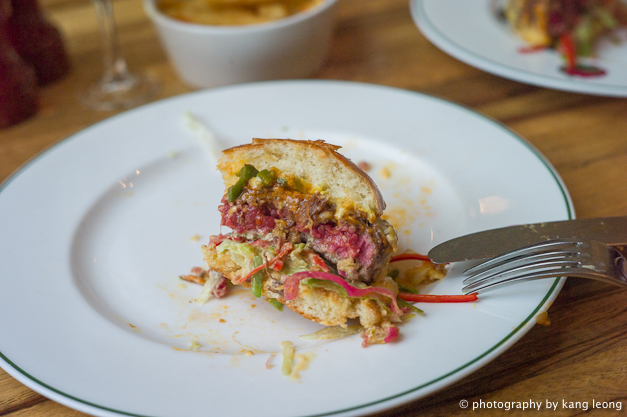 As I finished the last bite of this amazing burger, I noticed a faint, warm fizzle at the back of my throat, the smell of the chilli and grilled beef still hanging around in the olfactory. So far, the best burger experience I have had are the Lucky Chip's Bill Murray burger and the MeatEasy cheeseburgers. But I think this tops both.
I asked the missus if she thought this is the best burger she's ever had. She replied "Yeah. Maybe."
For £15 with chips, it certainly isn't cheap, but it is such a stunner. Fred limits the fleeting appearance of these monsters because he thinks the rest of the menu will suffer if he devotes the time required to prep them to his exacting standards if he had to do it everyday.
The missus and I deliberated and we certainly felt like this burger had an air of a well-thought out, complete dish. Rather than stylish junk-food. The burger is certainly a chef's burger, one in which it is apparent that copious work following serious thought, has gone into ensuring that each detail isn't just perfect, but that each building block works in tandem with the other ingredients in the same sandwich.
I was joking with Fred that I thought the complex gamut of flavours this burger displayed versus his standard cheeseburger was akin to comparing the 1st and 2nd wines of a Bordeaux 1st growth.
On the topic of wine, they offer clarets from good 2th growth chateaux (Palmer and Leoville Barton) from drinking vintages (as opposed to 'collector' years) but I did note their top selection is a venerable Hills of Grace, and I suspect they are also BYO as a nearby table were had brought their own bottles. Unconfirmed though. If this is the case , then the next time I go there, I'm bringing a bottle of First Drop's The Cream to savour the burger with. Arguably, the rising star of the Barossa Valley which may one day share the same status as the noble Grange.
I think Fred thoroughly deserves his reputation as an excellent burger constructor, but I also think he deserves to be seen as a talented chef. I googled his background and found this interview on King's Road Rocks. He has stinted in Wales and Australia, and one of his (Chelsea) favourites is Medlar, incidentally, one of my favourites too. Amazingly, he manages very edible dishes from a kitchen no larger than those you see in the beloved food trucks which have been trending the past year.
I think the market is completely saturated with very good burgers, it's startling how high the standard is these days, but I think the competition is only good news for end consumers. From what I've heard, there might a few other variant off-menu specials in the near future, but I think the only way to keep track (and to find out when what special is on) is actually to follow Fred's twitterstream @fredsmith_.
There's so much I haven't tried myself and I am far from being the burger expert, so it's only apt that I end this over-written gush fest by directing you to the burger-erudite for more detailed and accurate reports: Burgerac , Hamburger-Me.
The Gist of It
Admiral Codrington
Pub, with a great burger £35pp.
17 Mossop Street, London SW3 2LY
Tel : 0207 581 0005
Tube : South Kensington
Did you enjoy reading this? You can subscribe to the Newsletter. Alternatively, you can subscribe to the RSS feed.