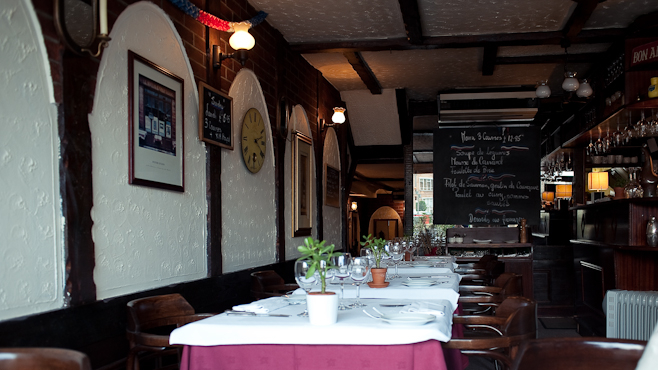 One of the major themes of my restaurant collecting this year involves expanding the catchment area. It occured to me last year when I felt like a tourist in Liverpool street station; circling it many times until I eventually found out that Andaz was just next door. Yes, the East is still a mystery to me. There are supposedly very good, and very hidden Turkish restaurants beyond Limehouse. I have yet to find out. So a few weeks ago, I was in Southfields to run an errand, I hadn't been back since Wimbledon '04, and thought it was the perfect opportunity to give a local restaurant a try.
I had thoroughly enjoyed Douglas's intoxicating piece on Le P'tit Normand, and had since been waiting for the right opportunity to give it a try. I tell you what, its website is shrewdly well-designed and it painted a neighbourly, always-summer-here vibe about the restaurant. I thought it would be in a part of Southfields that would look like Chiswick or even Harrow on the Hill. Nope, nothing like that, it was a bloody long walk from the station – panting as I reached the door, occupational hazard of course – and into a drab lifeless drag. As I said, deceptively well-designed website. Through to the door then and my first impressions were that Le P'tit had an atmosphere that was equally so. In the place of rustic quality was a very distinct phoniness about the entire set up. Over polished wooden beams perhaps? Or potted plants – with real soil – as table decoration. The silence was a little harrowing as the restaurant was completely empty for Friday lunch, but which was quickly filled with bombastic Parisian tunes. Tunes switched on by whom I assume to be the restaurant manager, Krystyna. If I am correct, there were only two people on shift, the chef in the kitchen and Krystyna tending to the sole table, ours.
Being a local restaurant, I was looking for value, and it certainly did not disappoint in this regard: The two course set lunch menu is only a mere £10.95, and the priciest a la carte combinations measuring £8-£16-£5. Food is recognisably French – parfaits, tartares, cassoulets, entrecôtes and escargots. However, a closer inspection revealed items of interest such as Foie Gras au Torchon or Duck Liver cooked in cloth and Gigue de Chevreuil Rôtie, Poires Pochées au Vin Rouge, Purée de Céleri Rave. Coulis d'Airelles, Roast venison haunch, pears poached in red wine, celeriac puree. Cranberry sauce. To date, this is the first restaurant I've been to which served complimentary pork rillettes to start, a nice touch.
As per usual, I was in the ever so gracious company of the missus, who was delighted with her more than affordable set lunch menu. Starters duck liver parfait.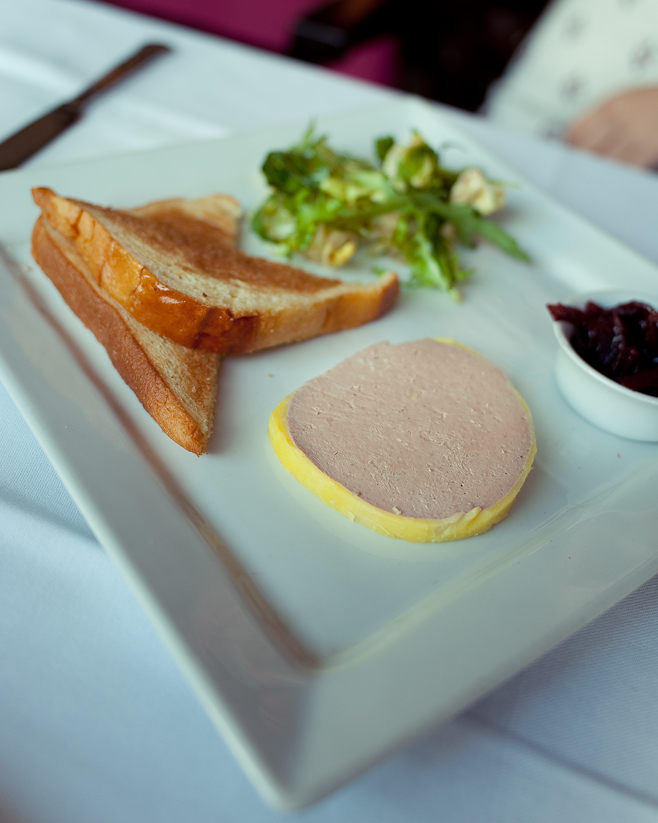 I love parfaits with the yellowish butter (or is it duck fat?) layer enveloping it – it just gives the parfait an extra skip in its step. Like whipped air, bubbles of fat pushed together – beautifully seasoned, salty but not overly so – it spread beautifully on the soft, sweet brioche. I've had better in London, but this was benchmark stuff.
What kind of music is this called? Is it Cabaret? You know what I mean right, Edith Piaf with the melodramatic strings. My starters : Foie gras and Apple Creme Brulee £7.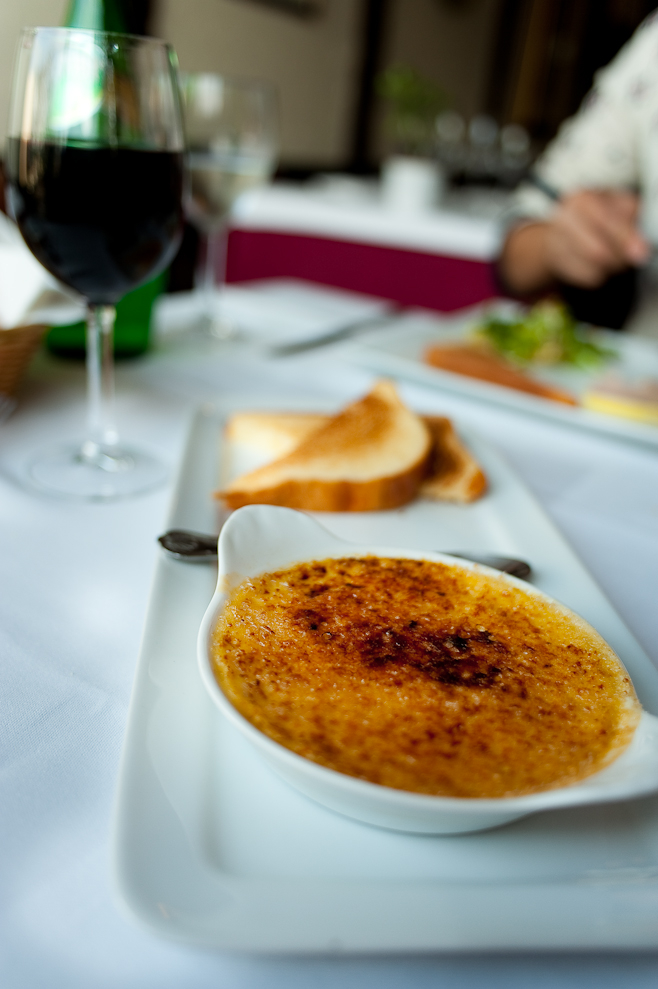 No no, you read that correctly, a savoury creme brulee to start. A little strange, its texture was a little too much like soil, perhaps even a little overcooked. It was tart, presumably from the apples, The overriding flavour was – unsurprisingly – of sugared liver. It also felt like eating an upside down apple tart, but infused with tea and vanilla. Unconventional for me, I thought this dish was just on the wrong side of being confused. Two spoonfuls in strangely satisfying; anymore and it was soberingly wrong.
On to the mains then, the set lunch option of Pan fried salmon.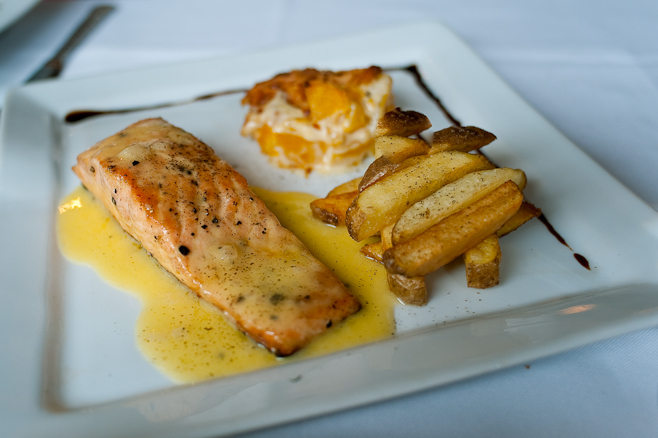 Gently fried, juices still intact, just a tad pink in the centre – perfect. For the life of me, I cannot remember the sauce that was poured over it, I want that it was a citrus butter, but the truth is that it was forgettable. However, bearing in mind that this was from an eleven pound set, it represented great value for money. I noted the hand cut chips, fluffy, but it could have done with more frying time.
And finally, the pièce de résistance : Saddle of Rabbit stuffed with mushrooms, rabbit and tarragon sauce £13.95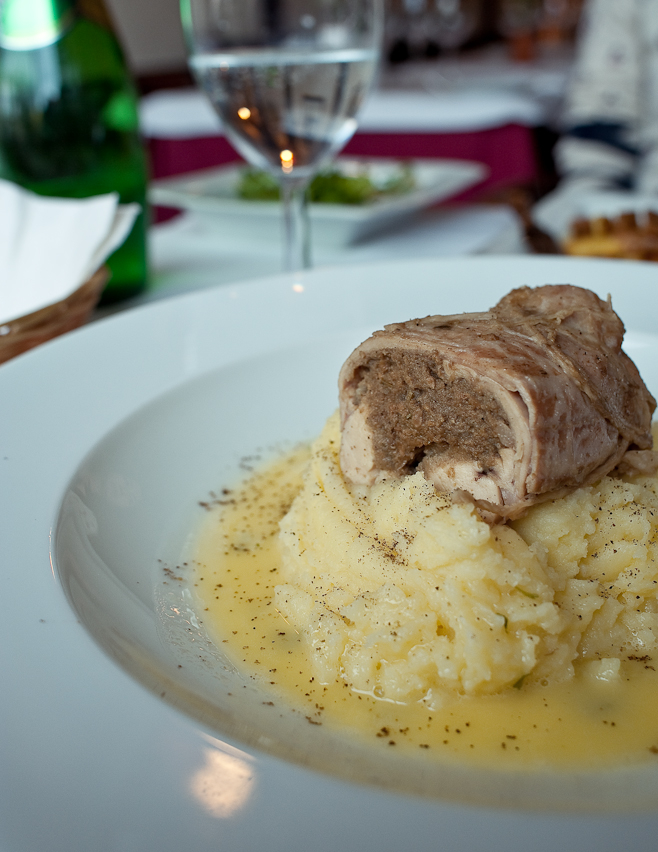 I'm not familiar with rabbit cuts, though I assumed that the saddle was used to make this dish. The meat exhibited an off-the-bone juiciness, something which I hadn't really experienced with rabbit before – my impression had always been of a more chewy nature, not unlike a chicken breast. This was different. As it was explained to me, the rabbit was slowly roasted, and then made into a stuffed roulade with mushrooms and yet more rabbit meat inside. All of it finished off with a buttery sauce, not unlike a cream of chicken, actually. The entire dish has a moist quality to it, very homely and wholesome. I must say, I appreciated that it wasn't yet another brave exploration of the limits of human toleration to nose to tail designs. My tastebuds swimming in gently roasting clarity instead. There was so much mash, I couldn't finish it. I enjoyed this. It was well executed, and I think it would have been more enjoyable if the restaurant didn't smell like it had just been… fumigated.
Lunch for two plus a glass of red came to just under £40. As we were finishing up, a table of four walked in, otherwise, the restaurant was empty. I think Le P'tit Normand is a victim of horrendously out of date decor as well as an equally inaccessible location. As the consummate restaurant collector, I have little qualms in travelling (the rush of the adventure I suppose), but in most cases, hidden locations do act as a deterrent. It is what has hampered my journey so far to say, Chez Bruce which is seemingly a million miles away from Gloucester Road. I liked Le P'tit Normand, the retro if quirky menu with its equally eighties pricing is ironically a breath of fresh air, in fact dining at Normand feels more like dining in Glasgow, or dare I say, Brussels. I suppose if you don't mind Wong Kei style never-to-be-redecorated surroundings, and if you so happen to be in the area, you might be delightfully surprised with what this petite French restaurant has to offer.
The Gist of It
Le P'tit Normand, £25pp official site
185 Merton Road SW18 5EF
Tel : 020 8871 0233
Tube : Southfields
Reviews elsewhere : Intoxicating Prose
Did you enjoy reading this post? Why not subscribe to my feed updates for free. Alternatively, You can subscribe via email.