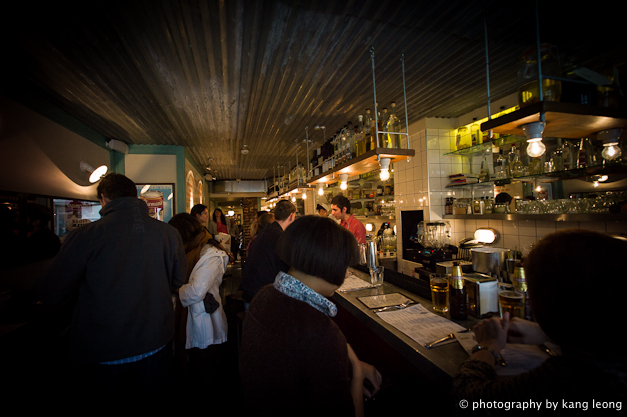 No doubt you've already heard about Ceviche, the first of a trio of Peruvian restaurants to open in London this year. Started by Martin Morales, Brit with half a Peruvian heritage, he gave up a notable music career (According to Xanthe, he signed KT Tursntall and launched iTunes in Europe!) to plug a gaping hole in the market. Which he reckons will be nicely filled with an introduction to raw seafood cold cooked in tiger's milk.
Apart from the fusion dishes at Nobu, I've never eaten Peruvian food. This cuisine has always been written about as the next big thing (Monocle did a nice spread last year), partly given its unique history of diverse cultural influences, one can argue that Peruvian is a true expression of fusion food. Given the decades the Nobu restaurants have spent in the (international) limelight , Peru hasn't really taken off as a must visit destination for gastro-tourist.
The cuisine's foremost ambassador is Gastón Acurio. By wikipedia's account, he is a bit of a legend in his native Peru. His name is attached to No.35 on the 2012 World Best 50 , but it diffuses down to a diverse portfolio of operations which include a hamburger bar, a Peruvian-Chinese restaurant, a hotel and even a 'gastronomic' university. I'm most intrigued by the mention of his roast chicken franchise, La Pollada. Might it come on British shores and threaten Nandos' monopoly on the market? That's for another blog post.
Where was I? Ah yes, The Morales tiger's milk: an acidic marinade consisting of a closely guarded recipe centered around salt, lime and chilli. Poured over a variety of seafood, the concoction is the very soul of the ceviche. The ceviche in turn, according to Martin represents "Everything you need to know about Peruvian food is in it".
Alianza Lima, £7.50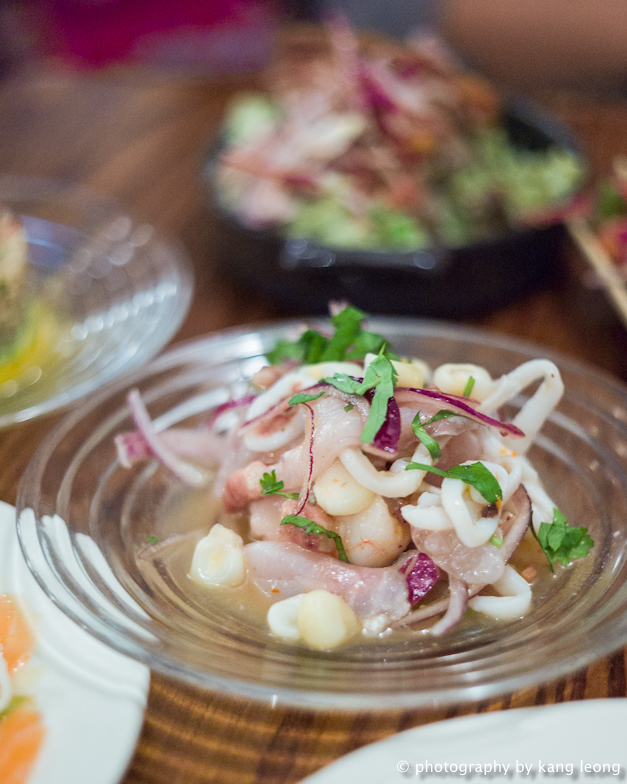 With one prawn, chopped squid, octopus, giant cholo corn, seabass (as the fish on that day), beansprouts, coriander.
So it's like a sashimi salad. Personally, I felt like all the citrus killed the texture of the seabass. It just didn't taste fresh. In fact it tasted like a soaked sponge. I was annoyed to have to share a single prawn with the missus. Does this imply that the plate is a single person portion?
The sensation of chewing on soggy raw fish wasn't what I had hoped for. Could it have been doused with too much tiger's milk? I had expected sharpness, freshness and vibrancy. Maybe like a freshly shucked oyster – seawater spewing all over my top – with lashings of freshly squeezed lemon and tabasco, but alas this wasn't it. I thought the spice and zest of the tiger's milk was interesting, but overall, the dish lacked excitement. It was muted. At £7.50, it's not exactly cheap.
Granted it's an unfair comparison given the Nobu's high prices and use of premium ingredients, but really Nobu(s) is rather good with the Peruvian dishes. Ok, so my last visit to Berkeley was over 3 years ago, over 6 to Park Lane, but if you can afford it, Nobu is still a very dependable restaurant. I still hold the view that only Nobu restaurants can do justice to Black Cod Miso. Remember that dish? Oh man, nostalgia.
Anyway, I digress. I expected that Ceviche's star billing to be at the very least addictive and fun. I really tried to like it, but I just didn't.
Sakura Maru, £6.25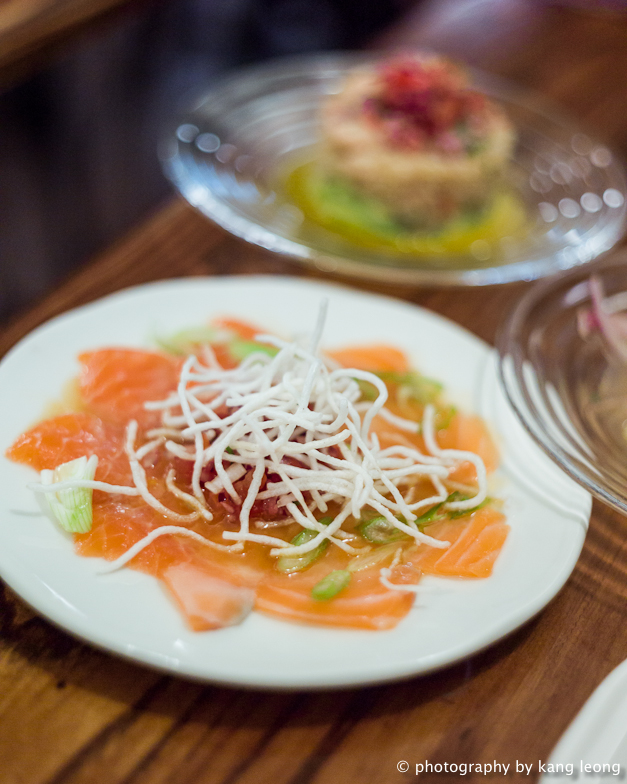 Salmon carpaccio, tiger's milk with mirin, soyo, satsuma and what appears to be spring onion. AKA 'new style' salmon sashimi. The sauce tastes exactly like the Alianza Lima. It was ok.
I am reminded of the spicy sashimi salad at Sakura, Oxford Circus , usually a dinner-only item, which uses a variety of 'discarded' bits from sashimi / nigiri. Salmon, seabass, hamachi, thin prawn carpaccio, seaweed usually feature, and a spicy, zesty, fresh and vibrant sauce is poured over it. It's very addictive (they've got a bit stingy with the spicy sauce over the years) but I had it a few weeks ago and it's still very good as always. Not Peruvian obviously, but at £6 or thereabouts, it's far superior as an experience of raw fish + spicy citrus sauce than this.
Given the generally positive reviews and Martin's largely successful PR, I really, really tried to like it but I just couldn't. Not to say there was anything particularly wrong with it, but I just felt like there are comparably better things to eat in London at similar price points.
Ensalda de Quinoa, £3.75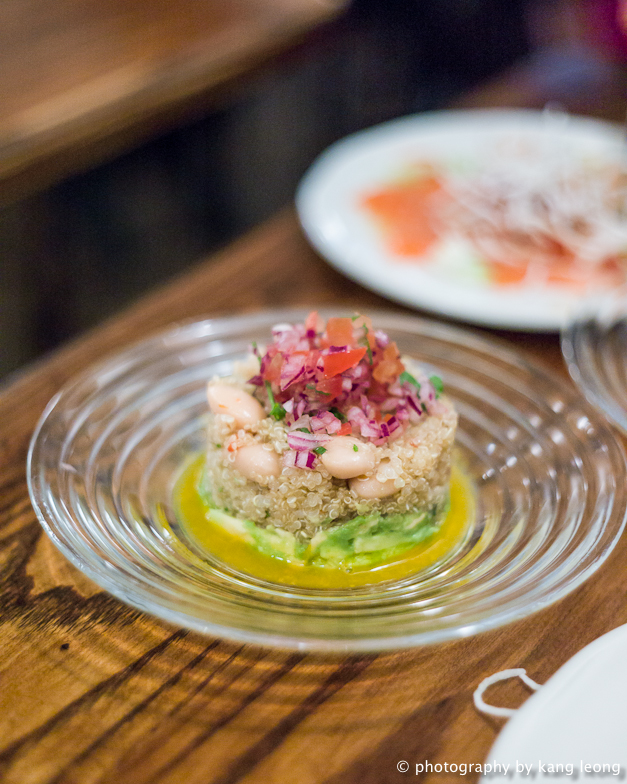 With white quinoa, tomatoes, avocado, butter beans, coriander and rocoto chilli vinaigrette. Ah! We really liked this dish. It was fresh, zesty, lively and everything I perceived Peruvian cuisine to be. And it was affordable.
Arroz con Pato, £11.50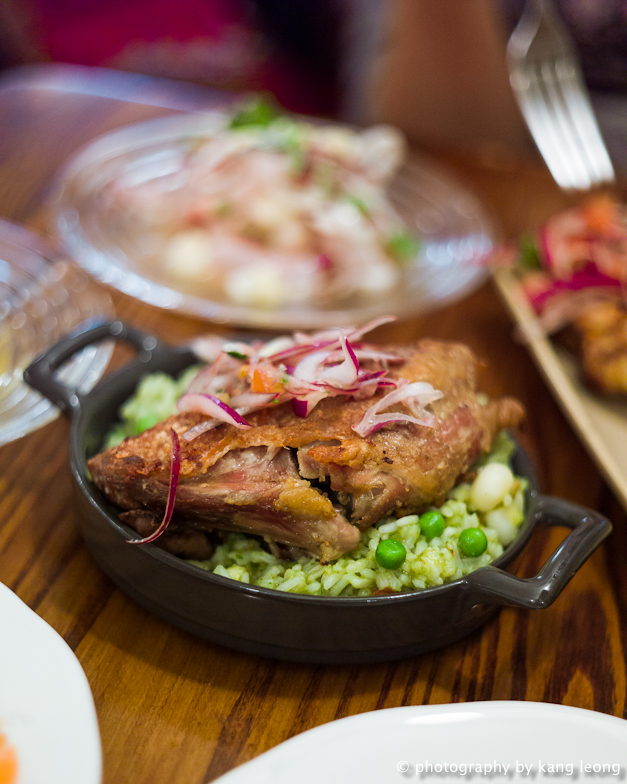 Confit duck in coriander, dark beer rice with aji amarillo chilli.
For £11.50 …it's more expensive that the tiny tapas plates at Copita. When this arrived, I thought 'Opera Tavern! Salt Yard! Tapas!' , and truthfully I didn't expect it to shine.
We took our first forkful (no spoons provided) and we both lit up. The duck was moist and tender, really concentrated in flavour and had a nicely crisped skin. However, it was the green rice that had me salivating for more. It had amazing intensity of flavour, like it was made with a very concentrated stock, perhaps with the duck fat?? Herby, fluffy, creamy, very moist, almost like a dry risotto.
I couldn't really tell what it was, maybe it was the reducing sauce the rice was cooked it (dark beer??), but whatever it was, it was fantastic. This was something I could keep topping up bowl after bowl after bowl with. This may seem left-field (maybe because of the colour) , but it brought up similar warm feelings after I tried Heston's snail porridge. Or for 2012 era, the cod cheeks porridge at Dinner.
For me, this dish was a winner, I never knew confit duck could be interpreted like this, I can still smell all the spices, herbs and the rice as I write it.
Chicken Anticuchos, £6.75.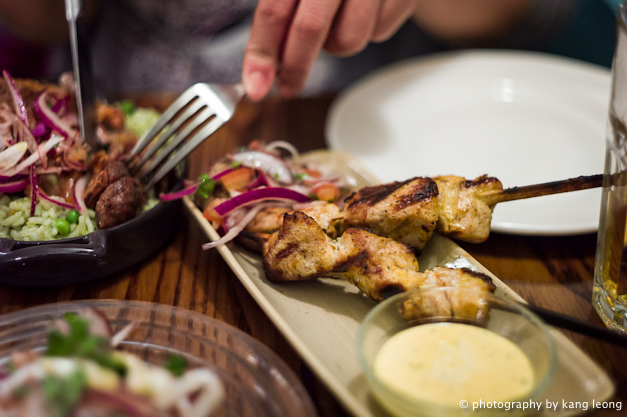 Chicken cubes on a skewer. For £6.75? Better off heading to Bincho Yakitori for chicken oysters or chicken skin for the same money.
We paid £45.62 for food plus two beers. No pudding. A full meal here will probably average £25-30pp. Not overly expensive, but a little dearer than expected.
I dislike the dining room in the back. Save for a small skylight, there are no windows, and it's stuffy like a cellar – dead fish, lime and dust. I couldn't wait to get out the minute I got in. I know decrepit Soho spaces are trendy, but personally I'm getting tired of trying to have a meal surrounded by barely adequate furniture. More to the point, I think the kind of food Ceviche sell, requires a room with plenty of light to emphasize freshness and fragrance. I cannot imagine how stuffy it would get on hot summer nights, candles only, all the while trying to negotiate raw fish cooked in lime juice. On my visit, the music was definitely too loud, or maybe it's just that the room was so small. If you're there, you should avoid the dead spots in the furthest corners of the room (that's where the missus and I sat) , and the ideal seats appear to be at the bar.
In spite of my wayward criticism, I think it's a (mostly) good effort, though I feel it is destined to become nothing more than a convenient meeting point for after work drinks or casual group dinners. Martin has certainly paved a largely smooth road for Peruvian to enter the market, but it does feel like this is merely a dress rehearsal for something more polished on the horizon. But hey what do I know right? After all, this is only the first time I've eaten Peruvian food.
Next up Tierra Peru.
The Gist of It
Ceviche
Peruvian £25pp.
17 Frith Street W1D 4RG
Tel : 020 72922040
Tube : Leicester Square
Did you enjoy reading this? You can subscribe to the Newsletter. Alternatively, you can subscribe to the RSS feed.