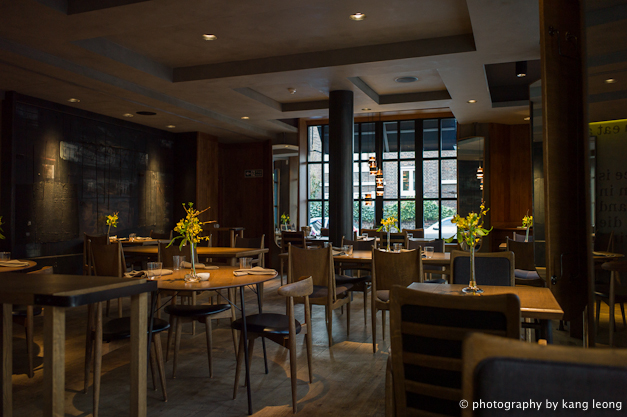 "The change is more than skin-deep" – First words you'll read on the newly revamped Tom Aikens website. Words from a chef (or franchise I should say) who seeks a fresh break from his past. One which has always had a question mark hanging over it. From his accidental searing of a sous chef with a hot knife to the more recent financial woes which involving the way he had gone into administration, and the fate of the debt owed to small scale (presumably angry) suppliers using a pre-pack administration / phoenix insolvency process. Effectively this allowed him to carry on business as usual, free of debt but burdened with a slightly sullied reputation.
On the other hand, Aikens was one of Koffman's original group of proteges (and then installed as head chef) when Le Tante Claire won 3 stars, and he was one of the youngest chefs in his day to gain (retain) 2 ** during his time as head chef at Pied de Terre. It is undeniable that he has real talent in cooking, invariably met with universal praise. In late 2011, his eponymous restaurant closed for refurb, reopening earlier this year with a new outlook on (what appears) all fronts. In the process, Tom had lost his star, which probably might be a good thing for this reputation rebuilding campaign.
For all the time he's been cooking in London, this will be the first time I eat his food. I made a last minute call for the last lunch sitting on a Friday afternoon, but was rather surprised to find a restaurant that was nearly empty. Overseeing the stoves on that day, is newly installed Head Chef Lee Westcott. It's claimed that Tom A is present during most days, but kitchen control is probably just as assured under Lee.
It appears that the redesign has taken into account the the New Nordic wave, what with this newly in-formalised and zen-like setting. The room looks like it has been hand-chipped from the same bark of tree, closed with walls painted grey and over-sized quotes printed over it. It's a little like an Alpine lodge cum basement cellar with cave man scribbles, and it reminds me a little of the industrial look at Dabbous.
Table-cloth free, the light weight look is sort of cool I guess. At the corners, there are panes of wall length mirrors strategically angled such that I can see the reflection of the waiter (on the other side of the room) staring back at me in the mirror. Perhaps it's part of the functionality of the design, since it is possible wave to him in the mirror (I chose to sit at the furthest isolated corner in the restaurant), but this was both surreal and a little disconcerting.
The taster menu is £55/£75 for five/eight courses , and the ALC is £50 for three. I did the ALC, but also added an 'addendum' course.
Bread in a warm sack, with three kinds of butter.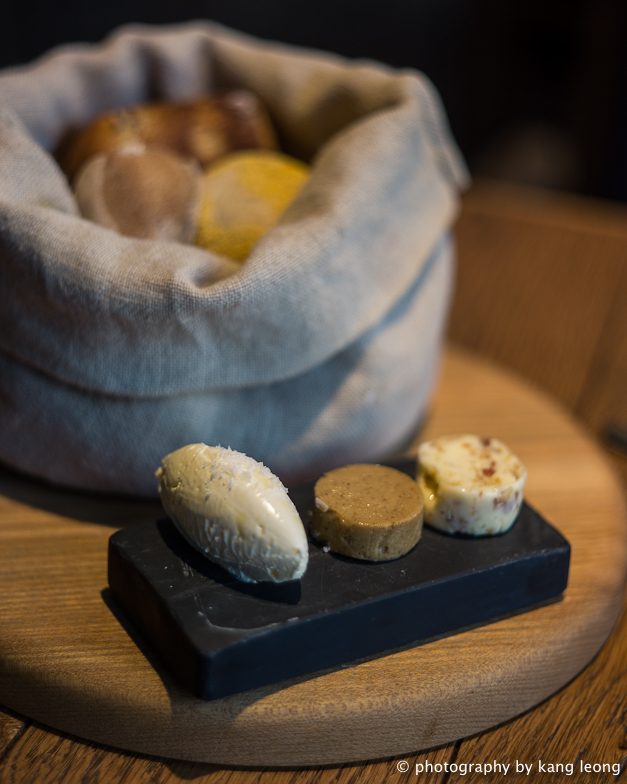 Plain, cep and bacon & onion I believe. I liked the one with the mushrooms, and the bread (presumably baked in house) was hot, moist and pretty great.
Amuse Bouche Ham hock terrine.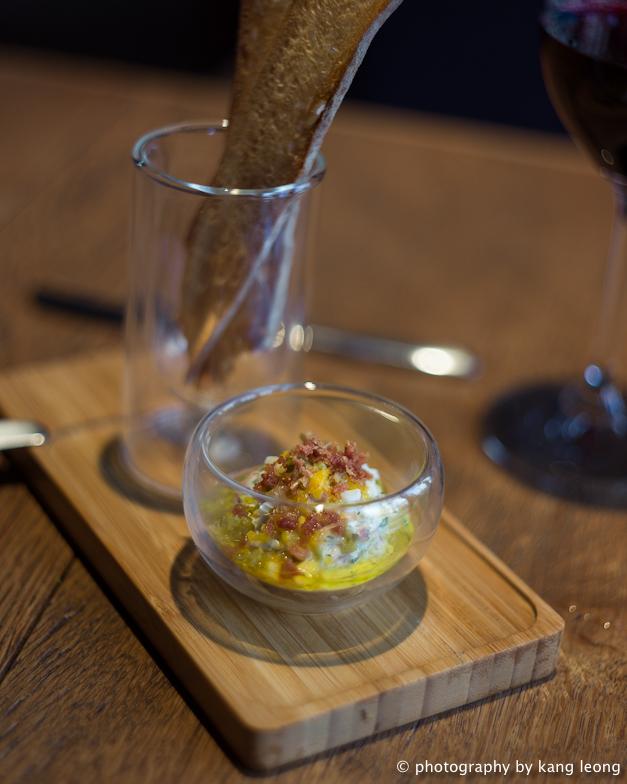 This is more like a creamy rillette, with shavings of dried ham. Rich, oily , lovely concentrated flavours of ham and incredibly appetising. The generous portion would be a starter sized dish in other restaurants, but here it's free. It set the tone for the lunch, a bang for your buck kind of meal. (Well, as much bang as you can get from £50 ALC menus..)
LOBSTER, pickled cucumber, yoghurt granité (with £6 supplement)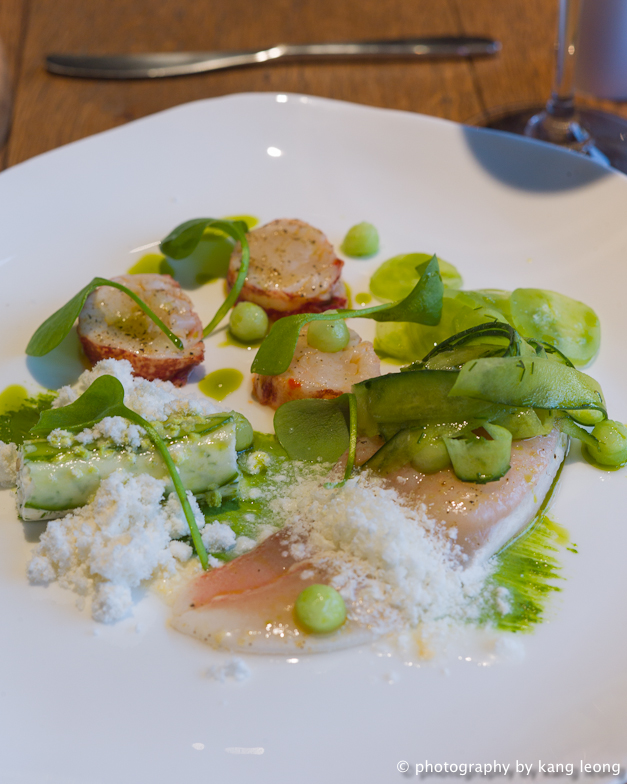 A lot of things on this menu appear to be cooked sous vide, including this lobster dish. Take a look at the translucency of the claw. First time I've seen lobster done this way. My waiter (Matteo, it says from the receipt) explained that Lee had vacuum packed the claw with its own sea water (struggle to imagine where the seawater comes from.. within the lobster?) in the same bag before cooking in the water bath.
Anyway, this delicate texture was certainly unique. It was glacial like raw scallop, but then it was also fibrous like – dare I say – raw chicken or maybe a little like oyster. If the chef had told me he had fermented this, a la ancient Japanese sushi style, I would have believed it. I enjoyed as I made my way through it. In terms of flavour, each bite was met with spewing juices that tasted like sea water. It was juicy like a freshly shucked oyster, but with all the rich natural flavour of lobster. The three slices of tail meat were more familiar, also translucent, but chewier, less fibrous and just fantastic. It was juicy, meaty, with just a light punch of pepper, the natural sweetness was incredibly appealing , and it was as if I was eating it as a sashimi. The combination of cucumber and yoghurt rounded off the light and fresh theme, and this resulting flavour was like a very good ricotta. It appears that sous vide does work on seafood, and I would imagine that this kind of dish would be the envy of places like Hedone. I think the various powders include frozen yoghurt and powdered lobster. Intentionally or otherwise, these powders seem to suggest Nordic influence.
Irrespective of the provenance of recipe, this was one of the most unique (and delicious) lobster dishes I've eaten.
BRAISED BEEF SHORT RIB, bone marrow, melting tendons, herb purée (addendum course, £9)
There appears to be a consistent ethos in presentation – food is hidden under layers, and it is a little like coming across a pile of nicely arranged edible things on a forest floor. Probably foraged by squirrels.
The bone in rib looked amazing when it arrived, meat lovers surely would rejoice! A huge bone cut down the middle revealed a huge wedge of marrow. Two thick strands of tendon, yellowish brown which seems to suggest that it had been slowly stewing in the same pot as the rib. I'm told the beef had been slow cooked for 40 hours.
The rib fell away from the bone easily, meltingly tender, served hot and chock full of braising flavour. There is a mellow sweet BBQ-like sauce drizzled over it, but the meat was so infused with flavour that this sauce was not necessary. I don't think I've ever stacked slices of marrow and tendon over beef rib before, but I did it here, and all I can say is that it was incredibly satisfying. For those burger fiends out there – this was like a reverse burger patty! Haha.
There were also these little fried meat balls. I think they were made with the rib and some truffle, but I couldn't tell, it was certainly sharp and strong in flavour. I liked that it wasn't over-seasoned, and that the natural flavour from the three main components of this dish were simply allowed to shine naturally.
Maybe this is something that could give Pitt Cue a run for its money? Hah.
ARK CHICKEN, slow-cooked egg, roasted pine nut butter, soured endive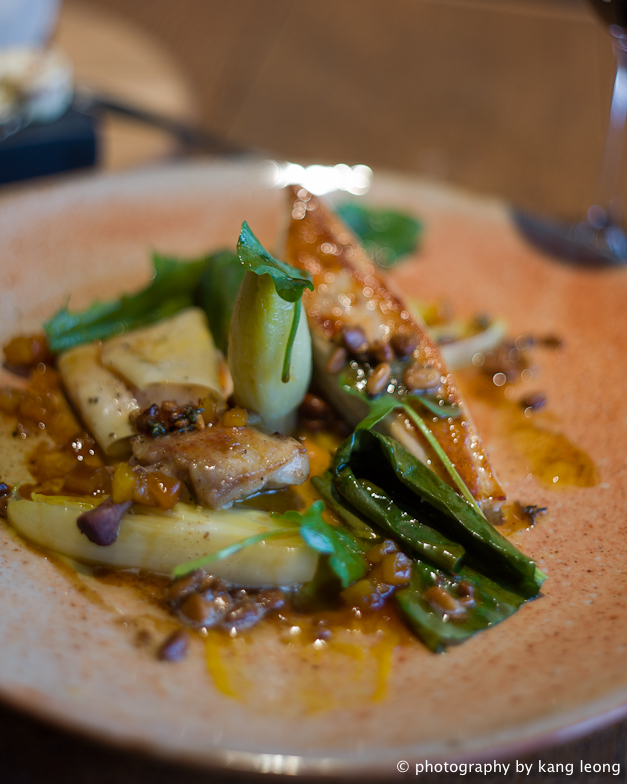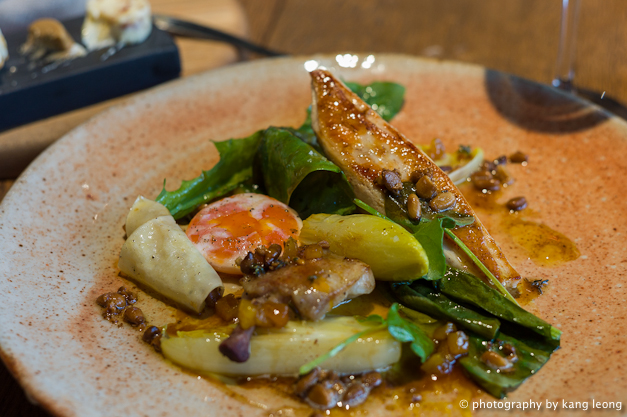 The last time I had sous vide chicken was at Texture, and I recalled eating a moist and almost slimy breast meat. I've always thought that sous-vide breast seems contradictory. It's a tougher muscle, and if the idea was achieve a moist and tender texture with the sous-vide, then wouldn't the thigh or drumstick or even chicken oysters make a better choice?
I didn't think this chicken was sous-vide, in fact it was served so hot, it tasted like roast chicken, but with fruit and nut. There's this apricot jam buried on the dish, and this tangy fruit sauce versus moist chicken kind of works. It felt like a contemporary remake of duck a l'orange. Classic I guess, in terms of flavours, I thought it was fine, mostly delicious.
However, as I said, I thought the chicken breast was a little tough and dry. Presentation wise, some things were just baffling. I didn't really see the point of wrapping an egg inside a single sheet of pasta, nor did I notice the advantages of serving egg with chicken.
Apricot sous-vide chicken oysters and thigh with apricot jam, pinenuts and soured endive – that would make better use of the Exeter bred sheltered chicken in my opinion. But then again, I'm no cook, just a lowly blogger.
WHITE CHOCOLATE CRÈME, black pepper, pepper caramel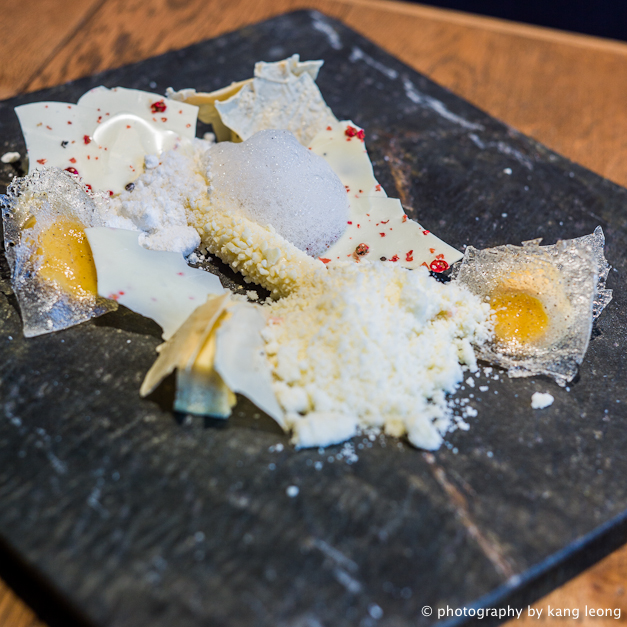 Yes, I know, white isn't actually chocolate, it's butter, milk and sugar, but I love it (remember Hershey's Cookies n Creme?) and prefer it to real chocolate! I thought this plate of white chocolate in many different guises was simply genius. There's shavings of frozen white chocolate, white chocolate mousse, creme brulee, sheets of white chocolate with crushed whole peppercorns, white chocolate foam and white chocolate parfait. Who knew that temperature and whisking to butter, milk and sugar could deliver so many different textures ? It is rare enough to see white chocolate on restaurant menus, to have so much of it, in so many ways, prepared with in epic proportions like this, was incredibly satisfying.
Petit fours …grande.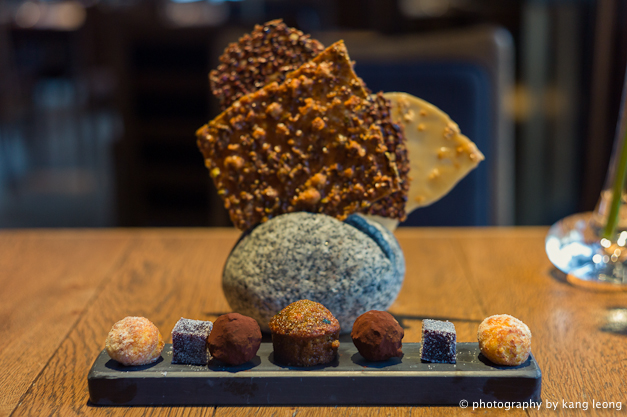 I ordered a double espresso when I saw this land on my table, and truth be told, my brain had switched off by then. I had been completely defeated by this massive lunch. No OXO tin though, just more slate, stone and sweet things. Would have been nice if they offered to wrap up the remnants for me to takeaway.
Expectedly, Tom Aikens is expensive. I paid £87.19 for the ALC 3 courses plus the addendum beef rib, a glass of Gaillac red, the coffee and service.
Well done to Lee Westcott, I'm struggling to find much written about him online, but on the back of this meal, he's a certain sterling talent, and should ensure that the macaroon will be reinstated very soon.
The food reminded me of North Road, which indirectly suggests that it is Noma-ish. I'd already noted the excessive water bathing which brings to mind similarities to Texture. Incidentally, Ollie Dabbous who resident at Texture for a couple of years.
I'm just not sure what Tom's style is to be honest, as I said, I've never eaten his food before, but I struggle to think of the identity of his cooking that is uniquely his own. Save for the days when he supposedly 'reinvented' fish & chips. No trotters on this menu. Tom Aikens – The great chameleon of the industry?
OK, so fine dining is dead. But post-fine dining appears to in convergence. Perhaps some sort of shift from French to Nordic progression, or maybe the trend riding is simply headed toward becoming the next cliche. The death of post-fine dining itself. But that's a debate which is still a few years away yet.
Overall, I thought that the cooking was generous and fabulous. I think these guys have created a menu which should satisfy most people, once you get past the elaborate plating, though to be fair, the dishes do have a strong visual impact. Take a look at the website and click on through to the gallery. The dishes do all look great, a little Viajante-ish, photographs which you could stare at all afternoon long.
Subtle, rustic big bang cooking, dressed up in elaborate New Nordic stylings. I find myself compelled to visit again, if only to try the waiter's description of the pigeon consomme poured over all kinds of dehydrated then powdered things.
If Tom's previous misgivings hadn't cast such a long shadow, this restaurant may receive even better reviews than it already has, and with it reflected in fuller dinner services. I'll admit that it had affected how I should think of this restaurant. However, focusing purely on the product: food & service are at a high level. I don't think it can be denied that food here is of certain high quality. Lee can certainly cook, and I think you should definitely give it a go (set lunch starts at £24). You may even find Tom cooking your food too, if you're lucky…
The Gist of It
Tom Aikens
British in Nordic Robes £100pp.
43 Elystan Street, SW3 3NT
Tel : 020 7584 2003
Tube : South Kensington
Did you enjoy reading this? You can subscribe to the Newsletter. Alternatively, you can subscribe to the RSS feed.