Sometimes, it seems like all I eat these days are burgers.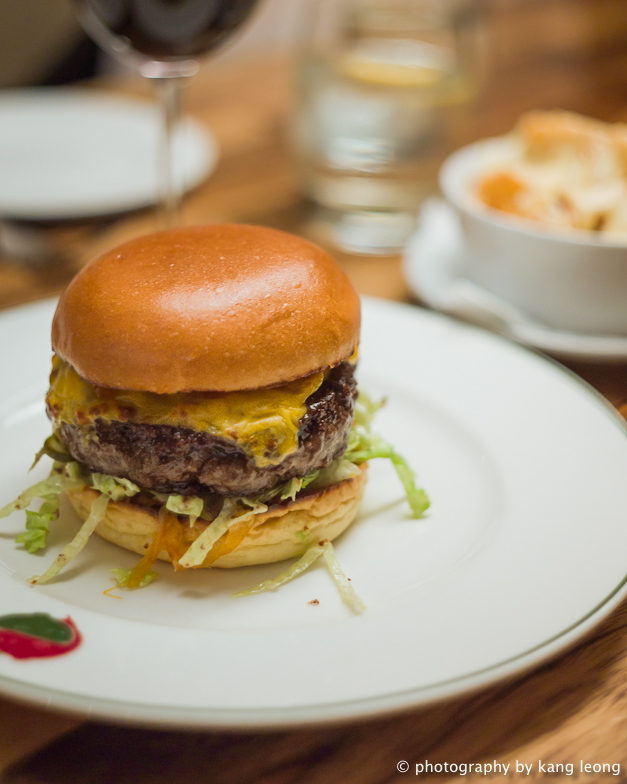 Ohh.. that yellow, is that *gasp* american cheese? Hah. Yeah it looks great doesn't it?
8oz Cheeseburger with Chips, £15.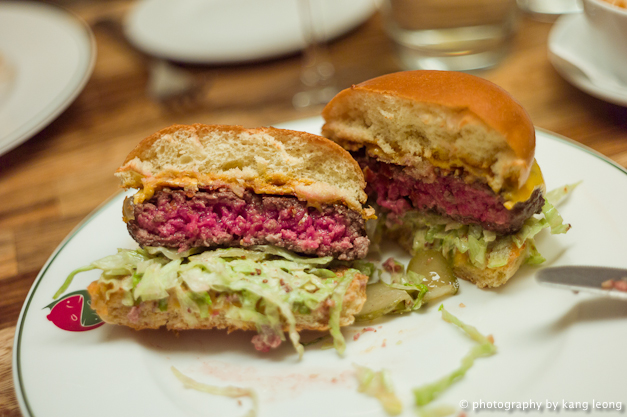 It looks dangerously risky for a medium rare, which is to say, it satisfied expectations for those of us who like burgers to be bloody. I don't really want to open up another debate on this issue, but personally I feel that a rarer patty has better texture, juicier (or less dry I should say) and has better flavour than something more cooked.
This is indeed a pretty good burger. Actually, it's better than good, it's probably one of the best burgers in town (yes I know, every other burger place seems to be somebody's 'the best' these days).
Pople, Young, Burgerac and Bellaphon have roundly praised the burger, and after this visit, I can only echo their opinion. Those guys really do tell a more eloquent story about the technicalities of why this patty is so good, but for what its worth, I think the resultant product is quite special.
On Burgerac, Fred Smith explains that his patty is 'blended' from 50% rib cap, 25% chuck and 25% of trimmed fat plus some other little bits. The beef are supplied by Darragh O'Shea , cuts are dry-aged in house prior to mincing. The impression I get is that Fred continually finesses his blend over time, so if revisited next year, this burger could well be more delicious. Then again, I think most burger places tweak their patty recipes from time to time anyway.
I was reading up on AHT's excellent recreation of Heston's (laborious) recipe for his perfect burger. It is noted that Fred's approach borrows its inspiration from this recipe, such as lining up the strands of mince so they are rolled together in the same direction before forming the patty to shredding the lettuce to form a sort of mattress for the patty lay comfortably over it.
I don't know if the current iteration is still made this way, but I certainly noticed the uniformity of the mince. Each bite was very smooth as if each cube of beef had been individually tidied when the patty was formed. Its textures were more akin to tartare than grounded beef. I thought the patty's exhibited lovely rounded natural flavours. All the beefy, fatty unctous flavour was redolent of Darragh's (of O'Sheas) Big D patty (which hopefully should make its annual guest appearance in Byron sometime this year). On paper, Fred's basic recipe does seem to resemble Darragh's blend.
The smell of grilled beef-fat was simply fantastic. However, I found myself dipping this burger into mayo & ketchup after a couple of bites. Counterintuitively, it felt like all this rich beefiness required more seasoning to really bring them out. You know, it's a little bit like a great steak eaten without salt and pepper.
Perhaps all it needed was for the cuts of beef to be rubbed with more salt prior to mincing. I don't have anything against american cheese, but I think a sharper cheese such as (Byron's option) of gruyere (or a blue cheese) can be a good compliment to this sort of rich steak-like patties.
I would say that the broiche bun may be just a little small to handle the 8oz patty. It's supplied by Miller's, whom I believe are the same folks who turn out buns for Byron as well as Hawksmoor. In fact, dare I say, this bun is strikingly similar to the one used in Byron's Uncle Sam special last year. Given the size of this patty, the base bun was completely soaked through, after I chomped through half the burger. It seemed only just able to keep the juices in, tethering on the edge of breaking apart.
Of the London lot, I still think the Meatwagon buns are the best. They have a pleasant fluffy density but also a chewy plasticity about it. But as I said a few weeks ago in my Honest Burgers post, there is this elusive St John sourdough that's made cameo appearances on BurgerMondays, which seem really great but aren't often used. Although, I have only had it once, my lasting impressions of the bun was its ability to hold juices in quite well. I also remembered it being quite doughy. Almost like a good neopolitan pizza base…
Chips were so rough cut, they were more like wedges. Pretty damn good, crispy and fluffy, I liked it just fine.
At £15, it's priced on the higher end. But I do think that you are paying for a quality product, and also a comfortable environment to enjoy it. We arrived at 6.30 on a tuesday night, cooking times were about 15 minutes, there was no need to queue, since you can book. Admiral Codrington itself is a rather decent pub with a dedicated restaurant area (that has a retractable glass skylight/roof) with walls painted beige and booths and chairs lined in red suede with rose patterns. So the feminine surroundings were actually a welcomed change to the rough and ready sweaty and loud guerrilla burger bar. It is South Ken after all.
My brother paid £65.64 which included two glasses of wine, a £2 cover charge, £3.60 to add melted raclette to two portions of chips and a sticky toffee pudding to finish. At nearly £33 for a burger, a drink and half a pud…. yeah actually that does seem quite expensive.
(It never ceases to amaze me how much bullshit I actually generate with each post. In this case, over 1000 words for a burger..!! Do you actually read it all or just take in photos + skip to last para?)
Kudos to Fred Smith. His burger is certainly a great product which deserves high praise and its high reputation. I think it's just one more place to add to the list of burger nights, in case you're tired of the Meatliquor or Lucky Chip queues. O'Shea steaks are on the menu, and I've read that Fred has access to in-house dry ageing facilities (dehumidified fridge?) to hang his cuts. With the attention to detail he has put into the burger, I'm certainly curious as to what he has done with the rest of the menu. It certainly warrants a revisit, no doubt you'll read about Ad Cod again in the near future.
The Gist of It
Admiral Codrington
Pub, with a great burger £35pp.
17 Mossop Street, London SW3 2LY
Tel : 0207 581 0005
Tube : South Kensington
Did you enjoy reading this? You can subscribe to the Newsletter. Alternatively, you can subscribe to the RSS feed.