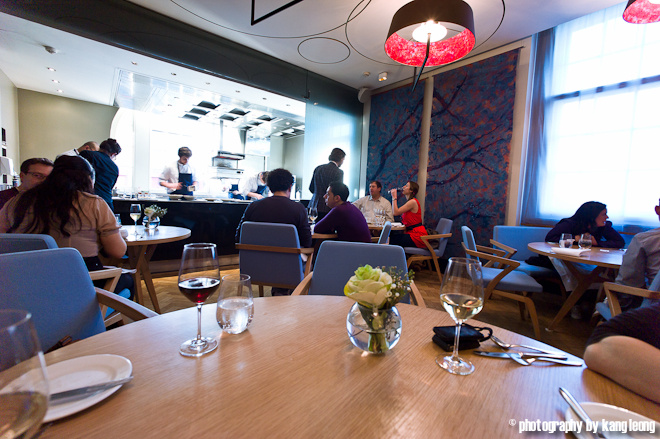 It was probably the most intriguing restaurant opening last year. It generated a polarising reception, ranging from those who hailed Nuno Mendes' travelling fusion food as groundbreaking to others who thought it a purely self indulgent public experiment, injected with an unhealthy dose of pretense. When I visited last summer, I thought the food was innovative, there were dishes which were memorable for ingenuity and flaccidity, in equal measure. There is no question of Nuno's talents, his recipes show great potential; at the time, I felt all that was needed was maturation time. A revisit was always on the cards – it was one of my favourite meals in 2010 – and I was keen to see if Viajante had morphed into a well oiled machine, going into the New Year. Especially with the impending release of the revision to the Michelin Guide due next week.
I opted for a late lunch last Sunday. Nuno was not leading the service on the day of rest. In the former Bethnal Green town hall, it exudes a stoic, artist's loft, air of zen kind of ambiance. The calming surrounding being a large aspect of Viajante's appeal. It is like theatre in the way the entire mechanics of the kitchen being fully visible to diners. A little surprising how silent the kitchen is… and ironic how little 'cooking' seems to be taking place. You would easily mistake the chefs to be an army of uniformed and glorified food stylists.
I'm suppose to be saving up for an impending holiday in a couple of weeks to try some nice restaurants in Singapore, so we opted for the 3 course menu (£28) over the six (£60). I drank a glass of Aligote, a lesser used white grape varietal from Burgundy, £8. While the structure of the menus remain as 'blind tasters', they have tweaked its presentation (from my first meal) , with take home menus that describe the dishes.
I'll keep the commentary to a minimum from this point forward, since I've done a review at length before.
A flurry of amuse bouches to start, the now signature 'thai explosion', a crispy mini curry chicken sandwich, gets the juices flowing.
Bread and Butter.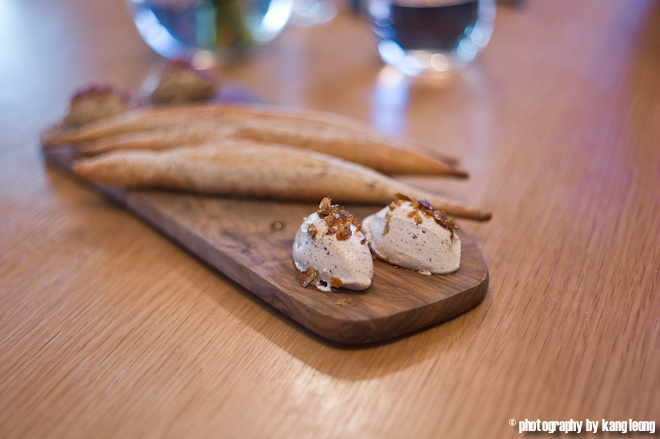 They had added a new black pudding flavoured brown butter in added to the chicken skin, iberico ham shavings and purple potato powder. Both are great, I prefer the purple one, it's salty, as opposed to the black pudding one, which tasted sweeter. Both have an amazingly fluffy texture, close to whipped cream.
Confit Salmon, Miso paste, dashi.
Some dishes are brought to tables personally by the presiding chefs, and at every point in the meal, there is a sense of wonder as you lean in to listen to the exposition, since the menu is a surprise. They usually end their description of the dish by ladling the necessary juices on, making for quite a dramatic introduction.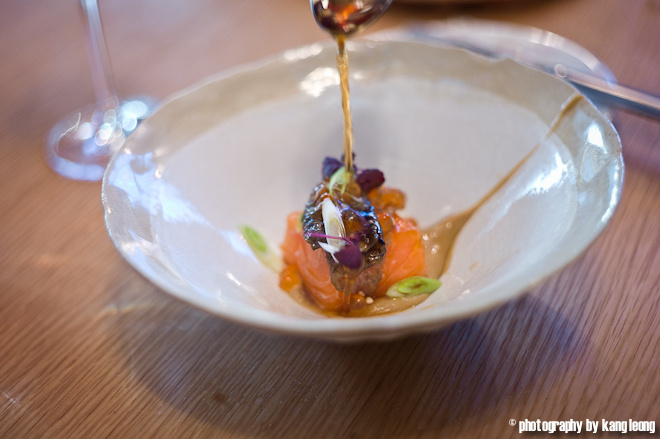 The dish wouldn't be out of place in a Japanese restaurant. Confit salmon – perhaps sous-vide – was delicately cooked, the texture of which very raw, not unlike sashimi, or even a cut of tzar-cut fillet. The dashi soup was brimming with bright savoury flavours, piercing and mellow at the same time. It's a very elegant dish, and very accomplished. Being a fan of raw food in general, I liked this.
Roast Duck, beetroot and pistachio.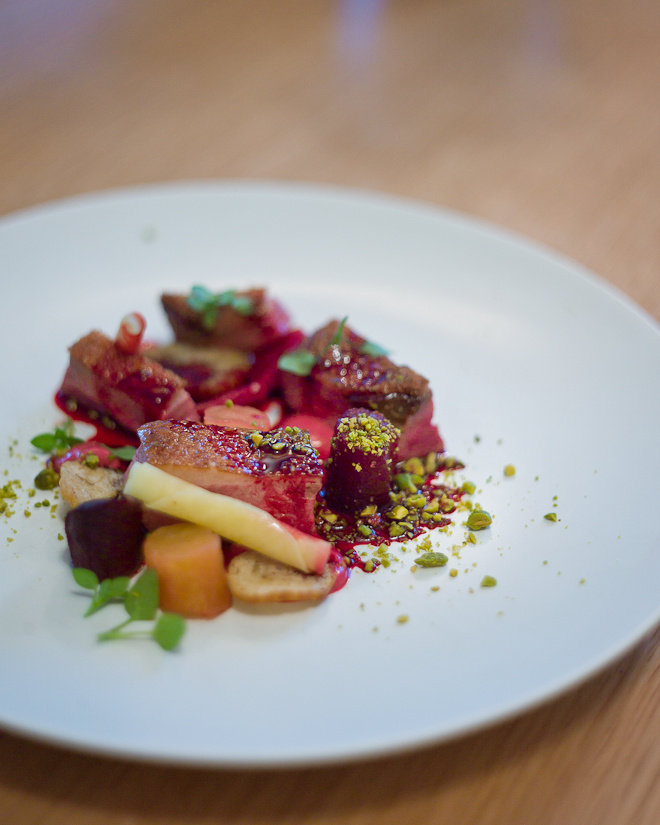 Art on a plate? Or just controlled chaos?
The flavour combinations .. like a forest in your mouth .. and the interacting textures of the various vegetables were in its own class. The effervescent beetroot sauce was superb and I thought it matched the duck very well. Duck was cooked on point, pink, with well sealed juices, but perhaps it needed abit of pounding. It was tough and chewy. Aside from that, I liked it.
Sea buckthorn and burnt meringue.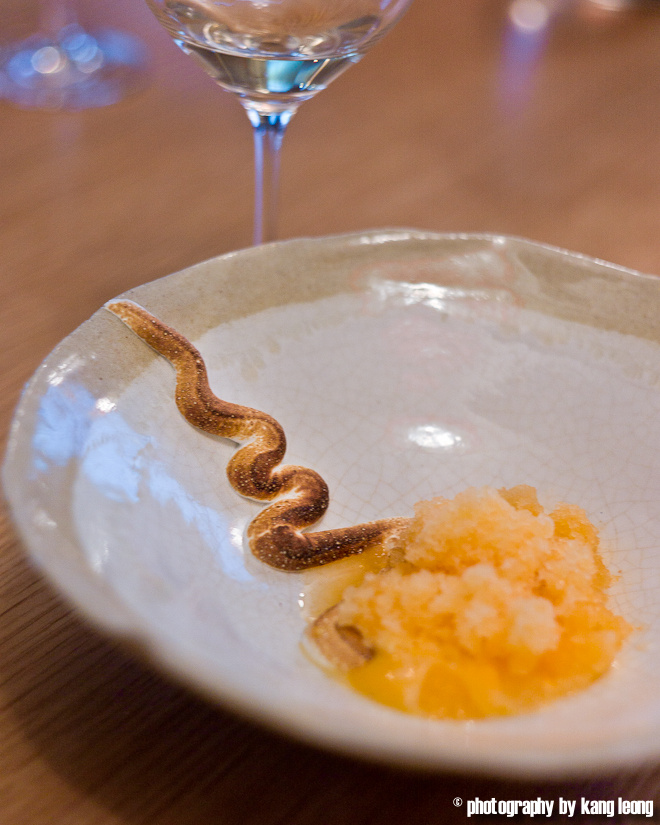 The fruit of sea buckthorn look like satsumas, these particular ones were sourced from France, we were told. Made into a slushy sorbet, it tasted like a shrubby and herby orange, something which cleansed the palate well. The oddly shaped meringue was confusing, and I'm not entirely certain what the chef is trying to say with the styling. Whatever it was, I think it demonstrated that the line between class and rubbish, is thin. Great meringue though. Sticky and syrupy and sugary. This dish really reminded me of those orange-vanilla ice cream popsicles from my childhood. Not sure what you call those things, but I remember sucking on them on hot days. Mmm.
Frozen maple pannacotta and shiso granite with green apple.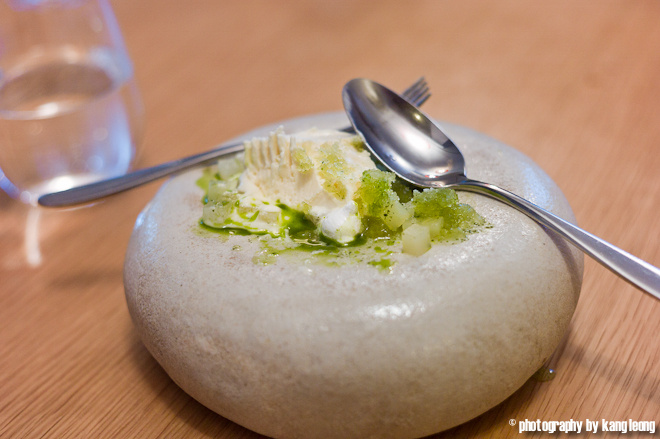 I loved the dessert course. The iced pannacotta tasted…as you'd expect frozen pannacotta to taste. The mint-like shiso ice shavings was another nod to Japanese cuisine. Cubes of green apple took away the edge off the pannacotta, bridging the divergent flavours of the shiso and the milk-based ice cream rather nicely.
Petit fours, coffee.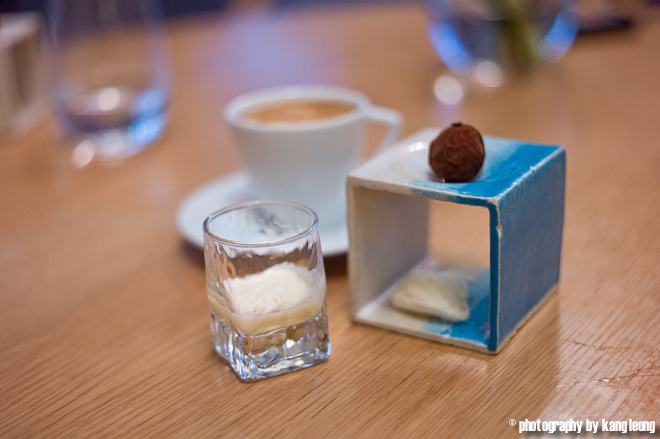 We threw them a curve ball by requesting for soya milk in our flat whites, and they handled that without a hitch. Hats off to the tremendously professional service, from the moment they took my reservation on the phone – you can hear him smiling on the other end – to the non-intrusive and relaxed attitude throughout service.
Petit fours of creme catalan with the fragrance of shaved nutmeg (I think), a white chocolate truffle, with shavings of black truffle and some sort of marshmallow.
We paid £131.63 for 3 , or £44 each. It a tremendously well valued lunch, considering the array of freebies which supplement the 3 standard courses. Oh and water was on the house too, with a choice of still or sparkling. Brilliant no?
About the only thing we regretted was not taking our coffee in the sexy looking Viajante bar, across the hall from the restaurant.
A convincing show, even with this abbreviated menu, I think in the 9 months or so, Viajante has continued to polish its potential as one the exciting new restaurants in London. I think it ticks the right boxes, it is very different in execution; and conceptually I think it breaks new ground when compared to many of the serious restaurants in town. Which tend to be quite disciplined in following traditional European standards.
Anyway, Viajante is on the right track. It might win a star next week, or perhaps it won't. The bib is ever unpredictable year on year. Whatever the case, I heartily recommend you try Viajante if you haven't already.
The Gist of It
Viajante
Portuguese Fusion, £28 for 3, £60 for 6
Patriot Square E2 9NF
Tel: 020 7871 0461
Tube: Bethnal Green
Did you enjoy reading this? You can subscribe to the Newsletter. Alternatively, you cansubscribe to the RSS feed.