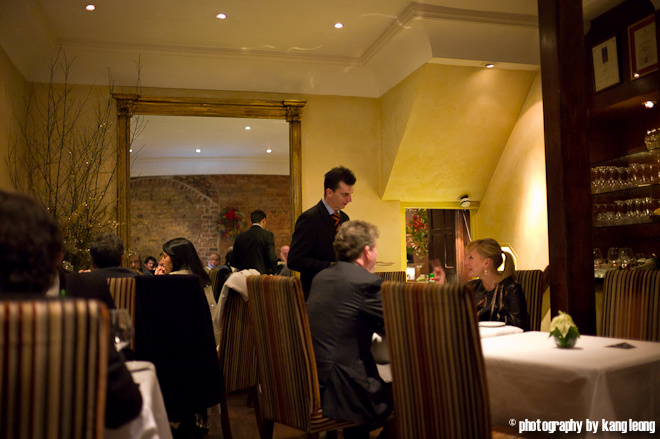 If ever there was a restaurant synonymous with the term institution, that restaurant could well be Zafferano. Entering its sixteenth year of service, it is regarded by all of us, as one of the key purveyors of high Italian cuisine, in London. It boasts a fancy postcode, the single macaron from the Bib, as well as about a dozen or so blogposts showering praise upon it. It even has a name – Zafferano for Saffron – that echoes its maturing charm. This restaurant appears to have become impervious to the trendy competition of younger restaurants, yet to establish the sort of loyal patronage that Zafferano has the distinct honour of having. It is about as proper as it gets.
As Mr Blyde once put it, Zafferano is indeed an important restaurant not only to indulge yourself, but for a 'rounded' education in classical Italian cuisine (in London (short of a protracted trip to Italy)) to satisfy one's experiences in benchmarking what is supposedly the best the cuisine has to offer (in London).
This is likely one of the few restaurants to make return visits not for the sake of novelty, but to return because the food is genuinely fantastic. The main man in the hot seat, is the long time head chef Andy Needham who has been with the restaurant (at least to my knowledge) since its beginning days. Previous to his tenure at Zafferano, Andy had trained at the Savoy, Le Pre Catalan in Paris and then joined the Saffron as sous chef… yes, any essay of the restaurant's origins would be incomplete without speaking of its first steward : The rather legendary, Giorgio Locatelli. He stayed with the restaurant from day one till 1999, drawing his first taste of the red guide during this time with Zafferano in the nineties. Eventually, he went on to set up Locanda Locatelli, and of course in the current gastronomic climate: Both restaurants are considered to be two of the three greatest Italian restaurants in London. The other belonging to Ruth Rogers.
Age definitely shows in decor, taking on a maturing musky charm, that seems to suggest that this would be your dad's version of Polpo. The white table cloths are a drenched sepia, the yellow walls losing its sheen to match the rather featureless surroundings, small pots of plants litter the rooms, classic posh. The trumpeting jazz in the background completed the ambiance. In its graceful middle age, Zafferano has definitely become the quintessential nostalgic Italian restaurant.
Nostalgia extends to the way the menu reads, that is to say, it reads like a complete bore. It flows as you'd expect, the standard four courses, for a rather reasonable asking price of £49.50 (bar supplements and the truffles) , but dishes are written in such a reserved manner, it just seems like any other neighbouring Italian joint. "Octopus salad with potatoes" , "Buckwheat pasta with leeks, sage and cheese" , "Pan fried veal cutlet with mushrooms and potato gallette". Maybe I am used to the newer openings which seem to have engaged more enthusiastic copywriters, but if experience has taught me anything, it is that creative prose is never a reflection on the actual quality of food. I drank a glass of Dolcetto, £7.
Antipasto: Bresaola della Valtellina con rucola e caprino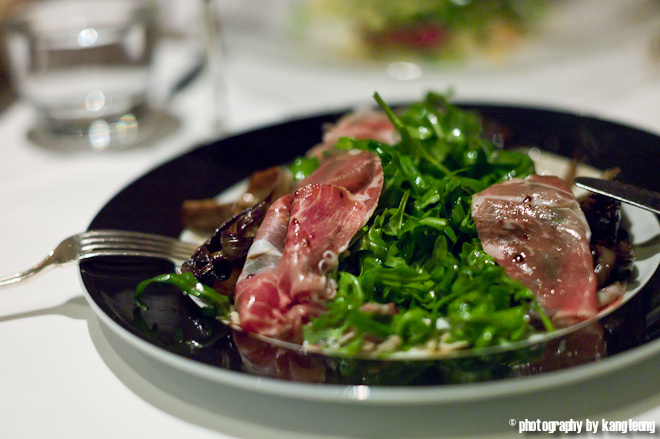 Which translates to thinly sliced cured beef with rocket and goat cheese. Large bulbs of caramalised onions gave the dish a triple dose of sweetness, the lubricating oils were pure luxury and though I thought there was abit too much rocket and too little bresaola, overall it was a fine salad. But a salad nonetheless.
Primo: Pappardelle allo zafferano con guanciale di maiale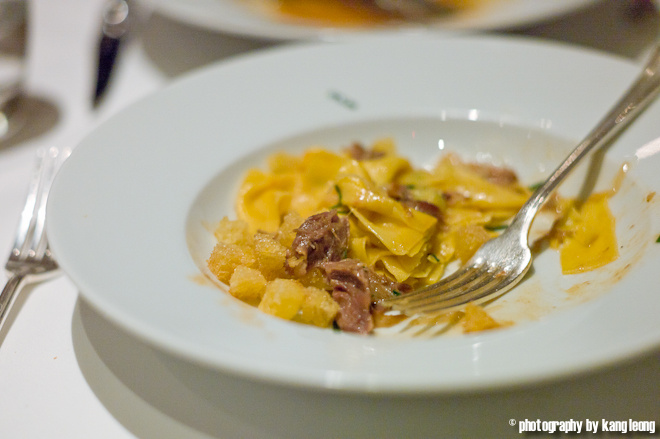 One major criticism I have of the food (if not of Italian food in general) is that these classic dishes are apparently formless in presentation. There is very little to look at, hand in hand with a similar assessment of the reserved nature in which it has been described as well. But food is about taste and smell, and in that regard, this dish of saffron pappardelle with pigs cheek was simply tremendous. The entire dish had taken on a regal oilyness about it, the dripping deep-fried crostinis added so much flavour, there was a perfumed sweetness, like vanilla or perhaps it was the saffron, accompanied by a satisfying, meaty savouriness. The small dollops of pigs cheeks, flossy, tender and gorgeous. Finally, the pasta was obviously al dente trice over, while it may be invisible in a photograph, I felt it was an expertly well made dish of pasta, with a sauce that made for tingling tastebuds. This dish demonstrated the kitchen's deserved reputation as a Michelin restaurant. The beauty was how simple the dish looked and yet it tasted anything but simple.
Secondo: Merluzzo arrosto con zucca, cime di rapa e bottarga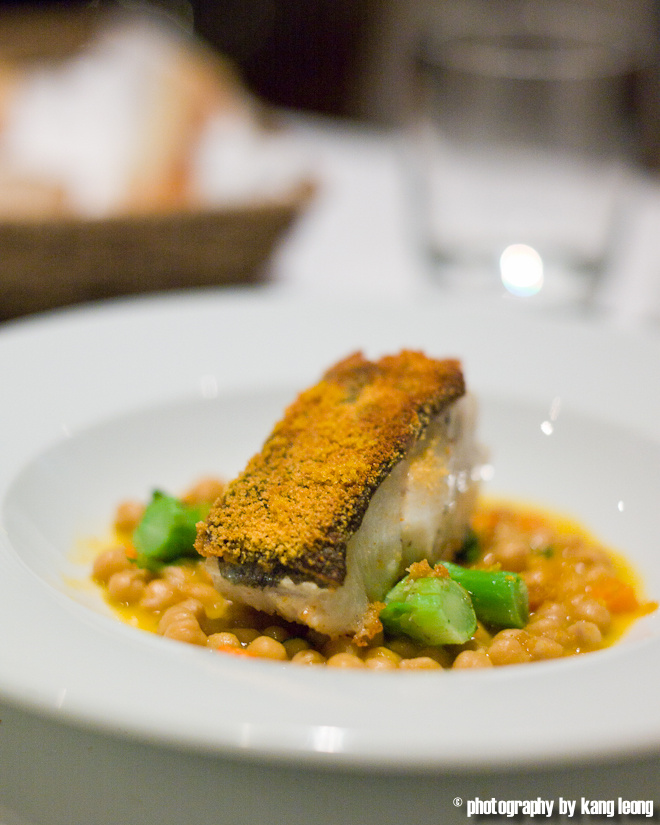 Roast Icelandic cod with pumpkin , "cime di rapa" and "bottarga.
We took issue with the breathing time between courses, on average it was about 45 minutes. Which meant we sat from 6.45 till 10 at night. Not that I didn't enjoy Mark's company, but the long pauses between dishes had my appetite yoyo-ing throughout the meal. "We give good gap between courses, prego." was the Maître d' answer to our query. Gap yes, but it was not good.
Luckily the fish was amazing. It was cooked just a little under, perfect in my book, flaky, ever so slightly translucent in the centre, juicy and steaming. It sizzled with every bite. Too much chickpeas, but otherwise, it was the invisible gravy it came with, that made the dish jump in the mouth. Awesome, understated cooking that can really only be fully appreciated first hand.
Dolce: Semifreddo di torrone con mango fresco e frutto della passione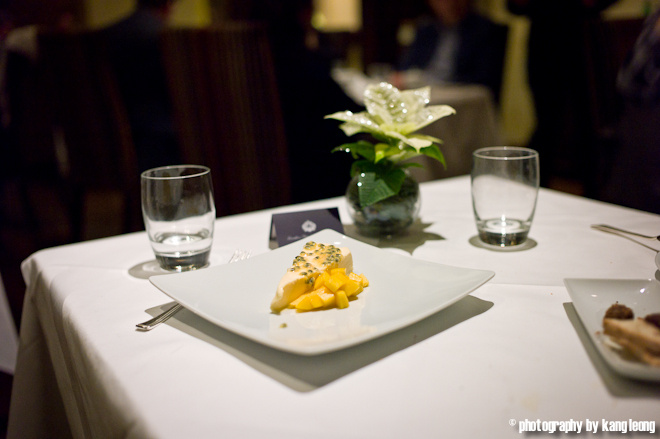 To finish, a simple semifreddo, with fresh slices mango and passion fruit, adequate in cleansing the palate, in the face of an absent palate cleanser.
We paid £129.39, or just under £65 per person. Beautiful cooking, lousy visuals, but beautiful cooking. Did I mention the fabulous cooking? It's all about the vintage-like food at Zafferano, which in my opinion makes it an excellent restaurant. When we entered the restaurant, we were baffled why something that seemed outdated maintained its Michelin star for all these years, but after the meal, I think Mark and I were in agreement that it was simply because the cooking was brilliant. And I cannot stop praising the food, and food alone. So in the end, I got the education I wanted from the Saffron. In my humble opinion, it's better than Mazzei's L'Anima, which in my view, is the new kid on the block, vying to usurp the authority of the old guard. I do not think Mazzei is cooking at this level yet, so it will be a while before we see Zafferano falling out of favour, and until another challenger steps up, Zafferano remains one of the great Italian institutions in the Smoke.
In light of the rather reasonable pricing, especially in comparison with the likes of other leading Italian restaurants, I can only recommend that you put Zafferano on your list. I certainly enjoyed my meal, and it is one of few which I would gladly revisit, just to indulge myself. I already have my nose on the veal chop.
The Gist.
Zafferano
Italian £65pp
15 Lowndes Street SW1X 9EY
Tel 020 7235 5800
Tube: Knightsbridge
Prego: Intoxicating Prose , FoodSnob , Time Out London , Hardens , The Skinny Bib , The Epicurean , The Standard
Did you enjoy reading this? You can subscribe to the Newsletter. Alternatively, you can subscribe to the RSS feed.