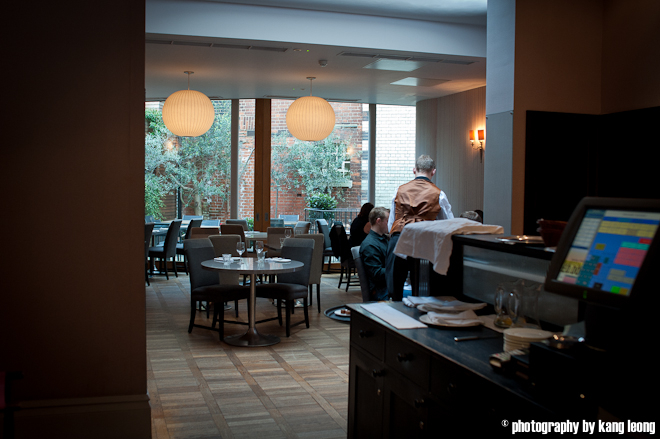 Whatever reservations I may have about the man and his empire, I respect El Gordo's achievements above all and can't help but admire the sheer talent that has passed through his stables. Ramsay's first class have all but graduated, they now lead their own macaron-winning ventures, and whose names are probably as brand-worthy as Gordon's. Undoubtedly the leading lady of the pack is the straight talking, effervescent character that is Angela Hartnett. Slogging it out through the years and the ranks across Ramsay restaurants from the Dizzy Lizzy days at Aubergine in the nineties, to sharing a kitchen with Marcus Wareing and through the Connaught years.
We all know her in some way via her faceted TV appearances, and I've always taken to her no-shit attitude, I'm a total Angela fan. Fall 2010, it is time for Angela to finally spread her wings, with the recent good news that Angela has bought out GR's stake to take the helm at Murano. The news is significant to York & Albany, since the boutique hotel cum serious but laid back restaurant that lies on the fringes of Camden and Regent's Park, is directed by Hartnett. Only until the end of the year, and after that, I guess Colin Buchan – who is the current head chef – will assume outright leadership.
So the rationale for my visit to Y&A – which has no obvious public transport route, aside from a brisk walk from Camden Town – to try it while the menu still carries Angela's fingerprint. The décor is nothing short of Bauhaus brilliance. Marble and double height ceilings, wrapped in juicy natural light, thanks to the multi-windowed walls. As you'd expect from Ramsay restaurants, Y&A is an opulent yet comforting design, giving out a whimper of elegance. We were seated in the dining room firstly, which when full, seemed stressful, though the missus had already fallen in love with the front room/lounge area as we walked in. We gleefully switched to the more serene environs, and slinked into the large cushy chairs which were a little too high for the knee-hitting coffee table.
I drank a glass of suave (£5.50) and the missus, the Purple Haze (£5). As per usual, she opted for the hugely affordable set lunch competitively priced at £18/£21for 2/3 courses… and I went a la carte.
Starters
From the set menu: Mussel, cider and fennel soup, smoked garlic butter.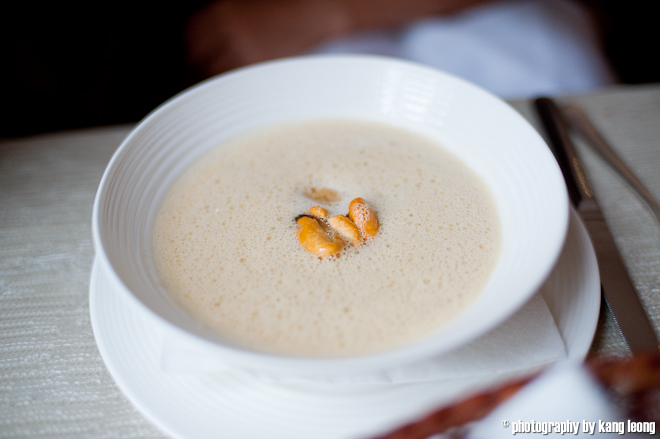 The foamy soup was brisk, with the discerning taste of the sea, interestingly, the cider had resulted in a surprising flavour of pickled fennel, dare I say, like a kimchi without the spice. Can't say the missus was entirely convinced of this soup, but I thought the soured taste was an intriguing and a good twist.
Great sourdough – white and brown – to rival St John's.
A la Carte : Salsify velouté, frog's legs, pancetta, garlic chips £9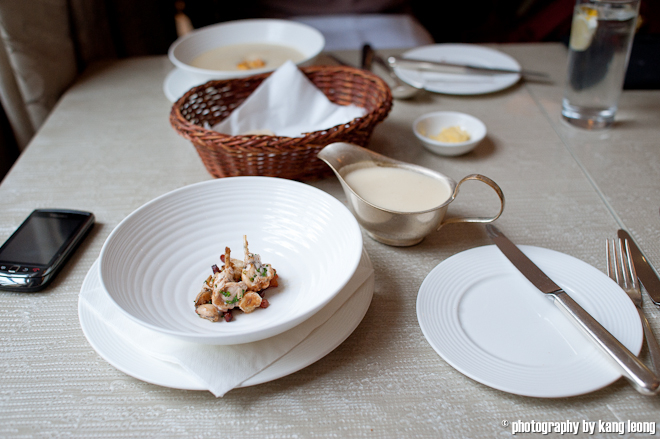 I naively assumed that only the Chinese eat frog's legs, while the Japanese eat their beating hearts, but evidently so do the Italians. Ordering this was a necessity. Being Chinese, I'm more than acquainted with frog legs – like spring chicken.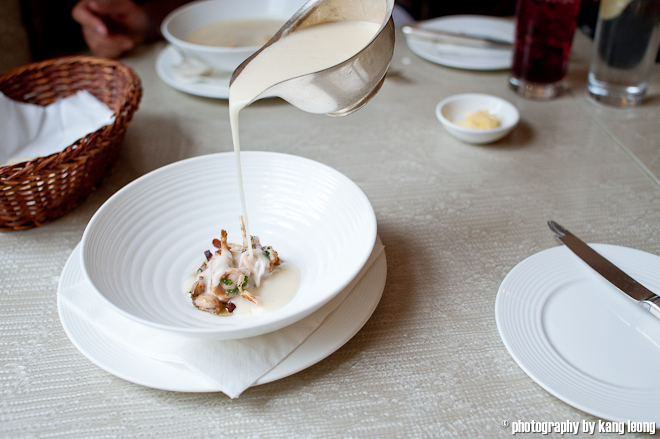 Ahh… the trademark pour-it-on wowness, a gimmick oft experienced in Ramsays – still a charmer. The coffee coloured salsify veloute is simply regal, releasing hints of flavour as it hits the legs, mmm, indeed just like spring chicken wings. Wonderful, warming cappuccino-like soup, expertly balanced, the liquid tastes as elegant as it appears. For texture, crispy fried garlic chips slowly turned soggy like cornflakes in the soup, and for flavour, the pancetta and I surmise olive oil, added a viscous finish to the hugely satisfying mouthfeel. I loved this.
Mains
From the set: Roasted corn-fed chicken, parsnip cream, sprouting broccoli, red wine jus.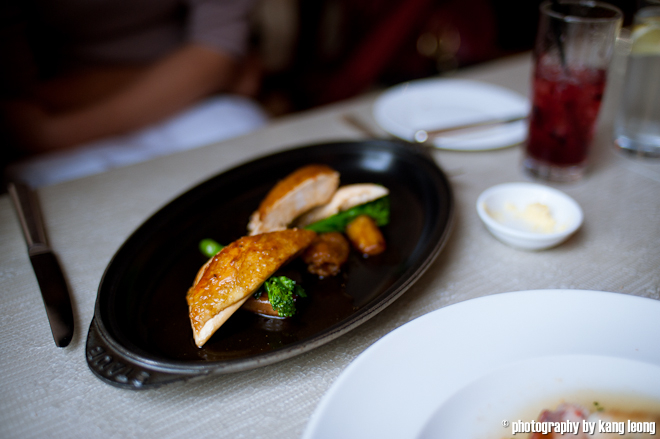 With this dish, there was little doubt that the Y&A kitchen were at the top of their game – I felt the cooking was superb. This was a chicken so well roasted, that even Uncle Lim would be proud. Slithery, juicy, and the softest pairs of breast my lips have ever licked. The skin was glazed with a sort of caramalised syrup, perhaps this was the red wine jus, adding much needed, stocky flavour. Simple yes, and for chicken – dazzling.
A la Carte: Baked lemon sole, chorizo purée, poached octopus, warm anchovy vinaigrette, chilli, lemon £20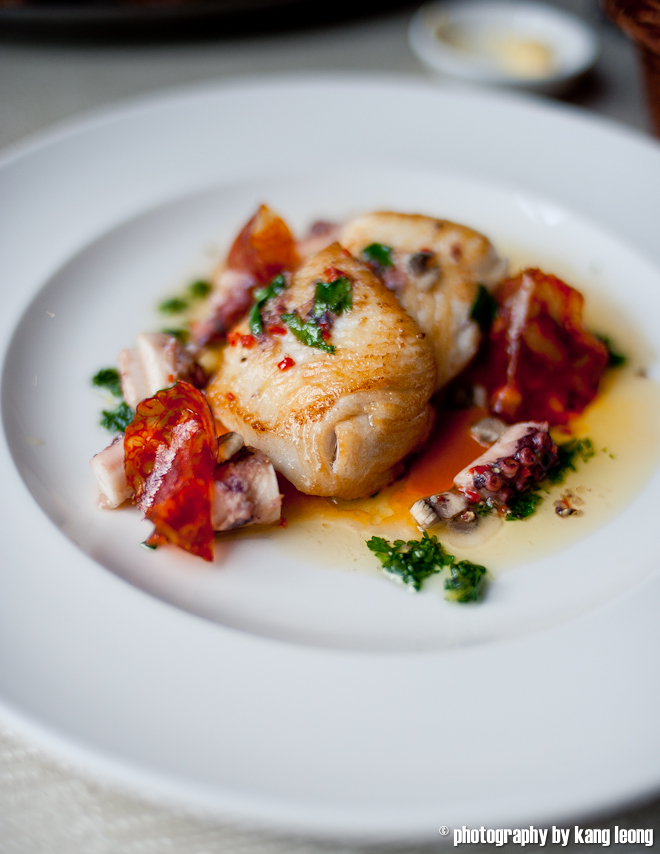 At first, I worried about a chorizo puree, that it might be an overpowering, a blinding mush which could mute the dish – but not this one; this one was delicately deployed, and is whipped as light as air. A citrus vinaigrette completed the colourful plate, with smoky flavours perhaps from the anchovies, and the chorizo. Judging by the redness, the slices of chorizo on the plate are the finest Iberico. Oh gosh.. the octopus.. it melts..it just melts…! It seems as if it had been poached ever so gently, or maybe injected with a disintegrating potion, whatever the case, the slithering texture was rapturous. The overriding theme to this dish seemed to be one of lightness. The fleeting textures, and flirtatious flavours chipped away at the palate, enticing and entertaining.
Finally, the fish itself was bang on the money, baked only ever so slightly under, with just enough natural juice to maintain the supple, flaky textures. I mopped up every last drop of the juice with the excellent sourdough, sending back a spotless plate as a compliment to the chef.
And to finish..
From the set: White chocolate brulee, Victoria plums.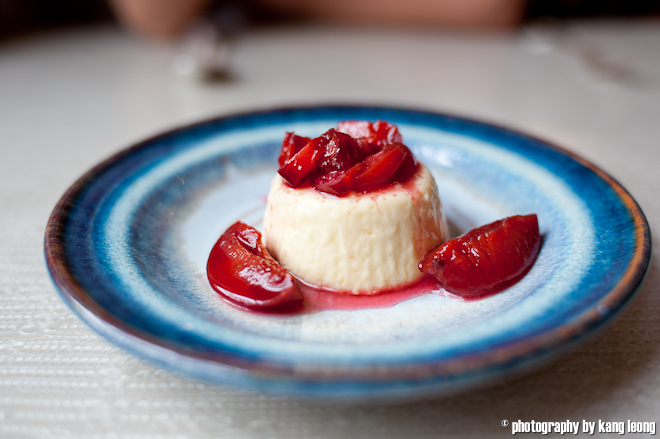 A wobbly pannacotta (rather than a sugar topped custard), flavours of sugar, butter and milk balanced against some lovely caramlised plums. Great, long finish.
We finished with two coffees, and looked out the window and gazed into the distance of Regent's Park. Strangely I felt a sense of calm, a rare feeling to come away from a London restaurant, which are usually turbulent. The final bill was £70.88, pretty good value really. In the two years York & Albany has stayed opened, it has enjoyed a sleuth of positive reviews, and I think it deserves the props. Most recently, Jay chose to dine here, to soothe his soul, after his mum's passing, writing a heartfelt account of his experience. I offer my condolences, Jay and raise my glass to Claire.
Cooking is feminine and on point, flamboyance is allowed to trickle through, resulting in food that offers a sense of reprieve. I really enjoyed the lunch, and wouldn't mind returning, I hear good things about the ten rooms upstairs (sans porn but wifi enabled), and of a sterling breakfast. Lately I've developed this nutty habit of looking to the choice of flooring to gleam whatever personality behind a restaurant, and Y&A has chosen to be finished with unpolished wood throughout: Naked, solid and weathered. And loved.
Put it on yer list.
The Gist.
York & Albany
British/Italian, £45pp
127-129 Parkway NW1 7PS
Tel: 020 7388 3344
Underground : Camden Town
Before Angela, after Gordon: Jay Rayner ; The Hardens ; Dave Sexton ; G.Coren ; No Red Meat ; Laissez Fare
Did you enjoy reading this? You can subscribe to the Newsletter. Alternatively, you can subscribe to the RSS feed.