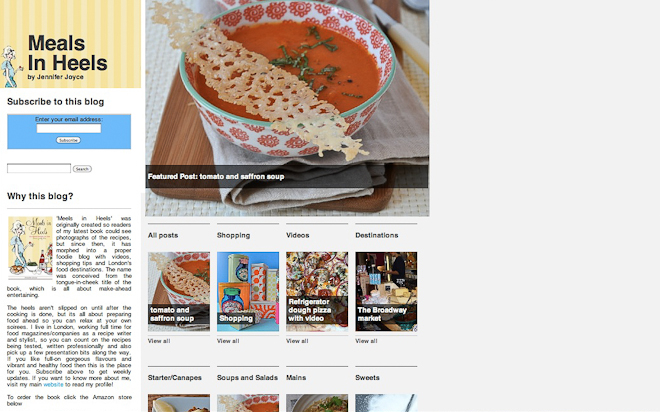 Over the last couple of months, I've been busy helping Jennifer Joyce, food writer, stylist and a cracking chef with the redesign of her blog, Meals in Heels – an extension of one of her many very cool cookbooks of the same name. I'm not a web design by the way, so the only form of 'payment' I took for this side-project was the chance to sample Jen's sumptuous cooking..!
Launching into the world of foodblogs is not easy these days, what with the saturated nature of the medium, but Jennifer isn't yet another restaurant blogger. She is a full time full writer by day and in her free time, she wants to share her wonderful recipes with the rest of the world, broken down to starter, mains and puds. Yup, she loves food. To compliment picture essay style recipe blog posts, there are video recipes too, video foodblogging is something still in its infancy , at least in terms of UK based media. Jen is a really fun person, her enthusiasm literally radiates from her, and she's a great food writer too, and she does present so very well, so her videos are entertaining.
Anyway, it's been a pleasure collabing with Jennifer on her blog, so I am more than happy to 'unveil' it to you folks.
So please do give Meals in Heels 2.0 a try, and all feedback is more than appreciated so we can improve it, etc… thanks in advance.