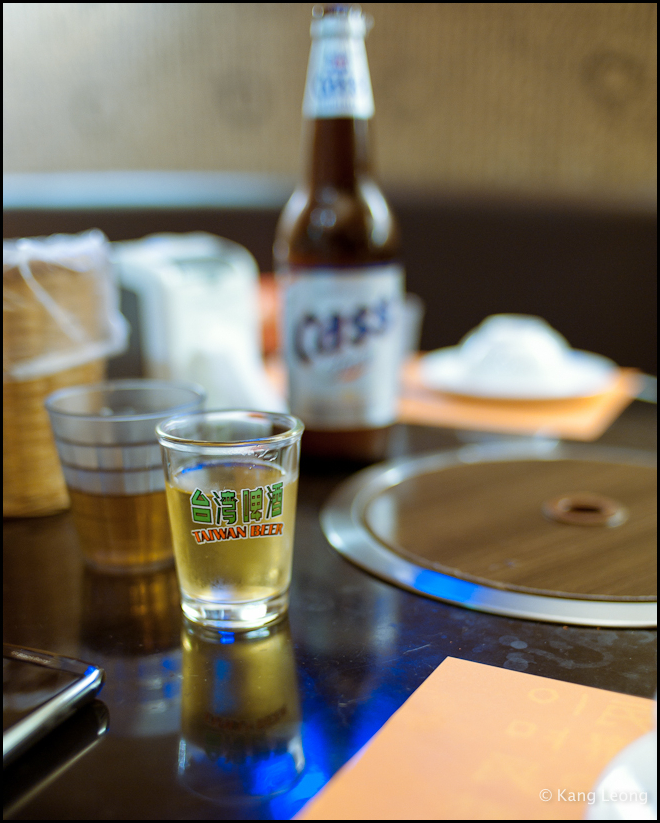 Everybody loves Korean food no? The burning red chilli paste, the lively sting of properly fermented kimchi, the hot, hot soups. Mmm, as I'm sure many of you have already done, like me, you've been frequenting Koba to top-up on the kimchi pancake cravings.
When I was digging through my photo archives, I came across pictures of this meal I had when I was last in Taipei, in February. Generally speaking, Mindong has a pretty good reputation locally, gets glowing blogger reports and it is frequented by Taipei's moderately famous celebs.
So we swapped Asahis and Tigers for Korean Cass (The Sound of Vitality) and Taiwan's very own 'Gold Medal' beer, the former, my notes tell me, is so light that it is a bit like a fizzy shandy but without the lemonade. The restaurant was expectedly full to the very brim. It's a little on the well worn side, rowdy, woody, musky and dimly lit, in line with most Korean outfits really. But so rowdy that, people need be shouting across the table to have conversations. Ah such is Asia I suppose, proper atmosphere, ambiance, vigour and excitement when it comes to dining out. It's a rock your locks off affair of pure joy, you'd offend etiquette if you pretend to be mildly reticent.
Further curious cultural observations include baby rubbish bins placed on the table for diners to discard wastes and boxes of kleenex. However, what I found most strange was not in a restaurant, but in the way magazines are wrapped in resealable plastic shrink-wraps in bookstores. One is allowed to remove the plastic wrap, before purchasing to flip through the magazine to preview it, but this act must be carried out by a shop assistant. Naturally I unwrapped it myself not realising that it was taboo, and consequently was frowned upon.
I digress.
Food-wise, I found highs and lows with Mindong, but first impressions with the giant seafood pancake were mostly and hugely positive.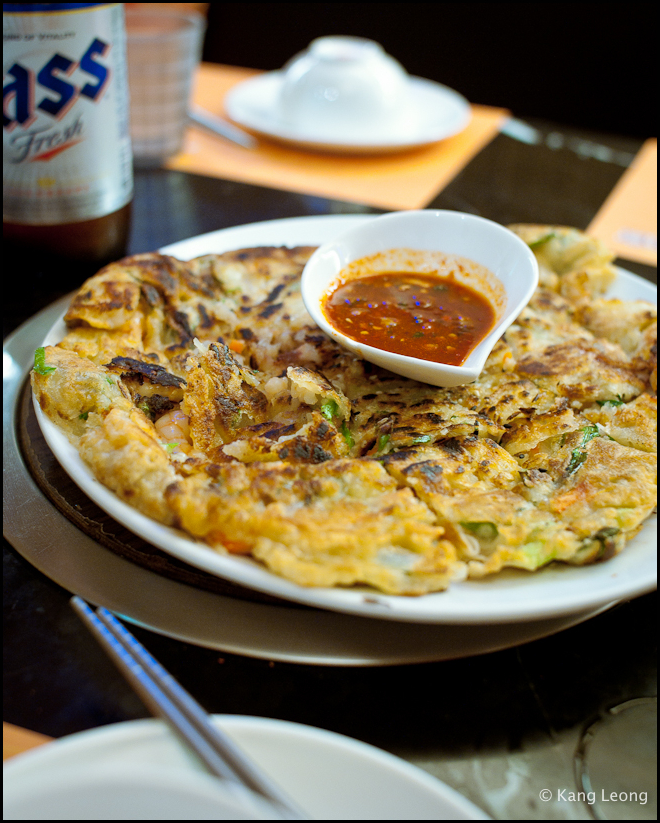 Rubbery dough centre and a crispy exterior, it was a little on the shrimpy side, tasting very much like a Chinese fried prawn cake. The spicy kimchi sauce was sharp and spicy, burning the 'buds on the way down. Woof.
One of the singular excellent aspects in Taiwanese cuisine is the superb quality of tofu this country churns out. The fresh stuff tend to be consistently milky, continuously silky and carries a purity in its taste which is analogous to the purity of top-end sake made from well-milled rice. Once you've had tofu and century egg in Taipei, everything else is nothing but a mere imitation.
And for the cheese connoisseurs amongst you, once you've had the best smelly tofu in Taipei, even the very best comte becomes a bland replacement.
Tofu Hotpot with lots of seafood.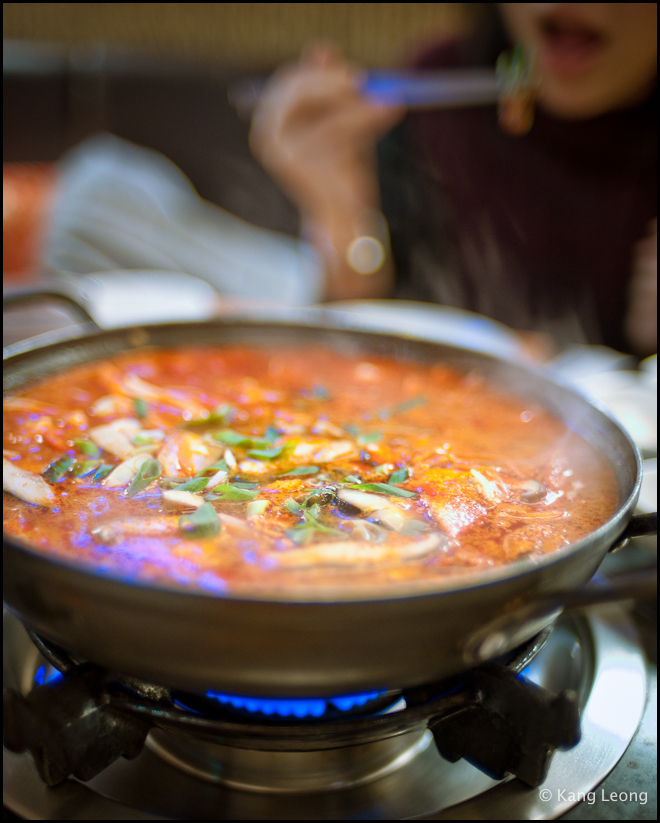 Served with instant noodles and seafood and as the flames were still going, the soup was boiling hot. The flavour was of a very heavy stock, eggs broken in, and lots of shrimps and squid. I sweat profusely and uncontrollably. Thank goodness for the tissues and baby rubbish bin on that table.
Beef.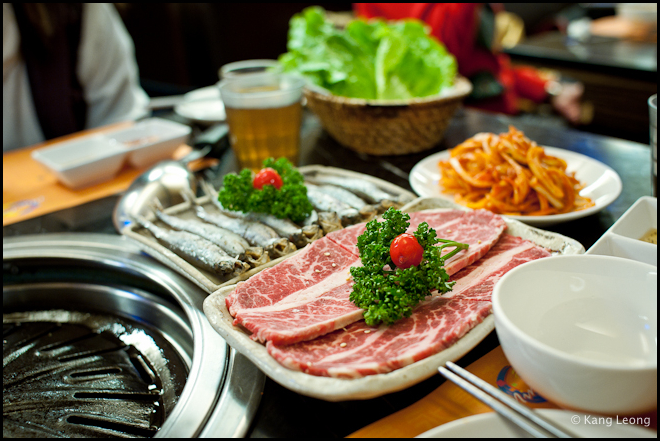 Look at the marbling on that beef! Don't see much of that kind of fat in local beef. Alright, maybe O'Sheas, but those are Irish. A quick minute on each side on the hot plate and a richly oily slab of marbled beef is ready for consumption. I don't know what breed and where it was reared, but the beef is mild in flavour, nothing particularly special.
Dolsot Bibimbap.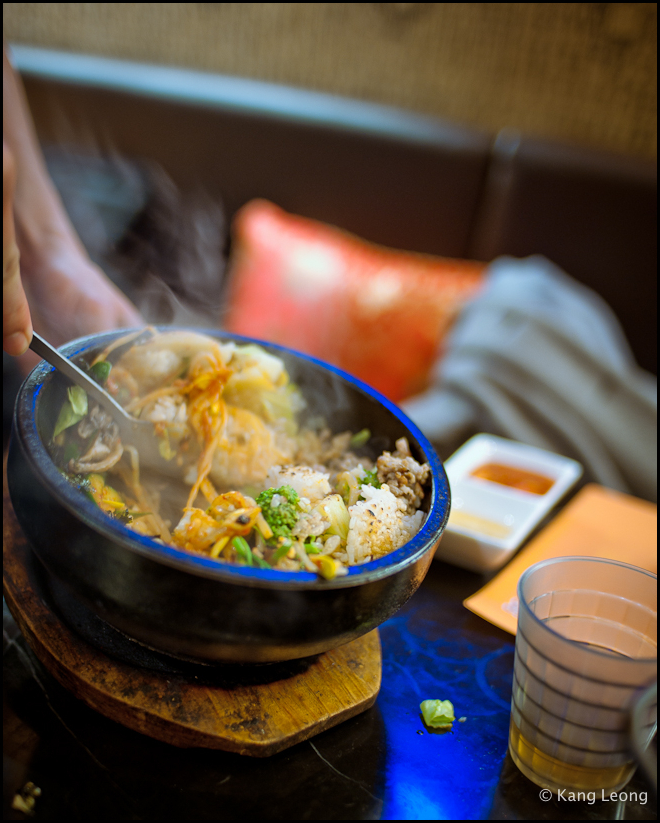 Long beans and egg cooked sunny side up with 'dragon beard' as well I think. This Korean mainstay, strangely, tasted very Chinese to me.
We finished our meal by grilling flying fish..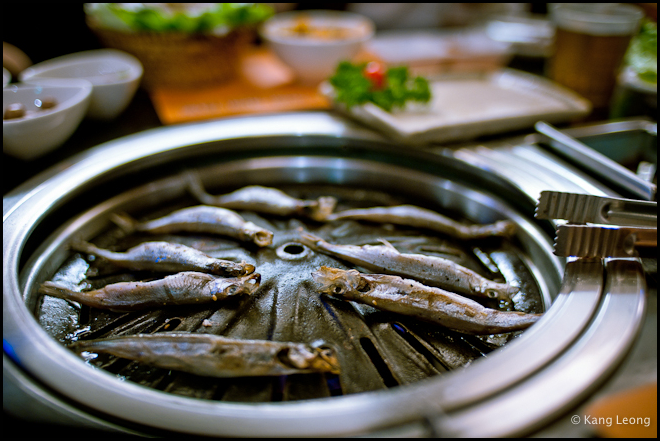 …which had lots of roe in their bellies, hmm, and a giant tiger prawn.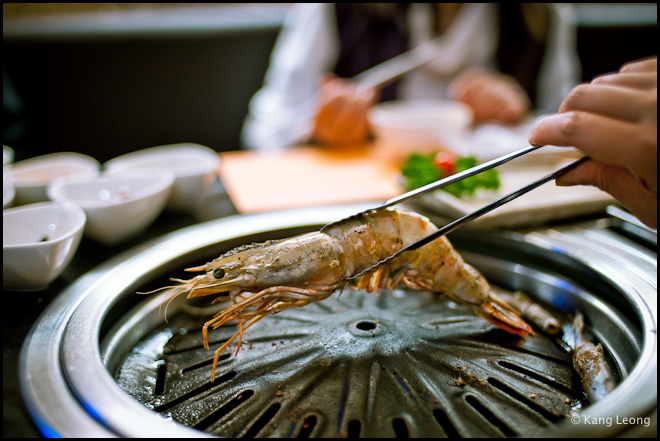 This bad boy took a good 15 minutes on all four sides to cook. Fleshy bastard, very juicy head. This restaurant is a little pricier than the Taipei median, and overall we were expecting just a little more bang for the buck, but walked out not entirely knocked out. Overall, I am rather indifferent about it, reflecting on the meal, obviously with the help of the notes I took during the meal, I feel like its popularity is more bane than boon. It has a rambunctious atmosphere, probably most suited for meeting up in large groups and such, but food-wise, it throws blind punches. No south paw. Probably explains why I initially neglected this set of photographs back in February.
The Gist of It
Mindong
Korean, £20pp
No. 4, Lane 107, Alley 5, Fu Xing South Road, Sec 1
Tel : (02)2773-6949
Plane : Cathay, Virgin, Singapore Airlines.
Further reading: Hungry in Taipei ; Taiwan Fun ; 天天工坊‧blog
Did you enjoy reading this? You can subscribe to the Newsletter. Alternatively, you can subscribe to the RSS feed.
All text and photography on this blogpost is copyright and belongs to Kang Leong, LondonEater.com. If you repost this without my permission, bad things will happen. So please don't do it.