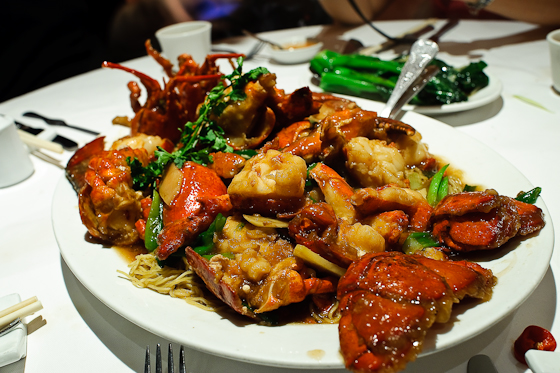 Call me Chinese as I love seafood and especially enjoy a succulently prepared Lobster dish. Hey, who doesn't right, especially with the regal chunkiness the red backed crustacean is so famous for. Most commonly associated with the upper echelons of gastronomy, the prized shellfish is of course, an integral part of the fishing industry, to the tune of about US$1 billion globally. However, parts of this glob al industry has been hit hard by the recession, unsurprisingly in America where revenue has fallen by as much as 25%, so much so that governments have had to step into provide financial packages to save the ailing industry. Yeah, I just found that out too. Who would have thought that lobsters would ever be in recession?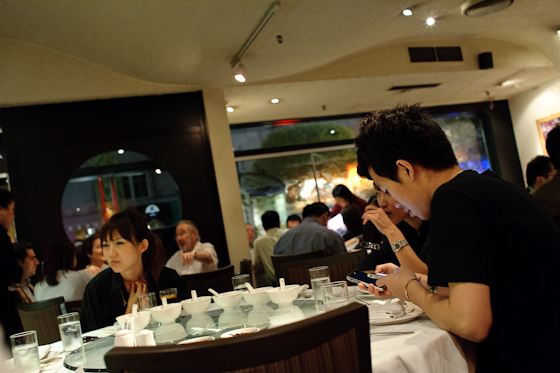 Inside Mandarin Kitchen, one would not notice diners shunning the premium shell of the sea – the restaurant bustling and full on a Tuesday night, as if London was still the financial peak of the world. A quick trip to the famously torrid relieving rooms confirmed this – almost every table had a plate of them lobster noodles, imagine all the rising warm aromas from each and every table filling the air within the restaurant… ahh, I don't know about you, but a good Chinese restaurant is always about the smell and the noise, the more the merrier. If you follow my twitter ramblings, then you will know that this is the aforementioned lobster tweatfest which myself, Charzed, Cattylicious and Tehbus recently participated in. There's a great story regarding Tehbus's long association with Mandarin Kitchen. His family has been going for nearly 23 years, they've even got their own 'family table' in the restaurant.
So gets get your appetite rolling, starters is Jellyfish with Cucumber (£6.90).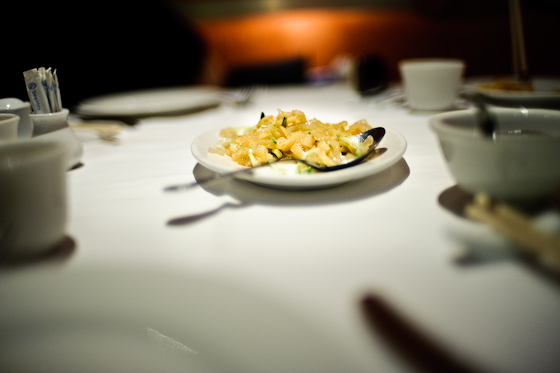 I think Euwen described it best in his review that this jellyfish dish is like chewing on pickled rubberband with lashings of sesame oil tossed in cucumber slices. Otherwise, it is also abit like cold agar strands infused with latex. Anyway, it's a light footed starter with a main ingredient that is a little exotic which makes for a fleeting talking point.
The next of the starters is another cold one, pork knuckle slices (£7.90)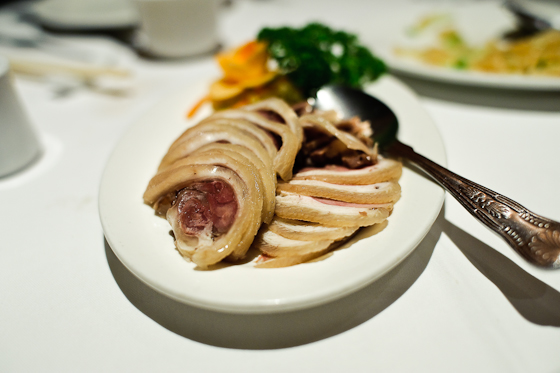 Another gentle appetizer of sorts, the knuckle or the hock is from the lower part of the leg, just above the trotters. Textured like slow cooked ham and with a pickled sweetness and shades of livery flavours; it is completely enveloped by a gelatinous exterior and the stark cold of the meat makes it easy to eat, and a clinical starter, pretty good actually.
The first two non-starters were a yawn compared to what came next: Fried baby squid in salt and pepper (£6.90)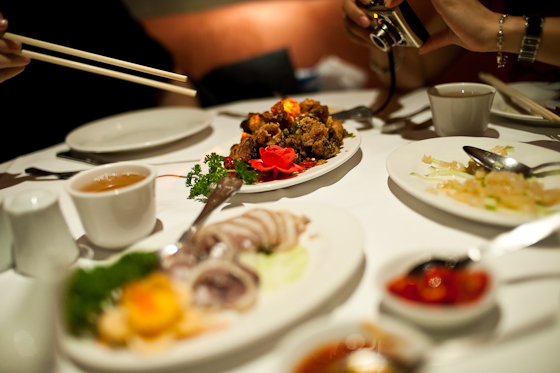 If I remember correctly (and you'll correct me if I don't, Euwen), Euwen's firm family favourite is this particular dish, and his dad enjoys it so much that he orders two of the same on most visits, and on separate plates (more on this later). Yes, note how Euwen is ready to pounce with his chopsticks while Catty showers the squid with the red carpet treatment. I could immediately smell the sizzling salt and pepper dazzling the senses and it was only amplified as I took the first few bites. At first, there are a couple of oohs and ahhs as we look to Euwen in appreciation. And then, the entire table falls silent as we enjoyed some of the moistest crispy squids we've ever had. Full bodied flavours, tingling szechuan pepperiness and intense saltiness, the only regret is not to have ordered another.
Ok just one more before the Big Show, half a crispy/aromatic duck (£13.90).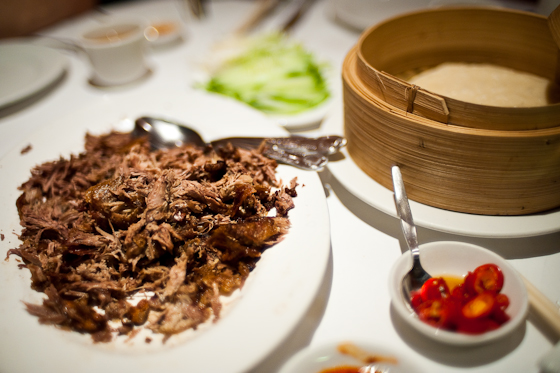 I don't usually like ordering aromatic duck mostly because the meat tends to be dry and chewy, but I was a little surprised that this one was quite a capable performer. The hoisin sauce had good sweetness to it, the meat was moist and flossy, it also had lots of flavourful greasy crunchy bits – almost confit du canard like – and quite so enjoyable.
OK, 800 words in and we finally get to the Lobster Noodles x2 at £56.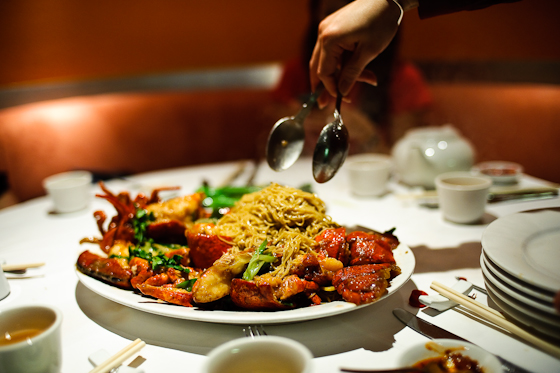 Like five little lambs, we waited patiently as the waitress divided up the portions into smaller plates. We opted for the viscous ginger and spring onion sauce which coated the slithery noodles so fully infused with crustacean flavours that you could taste the shells at the back of your throat. The warming dish was entirely hearty and the chunky lobster meat was just perfect. Mandarin Kitchen is renowned for its lobster noodles, I have been a couple times before they lost their chef to Pearl Liang, but I am glad to find that on this return visit, they have not lost that recognition.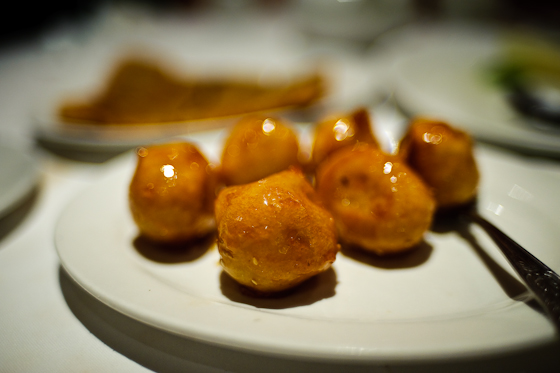 Finally, we ordered three puddings, red bean pancake (£5.90), almond bean curd (£3) and toffee banana (£3, pictured). Catty also ordered vanilla ice cream (£2.50) to accompany the fried red bean pancake (great combo) and the final bill came to £130 for five.
I didn't notice this until I was processing the photographs, but somehow I think we were short-changed on the double lobster portion, as one of the lobsters (first picture, look at the two tails) seem to be a lot smaller than its counterpart. Also, on close inspection, they charged us an additional £2 for 'noodles'… I don't get it, the lobsters are already 'market price', why so many itemised surcharges? I don't want to get into kilogram wars, maybe one was an oversized £36 beast, while the other made up for the rest of the £56, regardless of the case, £56 is a big number for one dish which amounted to almost half the bill. Although London based Chinese restaurants are usually quite consistent with the prices, I think Euwen's tip to have double portions served as two separate dishes is prudent advice.
Money issues aside, MK is still the place to go to cure your lobster fever, and as far as I'm concern, Mandarin Kitchen an institution which you must visit if you happen to live in the Smoke. Although, the dark horse had to be the fried baby squid; that luscious dish still has me thinking about it as I write this review…
The Gist of It
Mandarin Kitchen Restaurant
£25pp
14-16 Queensway W2 3RX
Tel: 0871 426052
Tube: Queensway or Bayswater
Like this blog? Why not subscribe to the email newsletter ; alternatively you can subcribe to the RSS feed.