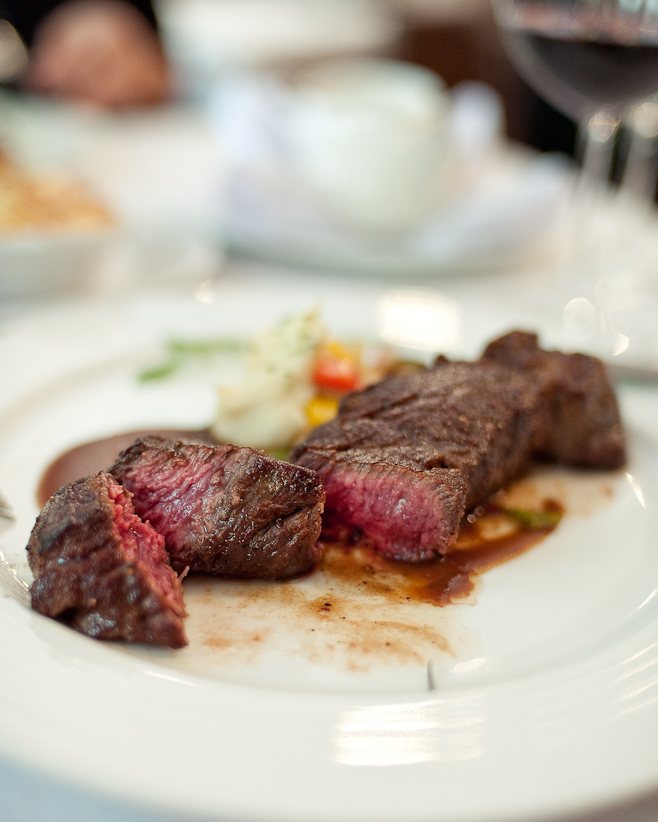 There are a a couple of meals from my recent trip to Taiwan which I have decided to upload separately from my Taiwanese cuisine post. This post is on Sonoma Grill, a steakhousei in Taipei. I saw value in discussing about the quality of beef in a location other than London. By quality I mean Prime USDA and Oz Wagyus. The light was good, so I took lots of pictures. If you are into the lunchtime food pornography thing then click on through soldier.
Some 'Western' restaurants in Asia tend to give off a faux-euro vibe, almost as if one is dining on a theatre set. It sort of looks like the real thing, in the same way a Tussauds wax model looks real. I hear Robbie Pattison just got inducted. The pantomime extends to the generic restaurant surroundings, you know, like the stuff you see in stock photos, lit with bright artificial strobes, presumably shot in the nineties, waiters in pink bowties and a lingering smell of cheese and garlic in the air… We were served San Pellegrino and for a steakhouse, Sonoma had an amazingly short winelist, perhaps about six or seven choices, most were out of stock. I wasn't too fussed since we were in Asia – I didn't expect to find Gajas or even David Dubands, but they did stock Montes Alphas. So it was to be a glass of house red, the 'Sonoma select' – Oz Shiraz. Merely passable, more like a Malbec than a full-blown Australian Shiraz, sweet and smoky, but not liquid sex. Quality imported beef is more readily available in Taiwan than in the UK, Oz wagyu is available in most restaurants. Sonoma generally has good feedback,regarding their steaks plus they are one of the pricier options in Taipei. Consider it upper crust I suppose, equivalent of the major steakhouses in London – G and H. The menu is amazingly wordy for a steakhouse and there are an innumerable ways you can have it too. The full whack is five courses and encompasses an entrée, soup, salad and pud. Oh what did I miss. I won't really go through all the choices, but the cheapest five course lunch is a mere £12 – the price includes a 6oz strip. The lady obviously went for the light menu, and I went all out with the ala carte. Ironically, no chips on the menu, baked potatoes (with cheese) instead, keep scrolling.
The entrees. The better half ordered Seared Ahi-Tuna, and I went for the Teppan Grilled Fresh Crab Cake (£6).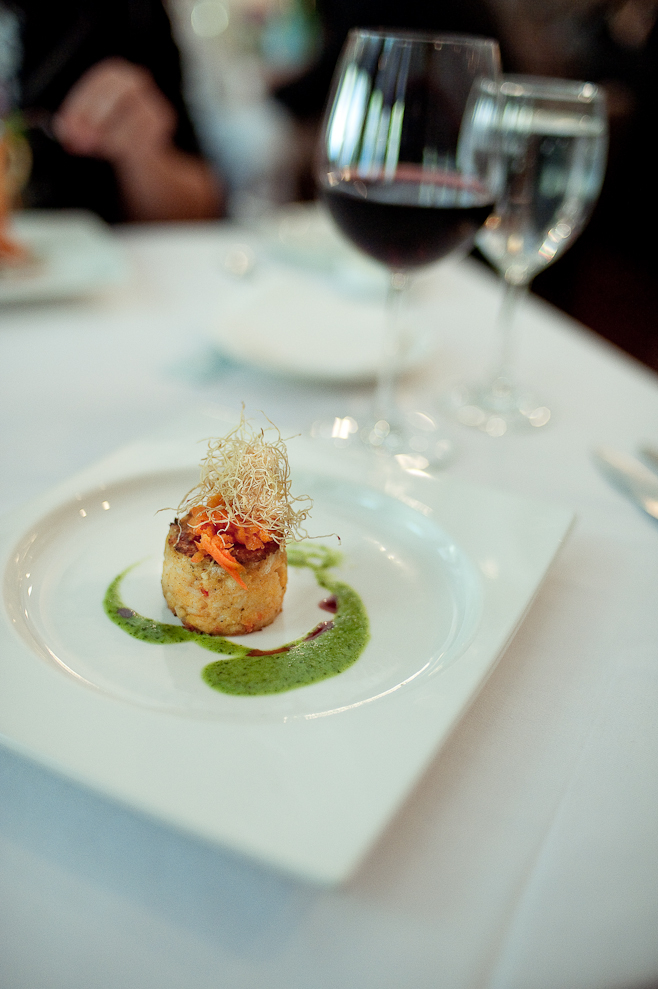 The cake is pan-fried, exhibited a nice charred crunchiness as juicy bits of fresh crab hid a potent curry pow wow. Topped off with fried ginger hair, this could so nearly be Anglo-French fare, or perhaps representatively Pan-Asian, whatever it was, curry pepper and crab is a combo that works. Natural seaside saltiness was also ever present. I liked this.
Next up, the soups : Pumpkin first.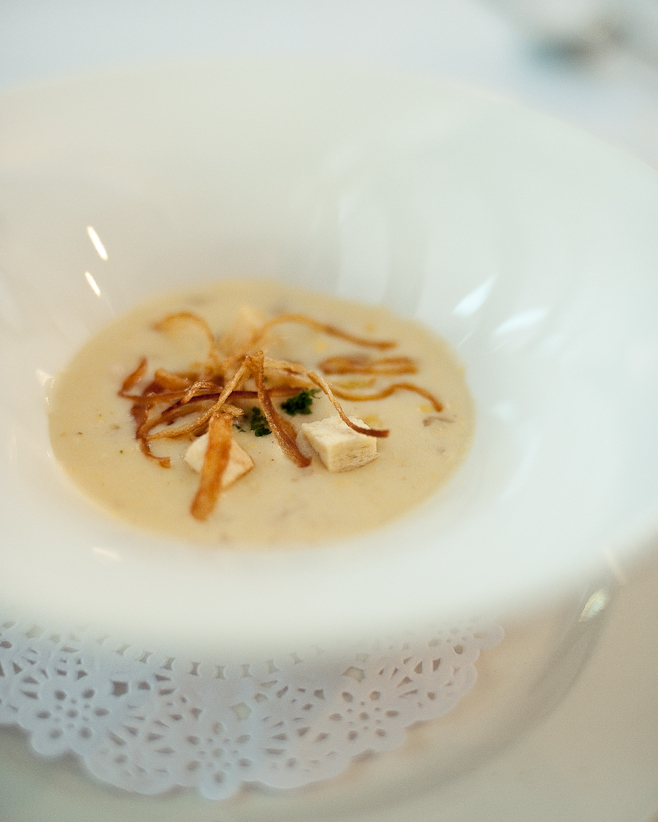 I'll be honest I don't remember this soup, at all. It's not even in the blackberry, but it's in the photo library so the missus must have had it. Doesn't it look so tidy? I noticed this when I was in Taipei. Generally speaking, food looked so cute in comparison to over here. I wonder if food styling is a focus in Taiwainese kitchens.
My soup : Mushroom Cappuccino.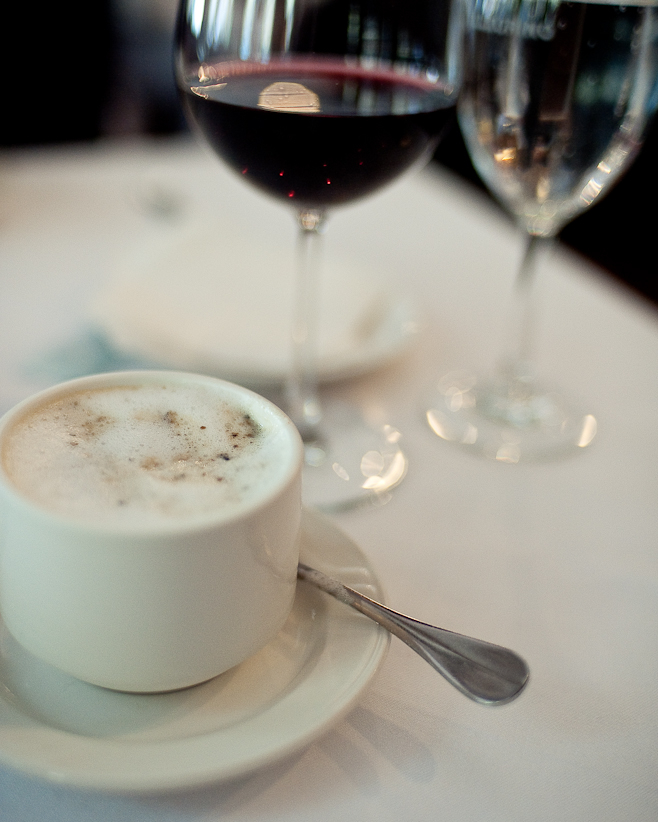 So this didn't taste out of the ordinary, peppery, lots of chopped mushrooms, creamy, a nice touch with the foam on top, but it was a generic Campbells recipe. Cream of mushroom was something I loved ordering when I was a kid. I've had several versions of this in 'Western' restaurant all across most of South East Asia. What I tend to find is that they all taste the same. It has me thinking if there is some sort of Idiot's guide to European cooking or if there is some sort of unwritten convention which governs how a mushroom soup should taste like. Oh wait wait, they call them cookbooks. It tastes good, but you know, but the point I'm trying to make is that it also tastes so generic.
Ceasar Salad.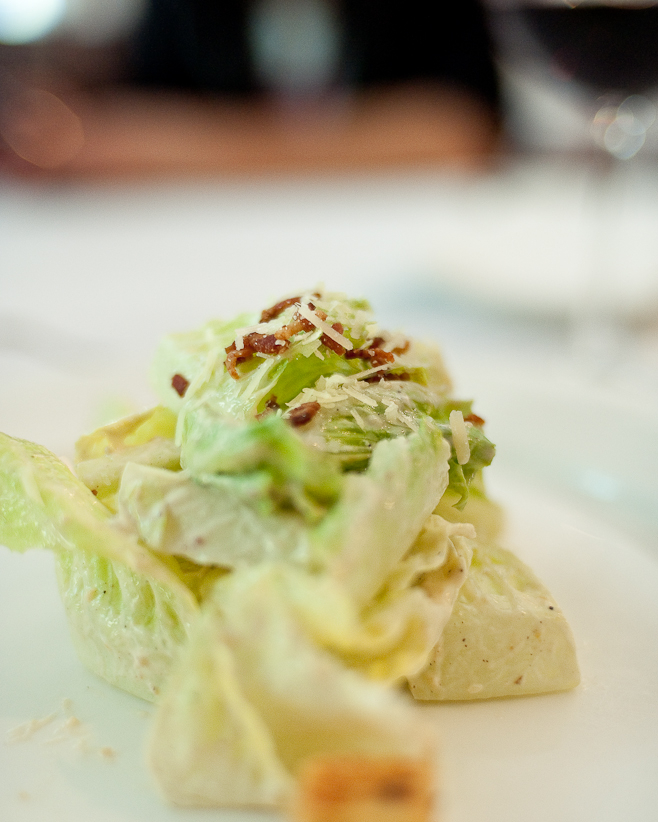 Cheese, dressing, croutons, ice berg lettuce, yawn. But note the styling, what a beautifully arranged salad. I could sit here and shoot all day. A raft of midly amusing supporting acts, if a tortrous wait, steak time.
Prime USDA 'Gourmet cut', 8oz. £36.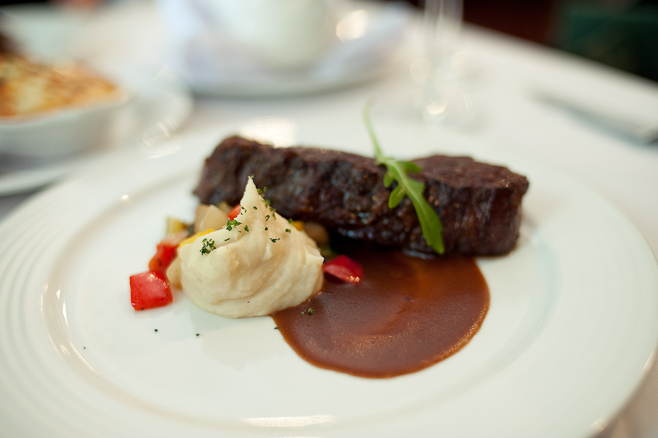 Look at the little sharp end on the mash, and look at the controlled way the sauce is poured out on the plate – cute right? You won't see that in Racine.
I had a choice and initially wanted to try the Oz Wagyu Ribeye.. but it would have cost £60 for 6oz… Ouch. I think it works out to be around £30/100g. What's the rate in Goodman? Was it £120/kg? No matter how you cut it, £300/kg is too much money to pay. That's nearly a hundred quid for 10oz, which is the size I would have preferred. In Kingsley, Sydney, it's about £35 for 400g of their finest wagyu and I've had it before. Way good and way way cheaper. Yes.. maths drove me to order the Prime USDA 'Gourmet' cut. Gourmet what? I wanted the ribeye (instinctually) , but the waitress assured me that this gourmet cut was a step up from the ribeye. In fact, she said that this was the the only difference between the gourmet and ribeye was extra marbling. I believed her, I ask for medium rare. £36, 8oz.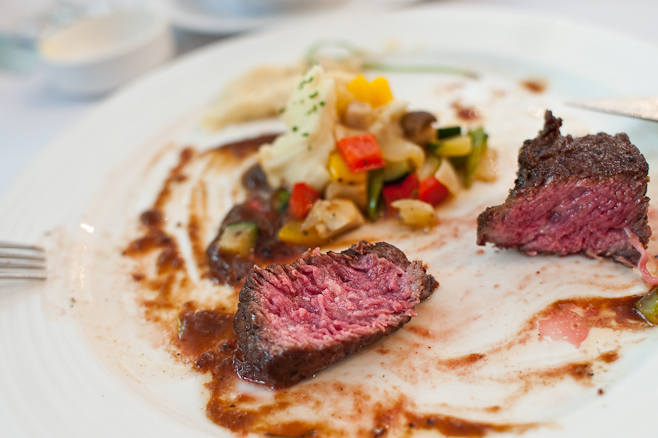 The kitchen is visible to diners, like a teppanyaki setup, not dissimilar to Gaucho. Meat was well rested, but no smoke like Josper grilled steaks and no juiciness either. The quality of meat was astonishing though. Characteristically tender like the Nebraska stuff at Goodman, a slightly livery flavour, through and through beefiness. Kudos to the chef for making mine bloody, just the way I like it. The meat is indeed very well marbled, fatty bits were visible when cutting into the meat – yes, it was tender alright, really tender.
About the only thing I hated was the mash..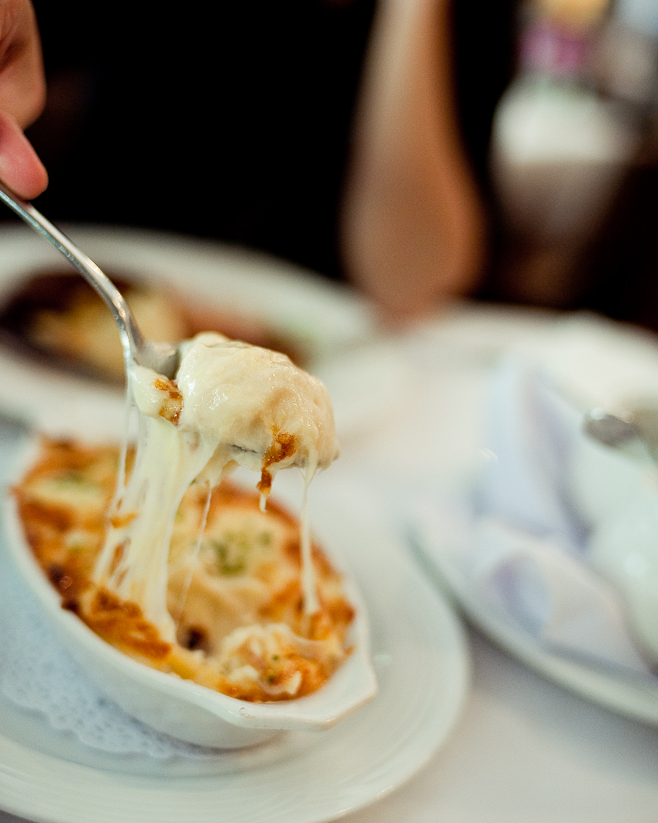 The cheesy mash we ordered on the side was categorically disgusting. Very bland, even with the baked cheese on top. It tasted more like the powdered stuff, rather than being made fresh. As for the soggy planefood style vegetables on the side – horrid. I wonder if the sides had been precooked the night before and set aside in large buffet style dishes, in the same way as some of the restaurants in kitchen nightmares would do, before Ramsay 'saved' them. I avoided entirely.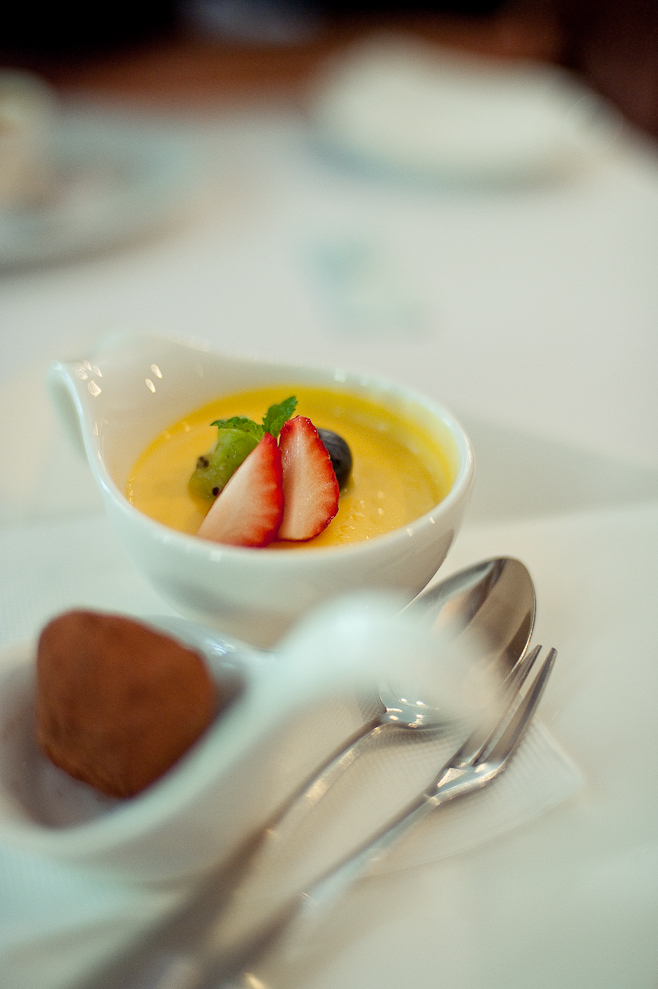 Dessert was a Chinese mango pudding masking as a mango flavoured pannacotta. Dense and smooth, with a chocolate truffle to finish. Perfectly tangy. The bill came to around £80 for two, I believe they took the cheesy mash off the final bill. I noticed it was etiquette to have the waitress hover while you inspect the bill and attempt to pay. I was spooked by this, I manoeuvred to shield the contents of my wallet. Dude, just go away, I can't pay when you are watching me like a hawk.
As it turns out, quality of beef is only half of the ultimate steak equation. Searing technique makes all the difference. Yeah, I'm sticking to Goodman. This wasn't meant to be a review, I was just going to show you pretty pictures of the meal, since the light was so clean, and I wasn't pressured to shoot the food quickly. There is a lot less animosity in Taiwan when you pull out a camera in a restaurant compared to London. Even though, I've never been stopped in my foodblogging career, save for the odd look from waiting staff, they probably find it amusing, fine by me really. Even so, I always have an excuse ready just in case. My latest one being that I am on a honeymoon from Hainan (that's where my granddad is from), sold half a liver to buy a camera and pay for the holiday, just so I could document every waking moment of my first days as a newly wed. Let's see if Helene Darozze would stop me.
PS…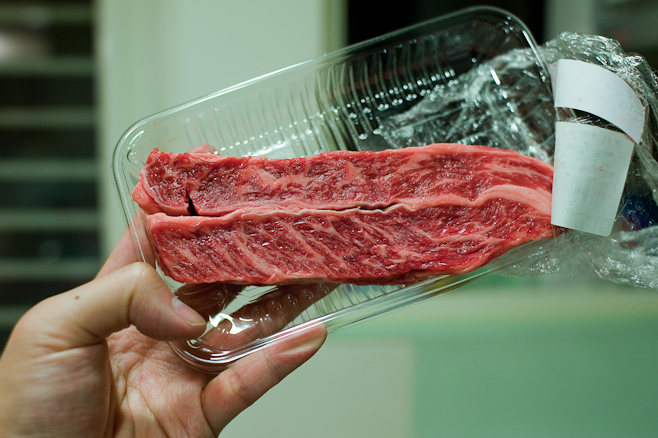 I very nearly forgot to add that I bought some Australian Wagyu to cook at home the next day. I bought Wagyu short ribs, this only set me back a tenner. I bought them from SOGO, a Japanese deparment store, much more affordable than Sonoma, plus I could inspect the beef myself. Speaking of which, check out the marbling on that bad boy – pretty awesome, no? I flashed it for about a one-minute and a half either side on a really hot pan, it came out still bloody. Great flavour, like a sort of blooming floral beefiness, needed just a pinch of sea salt to complete the umami. Nice, oh and tender too, though not super soft, it was a short rib afterall, there were some sinewy bits, should have bought a ribeye instead, but I'm saving up for a trip to Kobe.
Did you enjoy reading this post? Why not subscribe to my feed updates for free. Alternatively, You can subscribe via email.